Last Updated on April 27, 2023 by Chef Mireille
This post may include affiliate links.
From creamy white chickpeas to nutty brown ones, there are plenty of options when it comes to this beloved legume. This post explores the different types of chickpeas, helping you select the right kind for your next recipe, as well as exploring the multitude of health benefits of chickpeas.
Learn about the many varieties of chickpeas available, from the classic Kabuli to lesser-known types like Desi and Bengal gram. Discover the unique flavors and textures of each, and find out which types are best suited to different dishes.
Here in the Untied States, most of us probably think there is only one type of chickpeas. If you go to any standard American supermarket, you will most likely only find either dried white chickpeas or canned chickpeas as the primary type of chickpea – also white.
However, once you start going into other cuisines and visiting Indian or Middle Eastern markets, you will find the world of chickpeas is a lot bigger than you think. Explore the different types of chickpeas!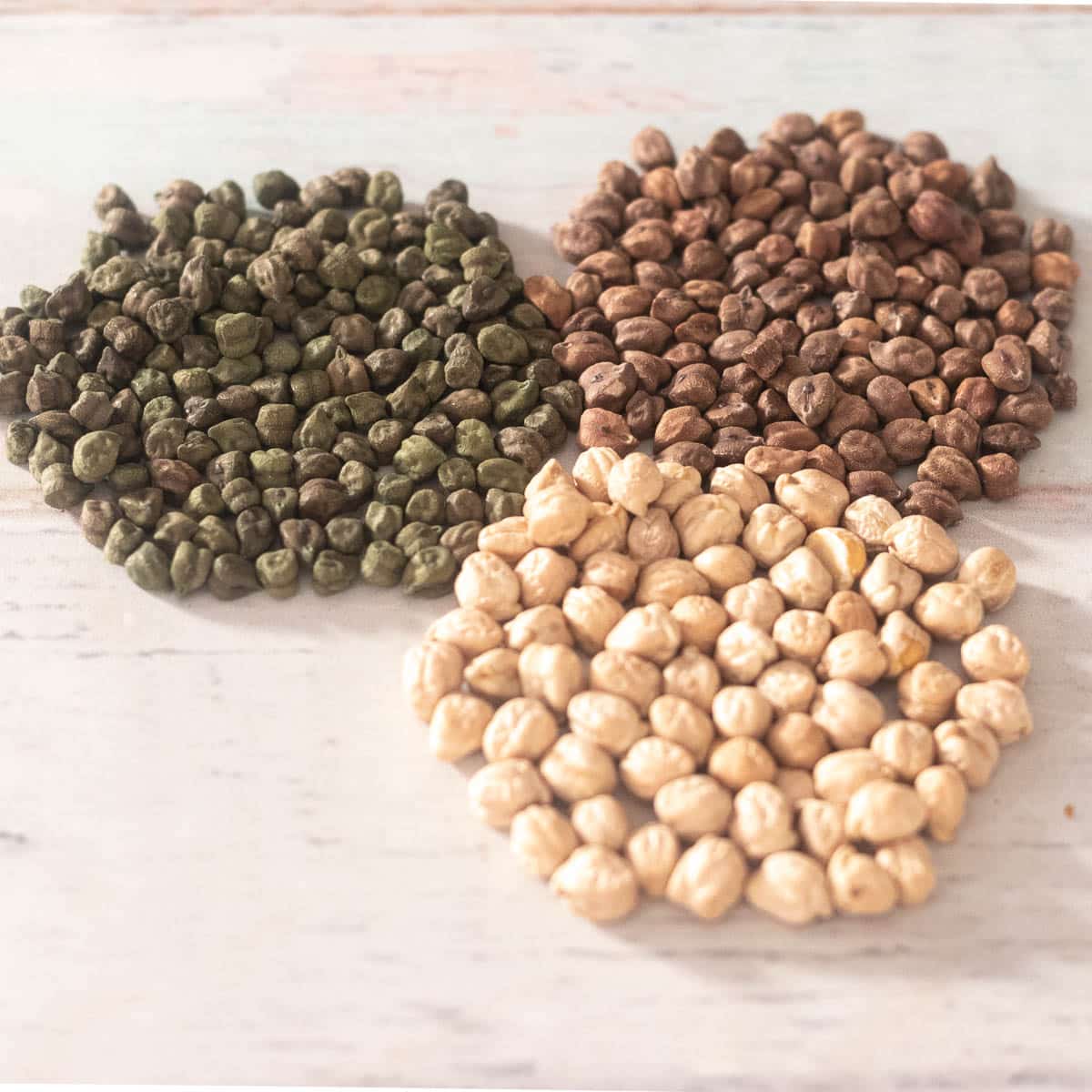 Not only chickpeas, but chickpea flour (also known as gram flour or besan) is so versatile and one of the most popular ingredients around the world from the Caribbean to South America to India to the Middle East and North Africa to the Mediterranean region like Italy where it is known as ceci beans.
Chickpeas is one of the most popular plant-based protein sources around the world, which makes them a favorite ingredient for Vegetarians and Vegans. With it's mild flavor and ease of availability, it is beloved by both Vegetarians and Carnivores alike.
Whether you purchase dry chickpeas or a can of chickpeas, I can almost guarantee that most people have chickpeas in some form as a pantry staple.
What is the Difference between Chickpeas and Garbanzo Beans?
Many people often think that chickpeas and garbanzo are two different varieties of legume. However, they are both the same.
The name chickpea originated from the Latin word cicer. It became pois chiche in French and then chiche pease in English. In modern nomenclature, it became chickpeas.
Garbanzo came from the Spanish word garau for seed and antzu for dry. These two words became garbanzo.
Despite their different names, they are both the same thing – Chickpeas is English and Garbanzo is Spanish.
History of Chickpeas
Chickpeas are one of the earliest cultivated legumes. Dating back to approximately 7500 years ago, chickpeas were first harvested and consumed in the Mediterranean countries of Southern Europe (Greece, Italy) and Central Asia (Turkey).
They began to appear in literature as far back as 800 AD by the French and English and later, by the Germans. In fact, it was even used as a coffee substitute during WW II. It is reputed to mimic the flavor of coffee, but a lot healthier without the caffeine.
Types of Chickpeas
White Chickpeas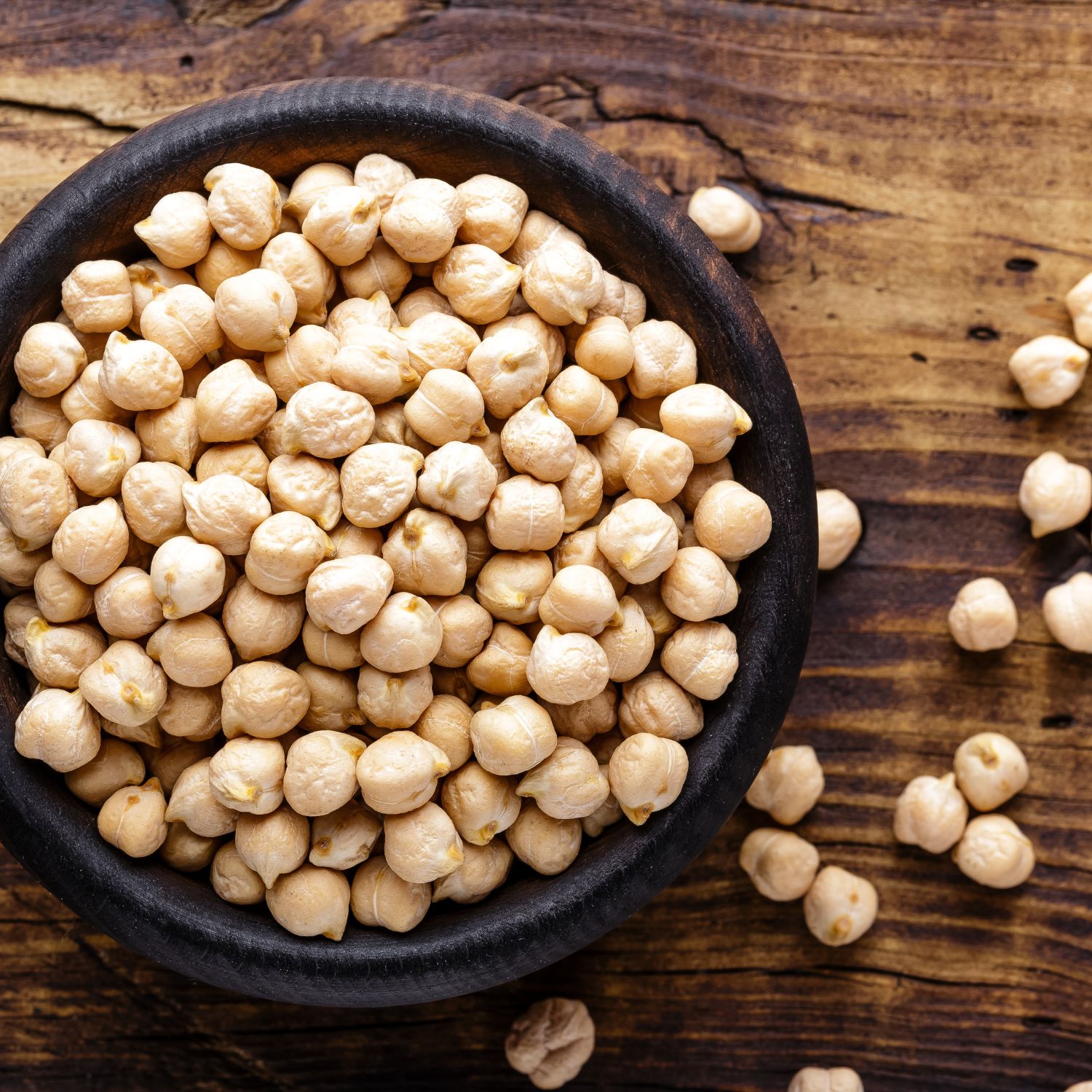 White Chickpeas are the most popular of all chickpeas. Also known as Kabuli Chickpeas or Chana (in the Caribbean), it is one of the two main types of chickpeas. The name Kabuli Chickpeas comes from India, where they believed the peas came from Afghanistan. They have a smoother coat than the black chickpeas with a nutty, buttery flavor. These are easy to source, either in the form of the dry pea of in the can. Grown in many parts of the world from Ethiopia to Mediterranean Europe to the Americas.
Black Chickpeas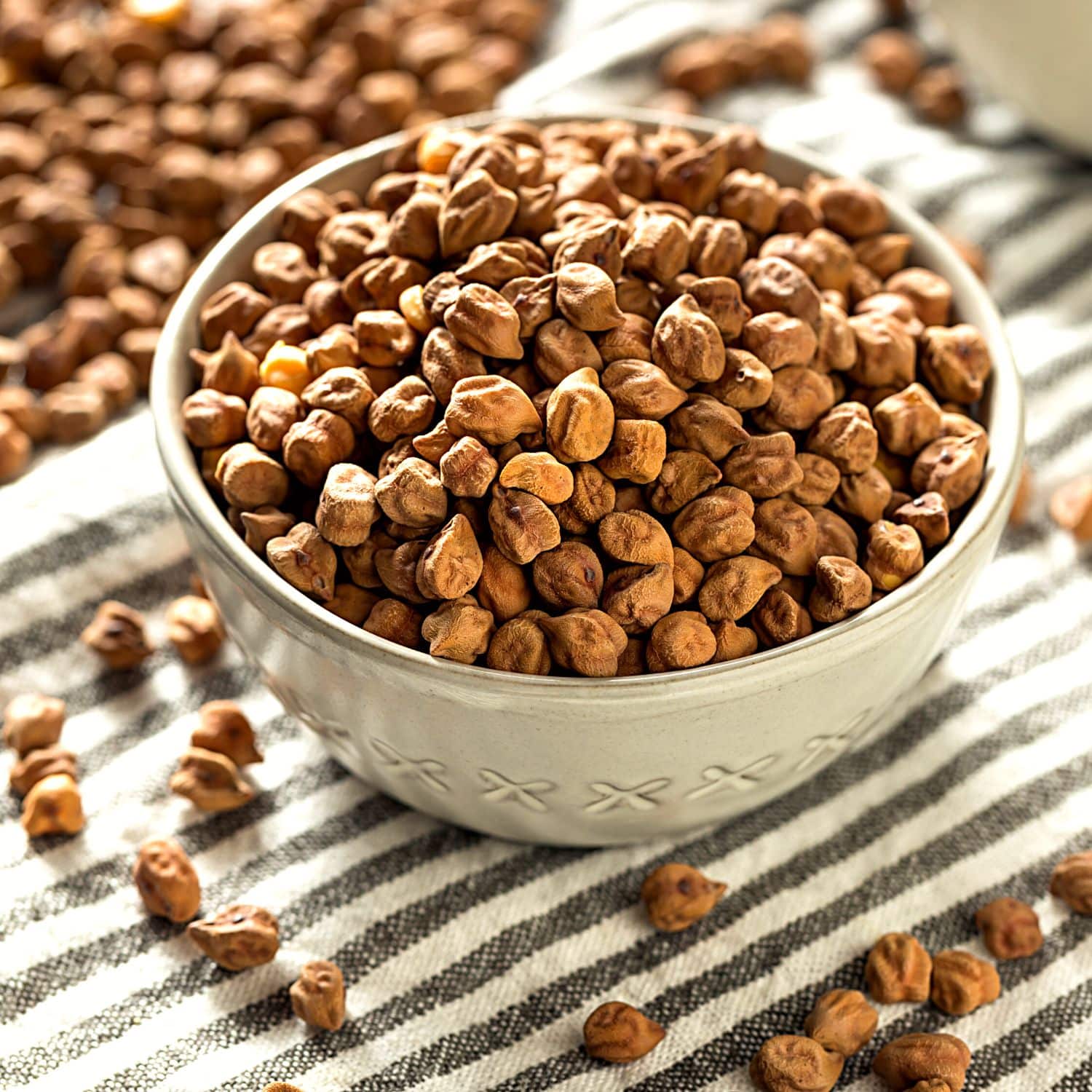 Black Chickpeas are the second of the two main types of chickpeas. They are also known as kala chana, desi chana or desi chick peas, is primarily used in Indian cuisines and to a lesser degree, in Middle Eastern cuisine. It has a lower glycemic index than white chickpeas so is ideal for diabetics. They have a rough coat and a nutty flavor. Kala Chana is a very popular ingredient in India, being utilized in everything from street food salads to dal recipes. Mostly grown in India and Pakistan.
Black Whole Chickpeas are also used to make chana dal, which closely resembles yellow split peas. Although chana dal looks identical to yellow split peas, they are made differently. Yellow split peas are made from field peas, which are matured, dried and then split.
Green Chickpeas
People often think of black chickpeas vs white chickpeas, but then they forget about green chickpeas.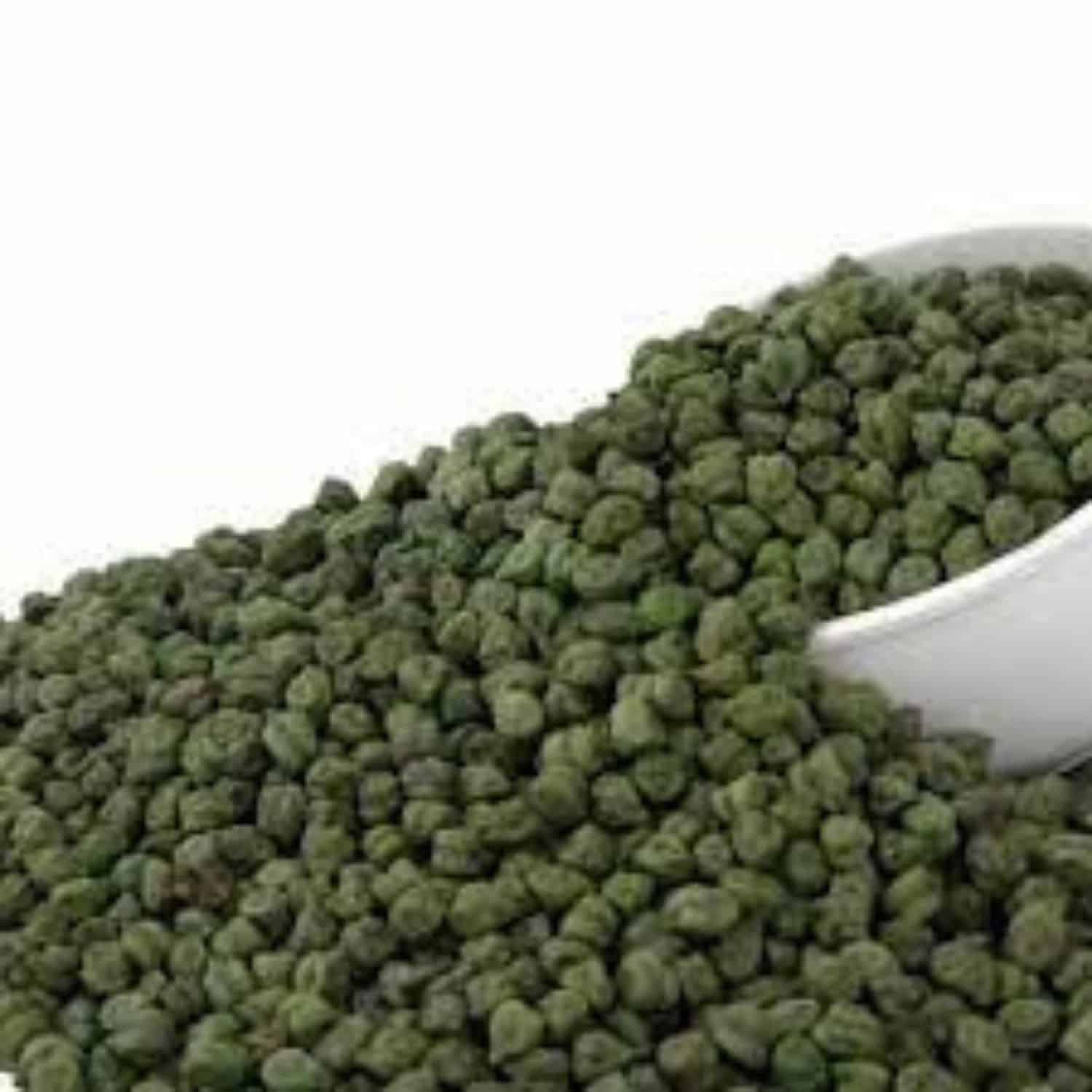 Green Chickpeas also known as hara chana or green chana may be found dried, fresh or frozen fresh. The fresh or frozen ones you will most likely only find in Indian supermarkets or occasionally in Middle Eastern markets.
They are picked when they are young and tender before then turn white/tan and have a slight sweetness to them.
Fresh Chickpeas
Although rarely found in North America, fresh green chickpeas can occasionally be found in Indian markets or Middle Eastern markets. They have a short season, but Spring is the best time to look out for them! These are the green chickpeas, before they have been dried.
Once shelled, they cook up in 5 minutes and are great for salads. Even just tossed with a little olive oil and salt, these young and tender raw chickpeas can even be eaten without cooking.
Check out how to prepare fresh chickpeas below!
Health Benefits of Chickpeas
Chickpeas are a high protein, high fiber and low fat food that is a great addition to any healthy diet.
Chickpeas are packed with vitamins and minerals like manganese, folate (B9) copper, zinc, iron and phosphorous. These high levels of vitamins and minerals help in maintaining heart health, boosting your immune system, reduce your risk of heart disease, maintain blood sugar levels and promote brain health.
Since chickpeas have a high protein content and are high in dietary fiber, they keep you full longer which may aid in weight loss.
Chickpeas have a low glycemic index, helping you to regulate your blood sugar. It is a diabetic friendly food for this reason. Black Chickpeas are even lower on the glycemic index than white or green chickpeas.
High fiber chickpeas leads to easy digestion.
How to Cook Chickpeas
Stove Top
Soak the peas overnight and then cook in a large pot of boiling water for about 1 hour.
Slow Cooker
Cook 1 cup of dried chickpeas with 6 cups of water on low heat for 6-7 hours or on high heat for about 4 hours.
Instant Pot/ Pressure Cookier
Cooking Chickpeas in the Instant pot can be done with or without pre soaking the peas. If you pre soak the peas, it will take about 15 minutes. It will take about 50 minutes if you do not presoak the beans. Use 6 cups to water to 1 cup of peas.
Roasting Chickpeas
Toss cooked or canned chickpeas with a little oil and desired spices. Roast in a 425 F oven for 20-30 minutes.
Fried Chickpeas
Soak dried chickpeas overnight. Dry the chickpeas with paper towels. Fry in hot oil for about 20 minutes. Toss with desired spices.
Here are a few recipes utilizing the multi purpose chickpeas.
Now you know all about the different types of chickpeas, let's try some new recipes featuring this plant powered protein.
Chickpea Recipes
The most common use of chickpeas, especially in the West, in recent years has become hummus. The beloved condiment of the Middle East, where a puree of chickpeas is combined with garlic, lemon juice and a few spices. Many varieties of flavored hummus can be made homemade or store bought.
​This member of the legume family is a perfect plant protein to add nutrients to soups and other main course dishes.
Kala Chana Recipes
Green Chana Recipes
Fresh Chickpea Recipes
Chickpea Flour Recipes
​Chickpea flour is used more often in Indian cuisines than all purpose flour, especially when making fritters and other delectable fried snacks. It is also used in some traditional foods in Mediterranean countries.
It is a great alternative to all purpose flour if you are gluten free, plus it has extra protein and fiber. Much more nutrient dense than all purpose flour.
With all these different types of chickpeas, there's not reason to get bored with chickpea recipes every night!