Last Updated on April 26, 2023 by Chef Mireille
This is a variation of the classic Italian Pasta e Ceci, except this is a version of Pasta and Chickpeas without tomatoes.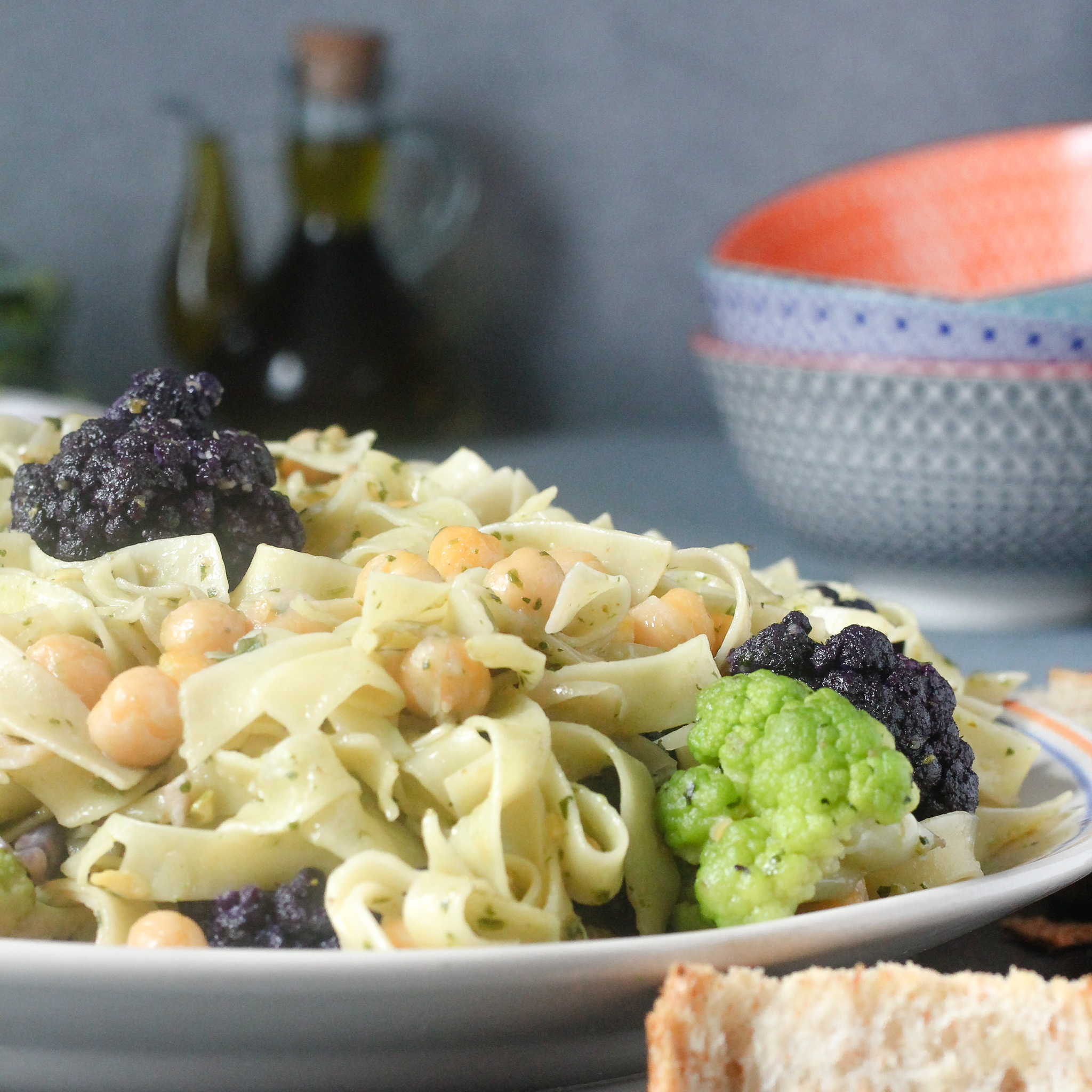 This post may include affiliate links.
Thanks to Srivalli's Cookbook Cooking Challenge, I am now utilized my Gourmet subscription I had in 2004-2005. I had stopped the subscription because I wasn't reading the magazine and felt it was a waste of money. Now, I am utilizing the magazine by trying the recipes in the magazine. I no longer feel I wasted my money.
Here are some other Vegetarian meals that are just as perfect for #MeatlessMonday!
Vegetarian Dinner Ideas
This recipe is from the January 2005 issue in a section called Quick Meals, however I made a number of changes after a visit to the Farmer's Market. Instead of using frozen broccoli, I used a combination of all the fresh colorful cauliflower's available in some supermarkets and the farmer's markets. I have now made this several times, sometimes utilizing fresh carrot fettucini from the farmer's market, although in these photos I used tagliatelle. I also added some pesto to the original recipe.
However, the step by step photos below are from when I made it with the carrot fettucini and added some seasonal sage. You can add whatever herbs you like to make it even more flavorful – some fresh oregano, parsley or rosemary would all work wonders with this pasta dish.
Garlic, ginger and onion are ingredients I use as seasoning, however, I never use it as the dominating flavor. As much as most people love garlic mashed potatoes, I find it too overpowering. Therefore, I reduced the quantity of the garlic in this recipe by half. Still, the garlic came through very strong. However, if you are a garlic lover, feel free to double the quantity of garlic I used.
HOW TO MAKE GARLIC PASTA AND CHICKPEAS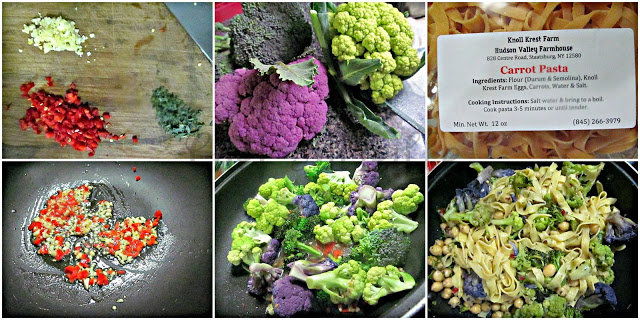 Drizzle with extra oil and serve with lots of freshly grated cheese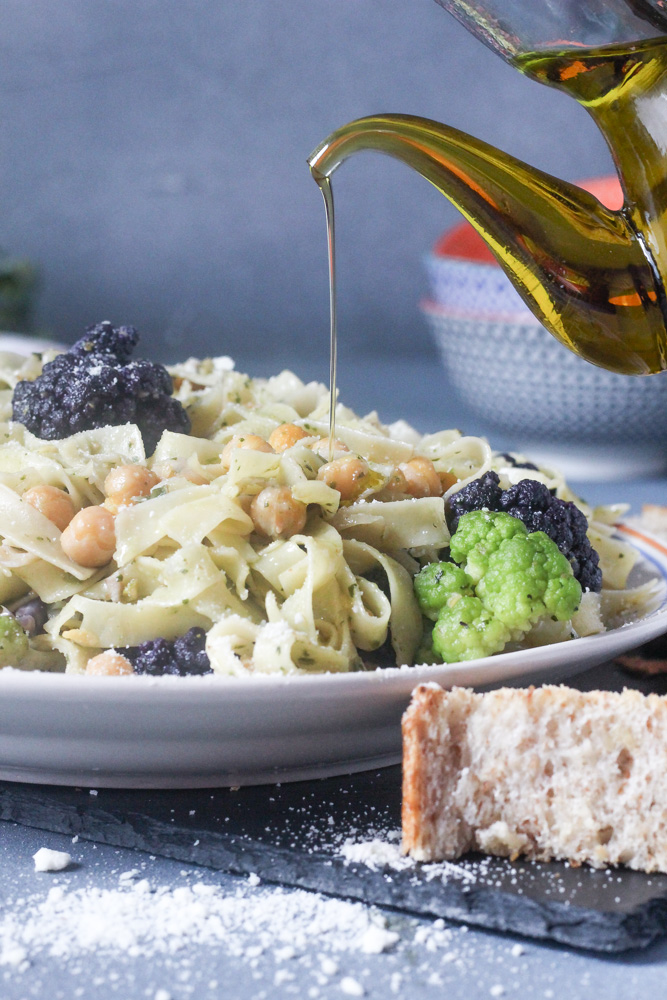 This is perfect with some toasted bread.
Chickpea Garlic Pasta
Ingredients
10

oz.

fresh tagliatelle

5

tablespoons

olive oil

3-5

cloves

garlic

finely chopped

1/2

red jalapeno

finely chopped (or 1/2 teaspoon crushed red pepper)

14

oz.

cauliflower

broken into florets

15.5

oz.

can chickpeas

drained and rinsed

2

tablespoons

finely chopped parsley

or your favorite herb like oregano, rosemary, sage or mint

3

tablespoons

pesto

4

tablespooons freshly grated Pecorino Romano cheese

salt

to taste
Instructions
Boil a large pot of water. Add salt and a tablespoon of olive oil. Add fresh pasta and cook for 3 minutes, until al dente. (If using dried pasta, cook according to package instructions.) Drain, but reserve 1 cup of the cooking liquid.

In a large skillet, heat 1 tablespoon of the olive oil. Add garlic and chile. Saute for a few minutes until the garlic turns golden.

Add cauliflower and reserved cooking liquid. Stir once. Cover and cook for 8 minutes. The vegetables should be fork tender, but still crisp and the liquid will have evaporated.

Add chickpeas, cooked pasta. pestp, parsley and salt. Toss for 2 minutes.

To serve, add 1 tablespoon of olive oil and cheese over each serving.
Notes
Use as much or as little garlic as you prefer.
Did you try this recipe? Leave a comment below.
Please follow me on Instagram @chefmireille or tag me #chefmireille with your pics! I'd love to share them!
Don't forget to visit the RECIPE INDEX with over 1000 recipes from around the world including lots of Vegetarian Recipes and Gluten Free Recipes!