Last Updated on April 2, 2019 by Chef Mireille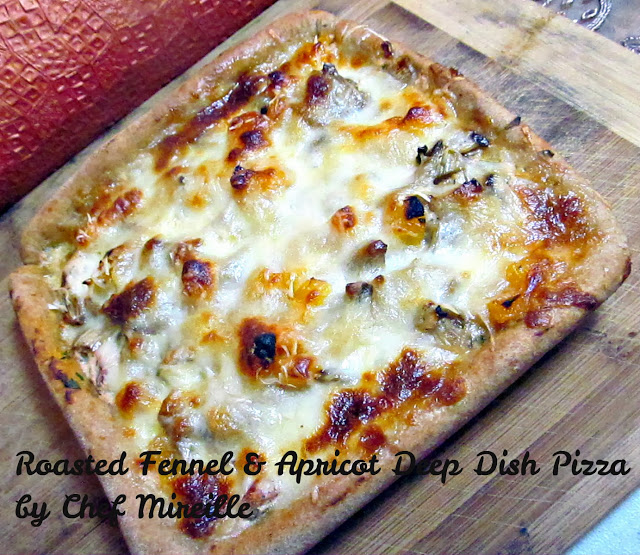 Blogging Marathon #35
Theme: Pizzas
Since I already have a few common pizza varieties on this blog, I really had to think out of the box to come up with some pizzas for this week's BM theme. I really was surprised at how good some of my unique creations turned out. Tuesday's Beet-Carrot Pesto pizza really was so delicious. Don't be afraid by the unusual combination of ingredients and you really will be pleasantly surprised. Here's my last pizza for the week!
Deep dish pizzas are characterized by the pizza toppings being stuffed underneath the cheese instead of on top. This is one of the unique things that made the national chain of Pizzeria Uno gain such popularity back in the 90's. I've always loved this type of pizza.
Fennel and apricot are two flavors that complement each other well and are often combined in dishes of the Mediterranean. Here is my Mediterranean Deep Dish Pizza.
Fennel & Apricot Deep Dish Pizza
Serves 6
Ingredients:
1/2 recipe whole wheat pizza dough (see my recipe here)
1 large fennel bulb
2 garlic cloves, crushed
1/2 teaspoon dried thyme
1/2 teaspoon black pepper
1/4 teaspoon salt
4 cloves
12 dried apricots, chopped
zest and juice from 1 orange
1/2 cup Ricotta cheese
1 cup diced tomatoes (canned)
1/4 cup parsley, chopped
1 cup Mozzarella cheese, grated
1/4 cup Parmesan cheese, shredded
salt and pepper, to taste
Preheat oven to 400 F.
Core and quarter fennel. Stick 1 clove into each quarter.Toss fennel with garlic, orange zest and juice, thyme, salt and pepper.
Grease a baking dish with olive oil. Place fennel with accompaniments in baking dish.
Roast for 40 minutes. Flip over fennel quarters and roast for another 30 minutes. Leave to cool.

Chop fennel.
Raise oven temperature to 425 F.
Lightly grease a square baking dish.
Roll out pizza dough into a large square and press into square dish.
Combine ricotta, parsley, tomatoes and salt and pepper to taste in a bowl and stir to combine. Spread on top of pizza crust.
Sprinkle roasted fennel and dried apricots on top. Add Mozzarella & Parmesan on top.

Bake for 25 minutes.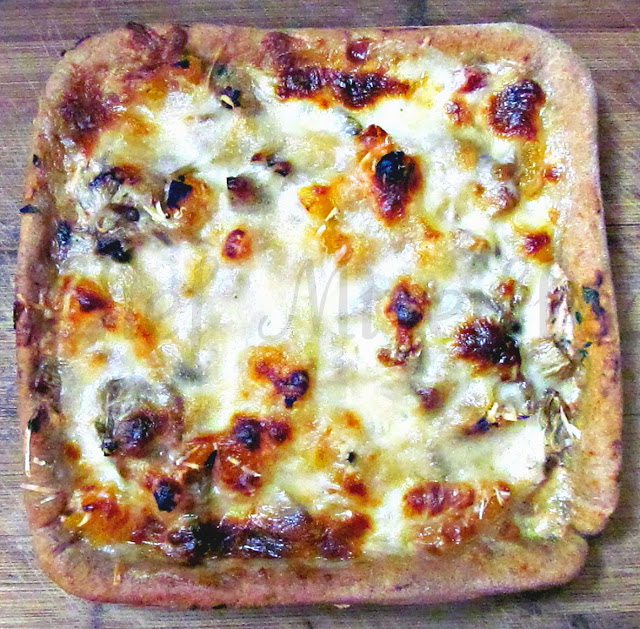 An unusual pairing of ingredients make a very flavorful pizza.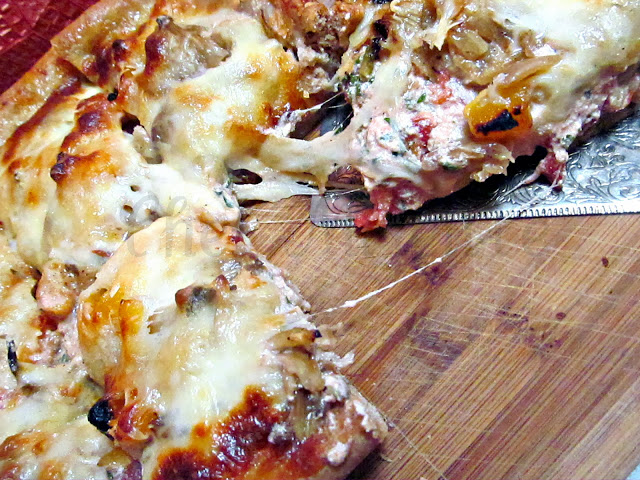 Check out the Blogging Marathon page for the other Blogging Marathoners doing BM#34
Since I picked up the fennel at the Union Square Farmer's Market (my fave spot for shopping for local produce), I am sending this recipe off to the Shop Local Blogging Challenge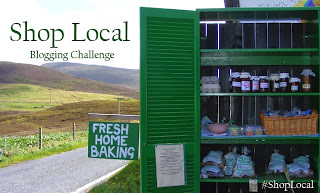 LIKE THIS RECIPE? LEAVE A COMMENT..I LIVE FOR THEM!
Chef Mireille