Last Updated on April 2, 2019 by Chef Mireille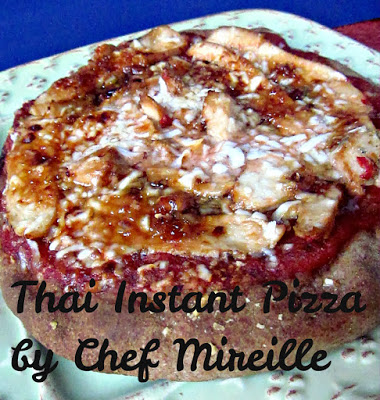 Blogging Marathon #35
Theme: Pizza
Don't you hate when you have small portions of a bunch of leftover ingredients and yet not enough to make a meal of it. A few tablespoons of this and a few tablespoons of that. That's how this recipe was born. Utilizing the toaster oven and leftovers, pizza was done in 10 minutes.
Thai Instant Pizza
Ingredients:
1 7″ whole wheat pita
1/4 cup crushed tomatoes
salt and pepper, to taste
1 chicken tenderloin (from this recipe), thinly sliced
1 tablespoon Thai sweet chili sauce
1/4 cup Pecorino Romano cheese, grated
Spread the crushed tomatoes on the pita. Sprinkle salt and pepper on top. Add sliced chicken and then the chili sauce.
Finally, top with the grated cheese.

Place in toaster oven for 10 minutes.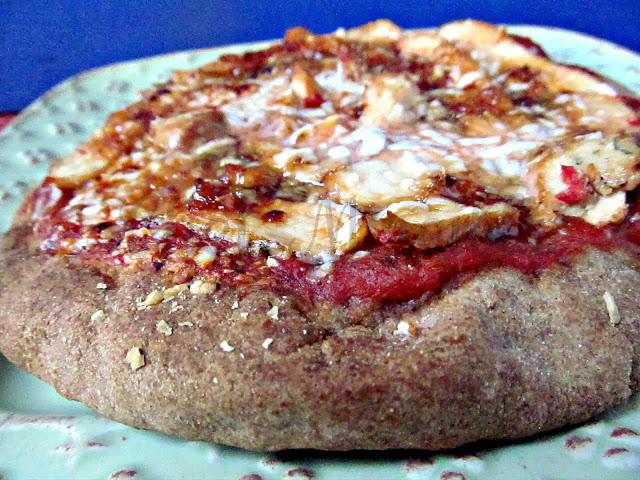 This pizza was delicious with an amalgamation of flavors from the East & the West.
Check out the Blogging Marathon page for the other Blogging Marathoners doing BM#34
LIKE THIS RECIPE? LEAVE A COMMENT..I LIVE FOR THEM!
Chef Mireille