Last Updated on January 31, 2021 by Chef Mireille
Hush Puppies with Spicy Corn Aioli are Cornmeal Fritters that is a perfect game day savory bite. The Spicy Corn Aioli brings this classic bite of Americana to the ultimate level with the flavor.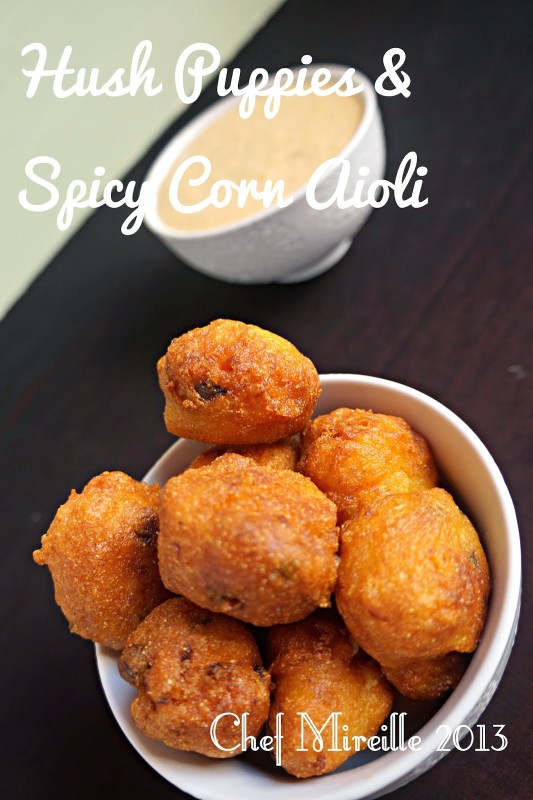 This post may include affiliate links.
Hush Puppies are a very traditional food of the Southeastern United States. It is usually just fried cornmeal batter. However, I added corn kernels plus a few other veggies to make them a little more interesting.
History of Hush Puppies
Here's the story of how hush puppies came about!
The oldest story is that hushpuppies originated in the settlement of Nouvell Orleans (what eventually became New Orleans, Louisiana), around 1727. They were created by a group of Ursuline nuns who had come from France. The nuns converted cornmeal into a delicious recipe that they named croquettes de maise. The popularity of these croquettes spread rapidly through the southern states.
but that's not the only story…
Another historical reference creates a different story of origin.
An African cook in Atlanta is said to have given the name hush puppy to this food. When frying a batch of catfish and croquettes, a nearby puppy began to howl. To keep tthe; puppy quiet, she gave it a plateful of the croquettes and said, "hush, puppy." That name stuck. This same story is also attributed to a Creole cook.
and yet another story…
Hunters and trappers could be on the trail for days at a time. At suppertime the hunting dogs would get hungry, so the hunters would mix a batter out of cornmeal or flour and cook it in grease on the campfire. Then they would throw the fried dough to the pups, telling them to be quiet, shut up, or "hush. Confederate soldiers would sit beside a campfire preparing their meals. If they detected Yankee soldiers approaching, they would toss their yapping dogs some of the fried cornmeal cakes with the command "Hush, puppies!
Now that you've learned a little about Americana history, here's my updated version of an American classic.
You can decide which historical attribution you want to believe!
HOW TO MAKE HUSH PUPPIES WITH SPICY CORN AIOLI
With the spicy aioli, this is such a treat for game day or any party.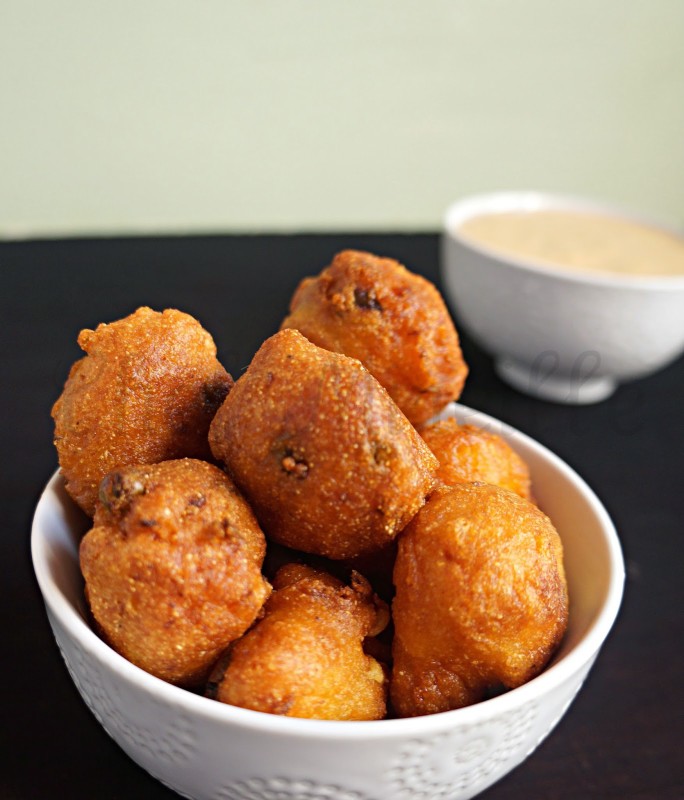 …Now you have these fried balls of deliciousness…but it's still missing something…hmmm what could it be…a spicy dip to highlight the sweet corn flavor. Spicy Corn Aioli does the trick!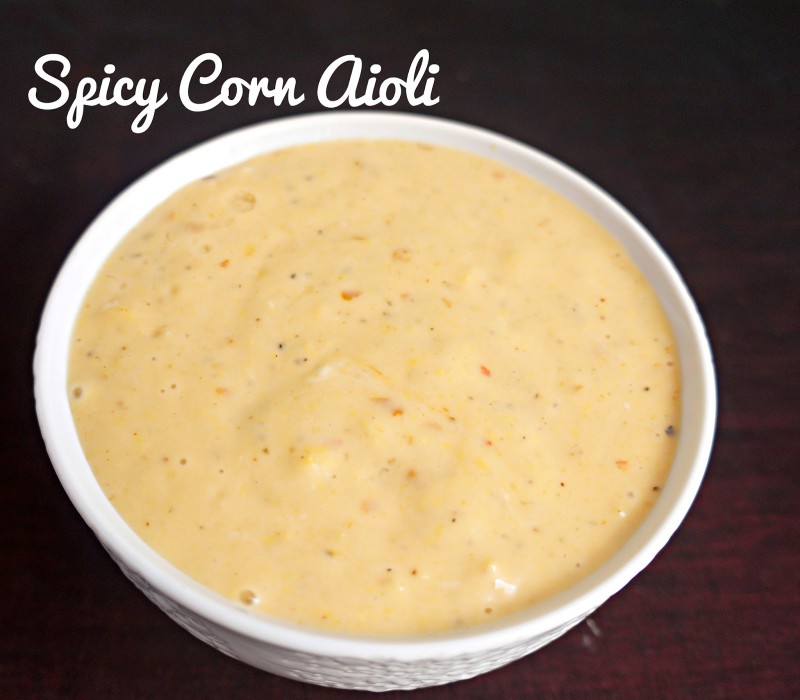 MAKING THE AIOLI
Aioli is a dip that has become popular in recent years. You will find all kinds of aioli available in restaurants from sun dried tomato to spinach….the varieties are endless. You my wonder what exactly is an aioli. It's basically a fancy word for olive oil mayonnaise. It is French in origin and is basically mayonnaise made with olive oil instead of vegetable oil and flavored with garlic, salt and black pepper. Hellman's now makes olive oil mayonnaise as do other brands as well., therefore making the process of aioli making simple. Just mix the mayo straight out of the jar with desired seasonings and you have an aioli.
You can use store bought harissa for this recipe, but the homemade version is very easy and even more delicious. Check out the recipe here.
Now you're ready to eat… Grab a puppy…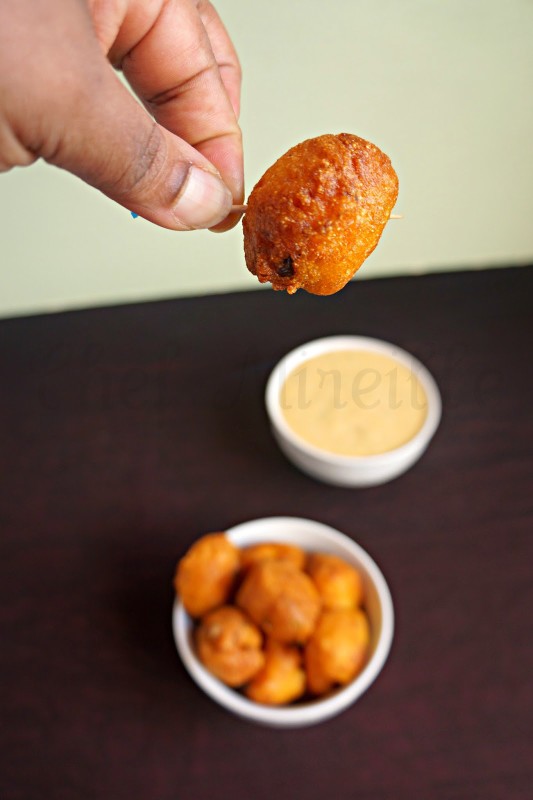 Dip it in the aioli…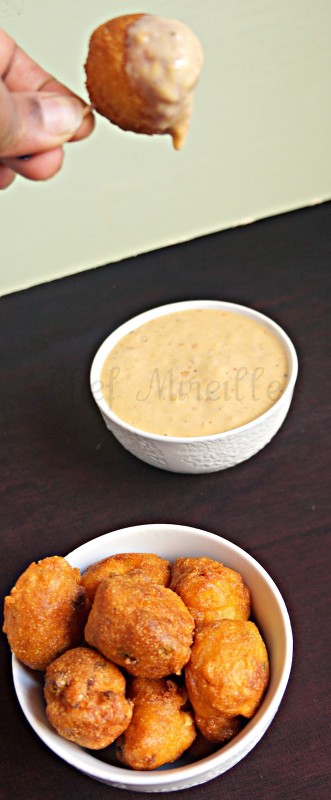 Take a bite and I promise you won't be able to stop…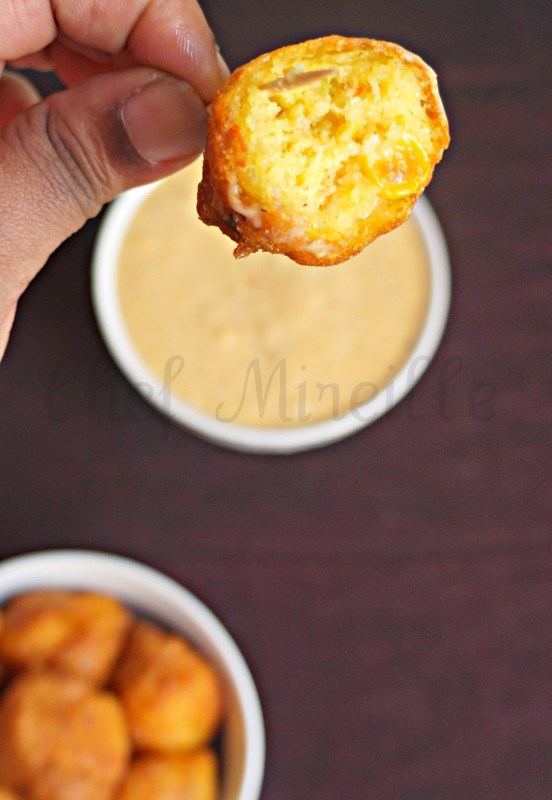 The aioli really brings this old time American fave to another level.
Perfect Party Food!
However, if you want to include it as part of a meal, pair it with a healthy salad and the guilt associated with deep fried food will completely disappear!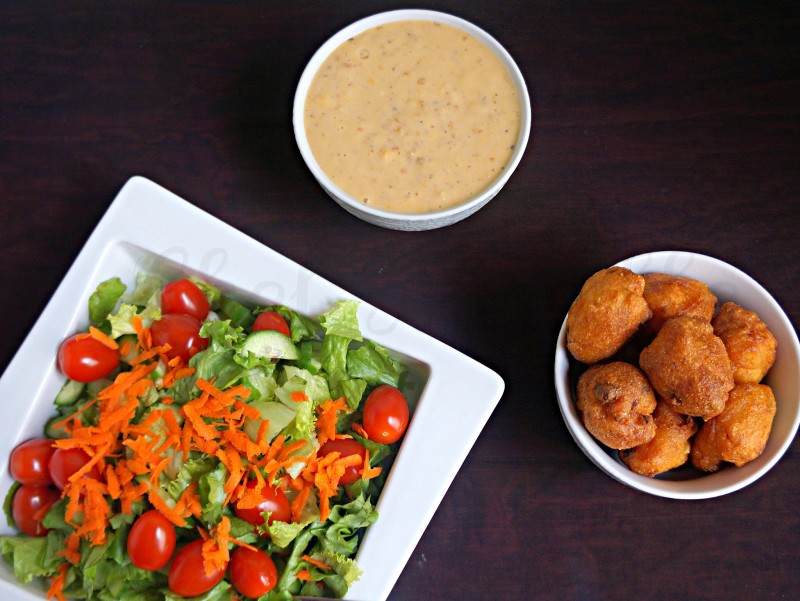 Hush Puppies with Spicy Corn Aioli
Hush Puppies with Spicy Corn Aioli are Cornmeal Fritters that is a perfect game day savory bite. The Spicy Corn Aioli brings this classic bite of Americana to the ultimate level with the flavor.
Ingredients
Hush Puppies Ingredients:

2

cups

yellow cornmeal

1

cup

all purpose flour

1

egg

beaten

1 1/2

teaspoons

salt

2 2/3

cups

buttermilk

3/4

cup

frozen corn

defrosted

1/4

cup

frozen green peas

defrosted

1/2

cup

carrots

grated (I used rainbow carrots)

3

skinny scallions

chopped

1/2

teaspoon

baking soda

oil

for frying

Aioli Ingredients:

3/4

cup

canned corn

cream style

1/2

cup 

Hellmann's olive oil mayonnaise

1/2

teaspoon

salt

1

tablespoon

harissa
Instructions
Combine all ingredients, except the oil and the buttermilk and mix. Add buttermilk and mix until just combined.

Heat enough oil for deep frying to 350 F.

Using a mini scoop or a tablespoon, drop scoops of batter into the hot oil and fry until golden brown on all sides.

Drain on paper towels.

Now it's time to make the aioli.

Combine all ingredients in a food processor and mix until well blended and thoroughly combined.
Nutrition
Calories:
267.47
kcal
|
Carbohydrates:
21.24
g
|
Protein:
3.67
g
|
Fat:
18.84
g
|
Saturated Fat:
3.56
g
|
Sodium:
225.5
mg
|
Fiber:
1.12
g
|
Sugar:
2.77
g
Did you try this recipe? Leave a comment below.
Please follow me on Instagram @chefmireille or tag me #chefmireille with your pics! I'd love to share them!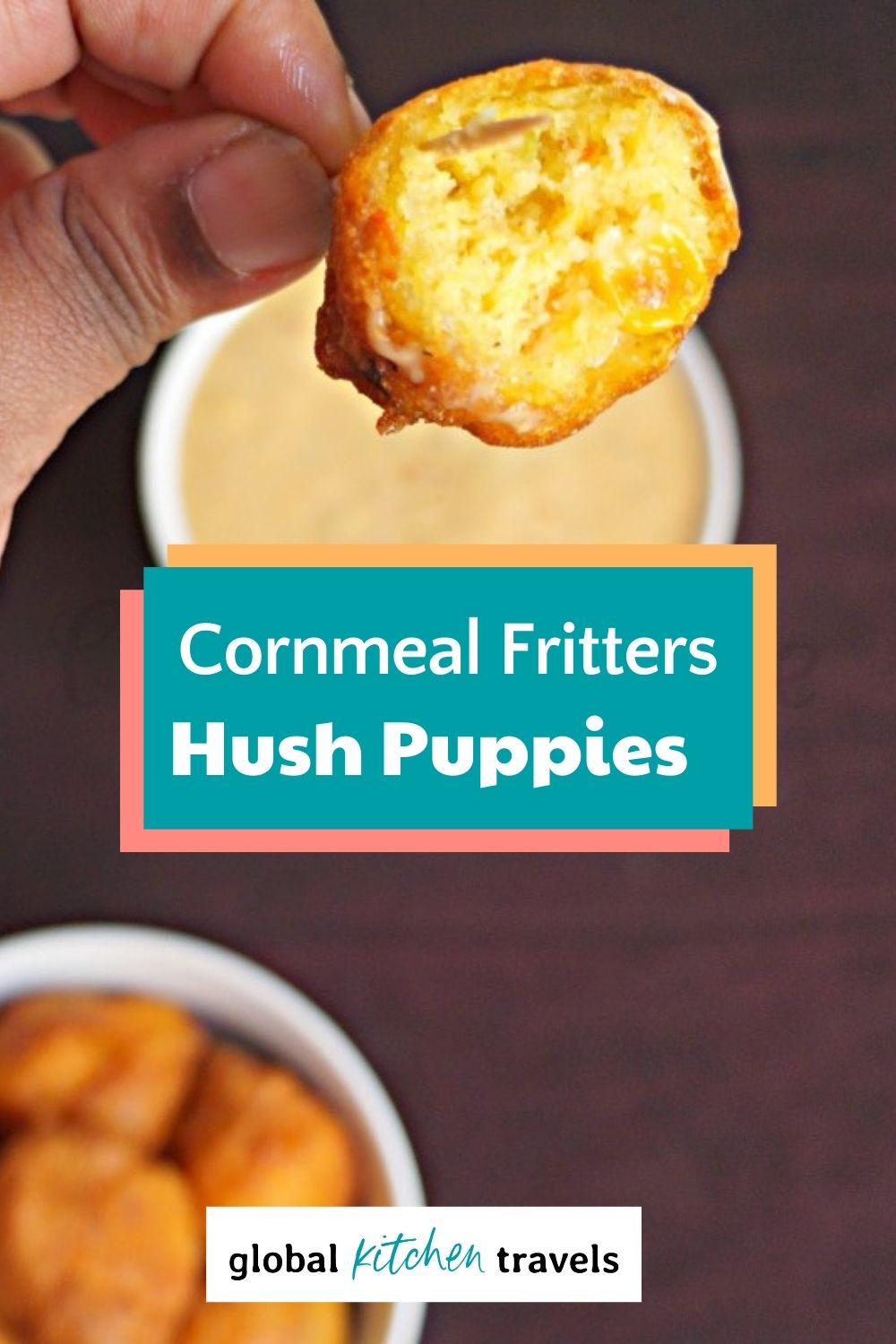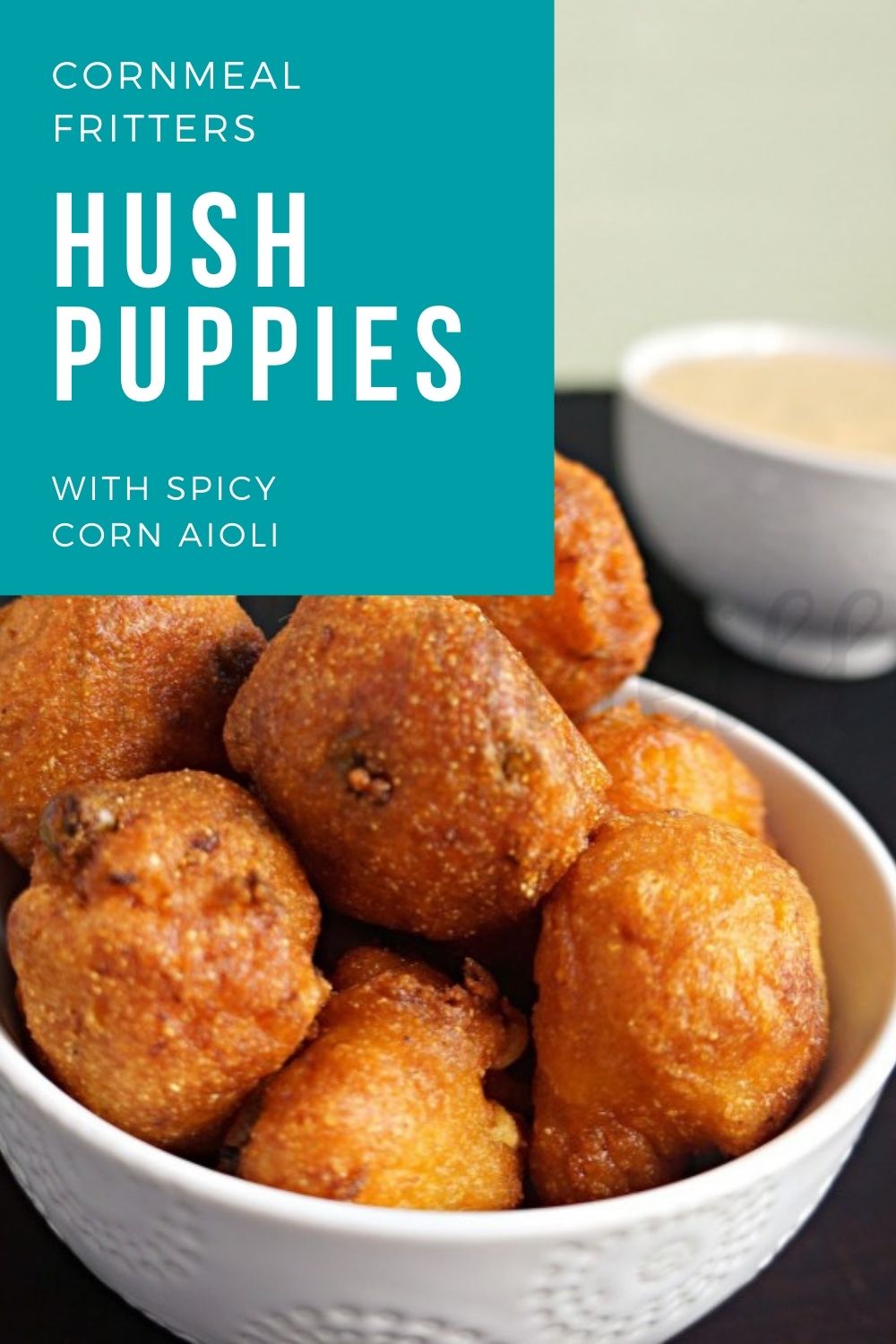 Don't forget to visit the RECIPE INDEX with over 1000 recipes from around the world including lots of Vegetarian Recipes and Gluten Free Recipes!