Last Updated on June 2, 2015 by Chef Mireille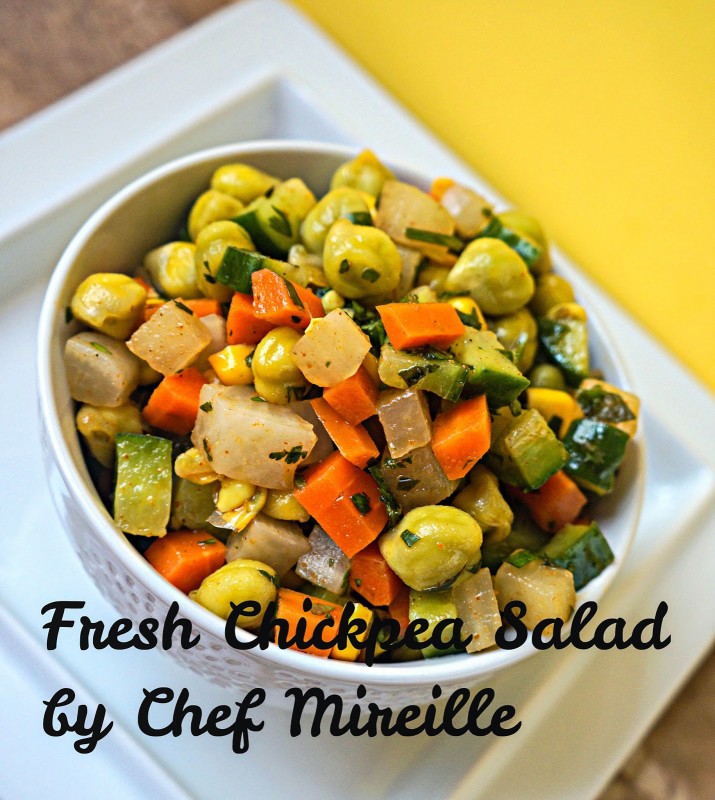 Fresh Chickpeas are not something easy to come by here in the United States. In fact, it was only about 2 years ago that I came across them for the first time and I was so amazed I came home with a big bag of them. Now, whenever I see them at the Indian supermarket, I usually purchase them. They cook very quickly and have such a fresh, taste.
They are easily shelled.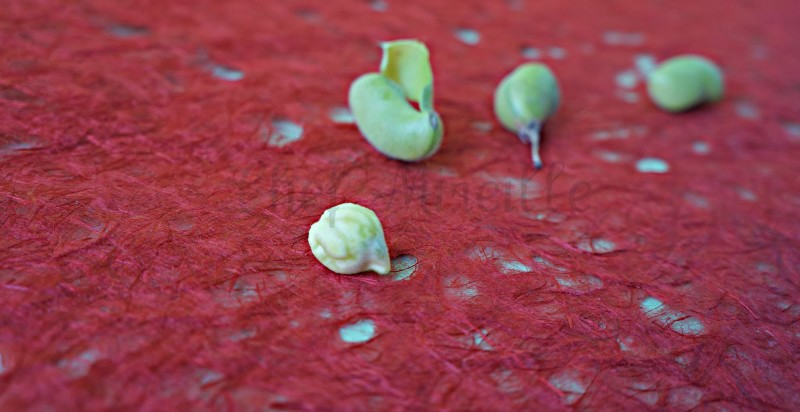 Fresh Chickpea Salad
Serves 6
Ingredients:
1 1/4 cups fresh chickpeas, shelled
3/4 cup carrots, diced
3/4 cup daikon radish, diced
2 Persian cucumbers, diced
2/3 cup canned corn, drained (or defrosted frozen corn kernels)
2/3 cup passionfruit juice
2 teaspoons ketchup
1/4 cup olive oil
1 1/2 teaspoons salt
1 tablespoon paprika
1/2 teaspoon cayenne pepper
5 stalks mint leaves, finely chopped
1 large handful cilantro, finely chopped
Bring a large pot of water to a boil. Add chickpeas and cook for 10 minutes. Drain and run cold water immediately over the peas to stop the cooking process.
Bring a pot of water to boil again. Add carrot and daikon and cook for 3 minutes. Drain and run cold water immediately over the vegetables to stop the cooking process or put in a bowl of ice water.
In a large bowl, combine chickpeas, carrots, radish, cucumbers and corn. Add mint and cilantro and stir to combine.
In a small bowl, combine juice, ketchup, salt, paprika and cayenne pepper. Whisk well. While whisking, slowly drizzle in olive oil until thoroughly combined.
Pour dressing over chickpeas and mix well. Leave to marinate for at least 30 minutes and up to 6 hours. If you leave the salad in the dressing for more than a day, the cucumbers will turn to pickles.

Drain and serve.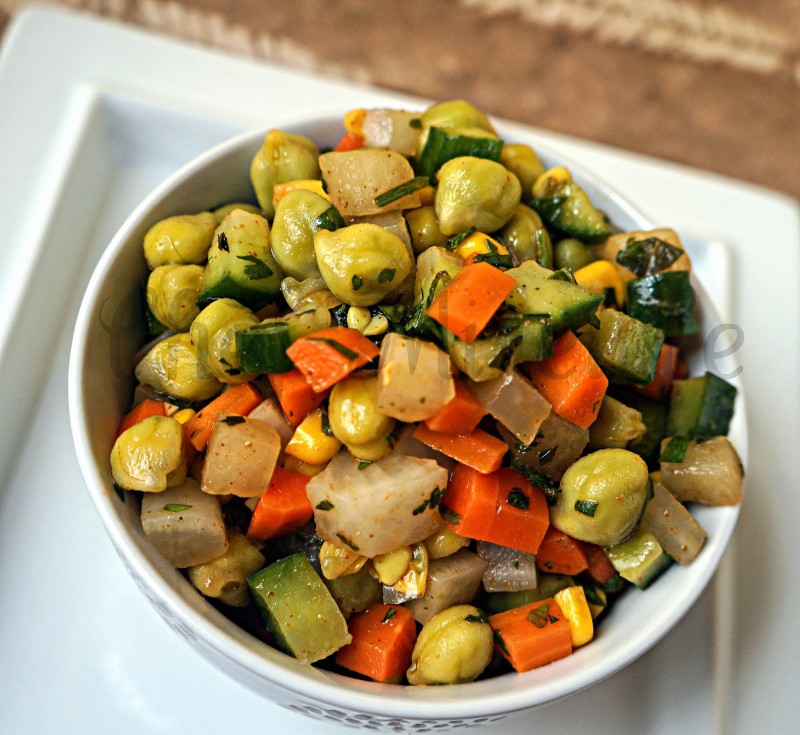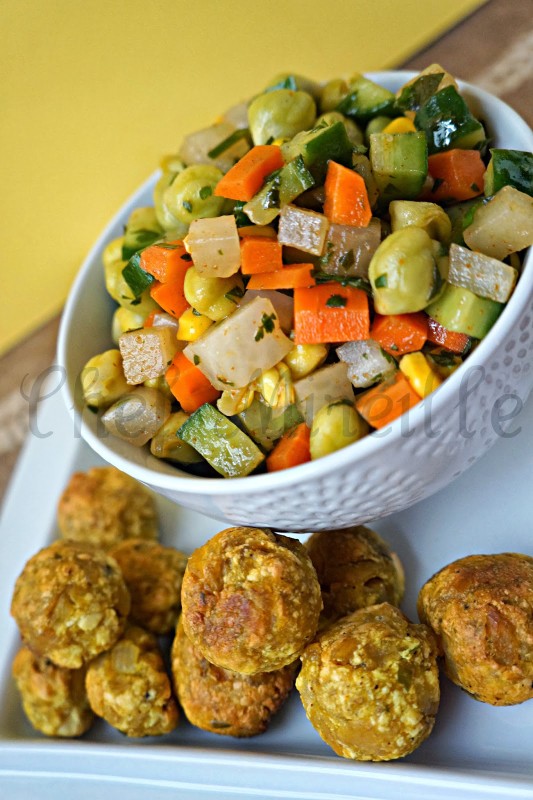 Plantain Paneer Kebab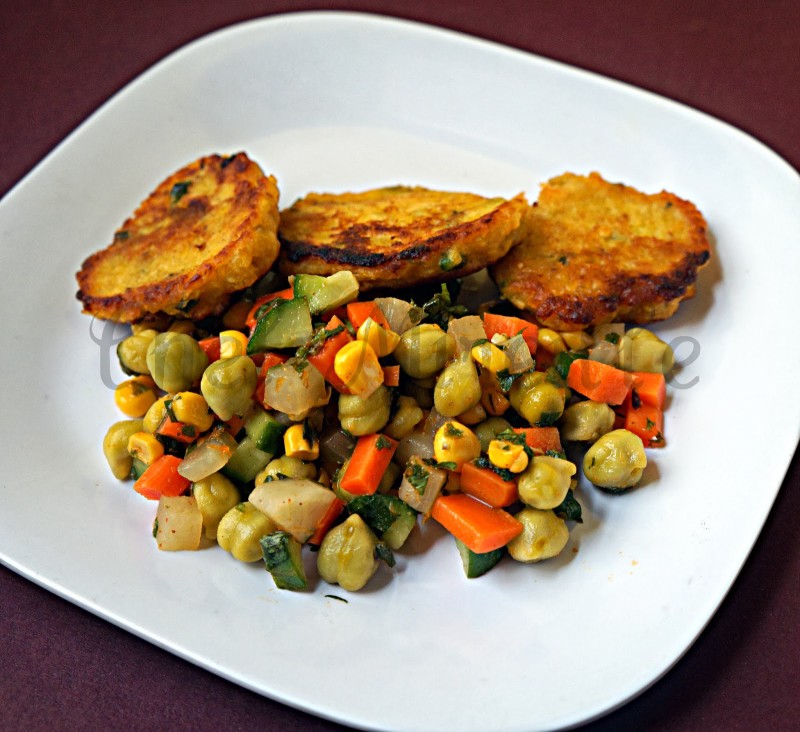 Tatale
This week's BM theme is all about presenting soups or salads with great side dishes. Today I've given you three side options you can have with this great salad. Serve with Plantain Paneer Kebab or Tatale (Ghanian Plantain Fritters).
You can also serve these with Mini-Quiche/Chayote-Carrot Smoked Gouda Tarts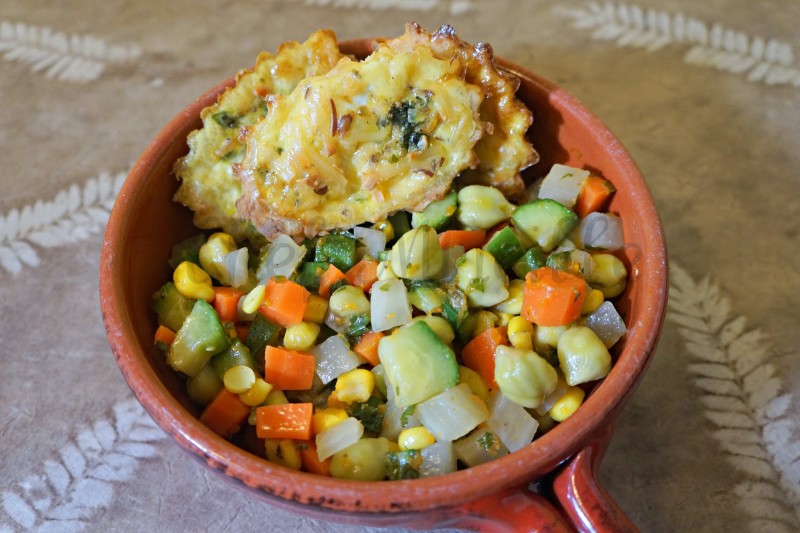 Check out the Blogging Marathon page for the other Blogging Marathoners doing BM#38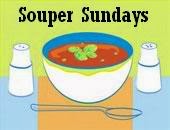 …linking to Souper Sunday & Tasty Tuesdays

LIKE THIS RECIPE? LEAVE A COMMENT..I LIVE FOR THEM!
Chef Mireille