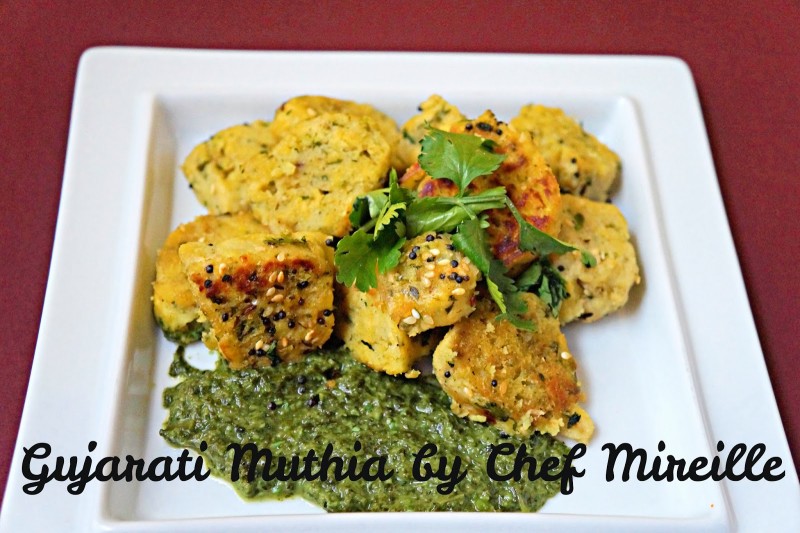 This month, I took up the Blogger's Challenge theme. All of the other participating BM bloggers issued a challenge and I had to pick three to do. For the first one, I am selecting Gujarati Muthia.
Gujarat is a state located on the northwestern coast of India and has a unique cuisine all its own. They have a variety of savory cakes that are often eaten for snacks or at tea time. I recently made handvo. Check out the photo. Doesn't it look good? Sorry…but you are going to have to wait a bit for that recipe…until then, let's try Muthia.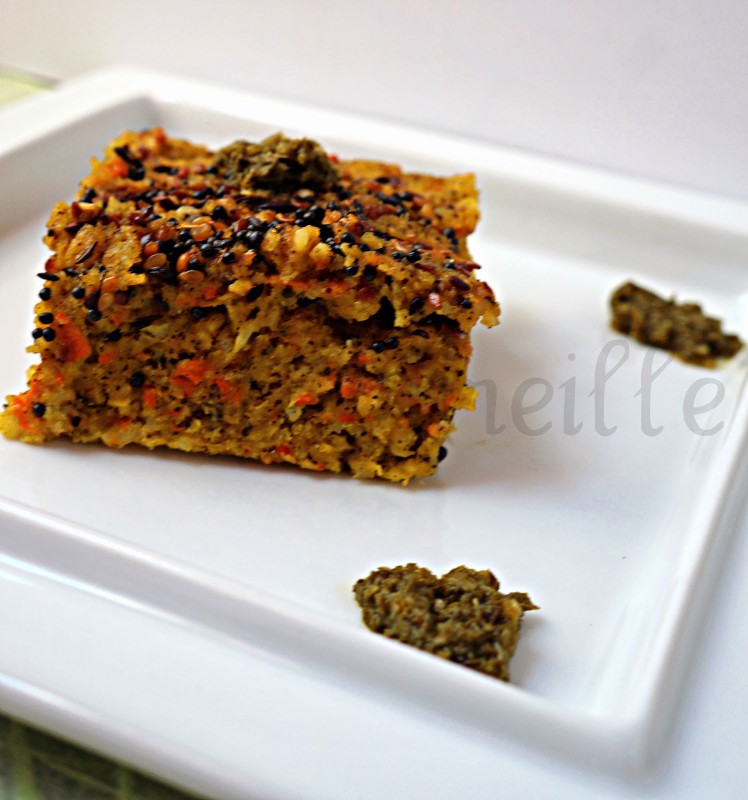 Handvo
While Handvo is a baked cake, Muthia is steamed. The most traditional muthia is made with bottle gourd (aka lauki or doodhi), however other versions are made with cabbage or fenugreek (methi).
Muthia
Serves 6-8
Dough Ingredients:
1 3/4 cups bottle gourd, peeled and grated
1 cup chappati flour (or whole wheat flour)
3/4 cup semolina
3/4 cup chickpea flour (besan)
2 green chiles
1 tablespoon + 1 teaspoon ginger, grated
1/4 teaspoon ground turmeric
3 tablespoons oil, separated
3/4 teaspoon salt
2 teaspoons sugar
1/2 teaspoon baking soda
3 tablespoons cilantro, finely chopped
Stir Fry Ingredients:
1 teaspoon cumin seed
1 teaspoon mustard seed
1 tablespoon sesame seeds
12 curry leaves
1/8 teaspoon asoefetida
1/4 teaspoon salt
1 tablespoon lemon juice
Squeeze out liquid from bottle gourd and reserve.
In a large bowl, combine flours, 1 tablespoon of the oil, 2 tablespoons of the cilantro and all other dough ingredients. Mix to combine. Add grated gourd and knead into a dough, adding reserved bottle gourd juice a little at a time, as needed. Use water if you run out of bottle gourd juice. (I used 5 tablespoons) Cover and leave to rest for 15 minutes.
With wet hands, form into oblong little cakes.
Place in a steamer and cook for 25-30 minutes. Test by inserting a fork into one. If it comes out clean, muthia are ready.
Let them cool and slice into thick pieces.
In a large non stick skillet or wok, heat remaining oil. Add cumin seed and mustard seed. As soon as the cumin starts to change color, Add curry leaves, asoefetida and sesame seeds. Fry for 1 minute.
Add slices of muthia, lemon juice, salt and remaining cilantro. Toss to combine and cook on low heat, tossing frequently, until heated through, about 5 minutes.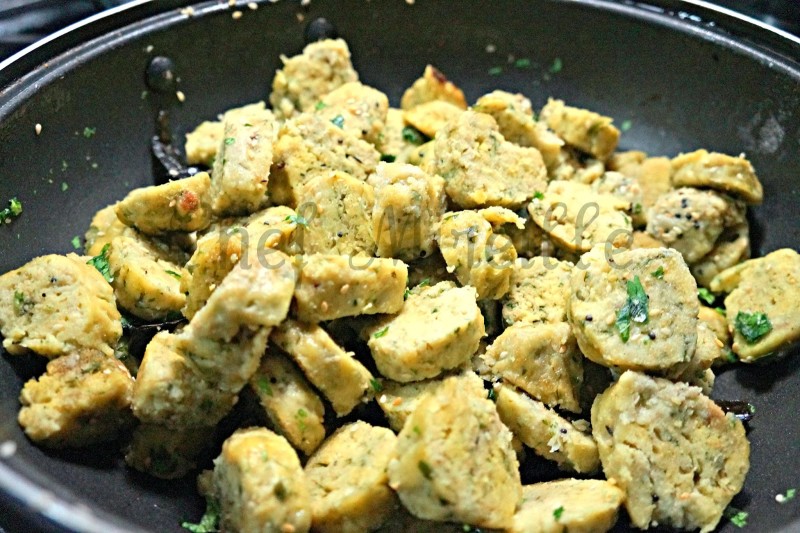 Serve with coriander or mint chutney.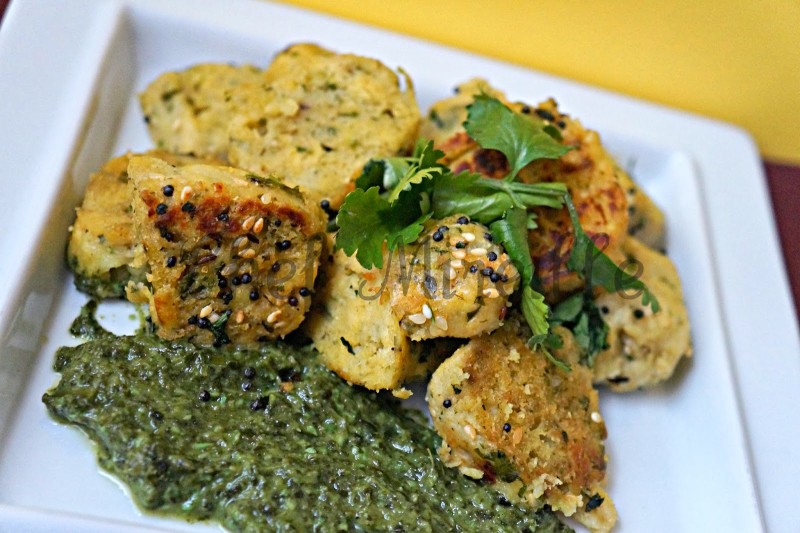 Are these photos making you hungry? Don't you want a bite?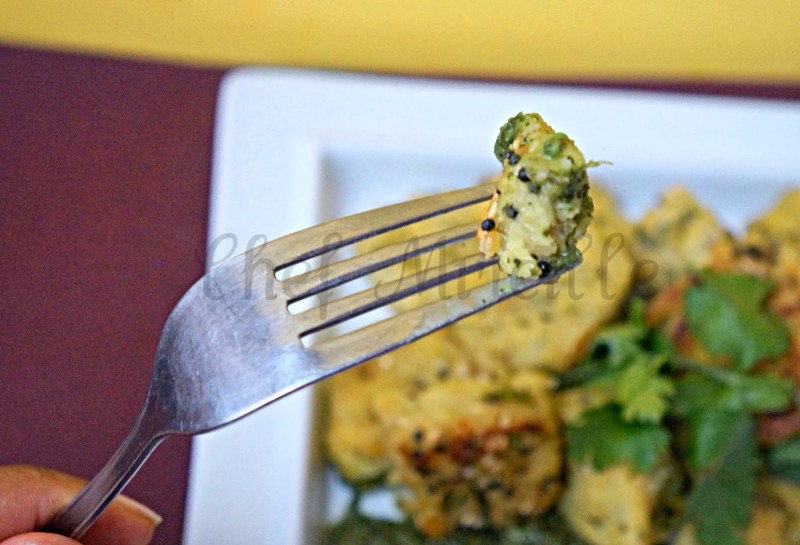 Check out the Blogging Marathon page for the other Blogging Marathoners doing BM#37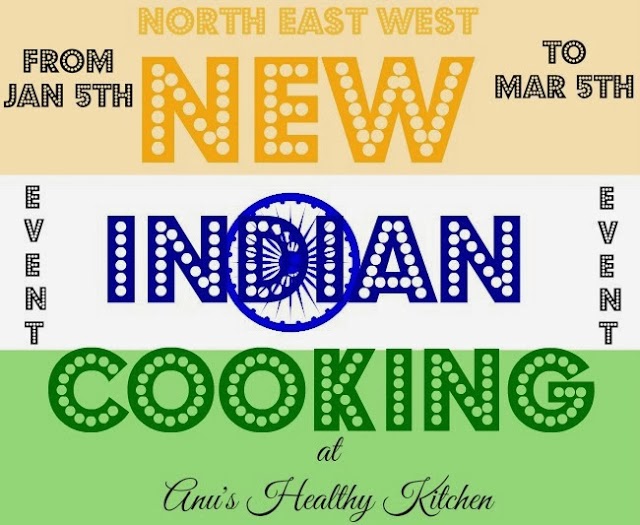 …linking to New Indian Cooking
Do you know anyone else who likes learning about international food, culture, history and travel? Bring them over here to join the party! Don't forget to use those share buttons!
Start Here to find out how the Schizo Chef can help you with your cooking, travel and other needs!
If you like this recipe, PLEASE LEAVE A COMMENT & SUBSCRIBE!
Sign up for our updates!
Subscribe to get our latest content by email and get your FREE Pantry Cheat Sheet - Learn the basics to cook any International cuisine!