Last Updated on December 14, 2020 by Chef Mireille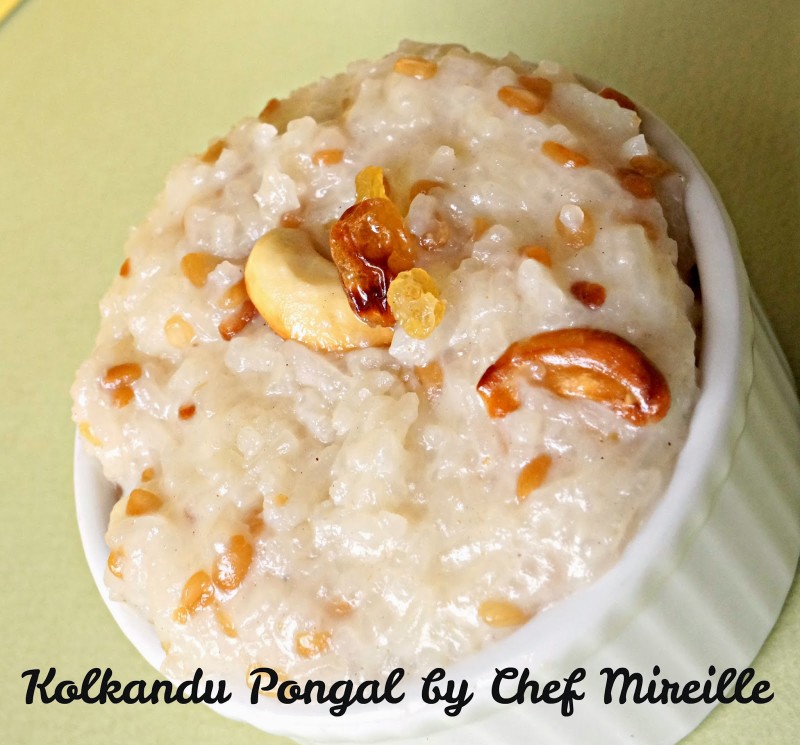 I embraced the BM Challenge with this very traditional Indian sweet.
Pongal is both a festival and a sweet dish. Pongal is one of the most celebrated festivals in the South Indian Tamil Nadu state of India. Additionally, it is celebrated in Sri Lanka and in the Indian state of Pondicherry.
As a dish, there are many varieties of Pongal, but it usually is some kind of sweetened rice pudding. This one gets its name from the Indian word for sugar candy, kolkandu.
Kolkandu Pongal
Serves 4
Ingredients:
1/2 cup medium grain rice
2 tablespoons yellow moong beans/ moong dal
1/2 cup kalkandu/ sugar candy
1 cup milk
1 1/2 cups water
2 tablespoons ghee
1/8 teaspoon ground cardamom
1 teaspoon raisins
2 teaspoons cashew pieces
Using a coffee/spice grinder, powder the sugar candy.
In a pot, heat 1 tablespoon of the ghee. Fry raisins and cashew pieces for 1 minute. Remove from pot.
Add moong dal to pot. Fry until golden and fragrant.
Add rice, 1/2 cup of the milk and water. Bring to a boil. Reduce to a simmer and cook for 30 minutes, stirring occasionally.
Add sugar and remaining milk. Mash the rice well.
Add remaining ghee and cook for another 5 minutes, stirring frequently.
Add cardamom, raisins and cashews. Stir to combine.
Serve warm.
Garnish with more raisins, if desired.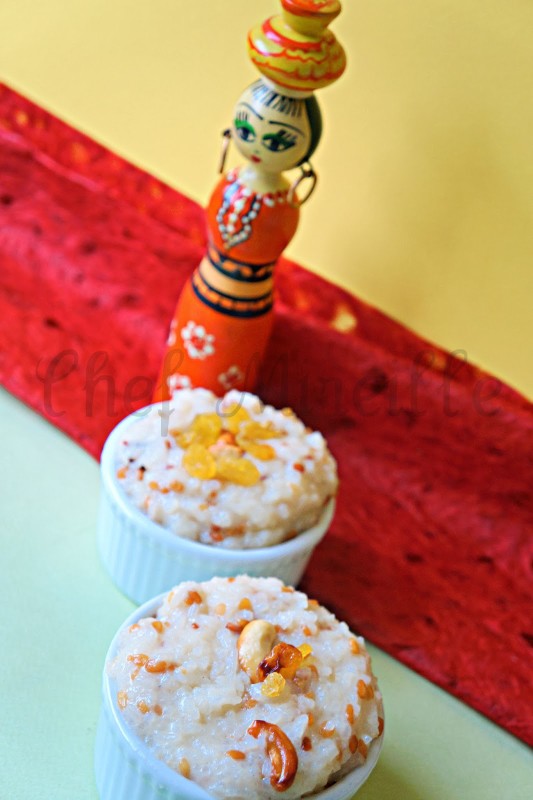 Whether you celebrate this festival or not, this is another delicious form of rice pudding – one of my fave things in the world!
Check out the Blogging Marathon page for the other Blogging Marathoners doing BM#37
LIKE THIS RECIPE? LEAVE A COMMENT..I LIVE FOR THEM!
Chef Mireille