Last Updated on December 14, 2020 by Chef Mireille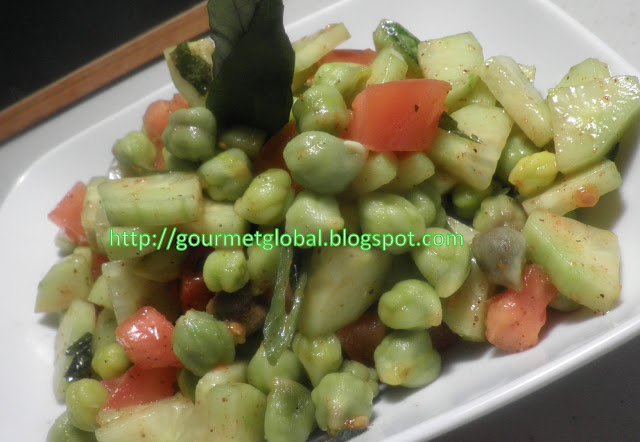 Chickpeas in America are generally sold either dried or canned, however, in other countries, it is possible to get fresh green chickpeas. In the Middle East and South Asia, these are easily available at the local market. Recently, it is possible to get these fresh garbanzos at gourmet and organic markets.
This past weekend I went to the Pakistani enclave near where I live and I was so excited to see fresh chickpeas so I bought a big bag of them.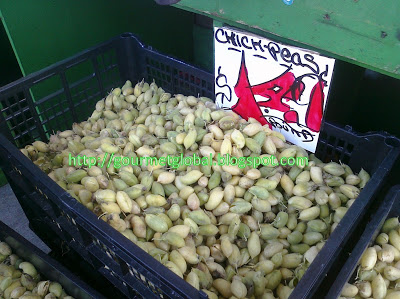 I was so excited to come home and make something with them, so I created this delicious salad. I am sure versions of this salad can be found among stalls in India and Pakistan that sell street food.
What's great about the products sold in Indian markets is that it is not necessary to make the spice mix yourself, which requires you having all of the spices and then roasting them and then grinding them. There are spice mixes for Biryani, Tikka, Vindaloo and every other Indian dish you can probably think of. To create this simple recipe, I used the chaat masala spice blend. (the package said it included salt, red chile powder, mango powder, cumin seed, long pepper, black salt, sugar, ginger, bay leaf, black pepper, cinnamon, clove, asoefetida – imagine having to do all that?) This recipe could not be simpler.
1 1/4 cups fresh green chickpeas
1 plum tomato, chopped
1/2 English cucumber, chopped
1 teaspoon chaat masala spice blend
1/4 teaspoon salt
1 teaspoon mustard oil
juice of 1 lime
2 chiles, cut into very thin strips
9 curry leaves, cut into very thin strips
Shelling the chickpeas is a fun activity to give to the kids. It was President's Day today in the United States. It is a legal bank holiday, so all the schools were closed, but a friend of mine's office was not closed so I volunteered to babysit her kids today. They were so engrossed and took the task so seriously and then the 6 year old asked if we could plant them. I thought it was such a great idea, so we saved 6 of the fresh chickpeas and planted them. I normally do not have a green thumb, but since the kids are so excited about it and want to see how they grow, I am going to be really committed to this plant and water it regularly, etc.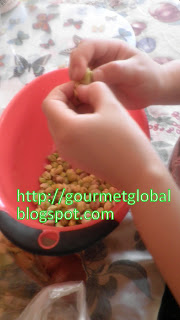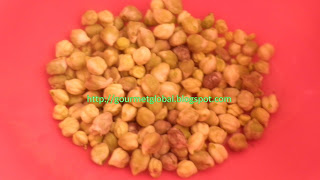 Heat a pot of water to boiling. Add the chickpeas to the boiling water and cook for 4 minutes, until peas rise to the top.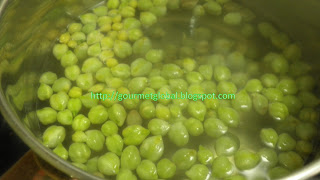 Drain immediately and set aside.
In a skillet, heat mustard oil and fry chiles and curry leaves for 2-3 minutes, until the chile seeds turn golden.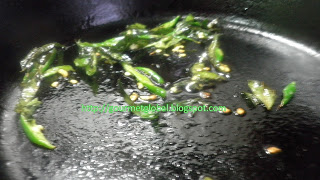 In a bowl, combine chickpeas and all ingredients.
Stir to combine and let rest for 30 minutes, before serving. Garnish with fresh curry leaves.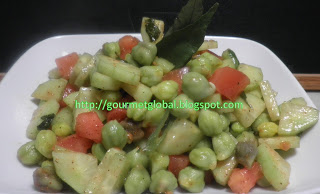 Sending to Healthy and Hearty event: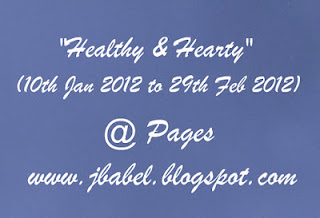 Chef Mireille