Last Updated on May 20, 2015 by Chef Mireille
There are many recipes that call for a pinch of this or a pinch of that, but did you ever wonder if a pinch has an exact measurement? Depending on the size of your hand, a pinch to you may not be the same size as my pinch. Several years ago, I found this great measuring spoon set that includes exact measurements for a pinch, dash and smidgen. Who would have thought that these were exact measurements, but they are!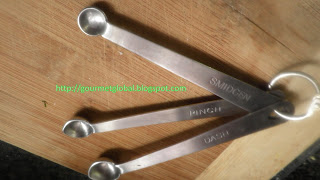 This kind of measuring spoon set is now available at most stores that carry kitchen supplies, however if you can't find it in your local stores you can order it from Amazon here and I also found this even better set that also includes tad and drop.
While getting ready for the Blogging Marathon I will be doing next week focusing on 7 days of Kebab, I am creating recipes for a lot of yogurt based sauces and dressings that are commonly eaten with Kebabs. For this recipe, very small quantities of seasonings are needed as the kebabs are filled with flavorful seasonings and spices. To be sure you we are all using the same measurement, I used this mini measuring spoon set.
For those of you who do not have this set, I took photos of it next to a 1/4 teaspoon, so that you have a reference point as to what the size should be. The largest one is a dash, then a pinch and the smallest one is a smidgen.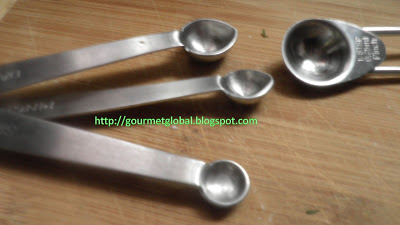 Here is a recipe for my Middle Eastern Yogurt Sauce, which can be eaten with any kind of kebab. Stay tuned for next week, starting on the 23rd for all kinds of delicious kebab recipes to go with this sauce!
Middle Eastern Yogurt Sauce
3/4 cup plain yogurt
2 tablespoons finely chopped mint leaves
1 pinch ground cumin
1 smidgen cayenne pepper
salt, to taste
1 tablespoon olive oil (only use if you are using Greek yogurt, which is more dense)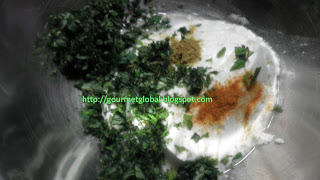 Combine all ingredients in a bowl and stir to combine.
Refrigerate for at least 30 minutes before serving, to allow flavors to develop.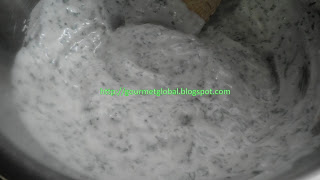 Serve with your favorite kebab.
Chef Mireille
https://www.globaltasteinc.com
Like me on FACEBOOK!
Follow me on TWITTER!
Contact me at [email protected] for personal chef and cooking class services!