Last Updated on April 25, 2022 by
Jaisalmer is a city located in the heart of the Thar Desert in the North Central Indian state of Rajasthan. When I speak to Indian people, often the subject of food comes into the conversation and many of them regardless of what state they originate from, have commented to me on the uniqueness of Rajasthani cuisine. The flavors achieved is something not present in other Indian cuisines. I have experienced this before when I made Dal Batti Churma. I was blown away. I met someone from Rajasthan a few months ago at a party and he told me about this Jaisalmer Chana I must try to experience the best that Rajasthani cuisine has to offer. I immediately went home that night and googled to find a recipe for it.
Additionally, I am always intrigued to learn more about Rajasthan because my family may have originated from there. Most people from the Caribbean are of mixed race – any combination of usually African, European, Indian and/or Chinese. I am no exception.

When my great grandfather left India and settled in Suriname, he broke off all ties to his Indian family. There are different family legends why he did that, but no one really knows for sure. I would love to have asked him why, but unfortunately I never got to meet him because he died the year I was born. However, from his birth certificate, we found out his original name before he changed it and an Indian person once told my mom that it is a Rajasthani name so who knows – I may have some relatives in Rajasthan that I don't know about. One day, I am going to have to go on Ancestry.com and try to figure it all out. Until then, I'll just enjoy the cuisine.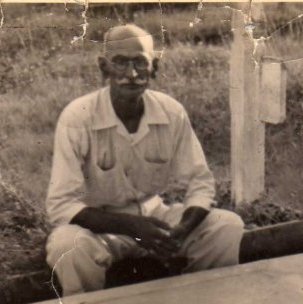 My great grandfather
Rajasthani cuisine was developed out of necessity for food that has a long shelf life in the harsh desert climate, with limited access to water and fresh produce. Jaisalmer Chana is a dish from Marwari cuisine. Marwari are an ethnic group of traditionally nomadic traders from Rajasthan. They are pure Vegetarians.
In Rajasthan, average temperatures during the summer months go over 100 F on a daily basis. The yogurt in this chana is a cooling element necessary to combat the environmental factors.
Serves 6
Ingredients:
1 1/2 cups black chickpeas (kala chana) soaked overnight
1 1/2 cups yogurt
4 teaspoons chickpea flour (besan)
1 teaspoon ground turmeric
salt, to taste
1/2 teaspoon red chile powder (cayenne pepper)
2 teaspoons ground coriander
1 teaspoon garam masala
3 chiles, chopped
3 tablespoons ghee
a pinch asoefetida
1 teaspoon cumin seed
2 tablespoons cilantro leaves, finely chopped
Cook chickpeas in 4 cups water until peas are tender. Drain, but reserve the cooking liquid. Coarsely mash the cooked peas.
In a bowl, combine yogurt, besan, turmeric, red chile, coriander, salt and garam masala. Mix well. Add chiles and 1 cup of the reserved liquid. Stir to combine.
In a pot, heat ghee. Add asoefetida, chiles and cumin seed. When they start to crackle, add yogurt mixture. Stir to combine.
Add mashed chana and stir to combine. Bring to a boil. Reduce to a simmer and cook for 5 minutes.  Add cilantro and adjust salt, if necessary.
Serve with puri or paratha.
To make a complete meal, you can add these other Rajasthani specialties to your meal:
Khoba Roti
Khoya Matar (Green Peas in Milk Gravy)
Bajra Ki Kheer (Millet Pudding)