Last Updated on December 14, 2020 by Chef Mireille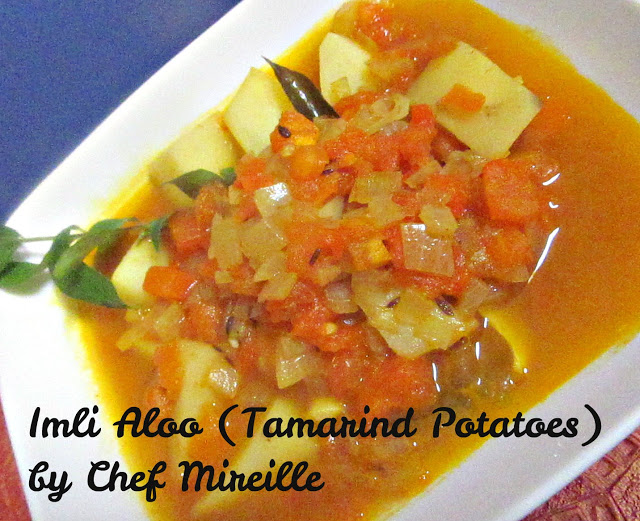 Blogging Marathon #32
Theme: Indian Regional Cuisine – Andhra Pradesh
As I mentioned earlier, this month the Blogging Marathon group is doing a mega marathon this month for 26 days each day the recipe must start with the next letter in the alphabet and all recipes must be within 4 themes only.
The letter I changed so many times. Finally, I did a recipe for a condiment and took the photos but then I shared the recipe at an event. I got such overwhelming positive feedback I decided to halt on publishing this recipe as I recently took a seminar in launching your own product and might consider launching this condiment on market shelves (you'll just have to wait until I am ready to release it to know what it is). So then I needed something else to replace the I and my wonderful Indian blogger friends reminded me that tamarind is imli in Hindi.
I then decided to do Goa's Imli Fish Curry, however since most of the BM group are Vegetarians and I had some potatoes that needed to be used up as they were starting to grow eyes, I searched for a Vegetarian potato dish that used tamarind and I could include as part of the Indian Regional Cuisine theme. Thanks to Sailu's Kitchen, I found it!
I was a little creative in the naming of the dish. This traditional dish from Andhra Pradesh is called Bangaladumpa Pulusu, but it includes tamarind and potatoes so hence I named it such. One of the fellow BM participants is actually doing only Andhra recipes as an additional self imposed restriction for this month's BM – Pavani, hope you don't mind I went into your region also 🙂
Using the chef's privilege, I utilized the lazy method and just chopped the tomatoes and onions instead of grinding them to a paste, so mine is a bit chunkier than is traditional but I am sure someone in AP has had a lazy day and did this too.
Andhra Pradesh Tamarind Potatoes (Bangaladumpa Pulusu)
(adapted from Sailu's Kitchen)
Serves 4
Ingredients:
1 pound potatoes, peeled and diced
2 onions, finely chopped
1 chile, thinly sliced
2 tomatoes, finely chopped (I used this 1 huge tomato I had picked up from the farmer's market)
1/8 teaspoon ground turmeric
1 teaspoon red chile powder (cayenne pepper)
1 tablespoon jaggery, powdered
1 teaspoon ground coriander
1/2 teaspoon ground cumin
3 tablespoons tamarind pulp
salt, to taste
1 tablespoon oil
1/2 teaspoon cumin seed
3 dried red chiles
3 cloves garlic, crushed
5 curry leaves
Boil potatoes until just cooked.
In a small bowl, add 1/3 cup boiling water to the tamarind. Let sit for 10 minutes. Drain tamarind squeezing out all of the liquid and discard the paste. Reserve the tamarind water.
Heat oil. Add cumin seed. When they become a little golden and fragrant, add garlic, dried chiles and curry leaves. Stir fry for 1/2 a minute. Add onion and chile. Fry until the onion turns golden. Add turmeric, coriander, cumin and red chile powder. Stir to combine.
Add tomatoes and cook for another 5 minutes.
Add boiled potatoes, jaggery, salt, tamarind extract and 3/4 cup water. Cover and cook on a low simmer for 10 minutes.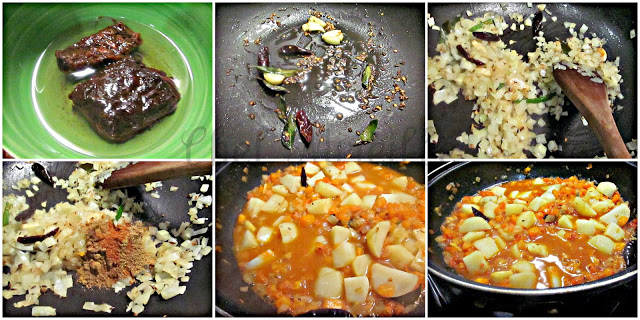 Adjust salt if necessary.
Serve with rice or chappati.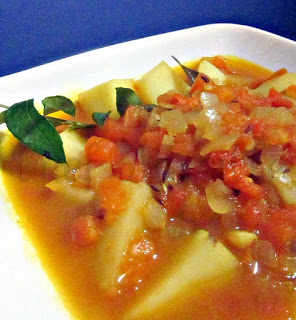 This is a very spicy curry with the use of chile in 3 different forms and it is also sweet and sour at the same time. It is a delicious combination of flavors all in one dish.

Logo courtesy : Preeti
Check out the Blogging Marathon page for the other Blogging Marathoners doing BM# 32
LIKE THIS RECIPE? LEAVE A COMMENT..I LIVE FOR THEM!
Chef Mireille

document.write('