Last Updated on November 13, 2019 by Chef Mireille
Horchata – Spice Infused Mexican Rice Drink
Mexican cinnamon and vanilla scented rice milk that goes perfect with cookies!
…and don't forget to check out my other Mexican Recipes!
Now about horchata…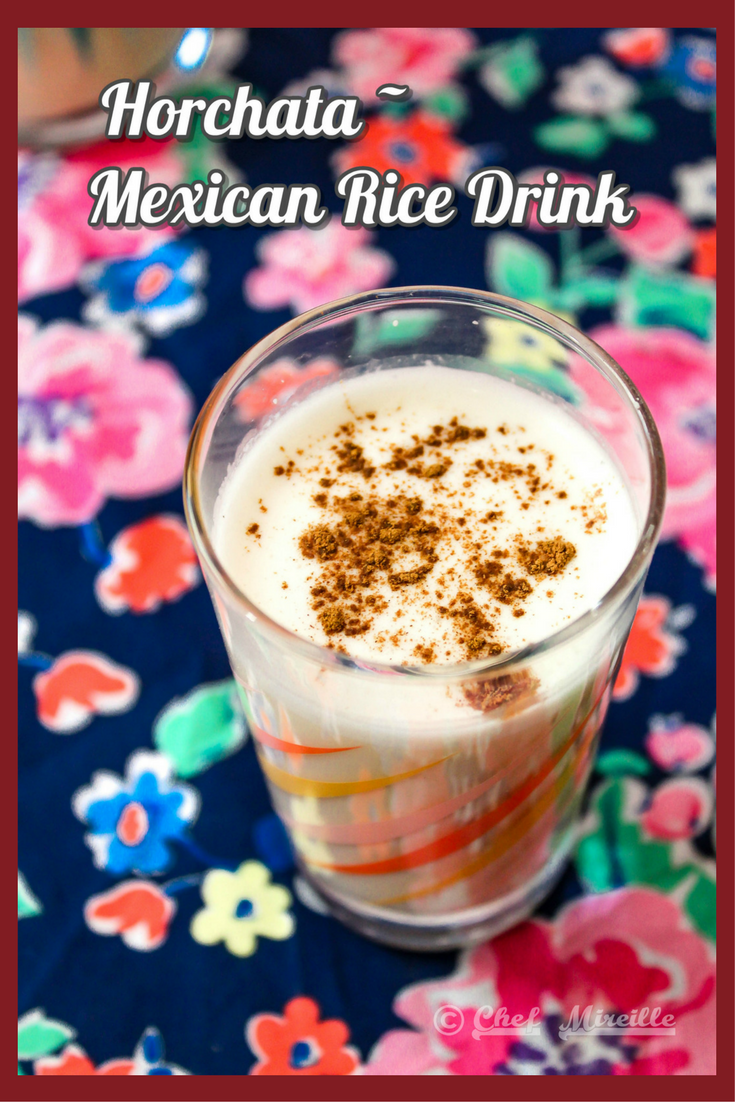 Horchata is a beverage consumed in Spain and throughout Latin America, although it is most popular in Mexico. I've even seen ancient references to it in Goa, India – probably brought there by the Portuguese, but no longer commonly produced there. It was developed in Valencia, Spain by the Moors. The Moors were Arabs of Egyptian decent who controlled North Africa, Gibraltar and Mediterranean Europe at various times from 711 – 1492. Their largest European influence was in Spain and Portugal.
The chufa or tiger nut plant was brought from North Africa to Spain. In Spain, horchata de chufa is the most common type. Horchata is basically a beverage flavored with cinnamon that can be made with any grain, nut or seed, indigenous to each country. Many different varieties exist across Latin America. In Nicaragua and Honduras, it is made with jicaro seeds, while made with morro seeds in El Salvador and sesame seeds in Puerto Rico.
This rice based version is popular in Mexico and Honduras. This is the most popular version here in the US, available in Mexican restaurants and street side Mexican vendors
Let's check out some other great drinks while we're at it!
Drink Recipes
This is such a light and refreshing drink – especially on hot summer days!
This is a perfect accompaniment to a cookie snack like these Moroccan Almond Cookies!
Horchata
Ingredients
1

cup

rice

12

oz.

can evaporated milk

1 ½

cups

almond milk

or regular milk

1

teaspoon

vanilla extract

1

cup

sugar

3

cups

water

ground cinnamon

garnish
Instructions
In a high powered blender, mix the rice with the blender and process until it is quite ground.

Soak rice water mixture and cinnamon stick in enough water to cover overnight.

Pass this mixture through a sieve.

In a high powered blender, grind rice with the evaporated milk until rice is completely ground.

Strain through a sieve and return the mixture to the blender.

Add almond milk, vanilla, sugar and water. Blend well until thoroughly combined.

Chill or serve over ice, garnished with ground cinnamon.

Always stir before serving, as rice sediment will sink to the bottom as it chills.
Did you try this recipe? Leave a comment below.
Please follow me on Instagram @chefmireille or tag me #chefmireille with your pics! I'd love to share them!
Need more culinary inspiration? Check out the Recipe Index with over 1500 Recipes from Around the World with lots of Vegetarian 🥕🍆🍅and Gluten Free Recipes!