Last Updated on April 26, 2023 by Chef Mireille
This is a quick and Easy Chickpea Soup that comes together with just a few ingredients. What makes this soup so special is all the side salads and condiments it is served with.
Like many Asian cuisines, lot of small salads and condiments are added to soups and stews to bring additional flavors into simple meals.
This makes such a quick and easy Vegetarian lunch. Even the side salads are all super fast to put together – all done in less than 15 minutes. So let's venture into the cuisine of Burma!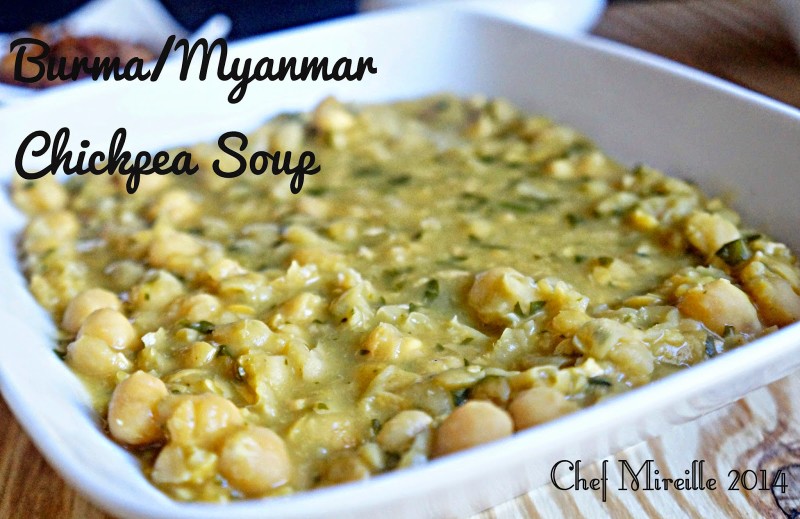 This post may include affiliate links.
Burma, officially known as the republic of Myanmar is where today's recipe's comes from. Myanmar is located in Southeast Asia, bordered by Laos, Thailand, Bangladesh, China and India. Like India, it was under British colonial rule for many years until it received its independence in 1948.
Burma was relatively peaceful under a multi-party democracy until a military coup d'etat in 1962. This started military rule and government control of all aspects of society. Under this repressive society, there was a one party government. There was sporadic anti-government resistance which resulted with swift and violent reactions by the government, but it wasn't until 1990 that multi-party elections were held again. However, the fairness of these elections are doubted and the military has still retained major control of the country, including the ratification of a new constitution written by them in 2008.

Although in the capital of Rangoon and metropolitan areas, development has occurred and economic development has started after 1990, people inland and especially ethnic tribes in the area of Bagan, Burma's ancient capital, continue to be persecuted.
Despite now being a Democratic country, Burma still has one of the worst records of human rights violations including the use of child soldiers and genocide of its minority communities. There are many political prisoners in jail for speaking out against the government. Most journalists have spent many months – years in jail.
Although most of us would probably not want to live there under this repressive government, one thing we would all love from Burma is their cuisine. The native peoples come from the Tibeto-Burman race of people and because they share borders with so many countries, there is great variety in their cuisine, depending what part of the country you are in. Indian, Chinese and Thai flavors have the most effect on their cuisine.
Soups and salads form the backbone of Burmese cuisine. On a recent repeat episode of Anthony Bourdain's No Reservations, it was interesting to note the variety of salads and sauces served with soups and curries. A variety of pickled and fresh salads were added to curries and soups to give Burmese food their complexity of flavors. Up to a dozen different salads and condiments is not uncommon to accompany meals.
Today's menu:
Chile-Garlic Sauce
Chickpea Soup
Fried Shallots
Shallot Oil
Long Bean Salad
Grated Carrot Salad
See here for the the other Recipes from Burma including the salads and condiments above.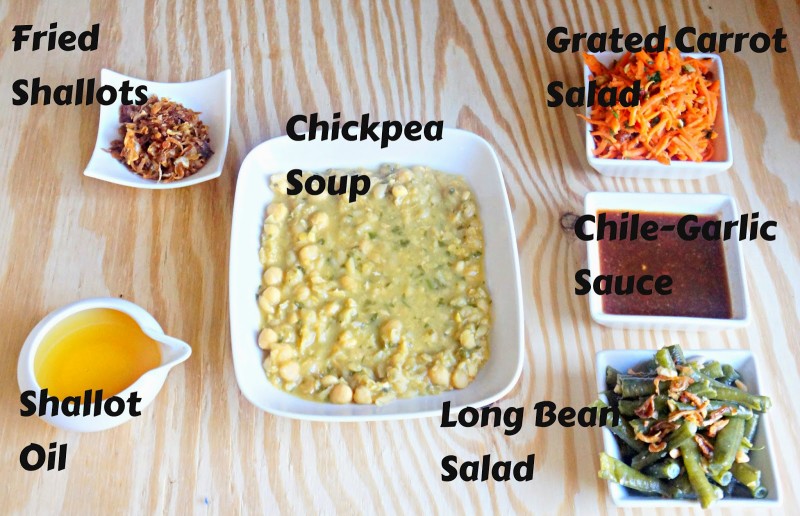 How to make Chickpea Soup
Boil chickpeas until tender.
Partially mash the chickpeas and add a little more water.
Add spices and cilantro.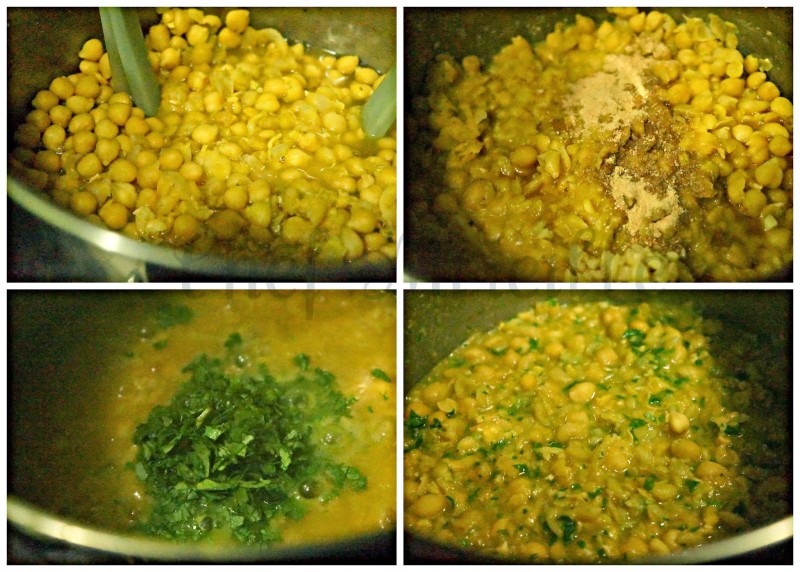 Serve with a drizzle of shallot oil and chile-garlic sauce.
Garnish with fried shallots.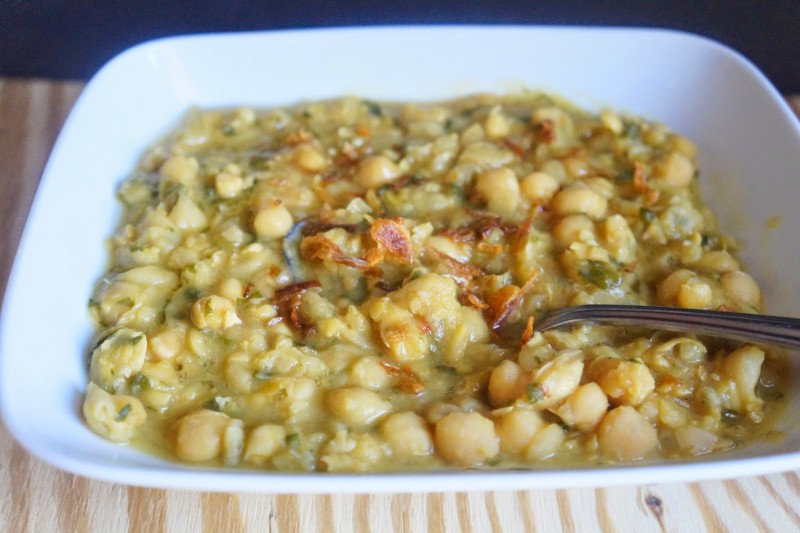 Although salads are served on the side, it is then left to each person to add directly into their soup, as desired.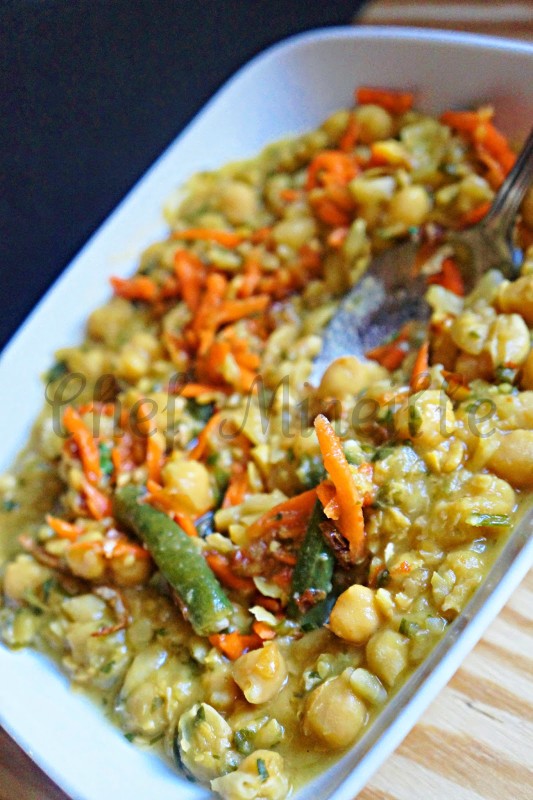 It is a taste bud tantalizing explosion of flavors.
Don't forget to hop on over here to check out the Burmese Salad Recipes!
Burmese Chickpea Soup
Ingredients
1

cup

chickpeas

soaked overnight

5

cups

water

1/2

teaspoon

ground turmeric

1

tablespoon

ginger

finely chopped

1/2

teaspoon

lemongrass powder

a pinch ground turmeric

1

teaspoon

fish sauce

2

tablespoons

cilantro

finely chopped
Instructions
Bring 4 cups of the water to a boil. Add turmeric and chickpeas and cook until tender, about 45 minutes – 1 hour.

Partially mash about half of the beans.

Add remaining cup of water, lemongrass powder, ginger and fish sauce. Stir to combine.

Simmer for 10 minutes.

Add cilantro and stir to combine.
Notes
You can also use canned chickpeas and reduce the cooking time to just about 15 minutes.
Nutrition
Calories:
70
kcal
|
Carbohydrates:
12
g
|
Protein:
4
g
|
Fat:
1
g
|
Saturated Fat:
1
g
|
Polyunsaturated Fat:
1
g
|
Monounsaturated Fat:
1
g
|
Sodium:
136
mg
|
Potassium:
138
mg
|
Fiber:
3
g
|
Sugar:
2
g
|
Vitamin A:
25
IU
|
Vitamin C:
1
mg
|
Calcium:
30
mg
|
Iron:
1
mg
Did you try this recipe? Leave a comment below.
Please follow me on Instagram @chefmireille or tag me #chefmireille with your pics! I'd love to share them!
Don't forget to visit the RECIPE INDEX with over 1000 recipes from around the world including lots of Vegetarian Recipes and Gluten Free Recipes!