Last Updated on December 14, 2020 by Chef Mireille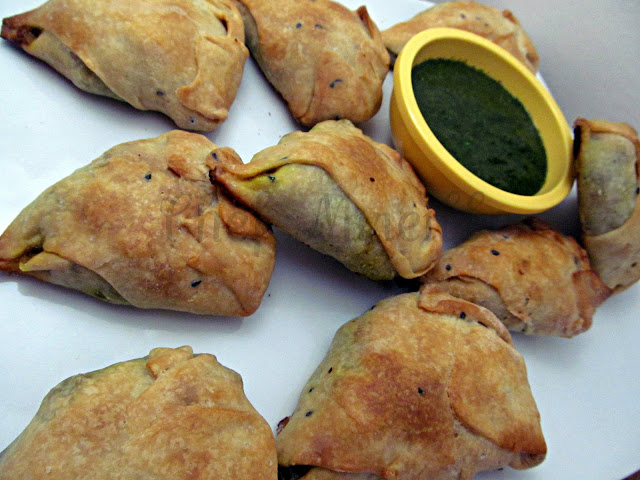 Blogging Marathon #22
Theme: Special Theme – Cooking with Chickpeas
For this week's Special Theme, I am making dishes that can fall into any of the BM themes, so here's another recipe that utilizes the all purpose chickpea.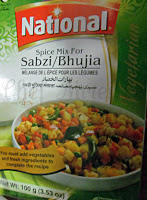 Ever since I discovered how delicious oven baked samosas can be without the added fat of deep frying, this has become one of my favorite appetizers/snacks to make. Here is a delicious chickpea-spinach filling. As I've mentioned before, the ready made spice powders available at Indian markets make life so simple when trying to create authentic Indian flavors.
Take a little trip over to your local Patel Brothers or other Indian market, get some kala chana and Sabzi spice mix and you can enjoy these delicious samosas. Impress your family by bringing over some authentic Indian samosas for Christmas dinner!
Chickpea Spinach Samosas
(click here for printable recipe)
Ingredients:
1 1/4 cups kala chana (black chickpeas), soaked overnight
4 cups baby spinach leaves, firmly packed
1/2 onion, chopped
1 large chile, finely chopped
2 teaspoons ginger garlic paste
1/2 teaspoon turmeric
2 teaspoons Sabzi/Bhujia spice mix
1 recipe samosa dough
Combine the chickpeas with 4 cups of water. Bring to a boil. Reduce to a simmer and cook until the peas are tender. Alternately, you can also cook them in a pressure cooker. Drain.
In a large skillet, heat 2 tablespoons oil. Add ginger garlic paste and fry for 30 seconds. Saute onion and chile until softened, about 5 minutes.
Add spinach and cook until the leaves are wilted. Add the cooked chickpeas, turmeric and Sabzi spice mix. Cook for another 3 minutes. Let cool.
Make the samosa dough. Let rest for 15 minutes.
Preheat oven to 425 F. Place a piece of parchment paper on cookie sheet and spray cookie sheet with non stick spray.
Roll and stuff samosas. (use instructions here from samosa dough recipe) Brush with milk.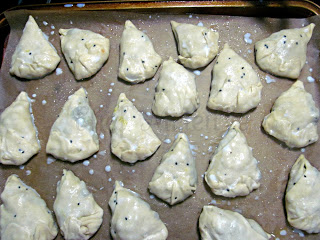 Bake for 25 minutes.
Serve with your favorite chutney.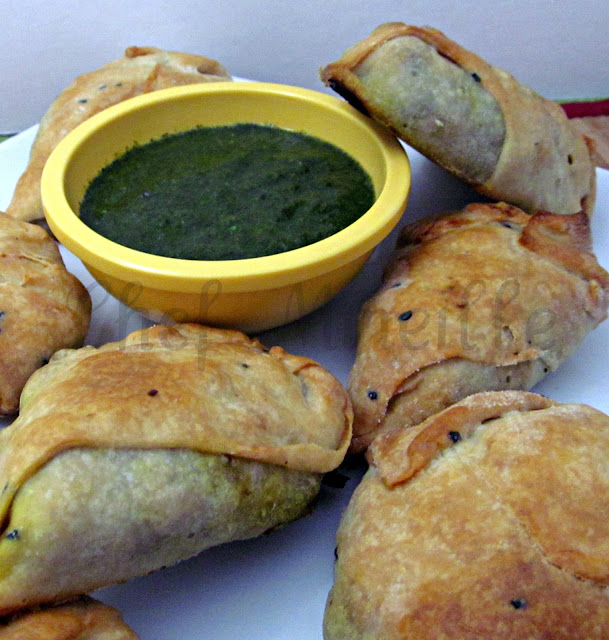 Delicious filling inside a flaky samosa dough!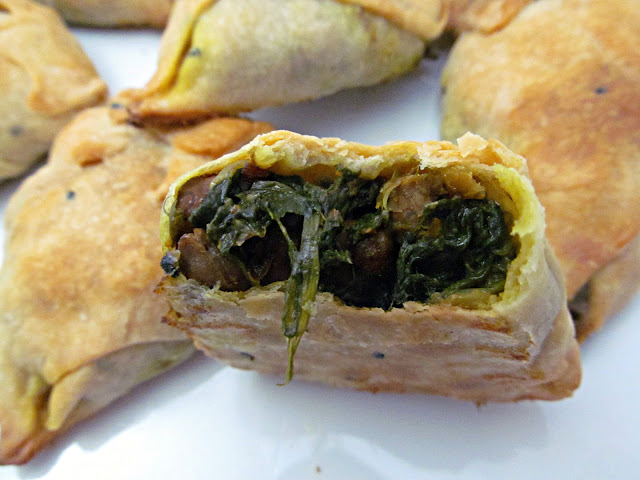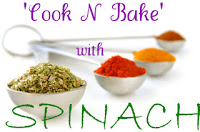 This filling was so delicious – I could not stop eating them!!!
Do check out my other samosa recipes for variation:
Mava Samosa
Chickpea Potato Paneer Samosa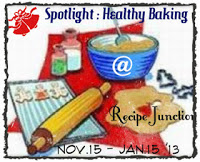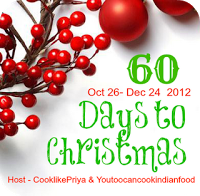 ..linking to Cook N Bake with Spinach, Indrani's Healthy Baking & Divya/Priya's 60 Days of Christmas
Check out the Blogging Marathon page for the other Blogging Marathoners doing BM#22
LIKE THIS RECIPE? LEAVE A COMMENT..I LIVE FOR THEM!
Chef Mireille
Like me on FACEBOOK!
Follow me on TWITTER!