Last Updated on December 14, 2020 by Chef Mireille
Mava Samosa are a regional Samosa Recipe from Gujarat. These have a unique samosa filling with coconut, jaggery, nuts and chillies. They are both sweet and spicy at the same time.
Are you ready to try these unique but oh so delicious samosas?
Most people who have ever tried Indian food have had a samosa.  It is the most common appetizer at any Indian restaurant.  There are usually two options – mildly spiced potatoes and green peas or chicken.  When I saw this unique version in one of my cookbooks, I immediately wanted to try it.
These samosas come from the state of Gujarat, which is famous for their mix of sweet and hot in both savory  dishes and desserts.  Gujarat is a coastal state located on the northwestern coast of India.  It is one of the most industrialized states of India and also happens to be the birthplace of Gandhi.  The people of Gujarat speak their own language called Gujarati.
Ingredients
frozen grated coconut
walnuts or pecans
ghee
semolina
lemon juice
jaggery
golden raisins
green chillies
ground cardamom
salt
all purpose flour
black onion seed (Nigella)
baking soda
warm water
yogurt
How to Make Mava Samosa
Make the filling by toasting the coconut with the semolina.
Add water and the rest of the filling ingredients.
Make the samosa dough with the flour, baking soda, yogurt, onion seed and water..
How to Fill Samosas
Now, here is how to get traditional triangle shaped samosas.  First take a small ball of dough and roll as close to a circle shape as you can, as thin as possible.  The dough is soft, but not sticky so is very easy to roll very thin, without sticking or breaking.  Cut this circle in half.
Place a few spoonfuls of filling in the middle and fold over so that you get a point on the top.  Fold over the other side now, using water to seal the edges so that they stick together.  Fold up the bottom, using water again to seal the edges.  Place on prepared cookie sheet and repeat until all the dough is used up.

Spray a parchment lined baking sheet with non stick spray. This will ensure the samosas are nice and golden brown on both sides.
Brush the tops with milk and bake for 15 minutes.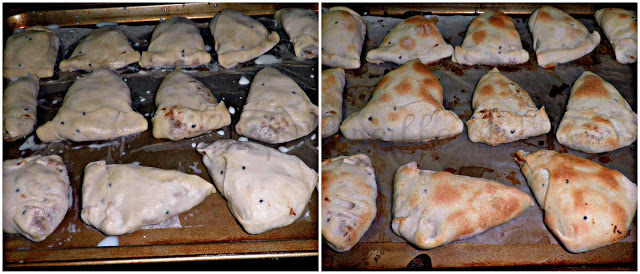 Perfect delicious samosas, but way healthier with this baked version.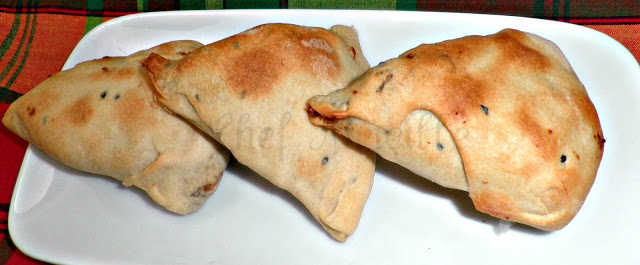 These were so delicious – sweet and savory at the same time, with the chili taste in the background but not overpowering.
These oven baked samosas complemented this healthy salad with chickpeas, almonds and apple and my own Apricot Balsamic Dressing. What a healthy and yummy lunch I had!
I highly recommend these unique regional samosas. Once you try it, this will become your favorite samosa filling.
Don't forget to check out some of these other Healthy Baked Samosa Recipes.
Samosa Recipes
Don't forget to visit the RECIPE INDEX with over 1000 recipes from around the world including lots of Vegetarian Recipes and Gluten Free Recipes!