Last Updated on December 14, 2020 by Chef Mireille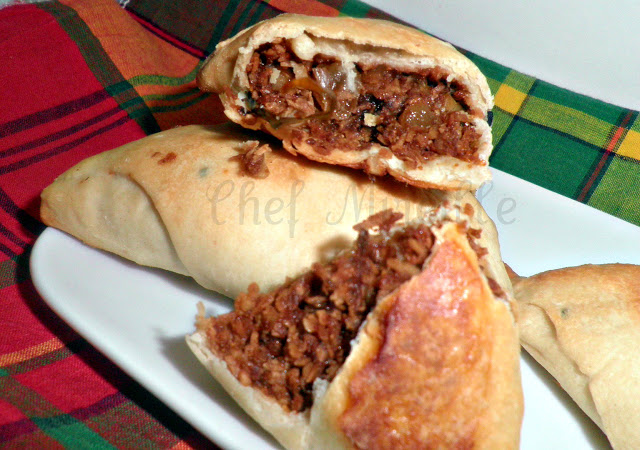 Mava Samosa


Blogging Marathon #18
Theme – Stuffed Foods
Hope you have enjoyed my Stuffed Foods this week.  Here was the lineup in case you missed it:
Kajji Kayalu
Vietnamese Bok Choy Wontons
…and I am ending this week's BM with another Indian recipe…
Most people who have ever tried Indian food have had a samosa.  It is the most common appetizer at any Indian restaurant.  There are usually two options – mildly spiced potatoes and green peas or chicken.  When I saw this unique version in one of my cookbooks, I immediately wanted to try it.
This is another recipe from one of my plethora of cookbooks I have yet to try.  I have looked through this book a zillion times and so many recipes I have wanted to try, but either I don't have an ingredient or time does not permit me to perform the recipe I wanted.  This recipe I have been planning to make for years.
Julie Sahni is a culinary instructor in NYC and has written many cookbooks.  She also runs culinary tours to India.  Hopefully, one day I will get to join one of them.
I own two of her cookbooks.  I have tried a few recipes from the other book I own, Classic Indian Vegetarian and Grain Cooking, but this is the first recipe I am trying from Indian Regional Classics.
These samosas come from the state of Gujarat, which is famous for their mix of sweet and hot in both savory  dishes and desserts.  Gujarat is a coastal state located on the northwestern coast of India.  It is one of the most industrialized states of India and also happens to be the birthplace of Gandhi.  The people of Gujarat speak their own language called Gujarati.  For more information about this region of India and its people, see here.
Let's make the filling first.
Mava Samosa
Serves 14
Ingredients:
1 1/2 cups grated coconut
1 cup pecans, finely chopped ( I used walnuts because I didn't have any pecans and at $8.59 for 1/2 lb. did not feel the need to invest in a bag.)
1 tablespoon ghee
2 tablespoons semolina/cream of wheat
1/2 cup water
2 teaspoons lemon juice
1/2 cup jaggery, grated
1/2 cup golden raisins
3 chiles, thinly sliced
1 teasoon ground cardamom
1/4 teaspoon salt
Toast the coconut in a dry skillet, until golden brown.  Transfer to a plate.  Heat ghee in a saucepan and toast the nuts for a minute or two, until they become fragrant.  Add semolina and fry until golden brown, about 2 minutes.
Add water, lemon juice, jaggery, raisins, chiles, cardamom and salt.  Stir to combine.
Remove from heat and fold in coconut,  Let cool.

Samosa Filling
Now, let's make the dough.
Samosa Dough
Ingredients:
1 1/2 cups all purpose flour
1/4 teaspoon black onion seed (Nigella)
1/8 teaspoon baking soda
6 tablespoons warm water
3 tablespoons ghee
2 tablespoons yogurt
1/2 teaspoon salt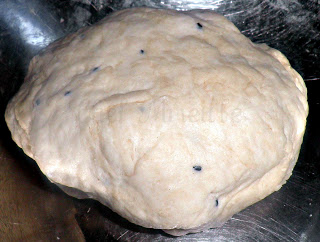 Samosa Dough
In a large bowl, combine flour, baking soda and onion seed.
In a small bowl, whisk together the water, ghee, yogurt and salt.  Add to the dry ingredients and mix until dough comes together and knead for a few minutes until the dough is smooth and elastic.  What I LOVE about this cookbook and all of her recipes is that she is very specific.  She did not say.."enough water to make a smooth dough" or "enough water to make a stiff dough".  Her exact measurements ensure a perfect samosa dough.
Preheat oven to 425 F.  Line a cookie sheet with parchment paper or waxed paper.  Spray with non stick spray.
Now comes the difficult part.  One thing I do not like about the cookbook is there are no photos.  I made samosas several years ago and while they tasted wonderful, I just couldn't get the shape right.  I must have read over her description in this book on how to fold them about a dozen times, but it just did not make sense to me.  I couldn't figure out what she meant.  Folding samosas is one thing that photos are definitely needed, so I went over to Vardhini's blog, for photo explanations and that's how I got these samosas.
This was my first attempt when I was going by memory when I had looked at Vardhini's photos the day before.  After my first samosa ended up looking like a mailbag, I turned the computer on and consulted the photos again and this time I got samosas that look more like triangles – the way they are supposed to be.

First Attempt – Mailbag Shaped Samosa
Now, here is how to get triangle shaped samosas.  First take a small ball of dough and roll as close to a circle shape as you can, as thin as possible.  The dough is soft, but not sticky so is very easy to roll very thin, without sticking or breaking.  Cut this circle in half.
Place a few spoonfuls of filling in the middle and fold over so that you get a point on the top.  Fold over the other side now, using water to seal the edges so that they stick together.  Fold up the bottom, using water again to seal the edges.  Place on prepared cookie sheet and repeat until all the dough is used up.

Another good thing about this cookbook is the quantities are perfect.  After filling all of the samosas, I only had 1 tablespoon left of filling.  When I made the Kajji Kayalu posted earlier this week, I had about 1 cup of extra filling.
Since I have been doing a lot of deep frying for this week's stuffed foods, I baked the samosas, like Vardhini did to make these samosas a little healthier than the traditional way of frying them.
Brush the tops with milk and bake for 15 minutes.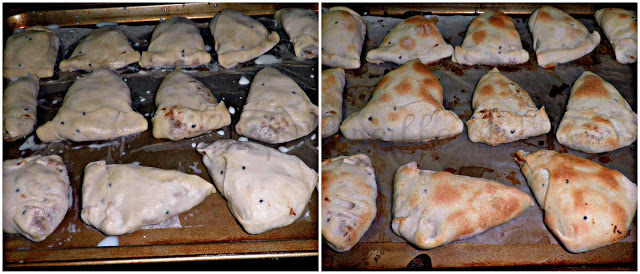 Since the bottom was sprayed with the non-stick spray, these were golden brown on both sides, without the need for flipping them.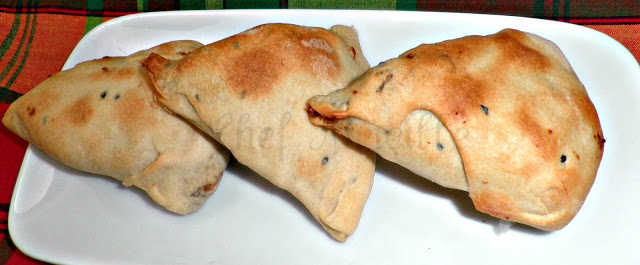 These were so delicious – sweet and savory at the same time, with the chile taste in the background but not overpowering.
These oven baked samosas complemented this healthy salad with chickpeas, almonds and apple and my own Apricot Balsamic Dressing.  What a healthy and yummy lunch I had!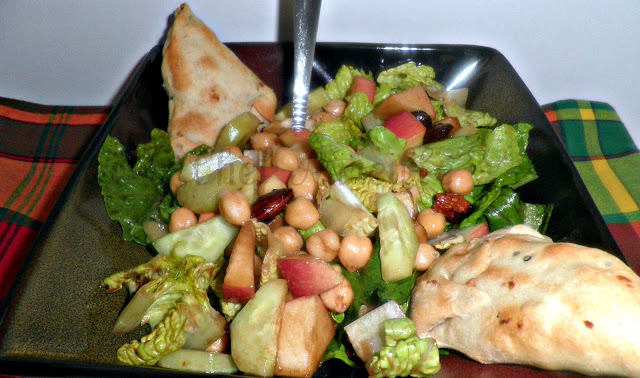 My Healthy Lunch
I highly recommend these unique samosas and the cookbook too!
LIKE THIS RECIPE? LEAVE A COMMENT..I LIVE FOR THEM!
Chef Mireille