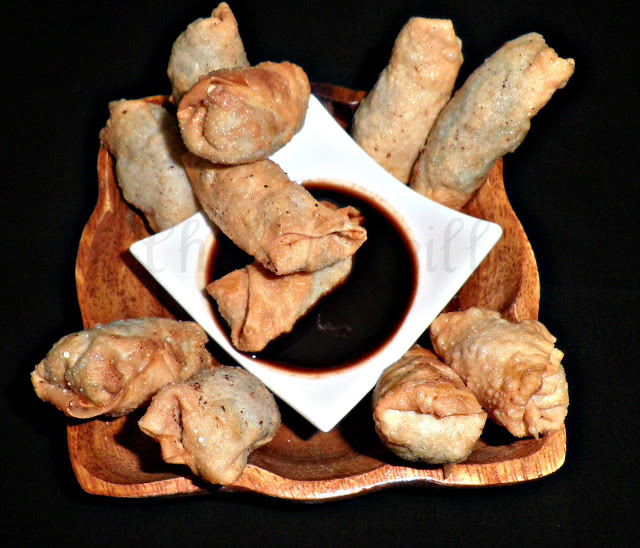 Blogging Marathon #18
Theme – Stuffed Foods


Wontons are my go to appetizer for parties. Most often, I do a chicken or shrimp filling. When I do Vegetarian versions, I usually use Bok Choy as in this recipe. This time, since I was also serving a Vietnamese Chicken Cabbage Salad in the first course, I complemented the salad with these wontons using Vietnamese flavors.
Vietnamese Wontons
(click here for printable recipe)
Ingredients:
5 cups Shanghai bok choy, thinly sliced
8 dried mushrooms
2 tablespoons ginger, chopped
2 shallots, thinly sliced
1 tablespoon peanut oil
1 tablespoon coconut vinegar
1 tablespoon soy sauce
1 teaspoon sugar
3 tablespoon tapioca starch
2 tablespoons water
oil, for frying
Shanghai square wonton skins
Pour boiling water over mushrooms and let sit for 20 minutes, until mushrooms have reconstituted.
Heat oil. Saute ginger and shallots a few minutes, until softened. Add mushrooms and saute for another 2 minutes. Add bok choy, soy sauce, vinegar and sugar. Cook until bok choy leaves have wilted.
Add salt, to taste. Cool.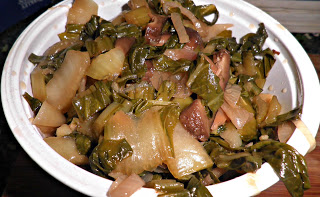 Bok Choy Mushroom Filling
In a small bowl, dissolve tapioca into water until you have a slurry. (egg can also be used)
Heat oil for deep frying.
On a flat surface, lay down a wonton skin. Place a spoonful of filling on the skin. Fold over into a triangle, making sure the filling is tight. Brush the ends with the tapioca slurry. Fold in the sides. Roll.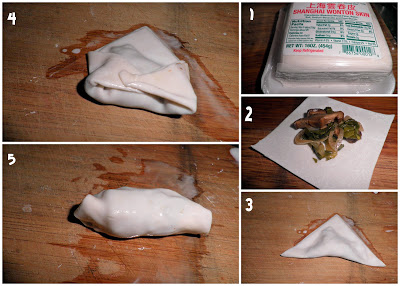 Place in hot oil and fry until golden brown.
Serve with your favorite dumpling sauce.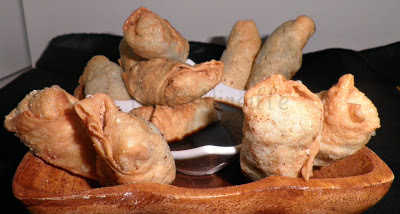 Check out the Blogging Marathon page for the other Blogging Marathoners doing BM#18
LIKE THIS RECIPE? LEAVE A COMMENT..I LIVE FOR THEM!
Chef Mireille
Like me on FACEBOOK!
Follow me on TWITTER!
Sign up for our updates!
Subscribe to get our latest content by email and get your FREE Pantry Cheat Sheet - Learn the basics to cook any International cuisine!