Last Updated on June 4, 2015 by Chef Mireille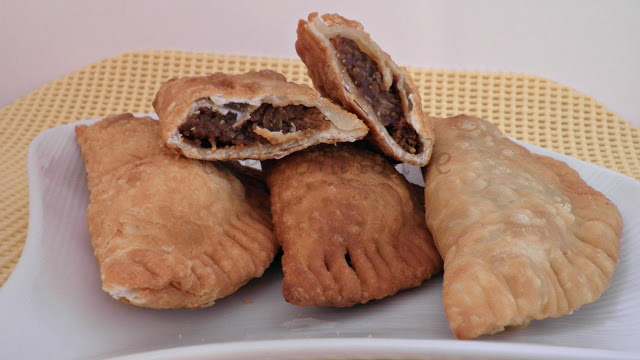 Blogging Marathon #18
Theme – Stuffed Foods
Today starts another Blogging Marathon, with the format started last month of 3x a week for 4 weeks. However, this month, I have decided to do a different theme each week. This week's theme is Stuffed Foods. I have decided to start with a recipe from one of my many cookbooks. This is another one of those cookbooks that I have had for many years, but this is my first time trying a recipe from the book. I've certainly been getting my money's worth out of my cookbook collection recently.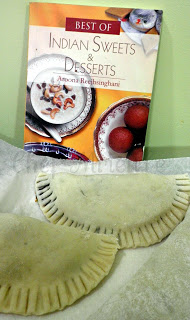 Who doesn't love sweets…Best of Indian Sweets & Desserts by Aroona Reejhsinghani is a comprehensive cookbook that covers the well known and the lesser known sweets from the different regions of India. The book is divided into 19 sections, according to which state of India the sweet is from, as well as sweets from the Parsi and Sindhi populations. With 200 pages of recipes (no photos), this is a delicious guide to Indian delicacies.
The recipe I have decided to initiate myself into her cookbook with is an Andhra recipe, coming from the region of Andhra Pradesh. For more history about this region (for those interested), see here. Since Telugu is the primary language of this region, I am assuming the recipe name is in that language. Now, on to the delicious recipe.
Since India uses the metric system like England, I used this handy conversion tool to convert the recipe for easy use here in America.
Ingredients:
2 1/4 cups all purpose flour (maida)
1 pinch of salt
2 tablespoons plus 5 tablespoons ghee
2 1/4 cups jaggery, grated
8 oz. grated coconut, about 3 cups
8 oz. besan (chickpea flour), about 1 3/4 cups
1 tablespoon cardamom seeds, ground
Combine flour and salt in a large bowl. Rub in the 2 tablespoons of ghee and then add enough warm water to form a stiff dough. I used 1/2 cup plus 1 tablespoon of water. Let the dough rest while you prepare the filling
Heat 5 tablespoons of ghee and fry the besan until a deep golden brown. Remove to a small bowl.
In the same skillet, toast the coconut until golden brown. Mix with the besan and add the cardamom seeds. Mix well.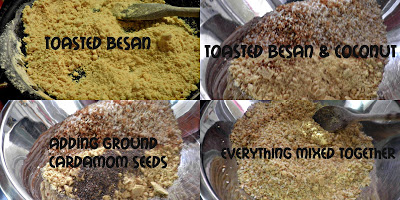 These italicized instructions below is directly from the cookbook, but it did not work for me, so read below it for my instructions on what worked.
Heat jaggery until it melts. Add the besan mix and cook on low heat until the mixture thickens and leaves the side of a bowl. Cool.
Heat jaggery on a low flame. (It does not melt, as indicated in her recipe. Perhaps it is supposed to be melted with butter, milk or water and she assumes reader will know this.) It will form into kind of a soft dough. At this time, I added the besan-coconut mix and started to mix it together. It did not stick together and the pan was starting to burn.
I then put the whole mixture in a large bowl and started adding water and mixing well, until it stuck together. I added 13 tablespoons of water. Mix really well.
On a lightly floured board, roll out a ball of dough to as close to a circle shape as you can. Put some filling on the inside. Fold over into a crescent shape. Tighten the dough around the filling and trim the edges using a pizza cutter to form a crescent. Seal the perimeter with the tines of a fork.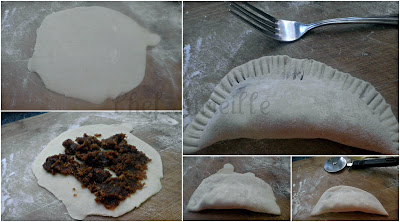 Heat enough oil to deep fry. Add stuffed pastries and fry until golden brown on both sides.
Drain and serve immediately.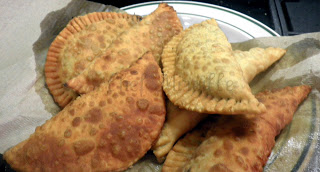 These are so yummy and not overly sweet, they are a perfect tea time snack.
I have some leftover of this delicious stuffing, which is being saved in the freezer. Maybe I will do a baked version, using puffed pastry. I'm sure that would be just as good. Or maybe use it as a topping over yogurt or granola.