Last Updated on June 4, 2015 by Chef Mireille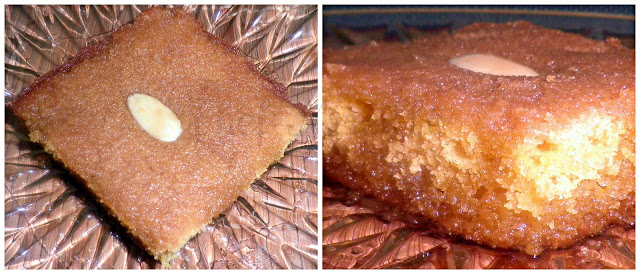 Pumpkin Basbousa
This is a pumpkin variation of a classic Egyptian semolina cake, called Basbousa. Hope you like this version.
Pumpkin Semolina Cake
Ingredients:
1/2 cup butter
3/4 cup sugar
2 teaspoons vanilla extract
1/3 cup canned pumpkin puree
2 cups fine semolina
2 teaspoons baking powder
1/2 teaspoons baking soda
3/4 cup yogurt
12 almonds, blanched and peeled
Syrup:
2 cups sugar
1 1/2 cups water
1 tablespoon orange blossom water
Preheat oven to 350 F.
In a bowl, cream butter, sugar and vanilla until light and fluffy. Add pumpkin and beat well.
Sit semolina, baking powder and baking soda. Fold in semolina mix alternately with the yogurt.
Spread batter into a greased 9×13 brownie pan. Evenly arrange almonds on the top, so that when cut, one almond is in the center of each piece.
Bake 35 minutes and let cool.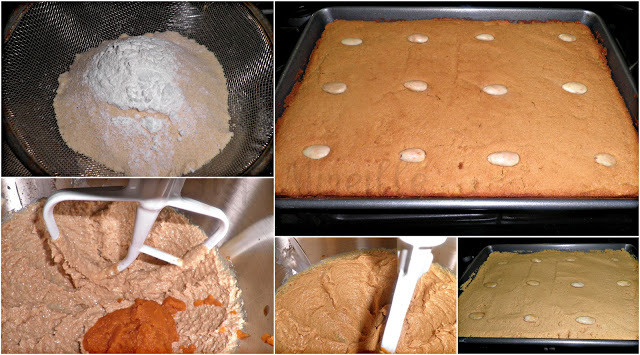 In a saucepan, bring sugar and water to a boil over medium heat. Add orange blossom water and reduce to a simmer. Simmer for about 15 minutes, until thin syrup consistency. Cool.
Pour syrup over cake.
This 100% semolina cake is a bit on the dry side so the syrup is necessary.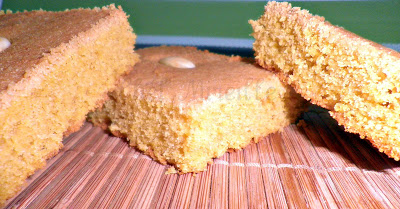 However, once the syrup is drizzled over the cake, it's a perfect slice, not to mention the flavor of the orange blossom heightens the flavor of the cake.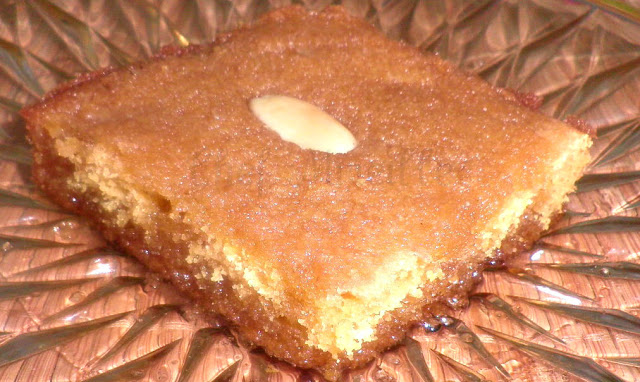 Perfect Slice of Pumpkin Basbousa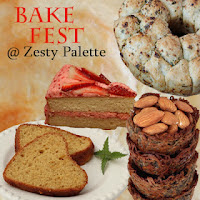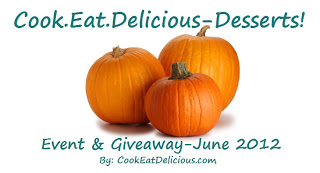 …linking to Bake Fest, hosted this month by Resh & Cook.Eat.Delicious-Desserts, hosted this month by me. Tomorrow's the last day for this event – Click here for the link up party!
LIKE THIS RECIPE? LEAVE A COMMENT..I LIVE FOR THEM!
Chef Mireille
Like me on FACEBOOK!
Follow me on TWITTER!