Last Updated on May 20, 2015 by Chef Mireille
Well, the first month of Taste of the Tropics is over. Thank you all who contributed all of your delicious plantain recipes and there is still one more day, so keep them coming. I will be posting the roundup in a few days.
Now, to announce July's theme -SUGARCANE
Sugarcane is something that grows in tropical places throughout the world. As a child growing up in NYC, the rare times when my Mom would be able to get fresh sugarcane and bring some home had my sister and I fighting over the sweet delicacy. Biting into that piece of sweet goodness on a hot summer day filled us with such pleasure. Every time we visited the Caribbean, street vendors that sold sugarcane was the first thing I looked for, once we got off of the plane.
While I know I will be getting a lot of desserts and sweet treats, sugar is often used in savory dishes so I look forward to all the delicious sweet and savory dishes using this wonderful Taste of the Tropic.
Many forms of sugar are derived from sugarcane, so I will be accepting recipes that use any of the following:
sugarcane
sugarcane juice
white sugar
brown sugar
powdered (confectioner's) sugar
jaggery
palm sugar
piloncillo
treacle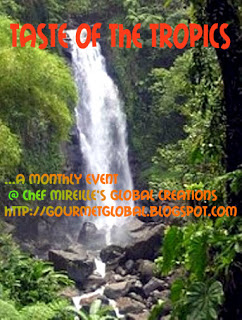 The Rules
1 – Post any recipe that uses one of the above forms of sugar. Archived recipes may be submitted if they are reposted with the linkback and the logo.
2 – Recipe should be posted between July 1st and July 31st, 2012. Recipes can be vegetarian or non-vegetarian.
3 – The post must include a linkback to this announcement page and usage of the logo is mandatory.
4 – After your recipe is posted, add it using the Linky Tool below (will be available at 12:00am on July 1st)
If you are interested in hosting this event, see available months here.