Last Updated on June 4, 2015 by Chef Mireille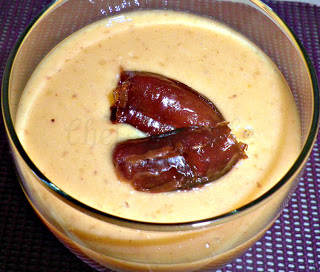 I am calling this leftover fruit shake because I made this using whatever leftover fruit was lying around that were beyond the point of eating.
I am one of those people who like bananas a little under ripe. Once they get just a few dots on them, it's time to cook with them, which led to yesterday's pancake recipe. I still had one leftover banana, which is how it ended up in this shake. I had one leftover peach that had already been blanched and skinned from making Khoobani (Peach/Walnut) Pulao, a recipe that will be posted during next month's Blogging Marathon. My mom had bought some mangoes and they were a sour bunch; not sweet at all. Since she knows I cook with mangoes and don't just eat them as fruit, she gave me these sour mangoes. All of these leftover fruits were combined and made into this delicious fruit shake.
Fruit Shake
Ingredients:
1 peach, peeled
1 banana
1 sour mango
6 pitted dates
3/4 cup almond milk
extra dates, for garnish (optional)
1 tablespoon flavored vermicelli, for garnish (optional)
Combine all ingredients, except garnish ingredients, in a blender and process until smooth. Eventhough the mango was sour, since the banana was so ripe, the shake was still sweet enough and no additional sweetener was needed.
Combine vermicelli with 3 tablespoons water and put in microwave for 3 minutes.
Garnish with dates and vermicelli, if desired.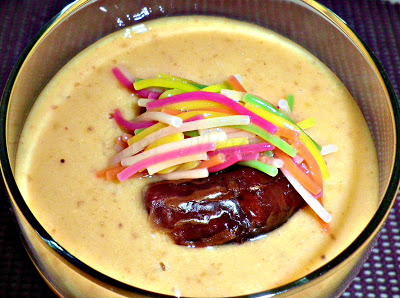 With the almond milk, the flavors really complemented each other well.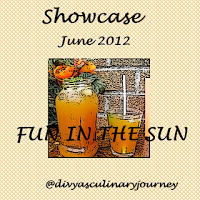 linking to Divya's Fun in the Sun & Let's Cook Kid's Special
LIKE THIS RECIPE? LEAVE A COMMENT..I LIVE FOR THEM!
Chef Mireille
Like me on FACEBOOK!
Follow me on TWITTER!