Last Updated on June 9, 2023 by Chef Mireille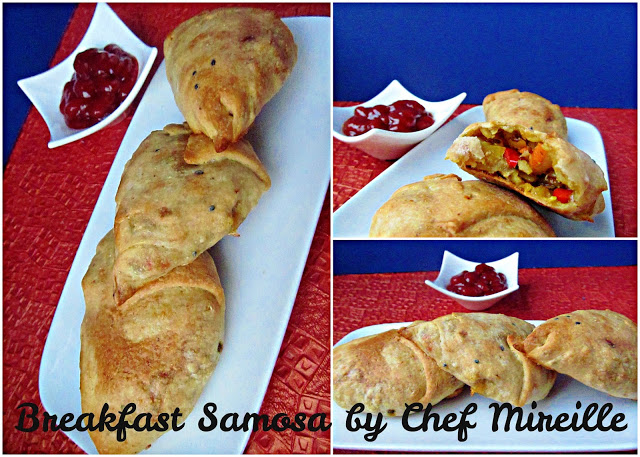 Blogging Marathon #28
Theme: Samosas
One classic breakfast combination here in America is scrambled eggs and home fries, stir fried potatoes with onions and peppers. I have seen many versions of Indian Scrambled Eggs or Indian Omelette, adding Indian spices to eggs and sometimes making it pureVegetarian by using crumbled paneer or tofu, instead of the eggs.
When trying to think of unique samosa fillings, I was glancing through one of my cookbooks for inspiration when I came across a recipe for Aamlait (Indian Style Omelette) and then I thought about putting breakfast inside a samosa and that's how I came up with this filling. I added a little cassava (yuca) also only because I had it available and that puts a little of my Caribbean heritage into this breakfast samosa. I also added a little cornmeal into the dough to give it a crispier outside.
This is really a fusion samosa, with a little bit of India, America and the Caribbean all rolled into one!
Breakfast Samosas
Yield: 12 samosas
Filling Ingredients:
3 tablespoons + 2 teaspoons oil
3 eggs, beaten
1 teaspoon mustard seed
2 teaspoons cumin seed
1 onion, finely chopped
3 scallions, chopped
1 clove garlic, finely chopped
1 red bell pepper, chopped
1 tablespoon ginger paste
1/4 cup carrot, grated
3/4 cup cassava (yuca), grated
1 2/3 cup potatoes, grated
1/2 teaspoon ground turmeric
2 teaspoons ground coriander
1/2 teaspoon red chile powder (cayenne pepper)
1 cup tomato, chopped
salt, to taste
Dough Ingredients:
1 cup + 2 tablespoons all purpose flour
1/2 cup cornmeal
1/4 teaspoon black onion seeds (nigella)
1/8 teaspoon baking soda
7 tablespoons warm water
3 tablespoons ghee
2 tablespoons Greek/strained yogurt
1/2 teaspoon salt
To make the dough, combine flour, cornmeal, onion seed, salt and baking soda in a large ball.
In a small bowl, mix water, ghee, and yogurt. Mix well.
Add this to the flour combo in the bowl and mix until you have a soft dough.
Cover with a kitchen towel and set aside while you make the filling. Dough should rest for 1/2 hour.
Heat 2 teaspoons oil. Add eggs and cook, stirring often, to scramble eggs.
Heat remaining oil in a large skillet. Add mustard and cumin seeds. When they start to pop, add onion, scallions, bell pepper, ginger paste and garlic. Cook for a few minutes, until the vegetables soften.
Add potatoes, cassava, carrots, turmeric, coriander, cayenne and salt. Stir to combine and cook for 5 minutes.
Add tomatoes and eggs and cook for another 2-3 minutes. Taste and adjust salt, if necessary.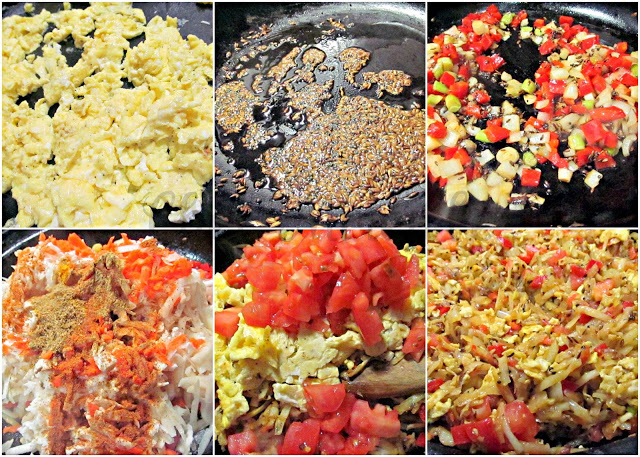 Using this procedure, stuff samosas and place on parchment lined baking sheet.
Brush the tops of the samosas with milk and bake for 25 minutes, until golden brown.

Serve with chutney or ketchup.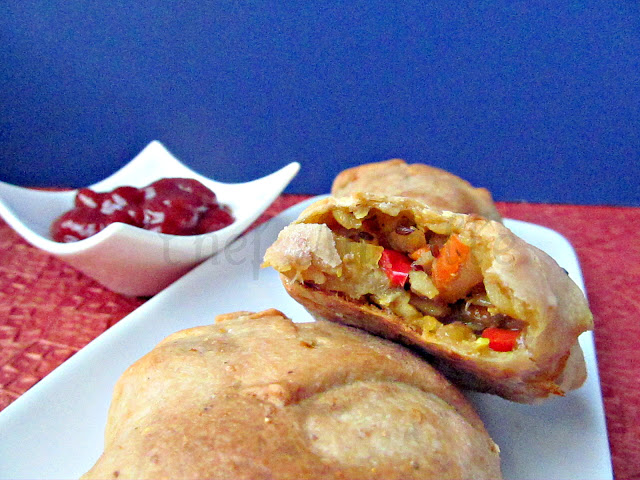 With the extra filling (I had about 3/4 cup leftover), it was just as good with some toast for breakfast.