Last Updated on April 10, 2018 by Chef Mireille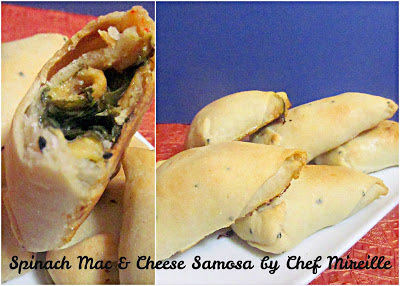 Blogging Marathon #28
Theme: Samosas 
When Srivalli announce the BM themes, I knew I had to pick the samosa theme. I have always loved samosas and ever since I found the perfect samosa dough recipe last year, this has become one of my favorite savory snacks to make. I already have made a few samosas with unique fillings like Mava Samosa (stuffed with coconut, jaggery, chile) and Kala Chana-Spinach Samosa. This week I'll be featuring a few more out of the ordinary samosas.
I got the inspiration for these samosas from a restaurant I visited a few months ago. One of the items on the menu which I ordered were Mac & Cheese Wontons. When I started thinking of some interesting fillings for samosas, I thought this would work in samosa dough as good as they had worked stuffed into wontons.
With this cheesalicious stuffing, this is definitely not kind to the waistline so not something I would make often. However, it would do great to serve at parties. Since I always bake samosas, at least there is no added oil that would be if I fried them.
Spinach Mac & Cheese Samosas
Serves 14
Dough Ingredients:
1 1/2 cups all purpose flour
1/4 teaspoon black onion seeds (nigella)
1/8 teaspoon baking soda
7 tablespoons warm water
3 tablespoons ghee
2 tablespoons Greek/strained yogurt
1/2 teaspoon salt
Filling Ingredients:
1 tablespoon olive oil
1/2 red bell pepper, chopped
1/2 onion, chopped
2 cups spinach leaves, chopped
2 tablespoons butter
2 tablespoons all purpose flour
1 cup milk
1 teaspoons paprika
1/2 teaspoon dry mustard powder
1/2 teaspoon dried oregano
4 oz. pepper jack cheese, grated
1 cup cooked pasta
salt and pepper, to taste
In a skillet, heat olive oil. Add onion and bell pepper and cook for about 2 minutes, until softened. Add spinach and cook until wilted. Add salt and pepper, to taste.
Heat butter in a pot.  When it starts to melt, add the flour and cook for a few minutes, stirring constantly until it turns golden.  Add milk, paprika, oregano and mustard. Mix well and cook until roux (butter-flour mixture) has dissolved into the milk and thickened, about 5 minutes.
Turn off flame and stir in cheese until it melts. Add spinach mixture and salt and pepper, to taste. Mix well.
Add cooked pasta and mix well, so the pasta is well coated with cheese sauce.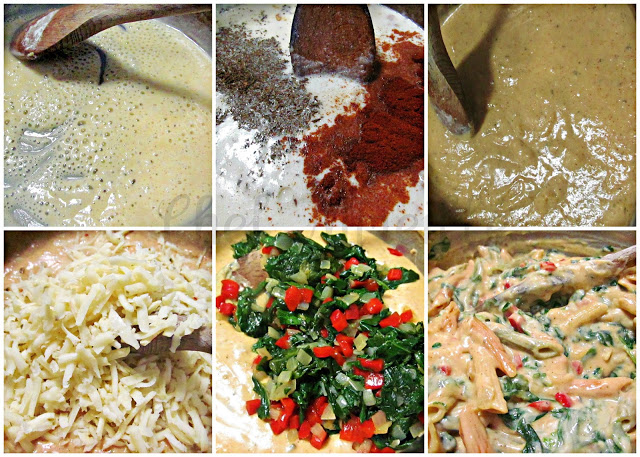 Fill samosas. See procedure here.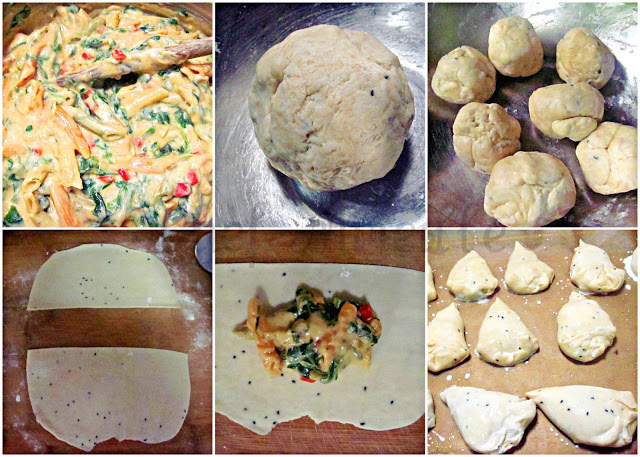 Bake for 20 minutes at 425 F.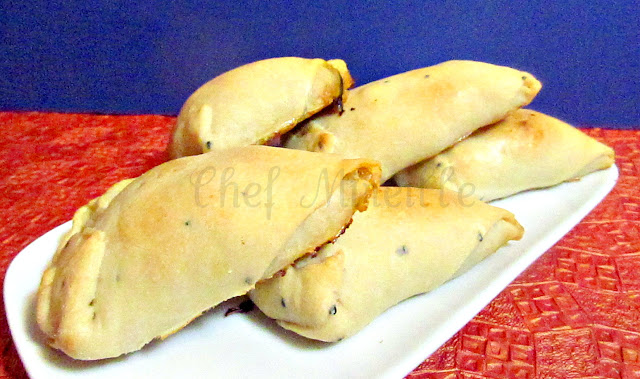 When I had the wontons at the restaurant, they were served with a cheese sauce which I thought was a bit too much cheesy overkill. Instead, try them with chipotle mayo or mango ketchup.
Check out the Blogging Marathon page for the other Blogging Marathoners doing BM#28