Last Updated on July 9, 2022 by Chef Mireille
Pikliz – Haitian Pickled Pepper Condiment is a staple pantry item in every household if you're Haitian. If you like spicy food, you will love this condiment! This is a spicy punch in the face, so it is meant to be used a little at a time. Once you make this wonderful condiment, it will last for months.
It's so hard to find the words to describe it – Is it a relish? Salad? Cole Slaw? Condiment? Pickle?
Well, whatever word you use to name it – there will be only word you are going to start using to describe it – and that is utterly delicious.
As it is a pickled vegetable relish, it can stay in the pantry for months as you only need a little bit to spice up your food. So what kinds of foods to Haitian add Pikliz (Picklese) to?
Pikliz is how we add some heat and spice to anything we are preparing. Here are some delicious Haitian Recipes you can enhance with a little pikliz.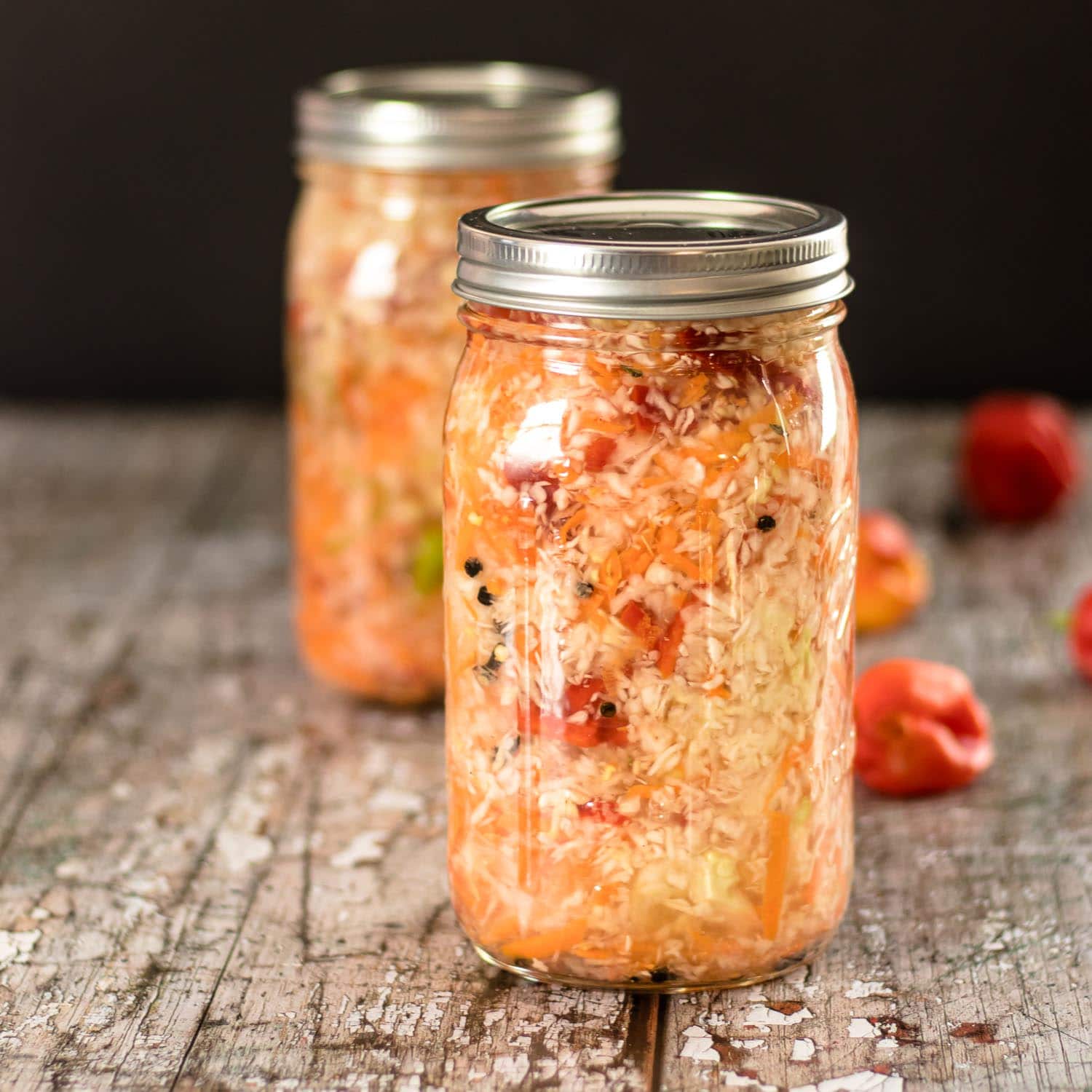 This post may include affiliate links.
As many of you know, I am half Haitian and I truly believe the only reason Haitian food isn't more popular is that not enough people have had the opportunity to taste it.
Whenever I meet people who have had the pleasure of eating Haitian food, they immediately tell me how much they love it and just about all of them ask me if I know how to make the Haitian Black Rice. Well I do!
However, Haitian Cuisine is so much more than black rice.
So let's start with the basics. There are two essential recipes that form the backbone of Haitian cuisine. Both are used to spice up our food.
Haitian Pepper Sauce
Haitians have two ways of spicing up food – Sos di Malice and Pikliz. Sos Malice, or often simply just called Sos, is a Haitian style tomato based Creole sauce. This sauce is utilized both as a dipping sauce and a base sauce for stewing meat.
But Pikliz is something special in the heart of every Haitian. A Haitian table is empty without a small bowl of pikliz. You just need a few drops of the pickle juice to spice up an entire plate of food.
It's not a Haitian home if a jar of pikliz is not in the cabinet. The vinegar preserves the vegetables so that it is not necessary to refrigerate it. The longer it is in the cabinet, the spicier it is going to get.
Some people slice up the vegetables, while others use shredded cabbage and grated carrots. In some Haitian homes, it is made more like a crunchy salad. However, some people may use less vegetables so that it is closer to a pickle. There is no one correct way to make it. It is simply a matter of preference and I have made it both ways.
However, I mostly make it as a pickle so that it can stay in the pantry for months. You need to do is add more vinegar as you always want the vegetables to be completely submerged in the vinegar.
Scotch Bonnet Peppers are essential to make this fiery Haitian condiment. Let's see what else you will need to make this iconic Haitian Spicy Condiment.
The Ingredients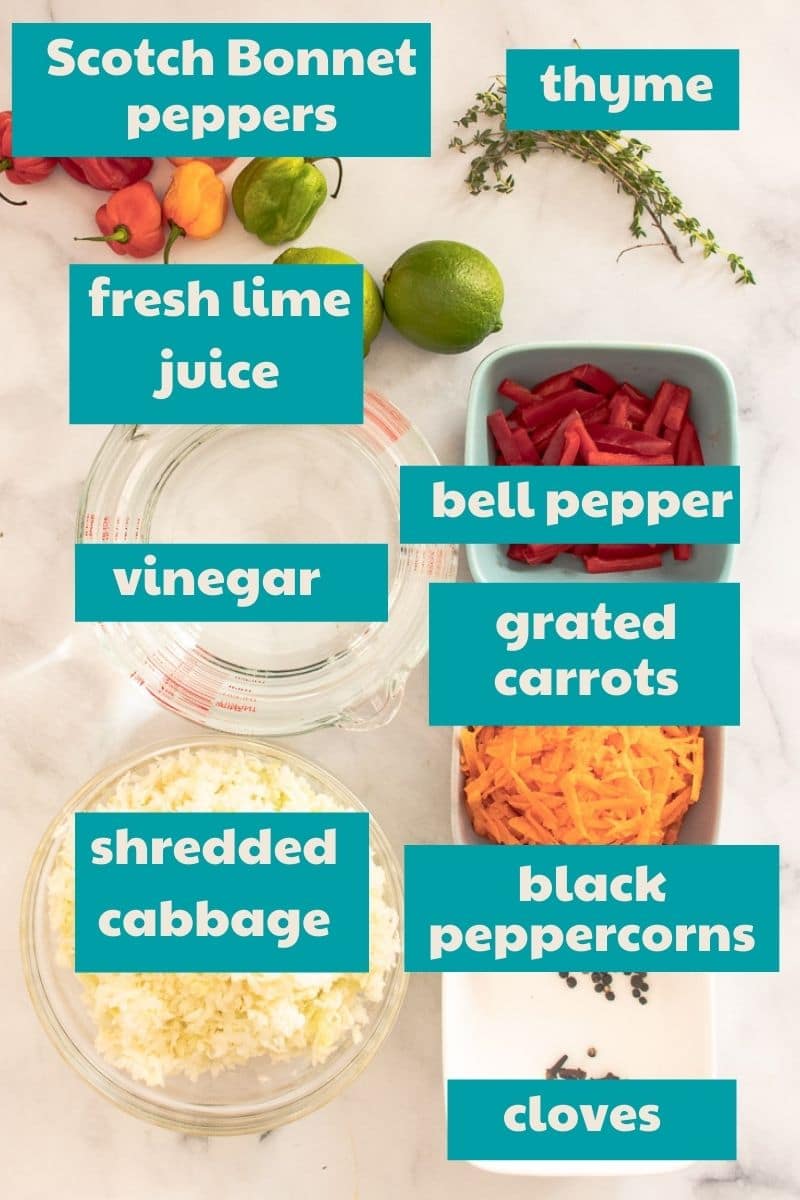 Cabbage
Carrots
Bell pepper
Scotch Bonnet Peppers
Thyme
Black peppercorns
Whole Cloves
Vinegar
Lime Juice
How to Make Pikliz Step by Step
Slice your vegetables. When you have your sliced Scotch Bonnet peppers, the seeds are not removed.
Combine all the vegetables in a bowl and mix everything together.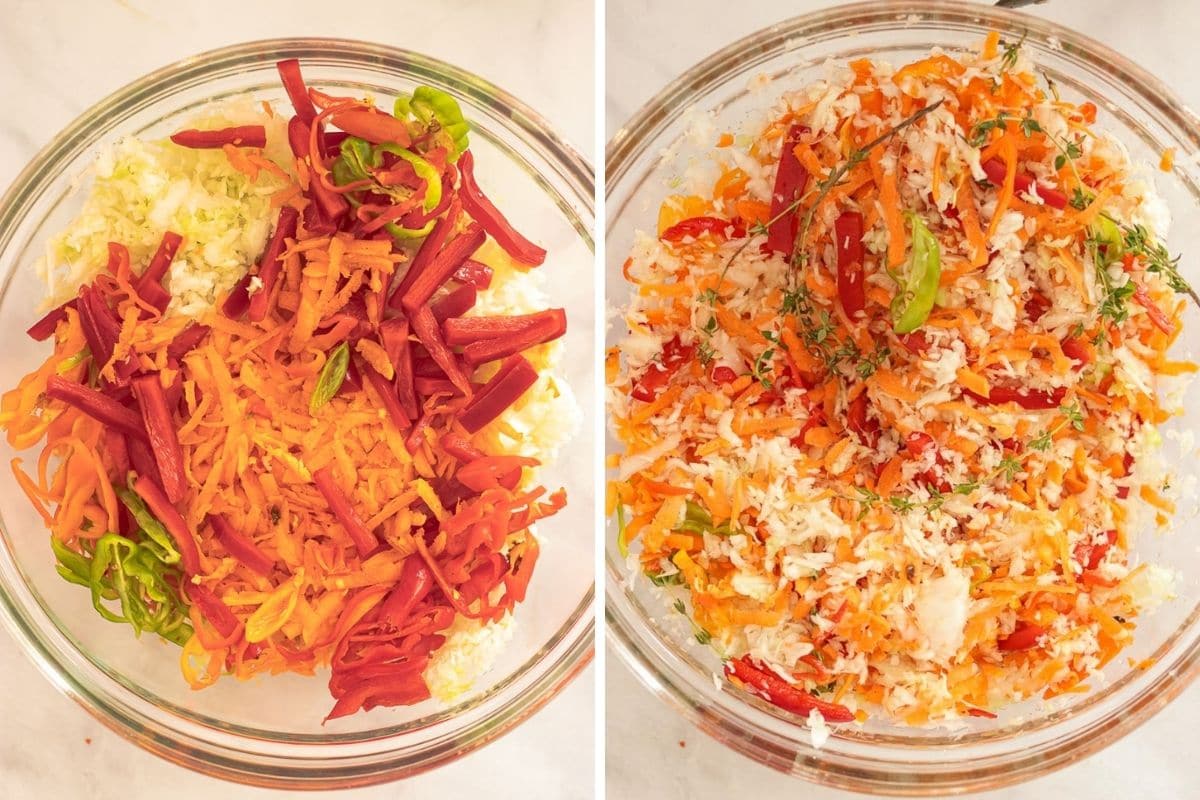 Transfer it to a quart size jar with the vinegar, lime juice and spices.
It's important that there is enough vinegar to cover the vegetables. Add more if you need to.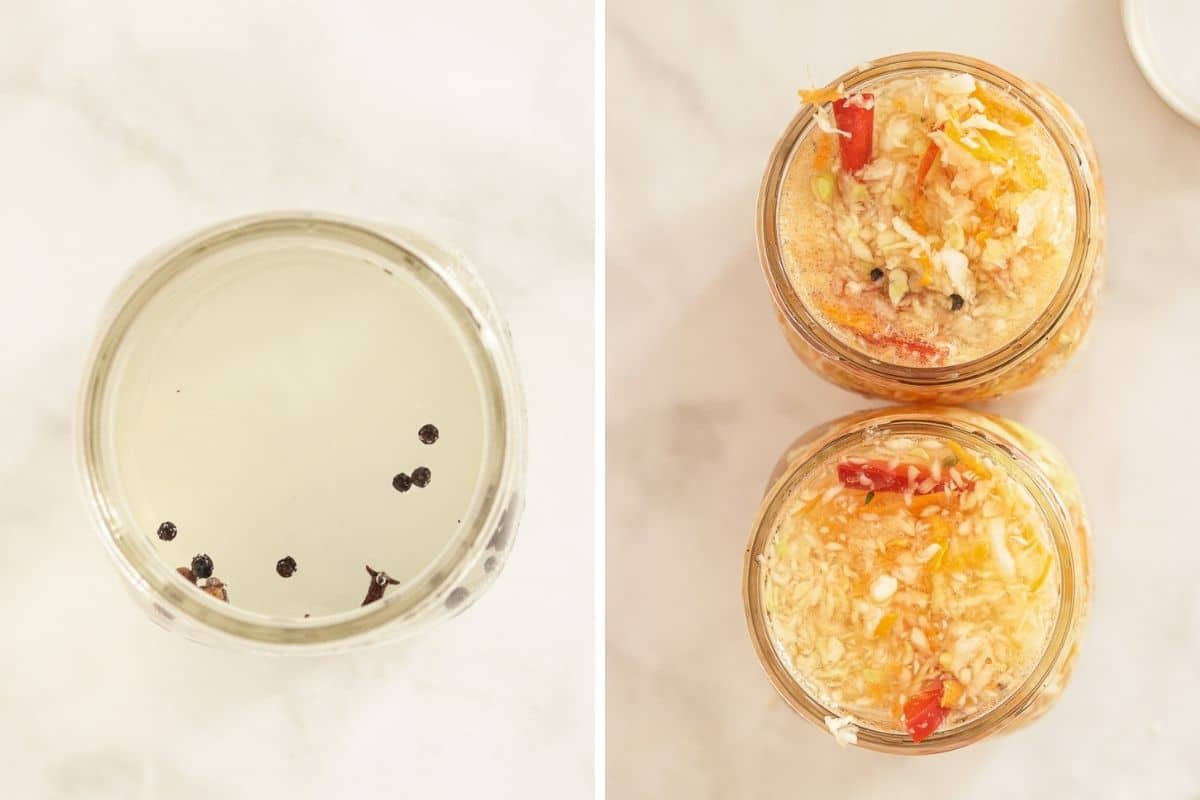 Leave to pickle for at least 24 hours.
Have you tried instacart yet? It's how I get all of my fresh grocery items delivered within 2 hours!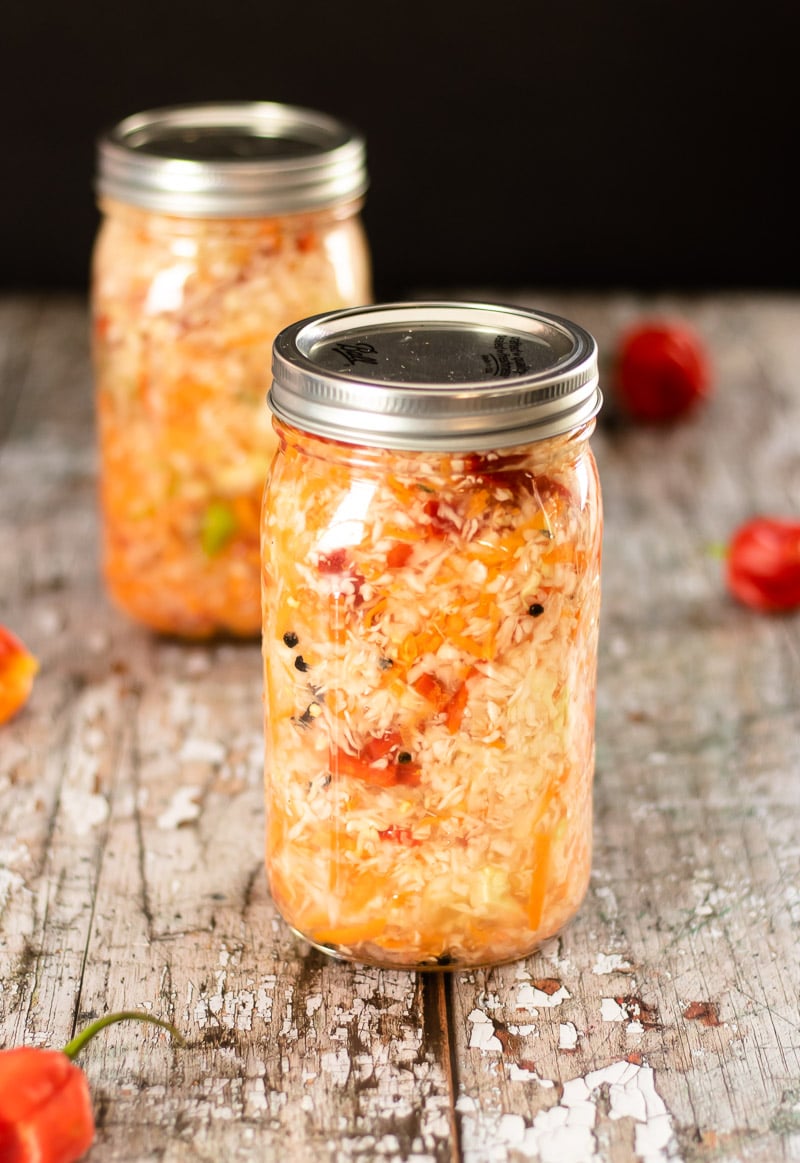 FAQ
Does pikliz need to be refrigerated? 
No. The vinegar acts as a preservative. However, the vegetables will stay brighter if you refrigerate it. 
How should you store Haitian Pikliz? 
You should store it in a glass jar. This can be kept in the kitchen cabinet or in the refrigerator. In the refrigerator, the vegetables will keep their color longer. 
How long does pikliz last? 
Pikliz can last for months or even years. You only have to add more vinegar and/or lime juice as the liquid level goes down. You want the vegetables to always have enough acid to preserve them.
Is there another name for Scotch Bonnet peppers? 
Although not exactly botanically identical, the best substitute is Habanero peppers.  
How to Serve Haitian Spicy Cabbage Slaw
First take a small quantity of vegetables and add to your plate, eating only a little bit of it with each bite of food.
Then sprinkle a few drops of the vinegar mixture over your Haitian meals.
This will give a spicy-sour punch to your food.
This is a quick and easy way to enjoy a little bit of Haitian culture on your plate! It can also be enjoyed with non Haitian foods. Add it to your meat dishes, vegetable dishes and rice dishes.
Use a little on any plate of food or use it as a side condiment with Haitian Pate – Salted Cod Pastries!
Haitian Pikliz – Spicy Pickled Relish
Haitian Pickled Pepper condiment is perfect for spicy food lovers.
Ingredients
6

Scotch Bonnet peppers

sliced

2 1/2

cups

cabbage

grated or shredded

1

cup

carrot

grated

3/4

cup

bell pepper

sliced

few

sprigs of thyme

10

cloves

1

teaspoon

black peppercorns

5

cups

white vinegar

1/3

cup

lime juice
Instructions
Combine the cabbage, carrots, bell pepper, Scotch Bonnet peppers and thyme in a bowl and toss well until thoroughly combined.

In 2 glass quart sized jars, pour half of the vinegar and lime juice in each jar.

In one jar, place half of the cloves and peppercorns. Add the rest to the other jar.

Add the vegetables to the jars – half in each jar.

Leave to rest for at least 1 day.
Notes
The longer you leave it, the spicier your Pikliz will be.
You will need to use less and less of it to flavor your food, the longer you leave your pikliz to pickle.
Sour Oranges are usually available only in Caribbean markets. This sour orange juice is often used instead of the lime juice.
You can also use white wine vinegar or apple cider vinegar.

 
Nutrition
Calories:
4
kcal
|
Carbohydrates:
1
g
|
Protein:
1
g
|
Fat:
1
g
|
Saturated Fat:
1
g
|
Polyunsaturated Fat:
1
g
|
Monounsaturated Fat:
1
g
|
Sodium:
1
mg
|
Potassium:
11
mg
|
Fiber:
1
g
|
Sugar:
1
g
|
Vitamin A:
152
IU
|
Vitamin C:
4
mg
|
Calcium:
2
mg
|
Iron:
1
mg
Did you try this recipe? Leave a comment below.
Please follow me on Instagram @chefmireille or tag me #chefmireille with your pics! I'd love to share them!
It can be stored in the kitchen cabinet for several months. The vinegar will continue to get stronger as the months go by and you will continually need to use less and less so that a few drops for a plate of food is all that is needed a few months later.
Don't forget to visit the RECIPE INDEX with over 1000 recipes from around the world including lots of Vegetarian Recipes and Gluten Free Recipes!