Last Updated on December 14, 2020 by Chef Mireille
Blogging Marathon #24
Theme : Moderator's Choice – Three Vegetable Combo
As my regular readers know, oven baked samosas have become a regular on this blog. When Srivalli gave me this three vegetable combo theme, I immediately thought of samosas since I was out of my favorite savory snack. However, I thought my readers might get bored of yet another samosa so I had to think of something different to make it interesting. I decided to make an even healthier version by making a multi-grain dough instead of a 100% all purpose flour dough.
This is the healthiest samosa ever!
Multi Grain Vegetable Samosas
(click here for printable recipe)
Serves 8
Dough Ingredients:
1/2 cup millet flour
1/2 cup whole wheat flour
1/2 cup oats
1/4 cup + 2 tablespoons all purpose flour
1/2 teaspoon salt
1/4 teaspoon black onion seed (nigella)
1/8 teaspoon baking soda
2 tablespoons non fat plain yogurt
7 tablespoons water
3 tablespoons ghee
Filling Ingredients:
1 tablespoon oil
1 onion, finely chopped
2 cloves garlic, finely chopped
1 tablespoon ginger paste
1/4 head of cauliflower, chopped
1 cup frozen green peas, defrosted
2 cups potatoes, cut into small dice
2 teaspoons curry powder
2 teaspoons garam masala
1/2 teaspoon red chile powder (cayenne pepper)
1/2 teaspoon ground turmeric
salt, to taste
2 tablespoons cilantro, finely chopped
2 tablespoons milk
non stick spray
Let's first make the filling.
Place potatoes in a small pot and add enough water to cover. Cook for 10 minutes on high heat, until just done.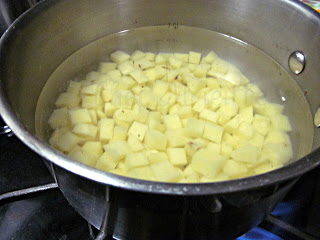 Heat oil in a large skillet. Add onion and garlic and cook until onions are softened. Add ginger paste and fry for 1 minute. Add cauliflower and spices and cook for about 8 minutes. Add peas and potatoes and stir to combine. Cook until peas are heated through. Add cilantro and stir to combine. Taste and adjust salt, if necessary. Set aside to cool.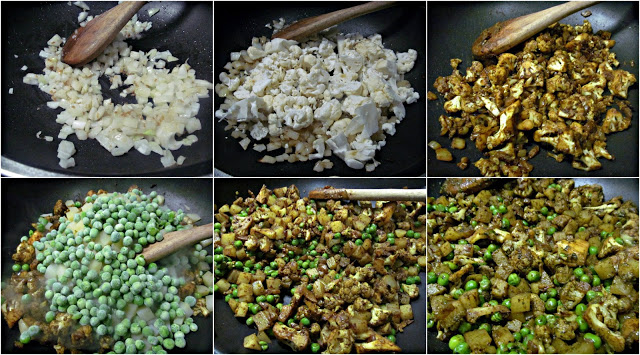 ~~~~~~~~~~~~~~~~~~~~~~~~~~~~~~~~~~~~~~~~~~~~~~~~~~~~~~~~~~~~~~~~~~~~~~~~
Now let's make the samosa dough.
Using a food processor or spice/coffee grinder, grind the oats to a fine powder.
Transfer the oat powder to a large bowl and combine with the millet flour, whole wheat flour, salt, onion seed, baking soda and all purpose flour.
In a small bowl, combine the yogurt, water and ghee and mix well. Add this to flour mixture and mix by hand until you have a soft dough. Cover and let rest for 15 minutes.

Preheat oven to 425 F.
Spray 2 cookie sheets with non stick spray. Even if you use parchment or waxed paper still spray the paper with non stick spray. This will ensure the samosas get a nice golden brown color on both sides.
~~~~~~~~~~~~~~~~~~~~~~~~~~~~~~~~~~~~~~~~~~~~~~~~~~~~~~~~~~~~~~~~~~~~~~~~
Now it's time to put together the samosas.
Take a ball of dough and roll out to a 6-inch circle as thin as possible. The dough is soft, but not sticky so it is very easy to roll thin. Using a pizza cutter or a very sharp knife, cut in half.
Place a few tablespoons of filling on one half and fold over so that you have a point on the top. Fold over the other side and the bottom, using water to seal the edges.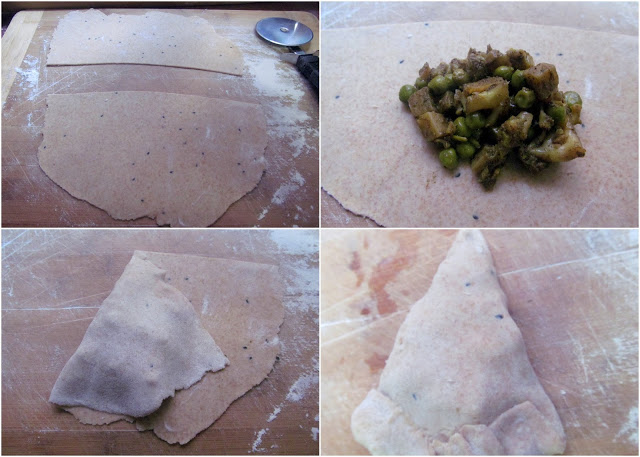 Place on prepared cookie sheet. Repeat until all of the dough has been used.
Brush the tops with milk and bake for 20 minutes.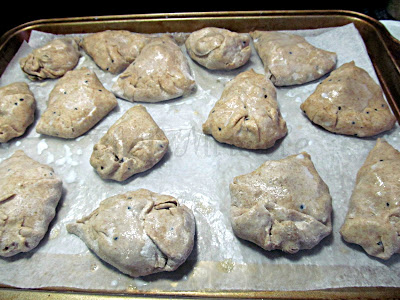 Don't you want to take a bite?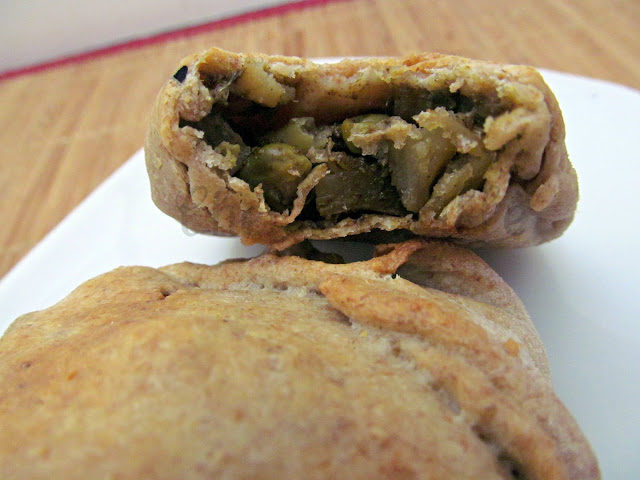 Don't forget to check out my other samosa recipes:
Mava Samosa
Chickpea-Potato-Paneer
Kala Chana (Black Chickpeas)-Spinach
Check out the Blogging Marathon page for the other Blogging Marathoners doing BM#24

…linking to Bake Fest hosted by Sumee, Priya's CWS-Oats hosted by Amruta, New U 2013 & Bon Vivant – Healthy Appetite
LIKE THIS RECIPE? LEAVE A COMMENT..I LIVE FOR THEM!
Chef Mireille
Like me on FACEBOOK!
Follow me on TWITTER!