Last Updated on September 16, 2020 by Chef Mireille
Cranberry Apple Clafoutis
This variation of the the classic Cherry Clafoutis is delicious utilizing fall flavors.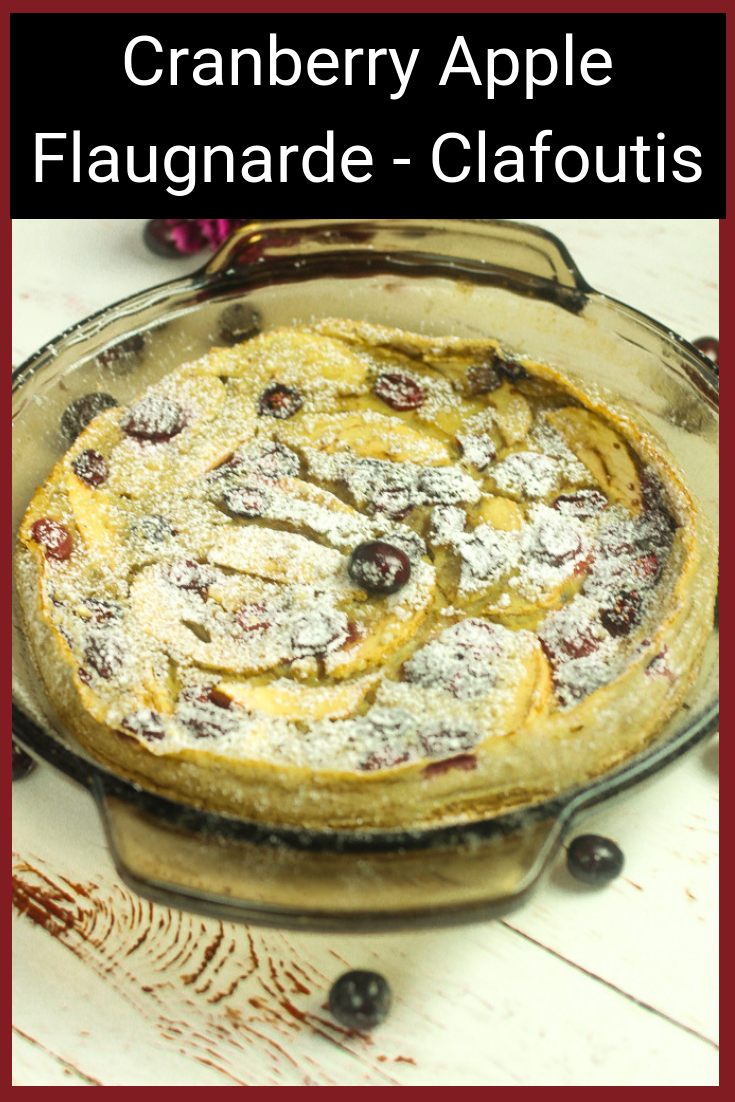 My Aversion to French Food
Many people, especially in the culinary industry, go gaga over French food and consider it the be all and end all to the history of culinary arts. Most culinary school programs teach French cuisine and you'll spend one semester on all other international cuisines.
The French may have invented the practice of eating out in restaurants. However, the countries of Asia and Africa have longer culinary traditions that go back centuries before the French. I was the rebel in culinary school. Anytime we had a project where we had to create our own menu's, mine was always a global inspired menu with influences from Asia, Africa and the Caribbean. I would sometimes even introduce new ingredients to my instructors. I always got full points for the creativity part of the grade.
I take full credit for introducing sorrel to our school restaurant menu. It became a customer favorite and my professors were always asking me to get the sorrel for our weekly restaurant service.
Anyway, when I went to Paris several years ago I was looking forward to all the delicious food to taste. However, I'm afraid my palate preferences and French food are on two different planets. My family is from the Caribbean where we prefer to cook our meat thoroughly. Tartare and the idea of eating a patty of raw meat with a raw egg was just more than my sensibilities could tolerate. Many restaurant menu's consisted of just various forms of tartare and duck confit. I basically lived off of ham & cheese sandwiches and soup while I was there. I'm sorry, but all of you French food enthusiasts can keep it. I'm also one of the few who doesn't understand the world obsession with macaron's.

French country food of hearty stews is more my cup of tea. I'm afraid that French haute cuisine is not for me.
However, there is one exception. All the delicious breads, pastries and cakes…not to mention crepes…This is the part of French cuisine I adore! If you adore French pastries as much as I, this is a variation of a classic French dessert that is so delicious…and I promise I won't make you eat tartare!
Clafoutis is a classic French dessert made with cherries and a simple custard. Here in America, everything that is a mixture of fruits or vegetables in a custard is not called clafoutis in both sweet and savory versions. However, in France only the cherry version is called clafouti.  However, in France, when made with anything other than cherries, it is called Flaugnarde.
This dessert is so easy to put together. Put some fruit on the bottom. Whisk up a quick custard. Pour on fruit and bake for 1/2 hour.
When it comes out of the oven, sprinkle with powdered sugar!
This is perfect tea time dessert!
It is very light, so perfect for an anytime snack!
Cranberry Apple Flaugnarde – Clafouti
Cranberry Apple Flaugnarde – Clafouti is a seasonal fall variation of a classic French dessert.
Ingredients
1 

apple

1/4

cup

fresh cranberries

halved

3

eggs

1

cup

milk

1/2

cup

all purpose flour

1/4

cup

sugar

1

teaspoon

vanilla extract

1/4

teaspoon

salt

1/2

teaspoon

freshly grated nutmeg

1/4

teaspoon

ground cloves

powdered sugar

garnish
Instructions
Peel, core and slice the apple into thin slices.

Reserve the remaining part of the apple for garnish.

Grease a pie plate.  Preheat oven to 350 F.

Arrange apple slices on bottom of pie plate.  Sprinkle cranberries on top.

In a bowl, beat eggs, milk, sugar, flour, salt, vanilla and spices well. Pour over fruit.

Bake for 30-40 minutes until puffed and golden brown.

Top with powdered sugar and serve at room temperature or chilled.
Did you try this recipe? Leave a comment below.
Please follow me on Instagram @chefmireille or tag me #chefmireille with your pics! I'd love to share them!
Do you know anyone else who likes learning about international food, culture, history and travel? Bring them over here to join the party! Don't forget to use those share buttons!
Start Here to find out how the Schizo Chef can help you with your cooking, travel and other needs!
If you like this recipe, PLEASE LEAVE A COMMENT & SUBSCRIBE!
Check out the Blogging Marathon page for the other Blogging Marathoners doing BM#24