Last Updated on June 3, 2015 by Chef Mireille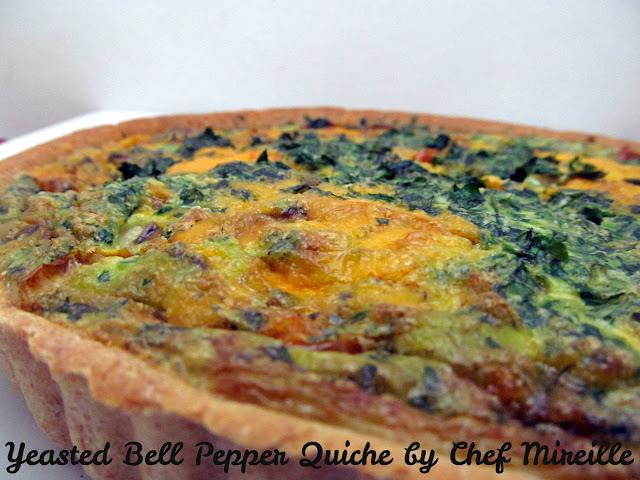 Quiche is one of my favorite foods to eat. Although I do have a few quiche recipes here on this blog, I eat it rarely due to the fat content. Even when stuffed with healthy vegetables, it is on a pie/tart crust laden with butter and/or shortening. Filled with eggs, cheese and heavy cream, it certainly isn't kind to the waistline.
Perusing through Deborah Madison's Vegetarian Cooking for Everyone cookbook, I came across this yeast pie/tart shell recipe that does not require the butter/shortening included in traditional shells. Ms. Madison is one of the premier authors of Vegetarian Cookbooks in America, with about a dozen books to her name. Although I have had this cookbook for many years, this is actually the very first recipe I am trying from the book.
I also lightened up the quiche filling with egg whites and added some whole wheat flour to the pastry. With a fraction of the fat and calories, try this quiche, that won't bust your New Year's Resolution weight loss goals.
Yeasted Bell Pepper Quiche
(click here for printable recipe)
Serves 8
Shell Ingredients:
2 teaspoons active dry yeast
1/2 teaspoon sugar
1/2 cup warm water
3 tablespoons olive oil
1 egg, lightly beaten
1/8 teaspoon salt
1 cup all purpose flour
3/4 cup whole wheat flour ( I used bread flour)
Filling Ingredients:
1 tablespoon oil
2 bell peppers, sliced
2 scallions, thinly sliced
1/3 cup frozen or canned corn
1/3 cup frozen green peas, defrosted
1 jalapeno, finely chopped
1/8 teaspoon salt
Custard Ingredients:
1/4 cup parsley, finely chopped
1 1/2 cups liquid egg whites
1 egg
1/4 cup heavy cream
1/4 teaspoon nutmeg, freshly ground
1/2 teaspoon black pepper
1/4 + 1/8 teaspoon salt
2/3 cup cheddar cheese, grated
In a large bowl with the warm water, sprinkle yeast and sugar on top. Let stand until bubbly, about 10 minutes.
Add the oil, egg and salt and then add the all purpose flour and mix well. By hand, start to knead in the whole wheat flour. Knead for about 5 minutes until the dough is smooth and elastic.
Place dough in an oiled bowl. Cover with plastic wrap and a kitchen towel and let rise for 1 hour. (It's not going to be doubled like other doughs, but you will see air bubbles and it will be slightly larger.)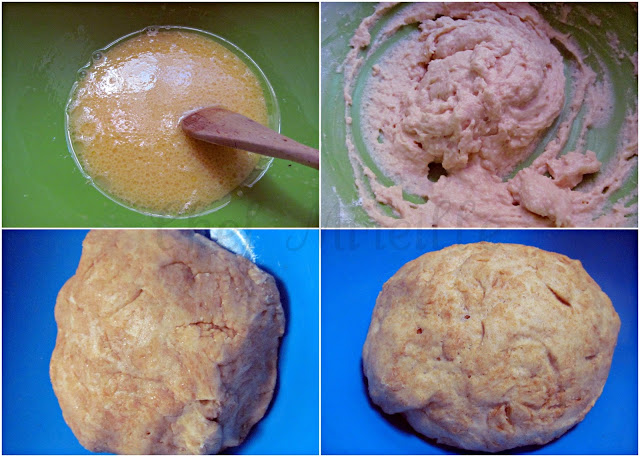 Let's make the filling now.
Heat oil. Add scallions and jalapeno. Cook for 1 minute. Add bell peppers and saute for about 8 minutes on medium high heat until slightly charred, tossing frequently. Add corn and green peas and cook until heated through. Add salt and toss to combine. Set aside to cool.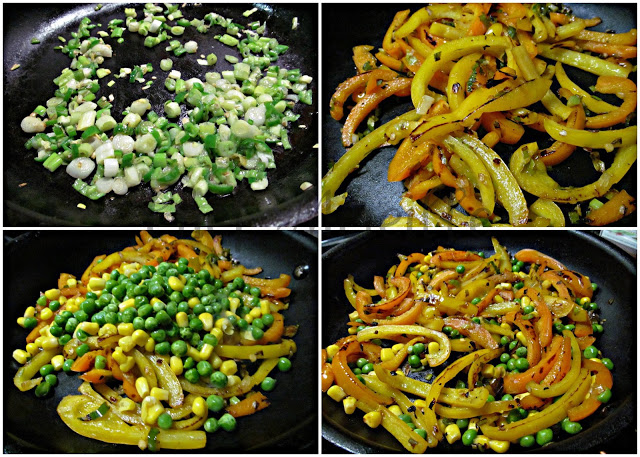 In a large bowl, combine egg whites, egg, cream, nutmeg, parsley, salt and pepper. Mix well.
Preheat oven to 375 F.
On a lightly floured board, roll out the pastry until as thin as possible and transfer to a quiche/tart pan.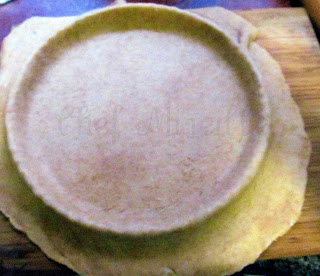 There was quite a bit of excess dough, so I saved it for another use.
Trim off the excess from the bottom of the pan. You don't want to trim off the top because shrinkage will occur when it is baked. Add filling and sprinkle cheese on top. Pour egg mixture on top. Place on a cookie sheet.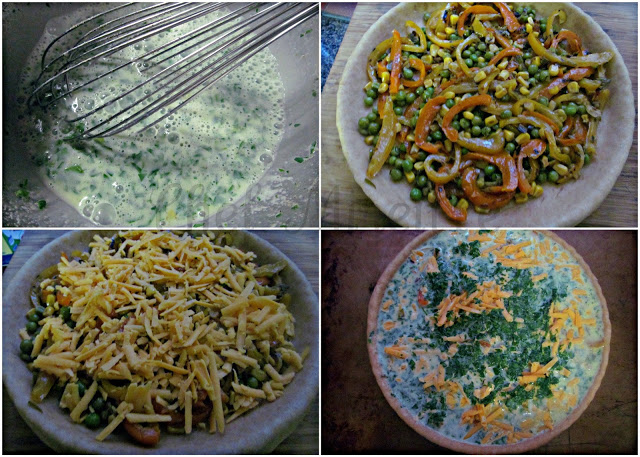 Bake for 35 minutes. Using a sharp knife, cut the excess dough off the top.

Serve with a green salad.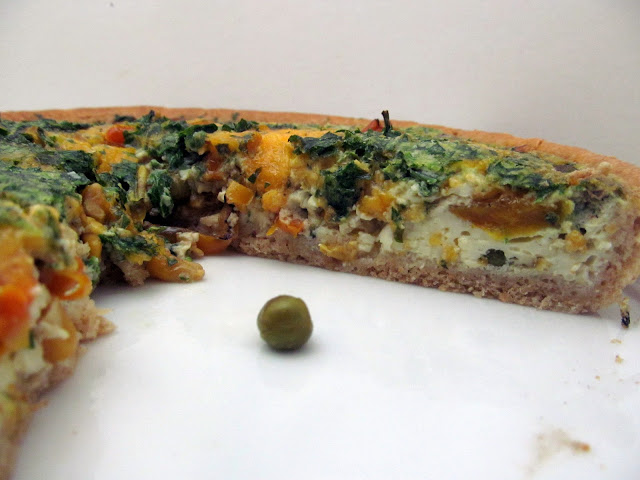 …linking to Julie's Herbs & Spices hosted by me, Bake Fest hosted by Sumee, Yeastspotting, Bon Vivant – Healthy Appetite, Let's Cook Healthy Breakfast & New U 2013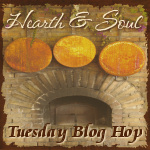 LIKE THIS RECIPE? LEAVE A COMMENT..I LIVE FOR THEM!
Chef Mireille
Like me on FACEBOOK!
Follow me on TWITTER!