Last Updated on December 14, 2020 by Chef Mireille


Blogging Marathon #24
Theme: Moderator's Choice – Tamil Nadu Gravy
Indian food gravies usually use ground nuts as the thickening agent. Cashews are most commonly used and since I am not a cashew fan, I don't usually make or eat these. However, since Srivalli gave me this category as the moderator's choice I decided to dive into this category feet first, with some minor adjustments.
(click here for printable recipe)
Serves 4
Ingredients:
1 head cauliflower, cut into florets
1 tablespoon ginger garlic paste
1 teaspoon green chilli sauce
1 teaspoon red chile powder (cayenne pepper)
1 teaspoon ground coriander
1/2 teaspoon ground cumin
1/4 teaspoon ground turmeric
1/2 cup yogurt
2 tomatoes, chopped
2 onions, chopped
1/2 cup water
1 teaspoon poppy seeds
1/3 cup almonds, blanched and peeled (traditional recipe would use cashews)
2 tablespoons oil
2 tablespoons cilantro, finely chopped, plus more for garnish
salt, to taste
Using a coffee/spice grinder, grind almonds and poppy seeds. Add 2 tablespoons water and mix to form a paste.
In a large pot, heat oil. Add onions and saute until softened. Add tomatoes, ginger garlic paste, salt, spices and yogurt. Mix well. Add cauliflower, mix and cook on medium heat for 5 minutes.
Add water and chili sauce. Cook for another 10 minutes.
Add nut paste to the cauliflower and mix well. Cook for another 3-4 minutes and adjust salt, if necessary.
Add cilantro. Stir to combine and cook for 1 minute.
Serve with your favorite Indian flatbread.
Delicious and simple cauliflower dish. Spices are balanced with the mild sweetness of almonds!
Check out the Blogging Marathon page for the other Blogging Marathoners doing BM#24
…linking to New U 2013 & Bon Vivant – Healthy Appetite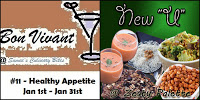 LIKE THIS RECIPE? LEAVE A COMMENT..I LIVE FOR THEM!
Chef Mireille
Like me on FACEBOOK!
Follow me on TWITTER!