Last Updated on December 16, 2020 by Chef Mireille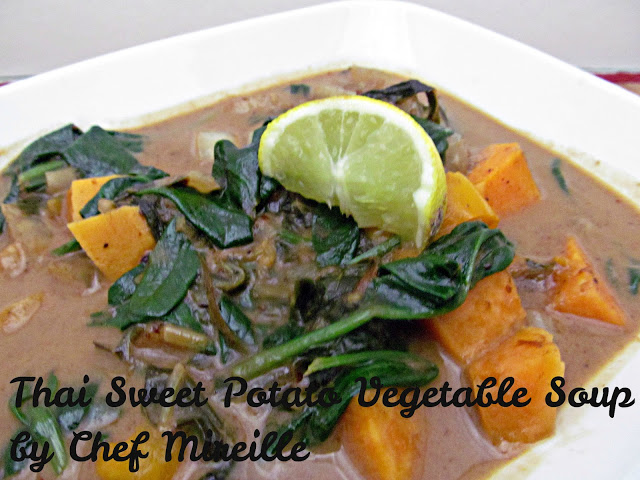 Thai food is one of my favorite cuisines and was surprised to see how little Thai recipes I have on this blog. If you a Thai food aficionado like me, you are sure to love this soup.
Many tropical countries use a lot of dried products in their foods, especially fish. Fish is widely available in most tropical countries, due to their proximity to water. However, due to the high heat index in tropical countries, fish has a short life for eating viability. Therefore, drying the product is a great way to make sure the fish never goes to waste.
In most Southeast Asian cuisines (especially Thailand, Laos, Cambodia & Malaysia), using a little dried or smoked fish for flavor is very common even in vegetable based soups, stews, rice and noodle dishes. It adds a little saltiness to enhance the flavor of the dish. The one exception is the Phillipines, where it is more common to use smoked pork. If you don't have access to a Thai market where you can purchase this, you can order this fish powder online, which is a good substitute. You can also order your other Thai grocery needs via the link. If you live in the NY area, you can get all of your Thai grocery needs at Bangkok Center Grocery.
Out of all Thai curry pastes (yellow, orange, red, green, Massaman & Penang), Penang is the mildest, so if you prefer a spicier soup, feel free to add some fresh red chiles.
Penang Thai Curry Vegetable Soup
(click here for printable recipe)
Serves 4
Ingredients:
1 tablespoon peanut oil
3 scallions, chopped
2 cloves garlic, finely choppedour
1 bell pepper, sliced
1 small head of bok choy, chopped
4 cups baby spinach leaves, firmly packed
1 large sweet potato (about 11 oz.), cut into large dice
2 tablespoons dried fish, flaked
1 tablespoon Penang Curry Paste
13.5 oz. can coconut milk
1 cup water
5 dried Kaffir lime leaves (using fresh lime leaves is best but I didn't have time to go to Chinatown)
juice of 1/2 lime
salt, to taste
In a small bowl, dissolve the curry paste in the coconut milk and mix well. Set aside.
In another small bowl, place the dried lime leaves and add enough boiling water to cover. Let sit for 5-10 minutes to reconstitute the leaves.
In a large pot, heat oil. Add scallions, garlic and bell pepper. Cook for 1-2 minutes. Add bok choy and cook for 2 minutes.
Add sweet potato, coconut milk, fish and water. Bring to a boil. Reduce to a simmer and cook for 10 minutes, until the sweet potatoes are cooked.
Add lime juice, lime leaves and salt, to taste. (since the dried fish is salted, very little additional salt is needed)

Wait 5 minutes so that the lime leaf flavor can infuse the soup. Serve and enjoy!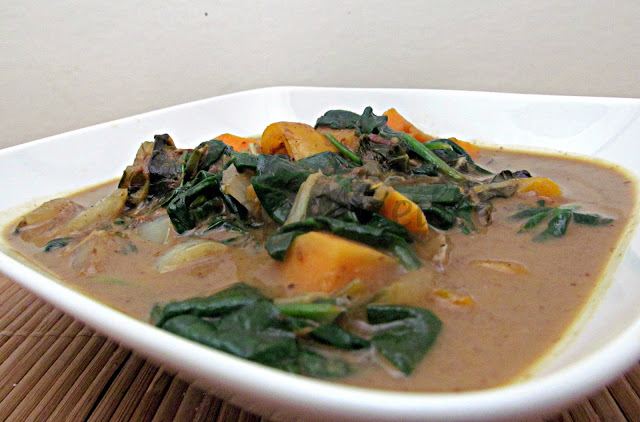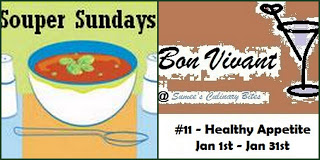 …linking to Souper Sundays & Healthy Appetite
LIKE THIS RECIPE? LEAVE A COMMENT..I LIVE FOR THEM!
Chef Mireille
Like me on FACEBOOK!
Follow me on TWITTER!