Last Updated on November 13, 2020 by Chef Mireille
Caribbean Cornmeal Porridge Recipe – This rich and sweet cornmeal porridge is how the day gets started on many Caribbean islands. Creamy, warm, and filling, it's the perfect breakfast for winter anywhere that you live. Get ready to enjoy Breakfast Comfort Food – Caribbean Style!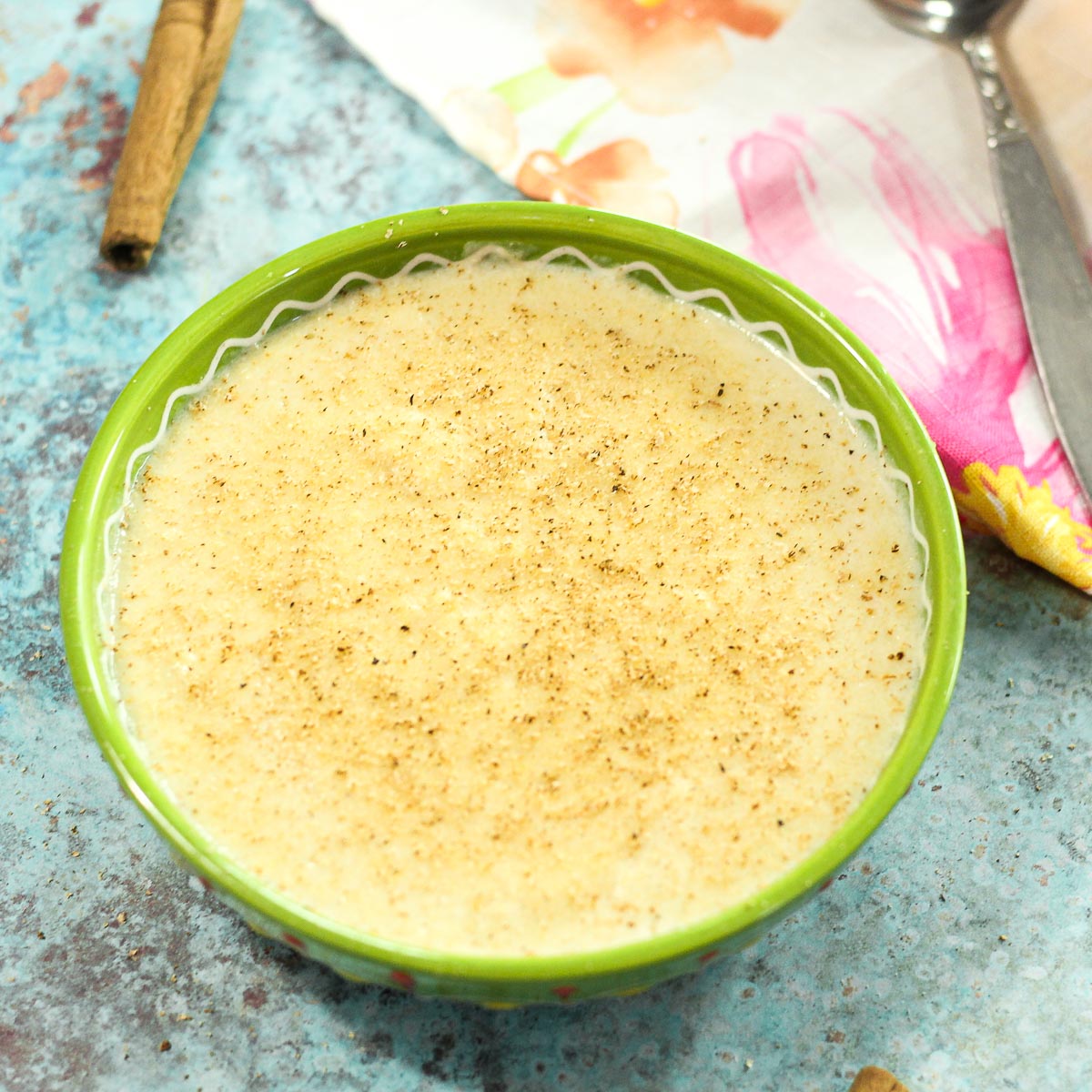 This post may include affiliate links.
Gluten Free Cornmeal Porridge is one of the most common breakfasts throughout the Caribbean islands. There might be slight variations from island to island in the spices used, but it is a filling hearty breakfast that is beloved by all!
Cornmeal is a grain often overlooked in the gluten free conversation, but it is both versatile and cost efficient. Not to mention, it's so very tasty !
If you would like to know more about the many varieties of gluten free cornmeal that there are and how to utilize them all in your kitchen, check out this post here to learn all about Cornmeal, Polenta, Grits & more.
Caribbean Cornmeal Porridge
Cornmeal is one of the staple grains used in the Caribbean for everything from pancakes to polenta. Yes, we have our version of savory polenta also. Check out the Vegetarian version with okra here called Cou Cou or this version from Aruba called Tutu with bacon and beans. Both are equally hearty and satisfying!
Here in the US while everyone else was eating oatmeal or cream of wheat, I grew up eating Cornmeal Porridge. This is one of the most common breakfast foods throughout the non Spanish speaking Caribbean.
In fact, I have a funny story with this Cornmeal Porridge from when I was a baby. I had a busy working Mom, so she usually gave me the instant baby Gerber cereals. However, one weekend when she had some extra time, she made this Cornmeal Porridge. Well, even at that young age I had a discerning palate. She told me once I had Cornmeal Porridge, I would never eat the Gerber cereal again.
Mom tried all sorts of tricks to get me to eat the Gerber cereal. She tried disguising it by adding vanilla and cinnamon to it, but I could tell the difference and just would not eat it. From that day on, she had to wake up extra early just to make Cornmeal Porridge before she went to work.
If you have a picky child who won't eat oatmeal, try this Caribbean Cornmeal Porridge and I can pretty much guarantee you will have a hot cereal convert on your hands. Like oatmeal, cornmeal is also gluten free, so if that is a concern for you, this works just as well.
The Ingredients You Need
This Caribbean Cornmeal Porridge recipe includes some of my favorite sweet pantry staples.
Here is everything you'll need to make this gluten free breakfast dish:
Evaporated milk
Cinnamon sticks and star anise
Yellow cornmeal
Low fat milk
Vanilla extra
Brown sugar
I use raisins to make traditional Caribbean Porridge. Try my recipe this classic way, or make it with dried currants or golden raisins, or even chopped nuts for something a bit different.
You should also top your porridge with some gratings of fresh nutmeg for a big pop of earthy flavor. This helps to balance the sweetness of the dish, and makes it really perfect for fall and winter.
How to Make it Vegan
You can easily make it a vegan breakfast dish by using your favorite non-dairy milk. Almond milk, coconut milk or cashew milk would be the best substitutes to still get the same creamy, rich consistency.
How to Make Caribbean Cornmeal Porridge
This easy recipe only takes a few simple steps and is ready to enjoy hot in about 15 minutes. It's great for making on a cold morning to get a jump start on the day!
First, heat evaporated milk, water, and spices in a saucepan until simmering but not boiling.
Meanwhile, combine cornmeal and water in a separate bowl. Then add this to the simmering milk mixture, whisking constantly.
Continue stirring as it thickens, and then mix in the low fat milk, vanilla, and sugar.
Now it's time to add some more spices!
Freshly grated nutmeg on top makes all the difference!
With some fresh fruit, it's the perfect Caribbean comfort food.
As it chills a bit, a crust will form on the top.
For me, this is the best part of the porridge. I often have it in a shallow bowl, just so I get more crust.
What Goes Well with this Caribbean Cornmeal Porridge Recipe
Have a warm bowl of porridge with a side of fresh banana or mango for a real taste of breakfast in the Caribbean.
This dish is also great with pineapple, cherries, and grated coconut.
Serve it as your main morning dish, or even as a sweet side for savory breakfasts.
However you choose to enjoy, delicious Caribbean Cornmeal Porridge is sure to be one of your favorite ways to start the day!
Cornmeal Porridge
Gluten free Caribbean Cornmeal Porridge is a sweet, creamy, and comforting hot breakfast recipe that's perfect for cold mornings.
Instructions
In a saucepan, pour out the can of evaporated milk. Fill the can with water and add to the milk in the pan.

Add cinnamon, star anise and raisins (if using).

Heat the milk, but do not boil

Meanwhile combine the cornmeal and 1 1/4 cups water and whisk together in a bowl.

Slowly add this to the simmering liquid on the stove, stirring constantly.

Simmer for 5 minutes on medium low heat. After about 3 minutes and the porridge thickens, add the lowfat milk.

Add vanilla and sugar. Stir to combine.

To serve, garnish with grated nutmeg.
Notes
The cornmeal porridge will firm as it chills. To reheat leftovers, you will need to add a little water and stir.
Nutrition
Calories:
265.94
kcal
|
Carbohydrates:
47.61
g
|
Protein:
7.27
g
|
Fat:
5.26
g
|
Saturated Fat:
2.93
g
|
Sodium:
85.22
mg
|
Fiber:
1.58
g
|
Sugar:
26.12
g
Did you try this recipe? Leave a comment below.
Please follow me on Instagram @chefmireille or tag me #chefmireille with your pics! I'd love to share them!
You might also like…
Try these other sweet cornmeal breakfast dishes!
DO YOU YUM? SAVE IT BELOW!
Yum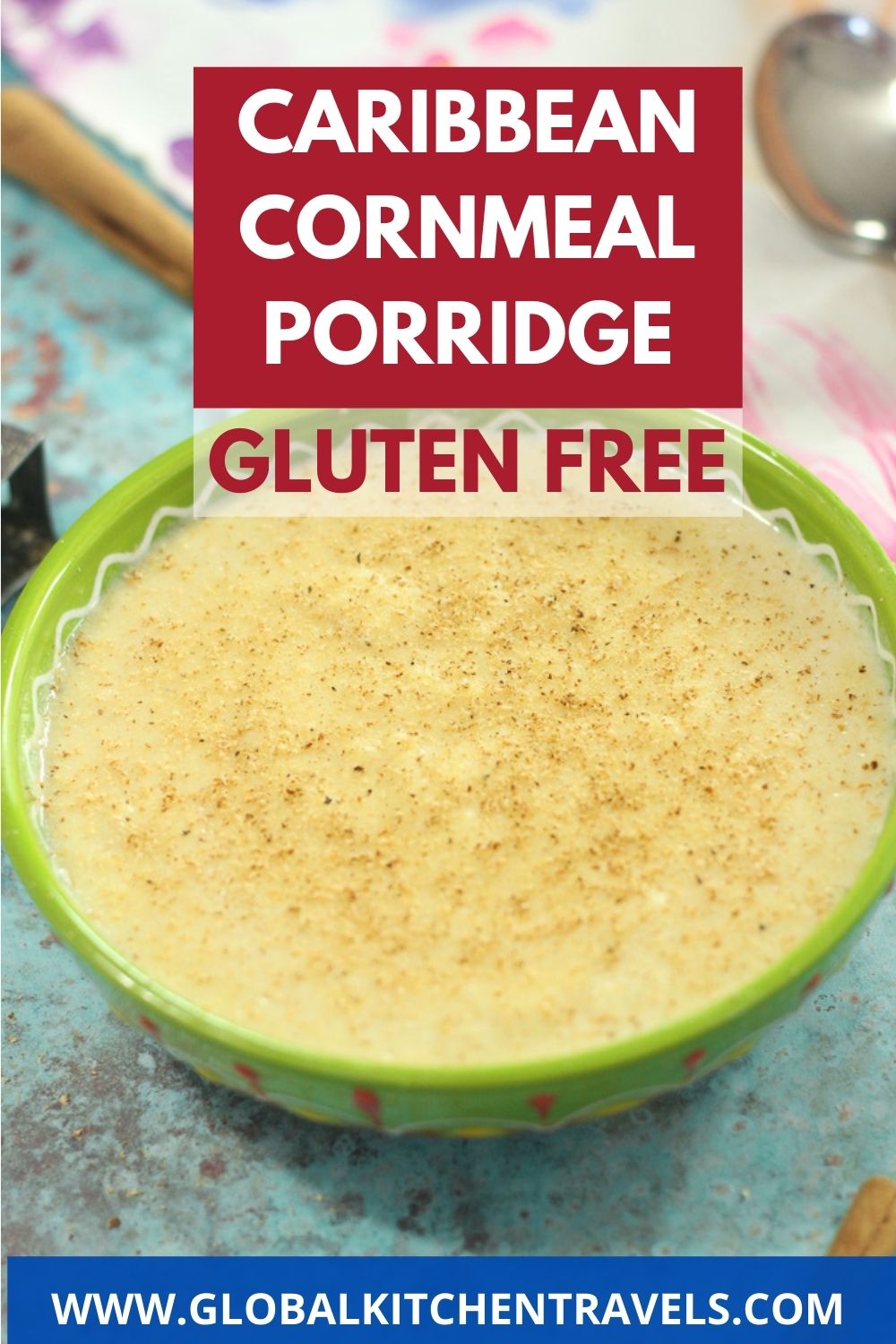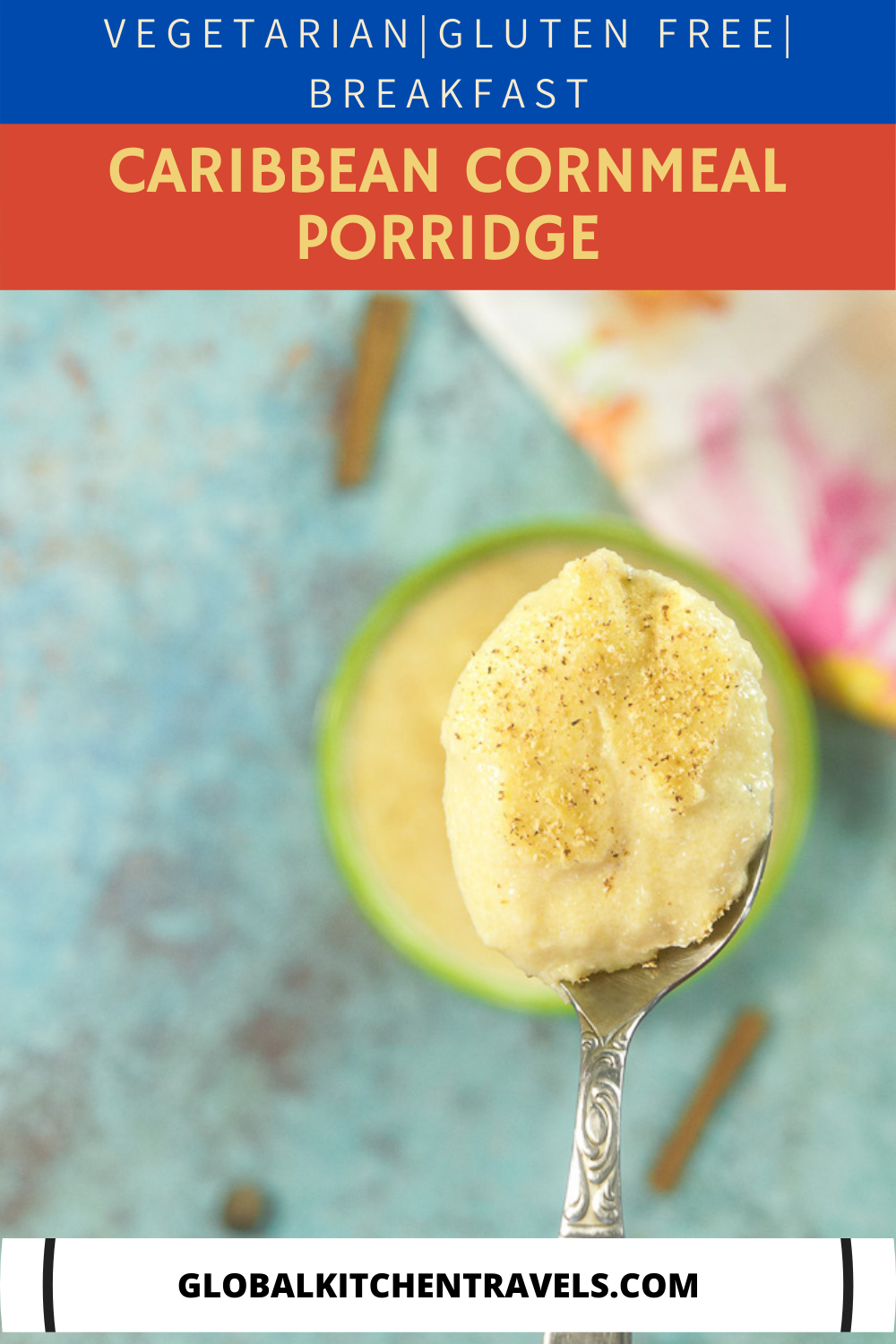 Now I know you want to try some more Caribbean food! Check out my collection with over 100 Caribbean Recipes from the Caribbean diaspora!