Cornmeal Pudding – Caribbean Cornmeal Pone – This Caribbean classic dessert has the consistency of a British style steamed pudding.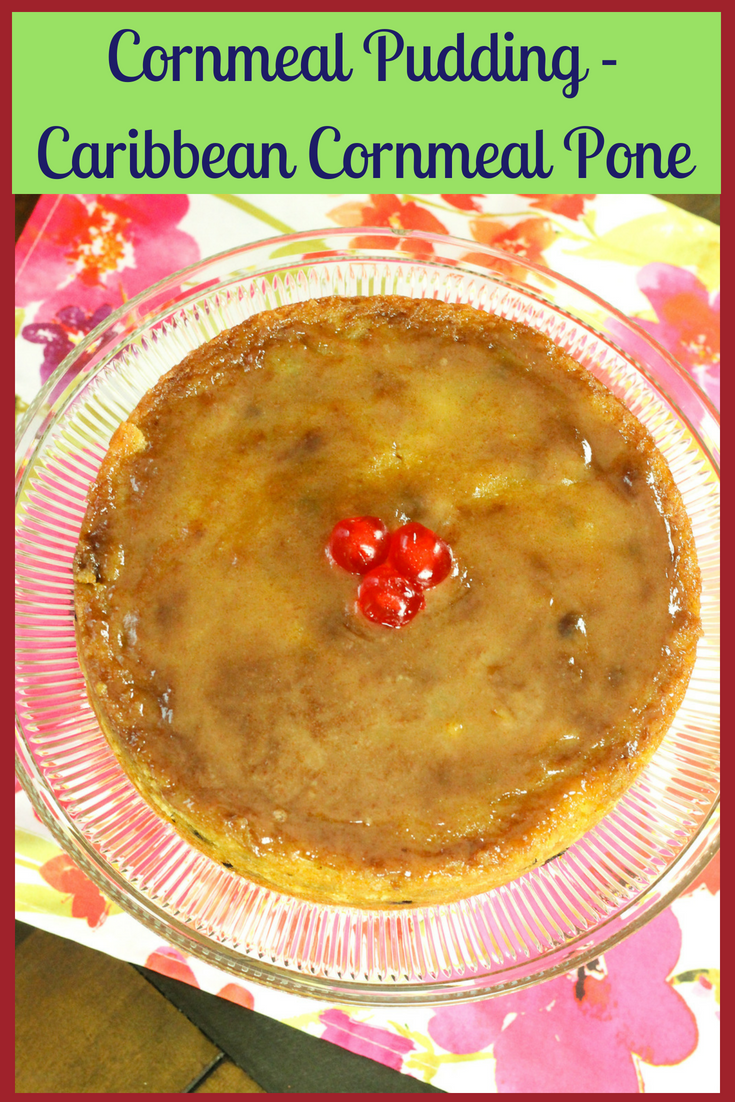 This month's Daring Cook's Challenge was to complete any challenge we had previously missed. I gladly took on the Cornmeal Challenge from August, 2012 when Rachael of Pizzarossa challenged us to try any recipe that utilized cornmeal. In a "celebration" of past Daring Cooks and Daring Bakers challenges, Lisa challenged all of us to search through the Daring Kitchen archives and pick any one we'd like! The REAL challenge was picking which delicious recipe(s) to try!
I love cornmeal. Having Caribbean parents, my first introduction to cornmeal was Cornmeal Porridge, a popular breakfast cereal. Cornmeal is used a lot in Caribbean cuisine. Being half Haitian, we even make a beverage with cornmeal called Akasan. Cornmeal is a versatile grain, able to be utilized in both sweet and savory recipes. Do you love cornmeal as much as I? Check out some of my other Cornmeal Recipes.
Cornmeal Recipes
Depending on the recipe and country of origin, different types of cornmeal are utilized. Make sure you are using the right cornmeal for the best results. Different types of cornmeal are milled in different ways achieving either a softer or harder grain and this effects the cooking time.
Most Common Types of Cornmeal
Yellow Cornmeal
White Cornmeal
Blue Cornmeal
Masa Harina (Latin American pre cooked cornmeal)
Polenta
Pone
Pone is a Caribbean baked pudding that has the consistency of a British style steamed pudding. It is most popular in the English, Dutch and French speaking Caribbean. There are many varieties of pone, with the most popular being cassava, sweet potato, pumpkin and cornmeal. In the Dutch and French speaking Caribbean, it might have different names due to language differences. For example, Bojo is the cassava version made in Suriname and the Dutch speaking Caribbean.

IN THE MAKING – MAKING CORNMEAL PUDDING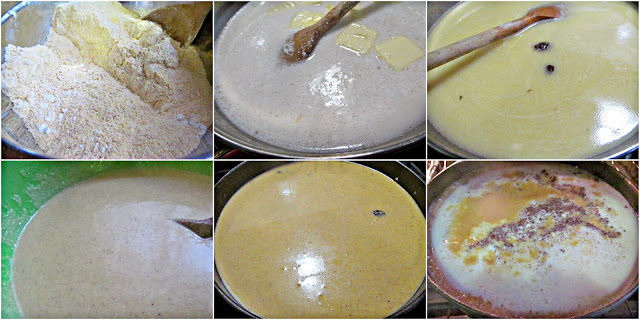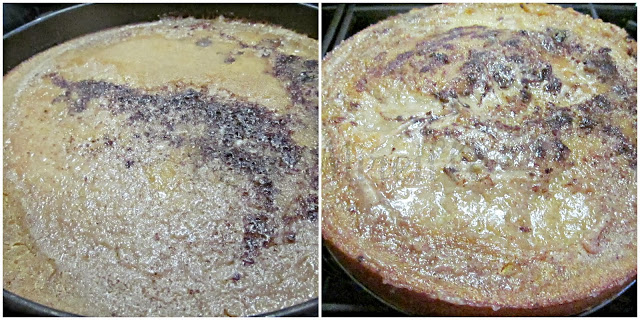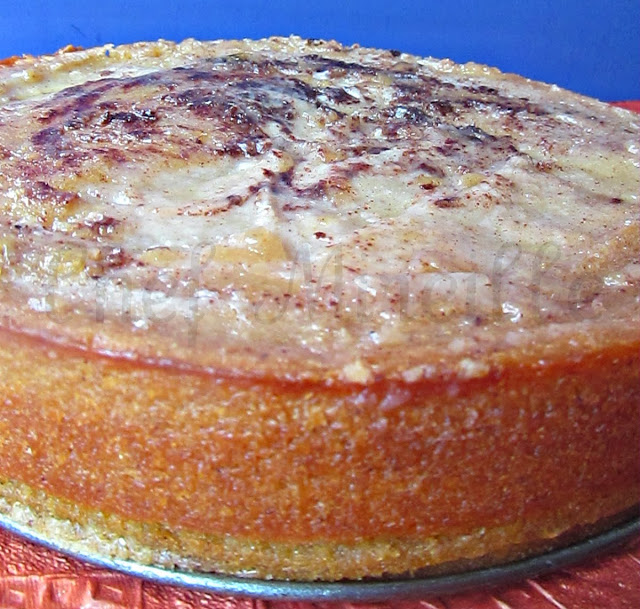 The pudding without the glaze is made normally and is often eaten for breakfast in the Caribbean. With the delicious coconut glaze, it transforms a basic recipe into something special for holidays and special occasions.
The pudding is soft and slightly spongy with a nice crusty exterior. However, what puts this dish over the top is that gooey topping. This really is a stunning dessert to serve at holidays. With Thanksgiving, Christmas, Diwali and Hannukah coming soon, why not try this dessert for a change?
Once cooled, keep any leftovers in the refrigerator. Reheat in the microwave for 45 seconds.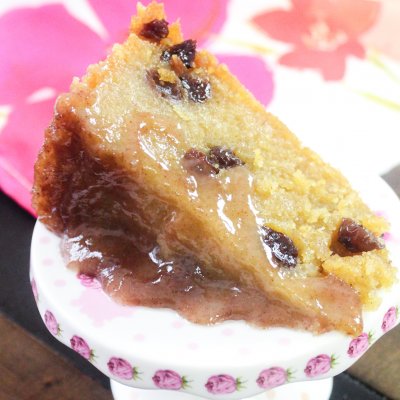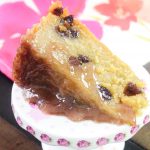 Print Recipe
Jamaican Cornmeal Pudding
Caribbean Cornmeal Pudding also known as Pone has the consistency of a British style steamed pudding.
Ingredients
3

cups

cornmeal

1/2

cup

all purpose flour

1 1/2

teaspoons

ground cinnamon

1

teaspoon

nutmeg

freshly grated

1

teaspoons

salt

2

cups

coconut milk

3

cups

water

2

teaspoons

vanilla extract

1/2

cup

butter

1 1/2

cups

sugar

1

cup

raisins

2

tablespoons

rum

optional

Topping Ingredients:

1

cup

coconut milk

1/4

cup

sugar

1/2

teaspoon

ground cinnamon
Instructions
Preheat oven to 350 F. Grease a 10-inch springform pan.

Combine cornmeal with flour, cinnamon, nutmeg and salt in a large bowl.

In a saucepan, heat milk, water and vanilla extract. Add butter and then the sugar and the raisins. Mix well and heat until sugar has dissolved and liquid is well heated, but not boiling.

Remove from heat and add rum. Mix well.

Add half of the warm liquid into the dry ingredients and mix well. Add the rest of the warm liquid a little at a time and mix well until you have a smooth batter. Make sure you mix the batter very well so that there are no lumps. After going through the work of making this delicious treat, you don't want to spoil it by biting into a clump of raw cornmeal flour.

Pour into prepared baking pan and bake for 15 minutes.

In a small bowl, combine all of the topping ingredients and mix well.

After 15 minutes, stir the batter to evenly distribute the raisins. Pour the topping over the cake and bake for another hour.

The topping will be gooey, however if you insert a knife to test it, underneath the topping should be firm.

With the gooey, gelatinous topping you can spread it using a butter knife, if you find it is not evenly distributed over the top of the cake after baking.

Let it cool in the pan for 10 minutes. After 10 minutes,  slide a knife around the perimeter of the pan to release the gooey topping from the side of the pan. Release springform and remove.

Let it cool more for another 1/2 hour.
Do you know anyone else who likes learning about international food, culture, history and travel? Bring them over here to join the party! Don't forget to use those share buttons!
Start Here to find out how the Schizo Chef can help you with your cooking, travel and other needs!
If you like this recipe, PLEASE LEAVE A COMMENT & SUBSCRIBE
Check out the Blogging Marathon page for the other Blogging Marathoners doing this BM#89

Sign up for our updates!
Subscribe to get our latest content by email and get your FREE Pantry Cheat Sheet - Learn the basics to cook any International cuisine!