Last Updated on June 22, 2023 by Chef Mireille
This post may include affiliate links.
Jamaican Cornmeal Pudding: Caribbean Cornmeal Pone Recipe – Classic Caribbean cornmeal pudding is similar to a British-style steamed pudding. This version from Jamaica is topped with a coconut milk glaze, and transforms a beloved breakfast pudding into a decadent dessert.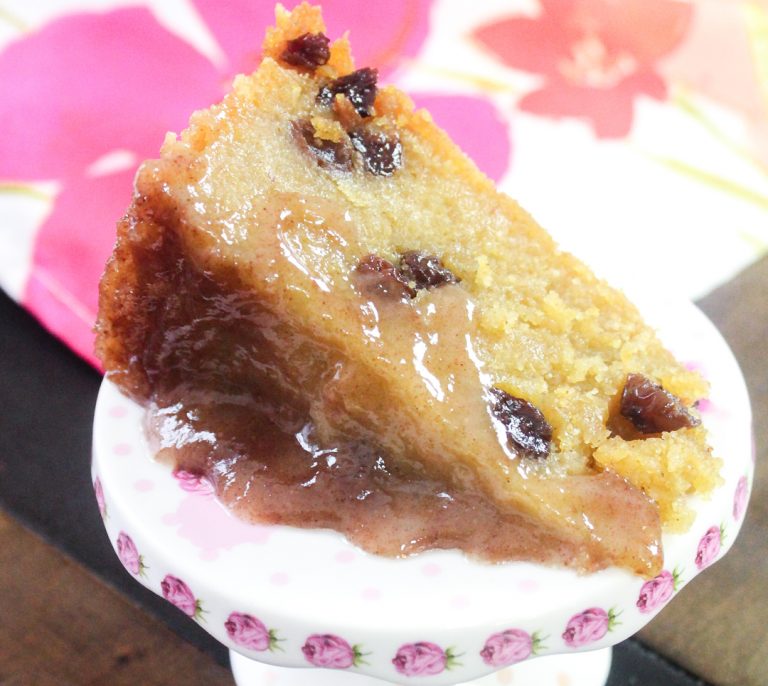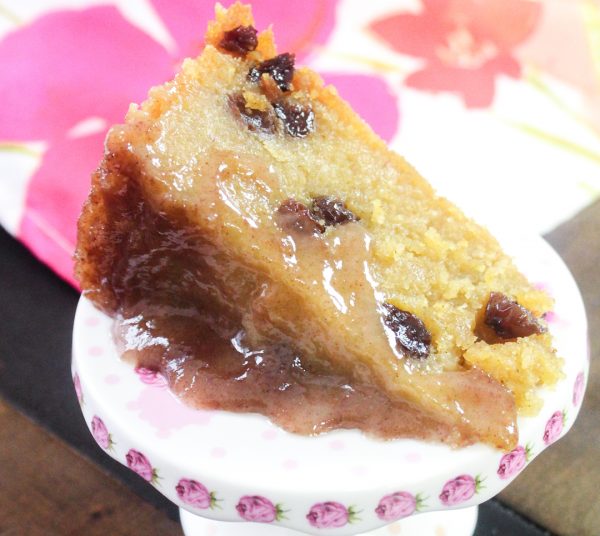 SUBSCRIBE TO CARIBBEAN RECIPES
Ready to spice up your kitchen with the vibrant flavors of the Caribbean? Sign up for our 10-week email series packed with authentic recipes and handy shopping lists!
I am always surprised when people tell me they have never before utilized cornmeal in baking or the only thing they use cornmeal for is cornbread.
Cornmeal is such a versatile ingredient and can be incorporated into a variety of both sweet and savory dishes.
In Caribbean cuisine, cornmeal is a staple ingredient and is used to make everything from Cornmeal Porridge to Coo Coo (our version of polenta). For me, cornmeal is a staple ingredient that's always in my pantry. And I'm not talking about just one type of cornmeal, either….
Types of Cornmeal
I usually have if not all, at least a few of the various cornmeals so that I have them whatever I feel like making including yellow cornmeal, maiz morada (blue/purple cornmeal), polenta and masa harina (for arepas, tamales, etc.)
Depending on the recipe and country of origin, different types of cornmeal are utilized. Be sure to use the right cornmeal for the best results. Different types of cornmeal are milled in different ways achieving either a softer or harder grain and this effects the cooking time.
Most Common Types of Cornmeal:
Yellow Cornmeal
White Cornmeal
Blue Cornmeal
Masa Harina (Latin American pre cooked cornmeal)
Polenta
If you haven't guess it yet, I love cornmeal. Having Caribbean parents, my first introduction to cornmeal was Cornmeal Porridge, a popular breakfast cereal. Cornmeal is used a lot in Caribbean cuisine. Being half Haitian, we even make a beverage with cornmeal called Akasan.
If you would like to know more about the many varieties of gluten free cornmeal that there are and how to utilize them all in your kitchen, check out this post here to learn all about Cornmeal, Polenta, Grits & more.
What is Caribbean-Style Pone?
Pone is a Caribbean baked pudding that has the consistency of a British-style steamed pudding. It is most popular in the English, Dutch and French speaking Caribbean. There are many varieties of pone, with the most popular being cassava, sweet potato, pumpkin and cornmeal. In the Dutch and French speaking Caribbean, it might have different names due to language differences. For example, Bojo is the cassava version made in Suriname and the Dutch speaking Caribbean.
While Cornmeal Pone is made on many Caribbean islands, it is most often had for breakfast – maybe with some cheese. However, the Jamaican version here, which is topped with an amazing coconut milk glaze, elevates this dish from breakfast to a decadent dessert!
All it takes are a few simple ingredients and tools to bake and serve this up at your holiday party!
So let's start with your shopping list, just in case you have run out of anything…
Shopping List: Ingredients You Need for Jamaican Cornmeal Pudding – Caribbean Cornmeal Pone
Suggested Tools
Now it's time to make my Caribbean pone recipe!
How to Make Jamaican Cornmeal Pudding – Caribbean Cornmeal Pone
Firstly, in a large bowl combine the cornmeal with the flour and the spices.
In a separate bowl, toss the sugar with the raisins. This step is very important so that the raisins do not sink to the bottom of the pudding.
Then in a saucepan, combine and heat coconut milk, water, vanilla and butter, but DO NOT BOIL.
Next, add the dry ingredients and the sugar to the heated milk and butter, and mix very well, making sure there are no clumps.
Pour the mixture into a prepared pan, and baked in a preheated oven for 15 minutes.
Meanwhile, make the sweet glaze topping with the coconut milk and sugar.
Pour the coconut milk topping over the pone, and continue baking for another hour.
When the Jamaican Cornmeal Pudding – Caribbean Cornmeal Pone comes out of the oven the top will be wonderfully gooey, but a knife inserted should come out clean. Release the pone from the baking dish and transfer to a serving plate.
Then just decorate it with a few glace cherries for an extra sweet treat, like so.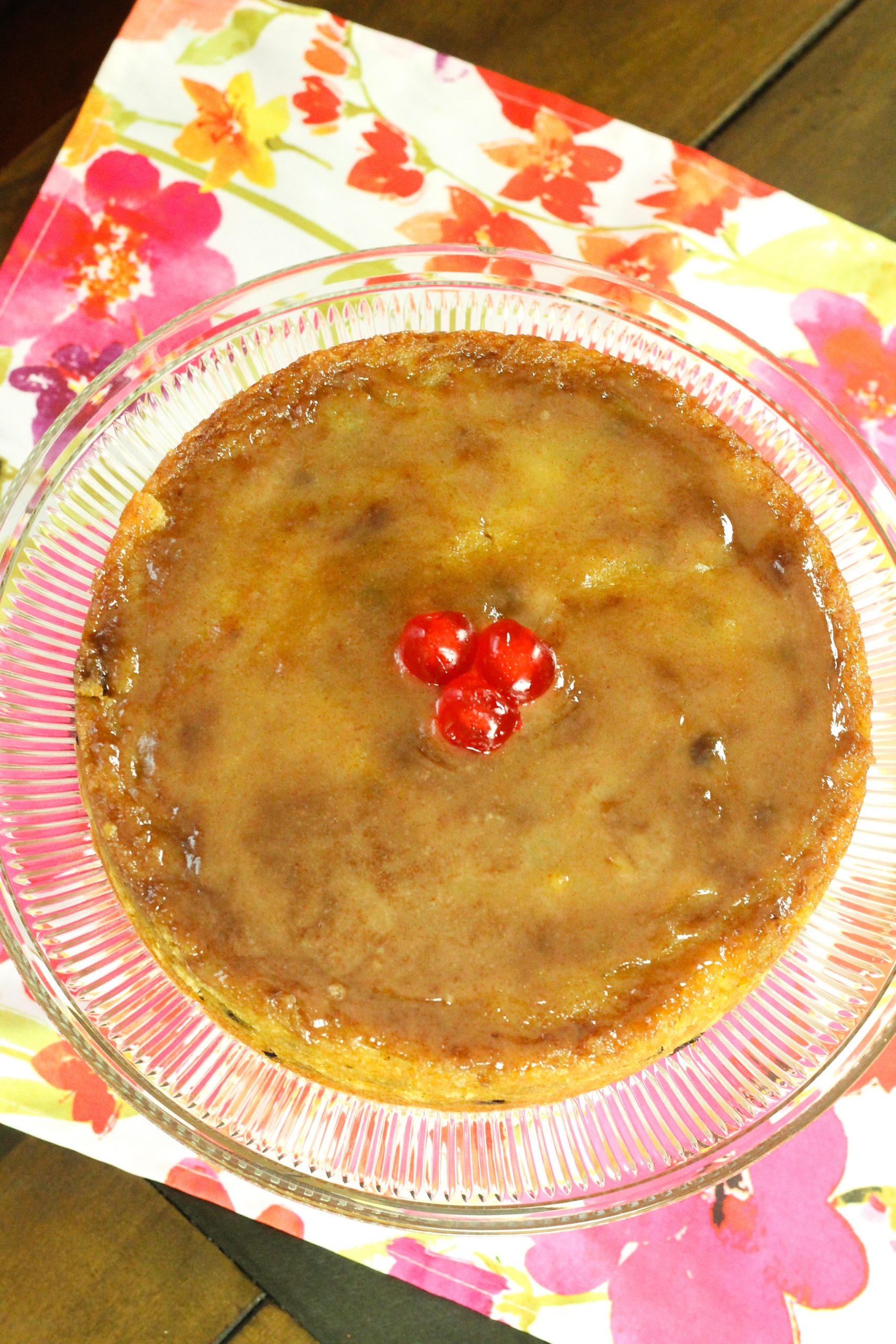 The pudding without the glaze is made normally and is often eaten for breakfast in the Caribbean. However, with the delicious coconut glaze it transforms a basic, beloved Caribbean recipe into something extra special for holidays and special occasions.
Soft and slightly spongy with a nice crusty exterior, this Cornmeal Pudding is a great classic Caribbean recipe. But what puts this dish over the top is that fantastically sweet gooey topping. This really is a stunning dessert to serve at holidays, such as Thanksgiving, Christmas, Diwali and Hannukah. Why not try this dessert for a change?
How to Reheat Jamaican Cornmeal Pudding – aka Caribbean Cornmeal Pone
Once cooled, keep any leftovers in the refrigerator for up to 4 days.
However, cornmeal pudding is enjoyed best when warm. Therefore it should be reheated in the microwave for 45 seconds before serving again.
Please note that this is not a cake-like consistency, which some non-Caribbean people might expect from it's appearance. Instead it's texture is more dense and tender than a traditional sweet cake.
More Cornmeal Recipes to Try
Do you love cornmeal as much as I? Are you ready to incorporate more Cornmeal Recipes into your diet? Check out some of my other recipes!
Jamaican Cornmeal Pudding
Caribbean Cornmeal Pudding, also known as Pone, has the consistency of a British-style steamed pudding but with the addition of a sweet coconut glaze.
Instructions
Preheat oven to 350 F. Grease a 10-inch springform pan.

Combine cornmeal with flour, cinnamon, nutmeg and salt in a large bowl.

In a small bowl, toss the raisins in the sugar so they will not sink to the bottom when baked.

In a saucepan, heat milk, water and vanilla extract. Add butter and then the sugar and the raisins.

Mix well and heat until sugar has dissolved and liquid is well heated, but not boiling.

Remove from heat and add rum. Mix well.

Add half of the warm liquid into the dry ingredients and mix well. Add the rest of the warm liquid a little at a time and mix well until you have a smooth batter. Make sure you mix the batter very well so that there are no lumps. After going through the work of making this delicious treat, you don't want to spoil it by biting into a clump of raw cornmeal flour.

Pour into prepared baking pan and bake for 15 minutes.

In a small bowl, combine all of the topping ingredients and mix well.

After 15 minutes, stir the batter to evenly distribute the raisins. Pour the topping over the cake and bake for another hour.

The topping will be gooey, however if you insert a knife to test it, underneath the topping should be firm.

With the gooey, gelatinous topping you can spread it using a butter knife, if you find it is not evenly distributed over the top of the cake after baking.

Let it cool in the pan for 10 minutes. After 10 minutes,  slide a knife around the perimeter of the pan to release the gooey topping from the side of the pan. Release springform and remove.

Let it cool more for another 1/2 hour.

Garnish with glace cherries.

Serve warm or at room temperature.
Notes
Keep cooled leftovers in the refrigerator for up to 4 days.
Cornmeal pudding is enjoyed best when warm. Therefore it should be reheated in the microwave for 45 seconds before serving again.
Nutrition
Calories:
509
kcal
|
Carbohydrates:
74
g
|
Protein:
6
g
|
Fat:
22
g
|
Saturated Fat:
16
g
|
Cholesterol:
20
mg
|
Sodium:
277
mg
|
Potassium:
358
mg
|
Fiber:
5
g
|
Sugar:
30
g
|
Vitamin A:
236
IU
|
Vitamin C:
1
mg
|
Calcium:
22
mg
|
Iron:
4
mg
Did you try this recipe? Leave a comment below.
Please follow me on Instagram @chefmireille or tag me #chefmireille with your pics! I'd love to share them!
DO YOU YUM? SAVE IT BELOW!
Yum
Don't forget to visit the RECIPE INDEX with over 1000 recipes from around the world including lots of Vegetarian Recipes and Gluten Free Recipes!