Last Updated on December 14, 2020 by Chef Mireille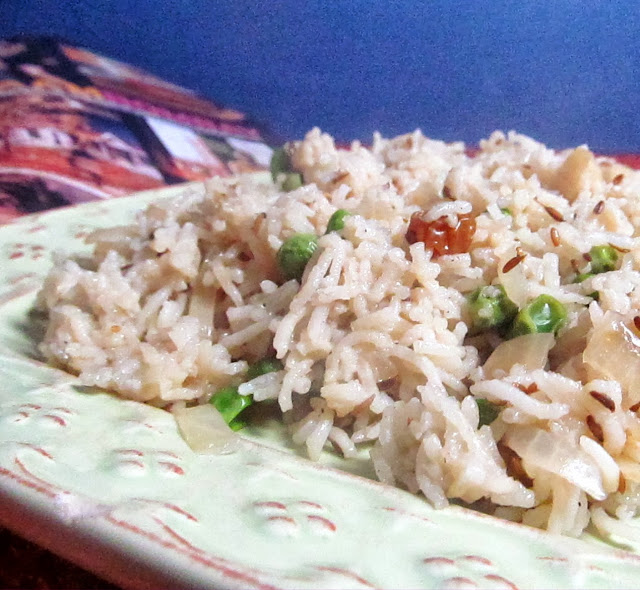 As Diwali is being celebrated this weekend, it's only appropriate that I post an Indian recipe today. Happy Diwali to all who celebrate!
I am really so grateful to Srivalli for starting the Cookbook Cooking Challenge. It's caused me to go through the dust collector's on the shelf. This collector's issue of Gourmet Magazine from September, 2004 was still wrapped in plastic and was not even opened. The theme of this issue was Food & Movies and even had a section on Bollywood with recipes for Bhel Puri & Chutneys inspired by the Indian movie, Yuva with special mention of Bollywood classics like Mother India, Lagaan & Devdas.
However, this recipe was sent in by a reader, Bimla Thakur from London. Who knows…Bimla might be a food blogger now?!
Matar Pulao
Serves 6
Ingredients:
1 1/2 cups Basmati rice
1 1/2 tablespoons oil
4 cloves
2 green cardamom pods
1 tablespoon cumin seed
1 cinnamon stick
1 onion, thinly sliced
2 1/2 cups boiling water
1 tablespoon golden raisins
3/4 teaspoon salt
1/2 teaspoon black pepper
1 1/2 cups frozen green peas, defrosted
Place rice in a bowl and add enough water to cover by 1 1/2 inches. Leave to soak for 30 minutes. Drain well.
Heat oil in a large pot. Add cloves, cinnamon, cumin and cardamom for 1 minute until spices turn a little darker in color.
Add onion and cook until they are golden, about 8 minutes.
Add rice and stir for 2-3 minutes. Add water, raisins, salt and pepper. Bring to a boil. Reduce to a simmer and cook, covered, for 10 minutes.
Add green peas, but do not stir. Cook, covered for another 5 minutes.
Remove from heat and let stand for 10 minutes.
With a fork, fluff rice and mix in the green peas.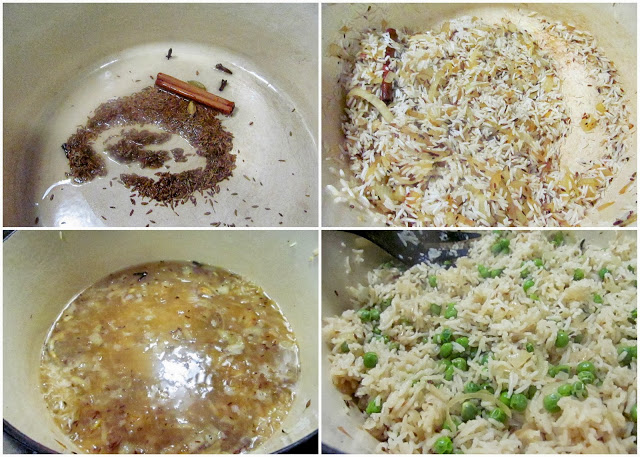 Discard whole spices.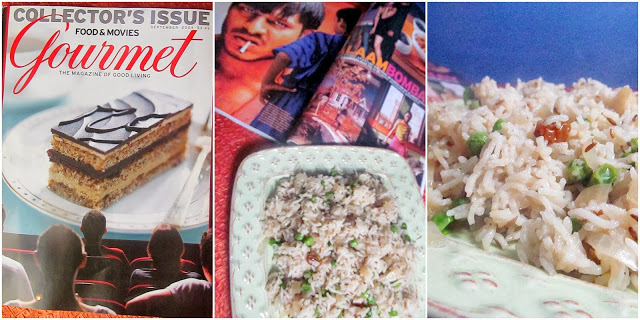 This simple pulao is perfect to go with any curry, like this Wadilaya Pulusu I had it with.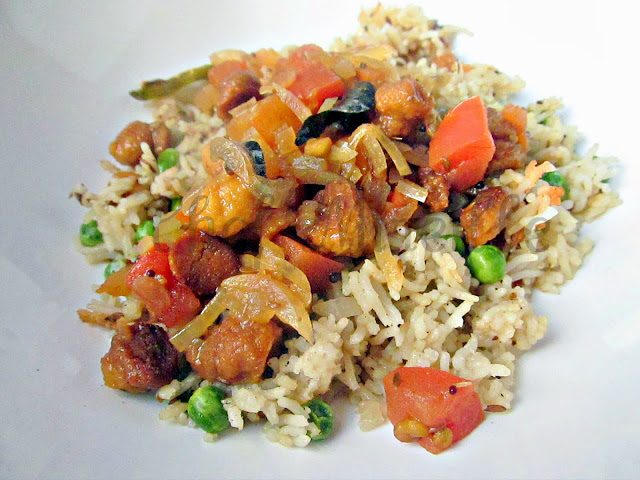 This post is for the CC Challenge of the month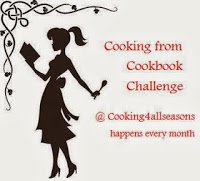 LIKE THIS RECIPE? LEAVE A COMMENT..I LIVE FOR THEM!
Chef Mireille