Last Updated on June 3, 2015 by Chef Mireille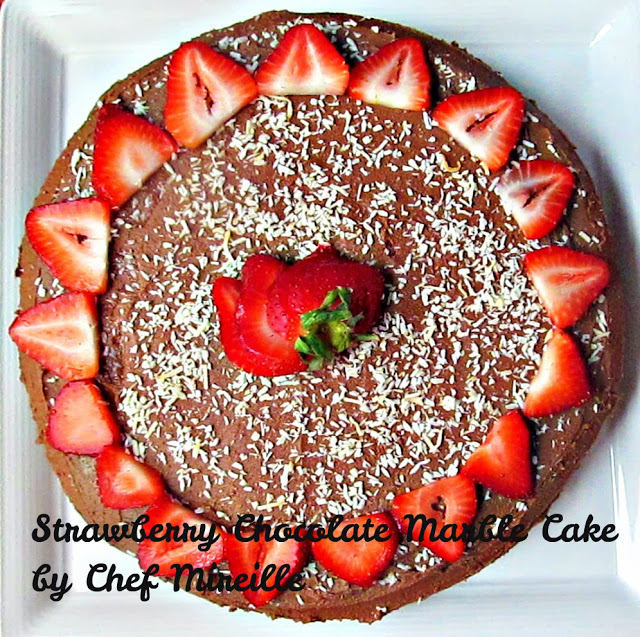 Blogging Marathon #34
Theme: Cooking with Fruits – Berries
I actually had made this cake for last month's BM for the Chocolate theme, however when the days to post the chocolate recipes came about, I ended up having about 5 recipes to choose from. When Srivalli announced the themes for this month's BM, I thought this was perfect. I already had done two recipes with berries to be posted in the future, including this cake – so this cake went off the Chocolate list.
I was passing by a street vendor who had some amazing ripe, bright red strawberries at an amazing price of 1.50/lb. I couldn't resist and was going to make my Strawberry Chile Jam, but then I decided to use them to create something with chocolate for the BM theme. Who doesn't love chocolate covered strawberries so I was already aware that these flavors complement each other.
While I like chocolate, I am not a choco-holic. If you give me a choice between vanilla and chocolate ice cream, I'l pick vanilla 95% of the time. I will choose fruit candy like Skittles or Gummi Bears before I choose a chocolate bar most of the time. So this cake is perfect to make everyone happy – the fruit lovers and the chocolate lovers!
Strawberry Marble Cake
Ingredients:
1 1/2 sticks butter, softened
2 cups sugar
2 1/2 + 1/3 cups cake flour
2 teaspoons baking powder
1/2 teaspoon salt
1/4 teaspoon ground cloves
1/8 teaspoon ground nutmeg
1/4 teaspoon ground cinnamon
4 eggs
1 teaspoon vanilla extract
1/4 cup milk
1/2 cup strawberry puree
1/4 teaspoon red liquid food coloring
3.5 oz. dark chocolate (75% cacao)
Chocolate Frosting
Ingredients:
1 cup butter, softened
1/2 cup cocoa powder
5 cups powdered sugar
3 tablespoons coconut milk
Topping Ingredients:
3 tablespoons dessicated coconut
sliced strawberries
Preheat oven to 350 F. Spray a springform pan with non stick spray.
Melt the chocolate in a double boiler.
Sift flour with the baking powder, salt and spices
In a mixing bowl, beat butter and sugar. Add eggs, one at a time, mixing well after each addition. Add vanilla extract and mix well.
Add flour a little at a time, until thoroughly combined. Add milk and mix well.
Divide batter into 2 separate bowls.
Add melted chocolate into 1 bowl and mix well. Add strawberry puree and food coloring into the other bowl and mix well. Add all purpose flour to the strawberry batter and fold in thoroughly.
Pour half of the strawberry puree into the prepared cake pan. Add chocolate batter on top. Using a butter knife, make figure eights to swirl the batters. Add the remaining strawberry batter and swirl again using the knife.
Bake for 45 minutes.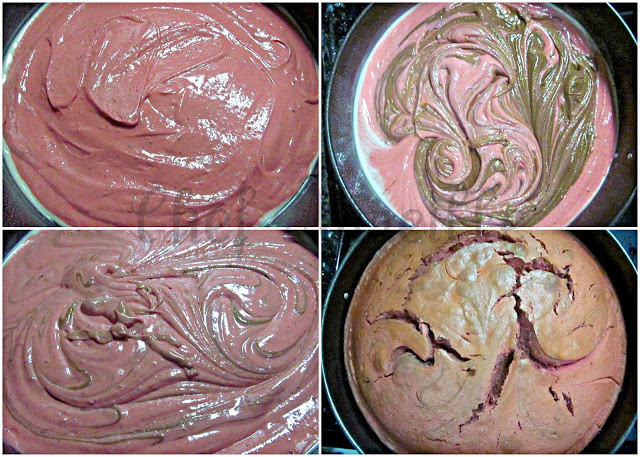 Let cool for 10 minutes. Remove springform. Let cool completely.
To make frosting, beat butter, cocoa powder and sugar. Beat well. Add milk, a little at a time, until frosting consistency.
Using a sharp, serrated knife, trim a little off of the top of the cake, otherwise you will have a dome shaped cake.
Frost cake and top with the toasted coconut. Arrange strawberry slices around the perimeter of the cake and place a strawberry fan in the center for decoration.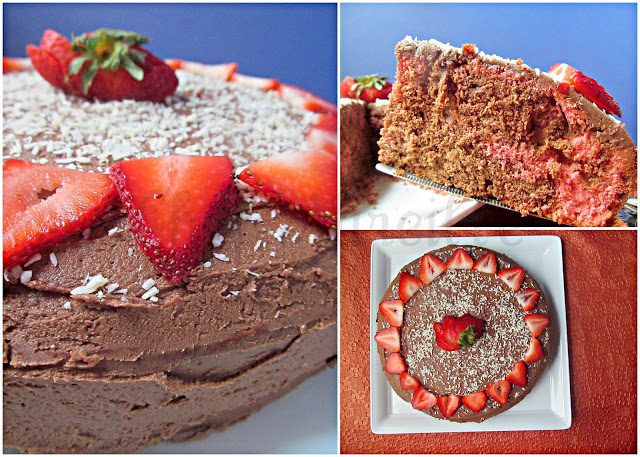 Everyone will be happy with this cake – the chocolate lovers and also those who crave the brightness of fresh fruit!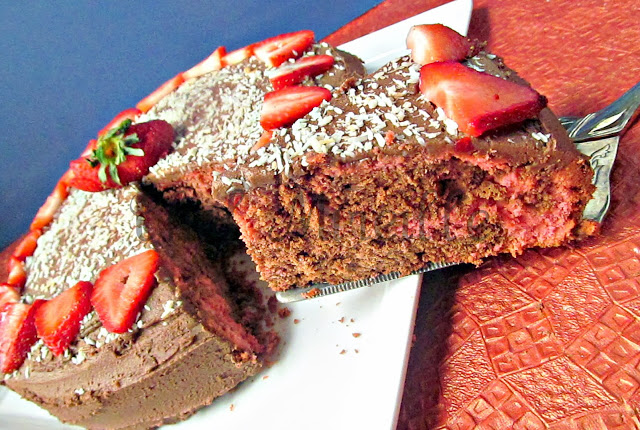 Check out the Blogging Marathon page for the other Blogging Marathoners doing BM#34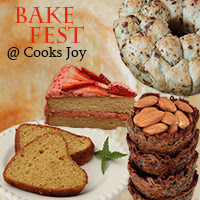 …linking to Bake Fest
LIKE THIS RECIPE? LEAVE A COMMENT..I LIVE FOR THEM!
Chef Mireille