Last Updated on June 3, 2015 by Chef Mireille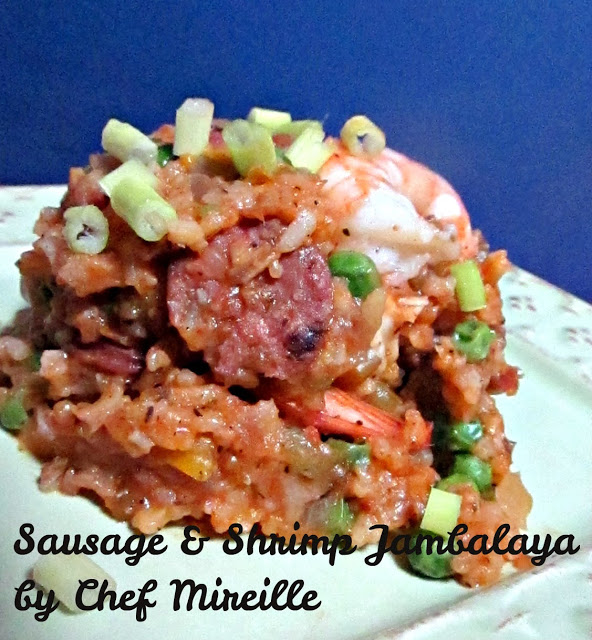 Prior to Hurricane Katrina, New Orleans was one of the most popular vacation destinations within the United States. Unfortunately, post hurricane New Orleans became one of the most dangerous cities. Seven years later, the city is still recuperating but crime has improved and they are finally starting to rebuild their tourism industry. One of the reasons New Orleans has always been popular is due to their flavorful cuisine.
I went on vacation to New Orleans when I was about 12. As a child, the things that I mostly remember are the hand made fudge and rich ice cream. However I was always an adventuresome eater and I did try the fried frog legs and like everyone else, I thought it tasted like chicken. When I was in college at the University of New Mexico, one of my roommates was from New Orleans and after Spring Break she brought back packages of crawfish flavored chips and beignet mix and this was my reintroduction into the cuisine and I have been hooked ever since.
Of all the regional cuisines within the United States, New Orleans is my favorite. It is a fusion of French and Cajun (originally transplants from Canadian Acadia) cuisine, as well as the cuisine of the African slaves. Many Haitian refugees fled to New Orleans during the slave uprising that started in Haiti in 1789. Haitian cuisine also influences New Orleans dishes. Perhaps that is why I love it so much, being half Haitian the flavors are very familiar to me.
While French cuisine uses mirepoix (a combination of onion, celery and carrot) as the base for most of their foods like soup/stews and rice, New Orleans uses what they refer to as holy trinity – a combination of onion, celery and bell pepper).
Louisiana bayous and rivers provide the sea creatures that dominate their cuisine – shrimp, clams and even alligator and frog. Many of their dishes are simple one pot meals with lots of flavor and spice. Two of the most popular New Orleans dishes are:
Jambalaya – a one pot rice dish with tomatoes and any variety of meats and seafood (usually shrimp, sausage and/or chicken) but it's also not unusual to see varieties that include rabbit or alligator
Gumbo – a stew thickened with either okra and/or roux that can also contain any variety of meats and seafood however shrimp and okra is the most traditional
Here is my version of Shrimp & Sausage Jambalaya. I used chicken sausage, however Andouille sausage is the sausage of choice in Cajun cuisine. It is a spicy smoked pork sausage made with garlic, wine and other seasonings.
Shrimp & Sausage Jambalaya
Serves 8
Ingredients:
2 tablespoons oil
2 onions, chopped
2 stalks celery, chopped
2 bell peppers, chopped
2 cloves garlic, finely chopped
2 cups canned crushed tomatoes
2 cups chicken broth
2 cups rice
1/2 teaspoon cayenne pepper
1 teaspoon paprika
2 teaspoons dried thyme
1 tablespoon dried parsley
1 lb. shrimp
2 cups frozen green peas, defrosted
3 scallions, chopped
salt and pepper, to taste
Heat oil. Add onion, celery, bell pepper and garlic. Saute until well softened, about 8-10 minutes. Add sausage and cook for another 5 minutes, stirring occasionally.
Add tomatoes, chicken broth, paprika, thyme, parsley, cayenne, salt and pepper. Bring to a boil.
Add rice and reduce to a simmer. Cook, covered for 50 minutes.
Add shrimp, scallions and green peas. Cover and cook for another 8-10 minutes, until shrimp is just cooked.
Toss with a fork to combine.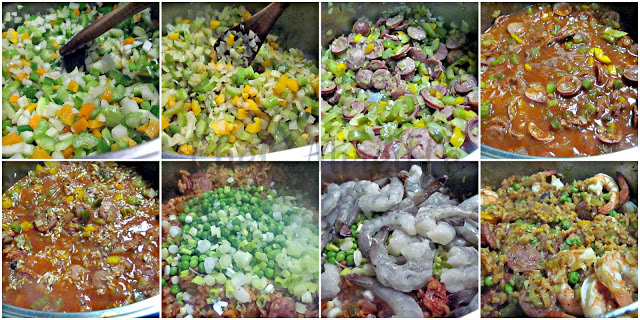 Serve, garnished with more chopped scallions.
The perfect one pot meal!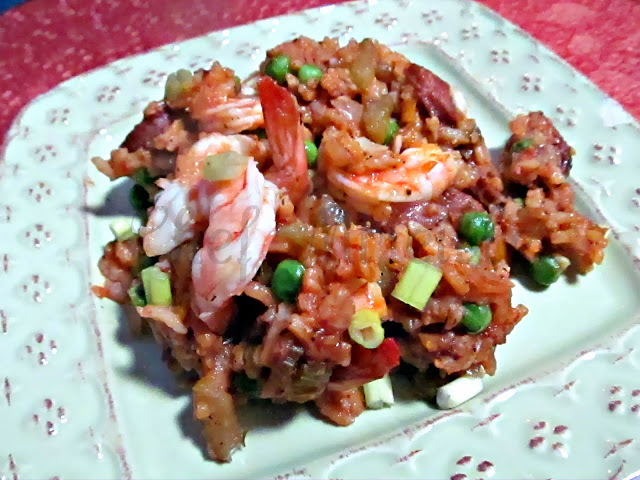 …sending to Flavors of USA hosted by Emma & The Best Blog Recipes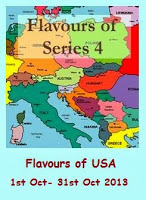 LIKE THIS RECIPE? LEAVE A COMMENT..I LIVE FOR THEM!
Chef Mireille