Last Updated on December 14, 2020 by Chef Mireille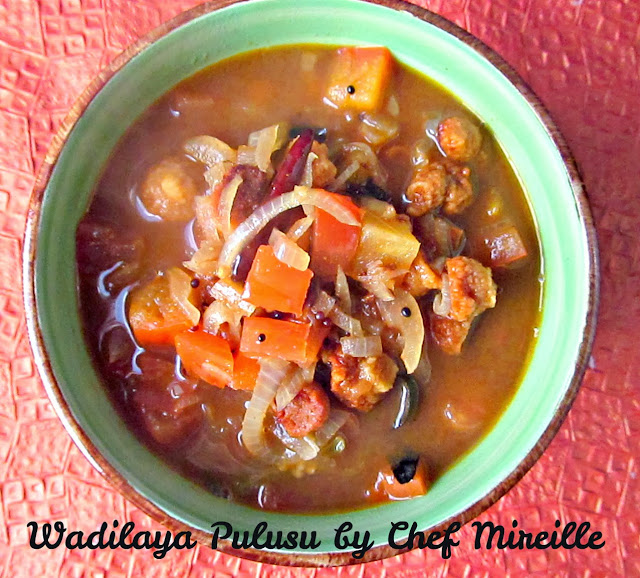 For the last recipe of this month's BM,I am recreating Pavani's Wadilaya Pulusu. I actually already did a pulusu last month during the ABC marathon, but that pulusu was only with potato. Pulusu is basically a South Indian vegetable curry with the tart flavors of tamarind and tomato, sweetened with a little jaggery.
This pulusu features sun dried lentils, which are available at Indian markets.
Wadilaya Pulusu
Serves 4
Ingredients:
2 tablespoons oil
1/2 cup moong dal wadi (sun dried moong beans)
1 onion, thinly sliced
1 tomato, chopped
2 green chiles, split
2 tablespoons tamarind paste/tamarind concentrate
1 teaspoon sambar masala powder
1 tablespoon jaggery, ground
salt, to taste
2 cups water
1/2 teaspoon urad dal (split white lentils)
1 teaspoon cumin seed
1 teaspoon mustard seed
1/4 teaspoon fenugreek seed
2 dried red chiles
1/4 teaspoon asoefetida
8 curry leaves
In a large skillet, heat oil. Add moong dal wadi. Fry until golden brown. Remove and set aside.
In the same skillet, add urad dal, cumin seed, mustard seed, fenugreek seed, dried chiles, asoefetida and curry leaves.
Once the seeds start to splutter, add green chiles and onion. Saute until the onions are translucent. Add tomatoes and cook on low heat for about 5 minutes, until they turn translucent.
Add water, tamarind paste, sambar masala powder, jaggery and salt. Bring to a boil. Reduce to a simmer and cook for 5 minutes.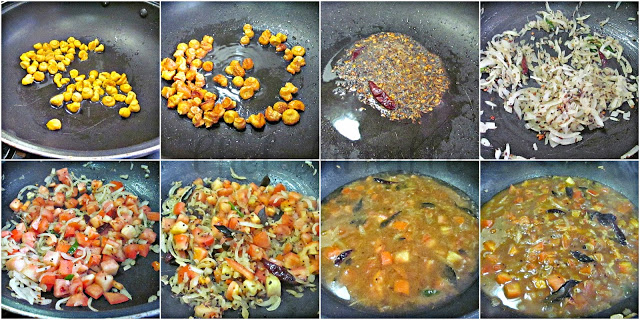 Add wadi and cook for another 2 minutes.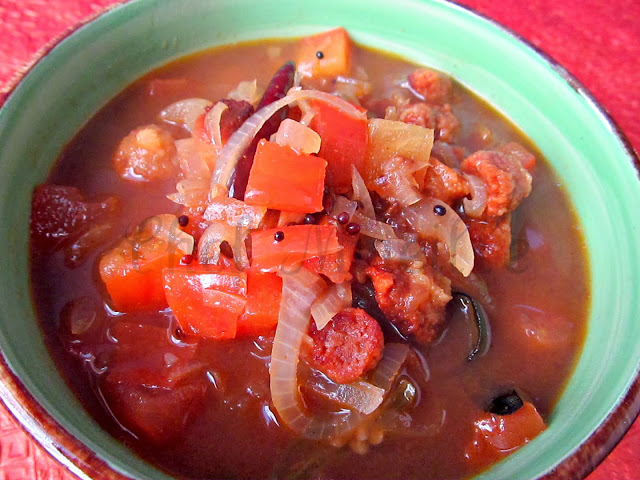 I served this pulusu over Matar Pulao which will be posted soon as part of Srivalli's Cookbook Cooking Challenge.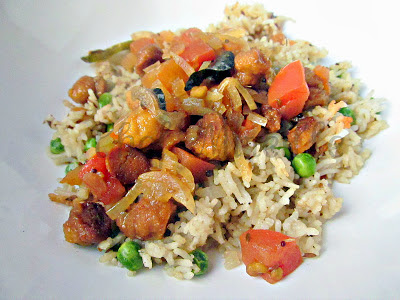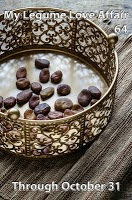 Check out the Blogging Marathon page for the other Blogging Marathoners doing BM#33
…linking to Lisa & Susan's Legume Love Affair hosted by Spicy Food
LIKE THIS RECIPE? LEAVE A COMMENT..I LIVE FOR THEM!
Chef Mireille