Last Updated on June 3, 2015 by Chef Mireille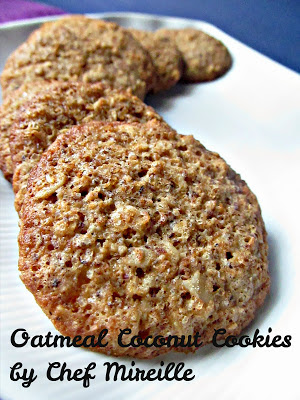 Blogging Marathon #33
Theme: ABC BM
Last month as many of you know, I along with another 20 something other bloggers participated in Srivalli's ABC Blogging Marathon which consisted of recipes within four themes that went in alphabetical order. For this week, I am recreating a few posts from those other bloggers.
A few weeks ago, I had my friend visiting with her super picky kids. I decided to try Sandhya's cookies and they were a hit. In fact, except for cereal and this Breakfast Bread I made, this is about the only thing those kids ate over the weekend.
I am not their mother, so don't judge me on the quality of their eating habits. However, with the oats in these cookies, they are high in protein and fiber so as far as cookies go, this is a pretty nutritious option.
Oatmeal Coconut Cookies
Yield: 69 2 1/2″ cookies
Ingredients:
2 cups oats
1 cup dessicated coconut
1/2 cup granulated sugar
1 cup butter, softened
1/2 cup firmly packed light brown sugar
2 eggs
4 tablespoons coconut milk
2 teaspoons vanilla extract
1 cup all purpose flour
1/2 teaspoon baking soda
1/8 teaspoon salt
1 teaspoon ground cinnamon
2 tablespoons raw brown sugar
Preheat oven to 400 F.
Spread the coconut and oats in a single even layer on a baking sheet. Toast in oven for 8-10 minutes. until golden brown and fragrant. Toss halfway through.
In a bowl, sift flour, baking soda, salt and cinnamon.
In a mixing bowl, beat the butter with both of the sugars. Add eggs, one at a time, beating well after each addition. Add vanilla extract and milk and mix again.
Add flour, Mix well. Using a rubber spatula, fold in the oats mixture and mix well, until thoroughly combined.
Grease the bottom of a glass or small bowl and dip in raw brown sugar.
Line cookie sheets with parchment paper and spray with non stick spray.
Using a mini scoop, place cookies on prepared sheets and flatten slightly with the sugared glass.
Bake for 8-10 minutes, until the edges are a little browned.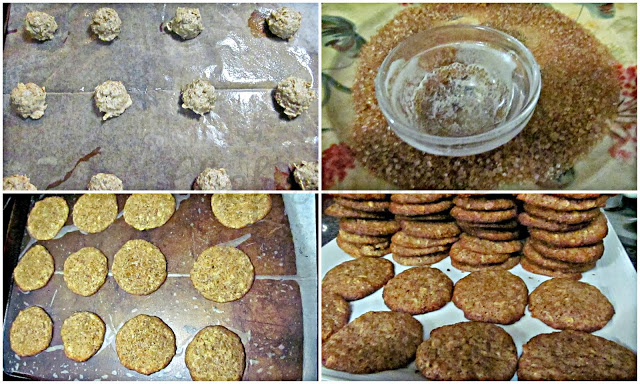 These were delicious, but thinner than I am used to for oatmeal cookies, so I would add some baking powder the next time I make these.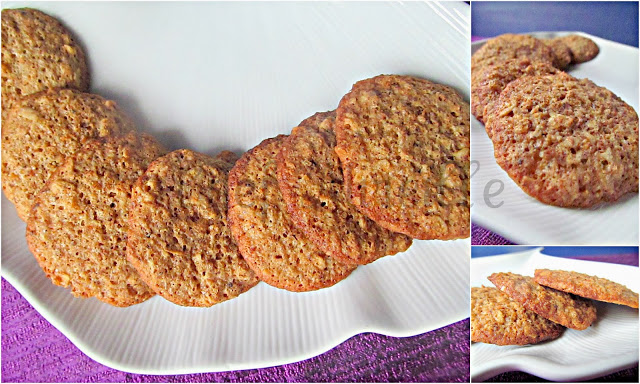 Check out the Blogging Marathon page for the other Blogging Marathoners doing BM#33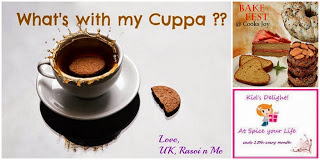 …linking to Bake Fest hosted by Pallavi, What's With My Cuppa hosted by Nandoo & Kid's Delight hosted by Pradnya
LIKE THIS RECIPE? LEAVE A COMMENT..I LIVE FOR THEM!
Chef Mireille