Last Updated on August 28, 2020 by Chef Mireille
This post may include affiliate links.
Bajan Cou Cou is a Caribbean-style polenta that uses fresh okra to bind the cornmeal. This savory cornmeal porridge recipe makes a delicious gluten free side dish that's perfect to serve with nearly any meal!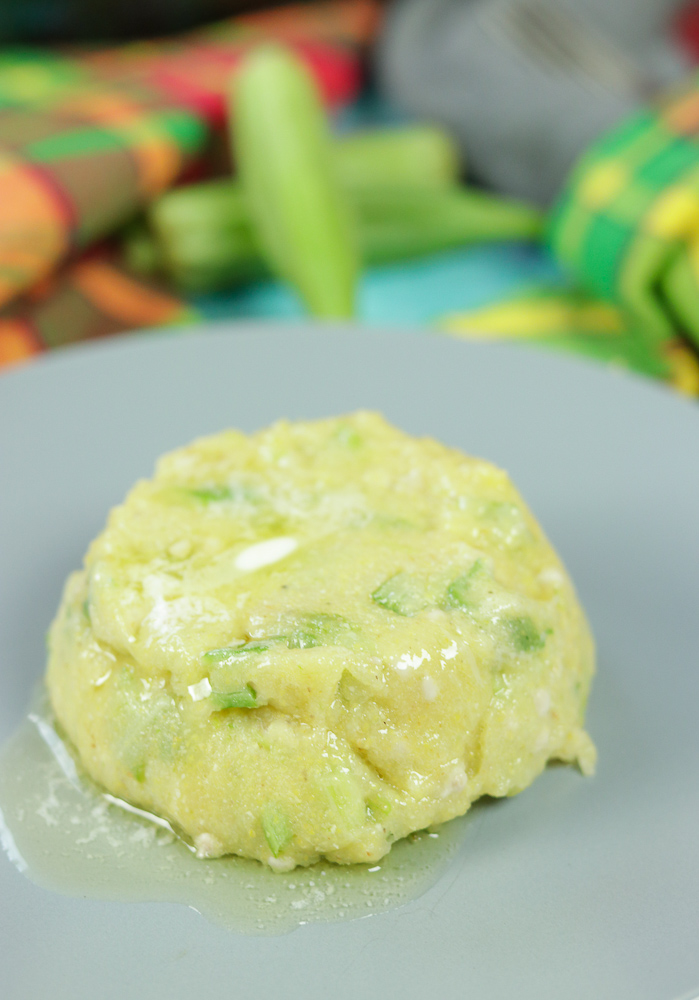 The most popular savory cornmeal porridge in America is Italian polenta. However, many other countries have versions of savory grain based porridge.
In South Africa, it's called Pap. In the Dutch Caribbean where my mother is from, we call it Funchi. Cooked with okra, it is called Fungee in Antigua and Coo Coo (other times spelled Cou Cou) in Barbados. With bacon and beans in Aruba, it is called Tutu. In Barbados, it is one part of the national dish of Flying Fish & Coo-Coo. Other African versions include ugali or sadsa.
Even if not with flying fish, Bajan Cou Cou and all its variations in the Caribbean is usually served with fish. Enjoy dinnertime – Caribbean Style – with this Bajan Coo Coo & Caribbean Stew Fish.
How to Cook with Cornmeal
Cornmeal is something we use a lot in Caribbean cuisine – everything from beverages to breakfast porridge to desserts to breading for fried foods. Anything made with cornmeal makes me an instant fan.
We often start the day with Cornmeal Porridge. Cornmeal Pudding or Akasan are sweet treats you can end this meal with, if you like!
If you would like to know more about the many varieties of gluten free cornmeal that there are and how to utilize them all in your kitchen, check out this post here to learn all about Cornmeal, Polenta, Grits & more.
Bajan Cou Cou – Caribbean Polenta
Today, I am showing you another Caribbean cornmeal specialty. I am sure you will end up loving this Bajan Cou Cou – Caribbean Polenta recipe as much as I do!
Okra's gelatinous nature binds the cornmeal in the same way cheese does in the Italian version. Obviously, if you are one of those who despise that gelatinous nature of okra, this isn't the dish for you, but for the okra lovers out there…
The end result is a sticky porridge that's the perfect vehicle to soak up lots of delicious gravy in things like the Caribbean Fish Stew referenced above.
The Ingredients You Need
Traditional Bajan Cou Cou is a great gluten free, 5-ingredient side dish. You only need:
Fresh okra
Water
Cornmeal
Salt
Butter
The butter is usually added at the very end, and melted into the polenta. However, if you want to make vegan Bajan Cou Cou, you can omit this step or use vegan plant-based butter.
How to Make the Best Bajan Cou Cou Recipe
Authentic Caribbean polenta is made on the stovetop in only 20 minutes. It's perfect for cooking as a quick side to just about any hearty main dish!
Make Bajan Cou Cou from scratch with these simple steps:
Firstly, bring water to a boil in a large pot on the stove. Add plenty of salt to properly season the water.
Then add the sliced okra, and let cook for several minutes.
Meanwhile, in a separate small bowl stir together cornmeal and water until smooth.
Slowly add the cornmeal and water mixture to the pot of boiling water, stirring constantly.
Reduce the heat to low and continue cooking the Cou Cou until thick, about 5 minutes.
Serve the Caribbean polenta hot, either on a plate with your main dish or spooned into a greased ramekin for a separate side.
Leftovers can be cooled and kept in an airtight container in the fridge for up to 5 days. To reheat, either warm in a small pan on the stove or in a microwave, adding a bit of water as you heat and stir to get the consistency right again.
What Goes Well with Caribbean Polenta
The fresh, earthy okra in traditional Bajan Cou Cou make it delicious to enjoy with nearly any fish, poultry, or vegetarian/vegan-friendly mains.
Pair gluten free Cou Cou with grilled or seared chicken breasts or white fish, like tilapia or Mahi Mahi for a lighter and healthier meal.
Other Caribbean dishes that go well with this creamy polenta are Caribbean Creole Chicken and this hearty Root Vegetable Roast for a complete Caribbean meal.

Bajan Cou Cou
Bajan Cou Cou is Caribbean style polenta. This delicious savory cornmeal porridge is a great gluten free side dish for any meal.
Ingredients
12

thinly sliced okra

3 1/2

cups

water

1

cup

cornmeal

1

teaspoon

salt

1

tablespoon

butter
Instructions
In a large pot, bring 2 cups of water and salt to a boil.

Add okra and cook for 8 minutes.

In a small bowl, combine 1 cup water and cornmeal and stir until smooth.

Add to pot slowly, stirring constantly. Add remaining water and continue to stir.

Reduce heat to low and cook, stirring constantly for about 5 minutes, until thickened.

Spoon some of the mixture into greased ramekins or bowls for individual servings.
Nutrition
Calories:
190
kcal
|
Carbohydrates:
32
g
|
Protein:
5
g
|
Fat:
5
g
|
Saturated Fat:
2
g
|
Cholesterol:
8
mg
|
Sodium:
621
mg
|
Potassium:
236
mg
|
Fiber:
5
g
|
Sugar:
1
g
|
Vitamin A:
345
IU
|
Vitamin C:
8
mg
|
Calcium:
36
mg
|
Iron:
1
mg
Did you try this recipe? Leave a comment below.
Please follow me on Instagram @chefmireille or tag me #chefmireille with your pics! I'd love to share them!
DO YOU YUM? SAVE IT BELOW!
Yum
Now I know you want to try some more Caribbean food! Check out my collection with over 100 Caribbean Recipes from the Caribbean diaspora!