Last Updated on May 19, 2020 by Chef Mireille
French Caribbean Creole Chicken
This is an easy roast chicken recipe – just marinate and bake. The flavors are typical of islands with a history of French colonization and history such as Dominica, Martinique, Guadeloupe and St. Lucia.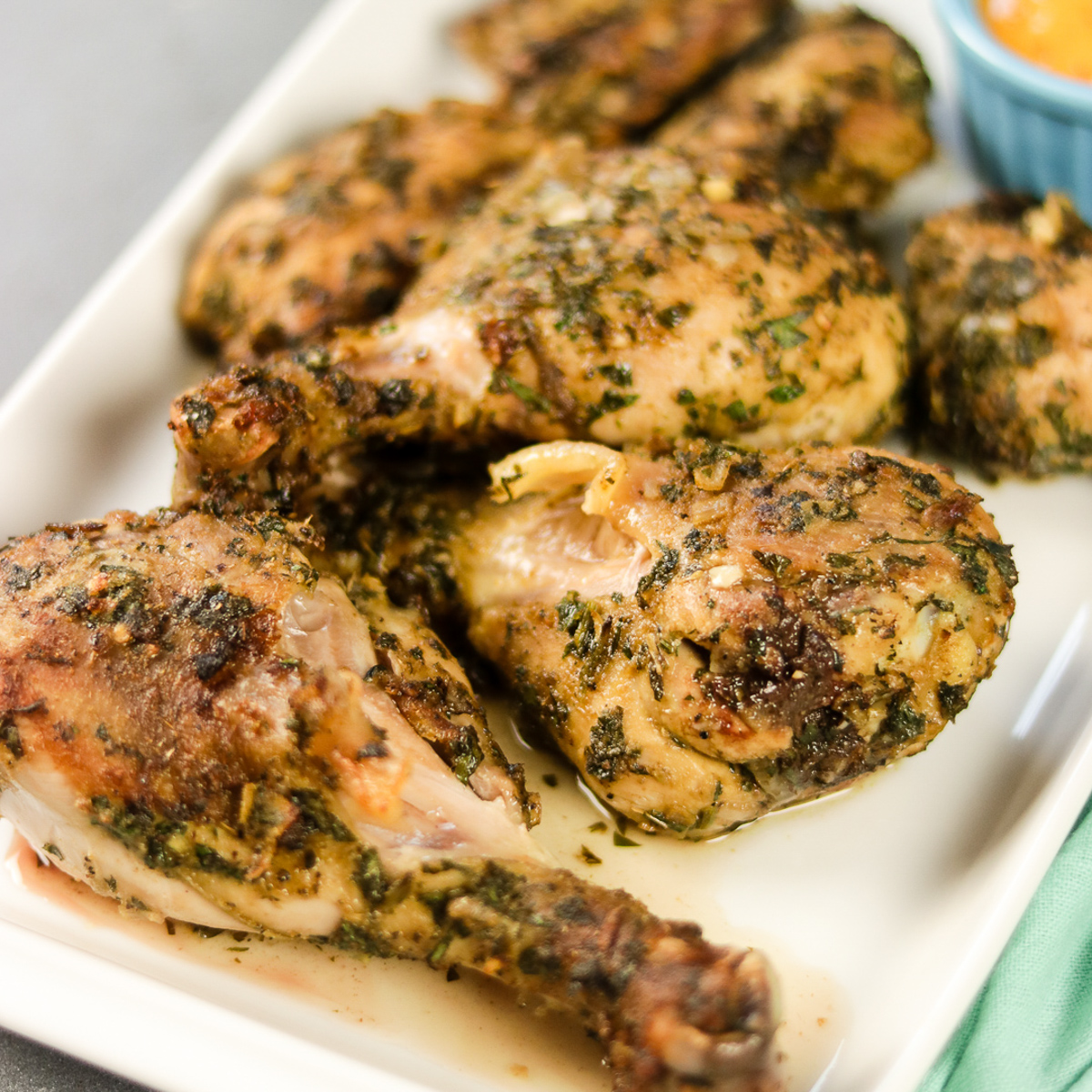 This post may include affiliate links.
My grandmother is from the Caribbean island of Dominica. This chicken recipe is representative of the baked chicken we make in islands with French colonization histories like Dominica, Martinique, Guadeloupe and St. Lucia.
Although I loved my grandmother dearly and miss her so much even after the many years she has been gone, a good cook she was not. There were only two things that I enjoyed eating from her and that is Fish Cakes & Bakes. These were the only two things she knew how to do well.
She had many wonderful attributes including a wicked sense of humor and her love of dance & music always made her the life of every family party, but a culinary genius she was not. Even my mother always said that her mom was a horrible cook and she learned to cook from her father's relatives.
When I finally had the chance to visit Dominica in 2007, this was one of the many recipes I learned from the extended family that still lives there.
I was introduced to Crab Calaloo & Breadfruit Puffs. With some very friendly eating place proprietors like the chief's wife at the Carib Guest House & a relative who owns a food & lodging establishment, I learned how to make some of their delicious foods. I would sit in the kitchen of the guest house shelling fresh roasted coffee beans as the chief's wife shared her recipes with me.
RELATED: TRAVEL – DOMINICA – NATURE ISLAND OF THE CARIBBEAN
If you ever get the opportunity to visit Dominica, you will not only fall in the love with the people and the nature, but also the cuisine!
In Dominica, this would be served with hot sauce, salad and rice or ground provision and maybe some fried plantain.
What is ground provision?
What we call ground provision can be one or an assortment of root vegetables – usually potatoes, sweet potatoes, eddoes, breadfruit, green banana – cooked very simply. Usually just boiled and sometimes topped with sauteed onions and peppers.
However, you can also roast them as in this Ground Provision Roast recipe.
Caribbean people like food very well done. We cook the hell out of meat. There is no such thing as rare or medium rare and there will be nothing ever pink, red or any signs of residual blood. Chicken is never white and that is why the meat is broiled. We like our food with color.
However, you can just Bake & Serve if you prefer.
Marinating Chicken
Although the chicken will still be delicious if marinated for just an hour, it is best to marinate overnight for an over the top flavorful Caribbean Creole Chicken.
Also, pierce the meat with a fork prior to marinating. This will ensure the meat absorbs all of the flavors of the marinade.
You can also marinate the chicken and cook it up on the grill. It is a great chicken to include on a barbecue menu!
Caribbean Creole Chicken
Caribbean Creole Chicken is a quick and easy Caribbean chicken. Just marinate and bake – super easy!
Ingredients
Juice of 1 lime

2

tablespoon

white wine vinegar

2

tablespoon

oil

1

tablespoon

minced garlic

1

minced Scotch Bonnet Pepper

1

onion

finely chopped

1

tablespoon

ground cumin

1

tablespoon

ground coriander

sprigs of fresh thyme

1/4

cup

parsley

finely chopped

3

lbs.

chicken pieces with bone

salt and pepper to taste
Instructions
Combine lime juice, vinegar, oil, garlic, Scotch bonnet, onion, cumin, coriander, thyme and parsley in a large bowl.

Sprinkle chicken pieces with salt and pepper and toss.

Add chicken to bowl with all of the other ingredients. Toss well until thoroughly combined.

Place all ingredients in a Ziploc bag.

Leave to marinate at least 1 hour, preferably overnight.

Preheat oven to 350 degrees F. Place chicken pieces along with all marinade ingredients into large baking dish.

Bake for 45 minutes.

Broil for 5 minutes. Flip chicken pieces over. Flip for another 5 minutes, until well browned.

To serve, top with pan juices.

Serve immediately with rice or ground provision and hot sauce.
Nutrition
Calories:
544
kcal
|
Carbohydrates:
3
g
|
Protein:
43
g
|
Fat:
39
g
|
Saturated Fat:
10
g
|
Cholesterol:
170
mg
|
Sodium:
163
mg
|
Potassium:
498
mg
|
Fiber:
1
g
|
Sugar:
1
g
|
Vitamin A:
541
IU
|
Vitamin C:
8
mg
|
Calcium:
48
mg
|
Iron:
3
mg
Did you try this recipe? Leave a comment below.
Please follow me on Instagram @chefmireille or tag me #chefmireille with your pics! I'd love to share them!
DO YOU YUM? SAVE IT BELOW!
Yum
Don't forget to visit the RECIPE INDEX with over 1000 recipes from around the world including lots of Vegetarian Recipes and Gluten Free Recipes!