Last Updated on June 4, 2022 by Chef Mireille
This post may include affiliate links.
Caribbean Accra are ubiquitous throughout most of the Caribbean islands. They are known as West Indian Cod Fish Cakes, Fish Cakes, Salt Fish Cakes or Accra, depending upon the island and are standard fare at any celebration. No party or holiday celebration is complete without Saltfish Accra.
Made with dried salted cod aka bacalao or saltfish, they taste of the ocean with the salted fish. Add a lot of aromatics and a little flour, and these fry up to the Best Fish Cakes ever!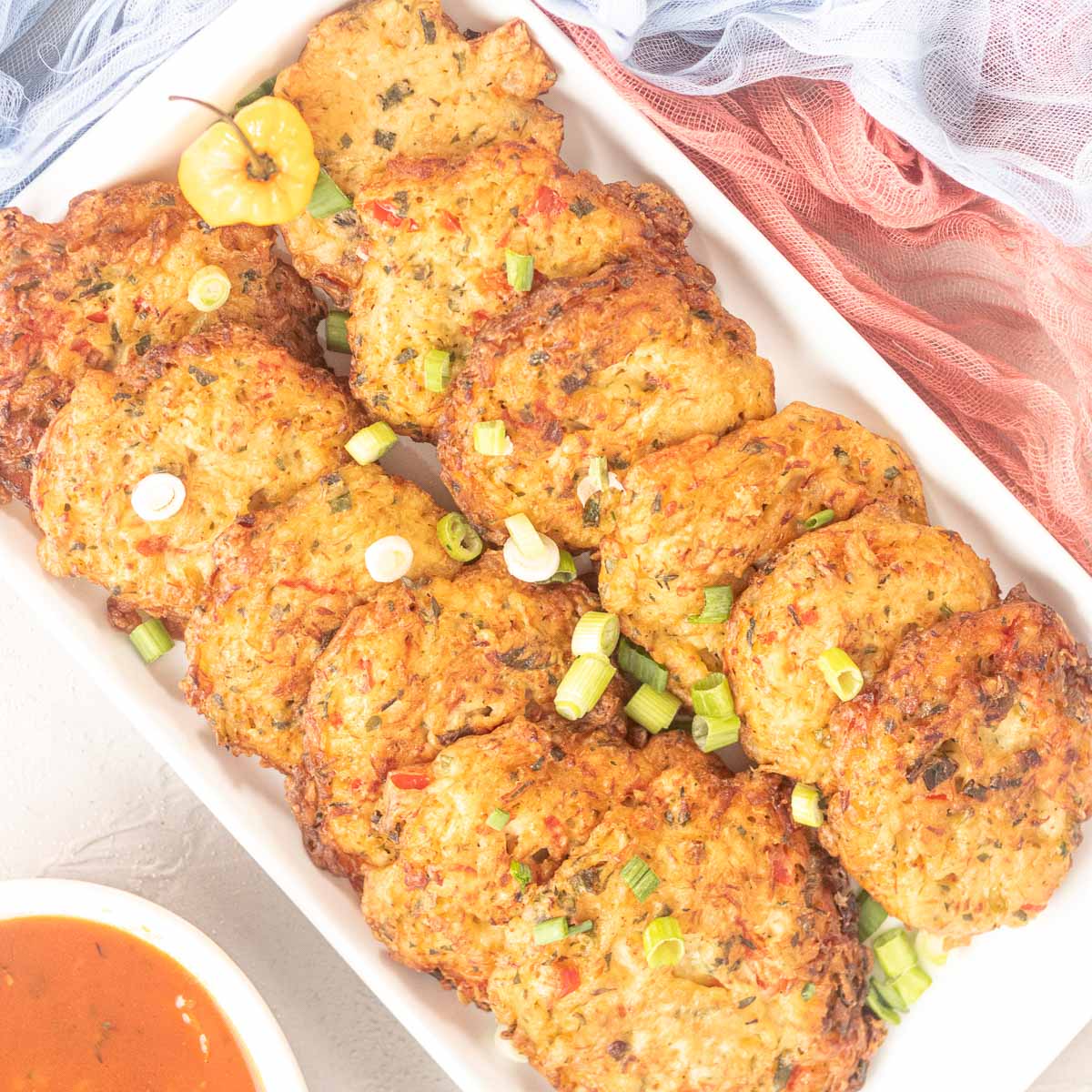 This popular Caribbean appetizer has many different versions and each island will swear to the heavens that theirs is the best. However, I prefer the route of appreciating each version for its individuality. Not one is better or worse – they are just all different. However, they can all be appreciated as a great recipe.
For example, Bajan Fish Cakes are made with yeast and are very light and airy. Some islands fry them up into balls that are almost like a savory donut, while other islands flatten them out more like Salt Fish Fritters.
Some versions include mashed potatoes or mashed breadfruit to make them fluffier. Every island has a different version and every person on each island has their own version.
Bacailitos
You will also find these in the Spanish speaking Caribbean where they are known as Bacailitos. However, there is a major difference between the Bacailitos and the versions available on islands like Dominica, Trinidad, Barbados, Jamaica and the rest of the Caribbean.
English, Dutch and the French speaking Caribbeans usually enjoy more spice in their food with the Scotch Bonnet Pepper (aka Habanero) playing a major role in the cuisines.
The Scotch Bonnet pepper gives this version a spicy kick that you won't find in the Bacailitos of Puerto Rico and the Dominican Republic.
So now your next question is going to be: What version is this?
Well, that's hard to say because the cuisine my family cooks is influenced by many islands since I don't have a multi generational family from one island.
My grandmother from Dominica, my aunt from Tobago who I grew up watching and learning to cook from, my Mom from Aruba but spending many years growing up in Barbados, my extended family from Suriname.
I could say I learned how to make these from my Dominica grandmother – but was her version influenced by her spending many years living in Aruba or influenced by her Bajan mother – who knows!
All I can say is that this is the version I have been making for years and my complete extended family loves as I am always requested to make them for every family event!
However, if pressed I will say these are the style of Salt Fish Cakes popular in Dominica, St.Lucia and the rest of the Windward islands, which also includes Grenada, Martinique and St. Vincent.
Specialty Ingredients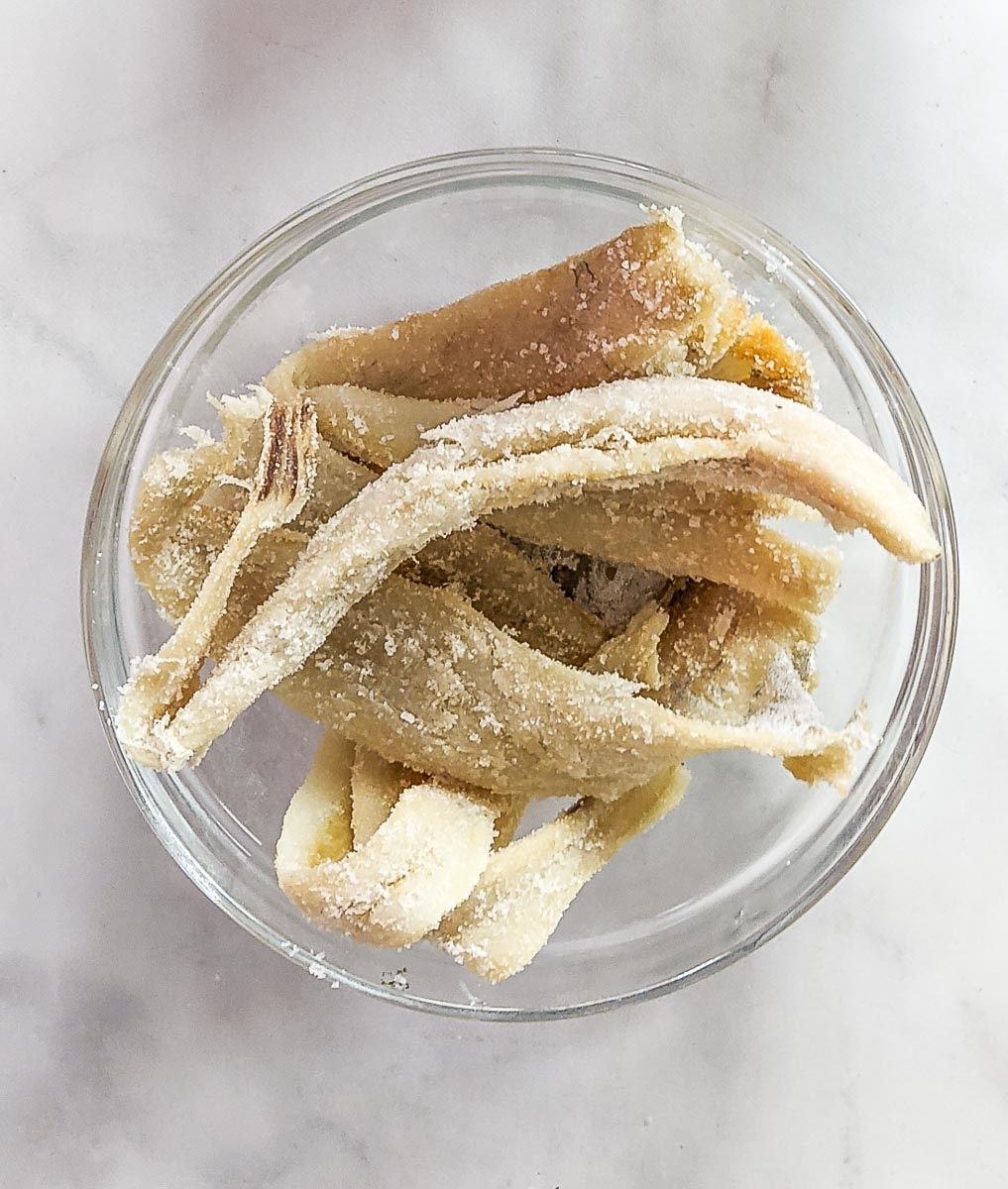 Since this recipe uses dried salted fish, it is best to start making this recipe the day before. This gives you enough time to prep the fish.
The fish must be pre soaked and cooked prior to utilizing it in these Salt Fish Fritters. So let's learn about how long should salted cod be soaked?
How do you desalt Salted Cod?
There is no hard and fast rule for pre soaking the salted cod. A lot of it depends on how heavily salted the fish is when you bring it home from the grocery stores. Depending where you purchase your salt fish and how much salt was used will vary. Some of it is going to take a little practice and then using your judgment.
However, with that being said, here are some guidelines:
Put the fish in a bowl or pot with enough cold water to cover. Leave for 2 hours.
Change the water and repeat the process for another 2 hours or overnight. If your fish is only lightly salted, only 1 soak will be sufficient.
Change the water again and boil the fish until very soft and tender, about 20 minutes.
Using a fork or by hand, flake the fish.
For more detailed instructions, you can take a look at this video on Tik Tok, where I went into specifics.
Scotch Bonnet Peppers – For Caribbean people, Scotch Bonnet pepper is king. As far as we are concerned, it is the only type of chili pepper. Although many people use these interchangeably with the Habanero pepper, they are genetically unique but the Habanero is a very close sibling, so you can use Habanero peppers for the Scotch Bonnet.
Pimento Peppers – These small peppers pack a punch of flavor. Known as seasoning pepper in the Caribbean, we use them just for seasoning. They have all the flavor of the Scotch Bonnet pepper, but without the heat. Sweet and fruity, there really is no substitute for them. However, if you cannot source them, just sub mini bell peppers.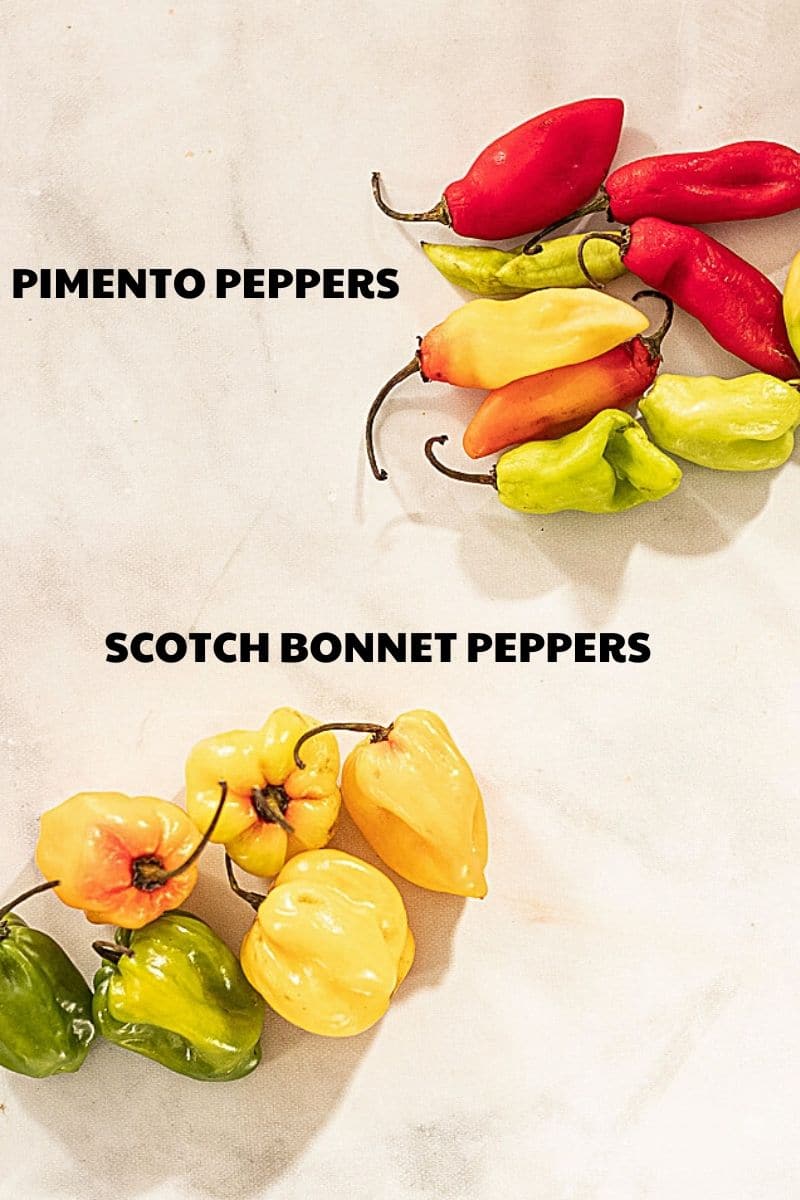 Where to Buy Ingredients
With globalization and people learning more about each other and each other's cuisines, global ingredients are now more easy to find than ever. With that being said, every community is different and variety of ingredients you have access to will vary.
However, this should be your starting point for the ingredients.
Salted Cod – Since so many cultures cook with salted cod, this ingredient can be found in many grocery stores.
Scotch Bonnet Pepper – As said before, habanero peppers which you should be able to find, can easily be used for the Scotch Bonnet pepper.
Pimento Peppers – If you have a good market with good international sections, check there. If not, you will find it in produce markets in Latin, Caribbean and African neighborhoods, where you can also find the salted cod.
Now your salt fish is prepped and ready to make the Best Accra Recipe.
However, let's first go over some of the ways you can switch it up.
Variations
Although the Accra Recipe below has specific ingredients, many of them can be switched up depending what you have on hand. Do I make this the same every time? Hardly ever.
The base ingredients you must have are flour, baking powder, water, saltfish, onion and Scotch Bonnet. Everything else can be switched in and out as needed.
Although this salt fish cakes recipe is an enriched version with eggs and milk, on some islands it is made with only water.
If you do not want to make the Creole seasoning, you can add a little turmeric and cumin or curry powder instead.
The aromatics like onions, peppers and herbs can be switched up with whatever you have in the fridge and can also include garlic, celery, chives and other herbs as desired. You can also use Caribbean Green Seasoning. The only thing that is required is the Scotch Bonnet pepper for the spice, but the rest of the ingredients you can pick and choose as you desire.
If you don't have the fresh herbs, you can use driied parsley and dried thyme instead.
If you cannot tolerate spicy food, you can omit the hot peppers.
Frequently Asked Questions
Now let's go over the ingredients you need to make these delicious Caribbean Accra Recipe. Dried Salted Cod has so much flavor it really does not need much but the extra aromatics add so much flavor, it makes something delicious even better!
Ingredients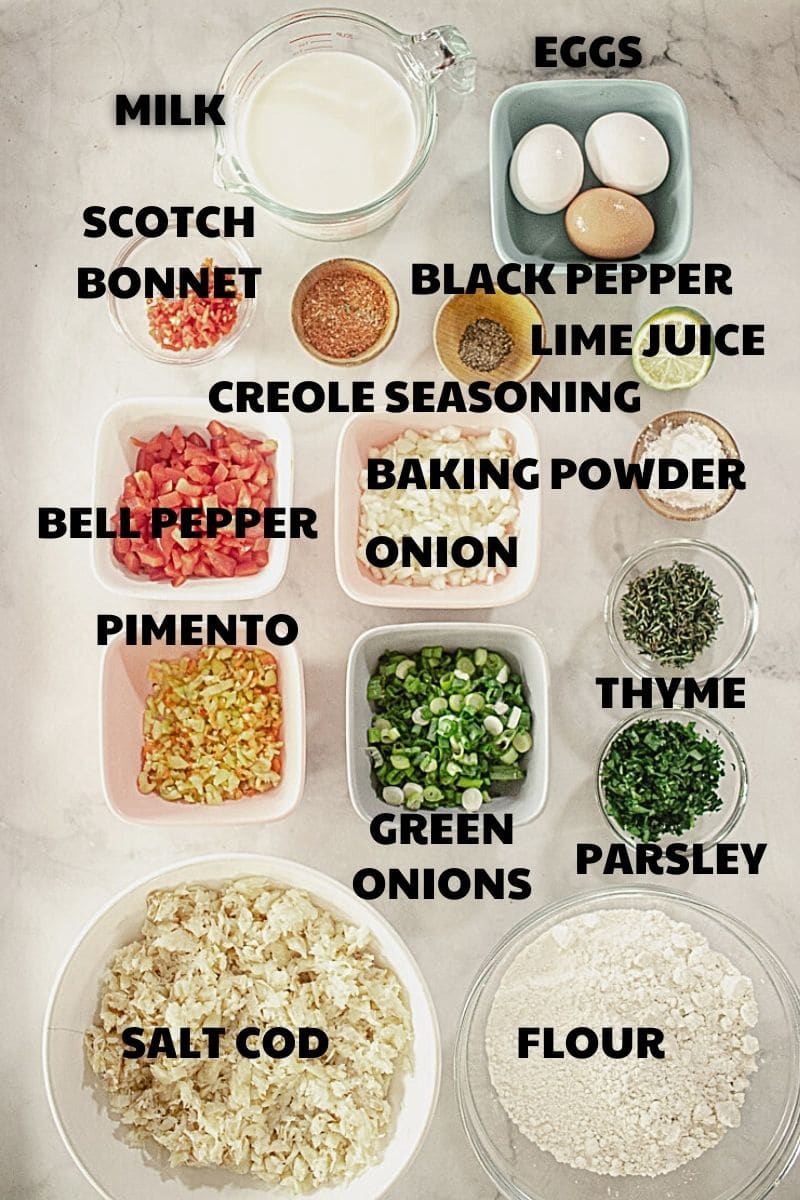 boneless dried salted fish
Scotch Bonnet pepper (Habanero)
onion
green onions (scallions)
pimento peppers
bell pepper
fresh thyme
fresh parsley
fresh lime juice
all purpose flour
baking powder
black pepper
eggs
milk
oil
How to Make Salt Fish Fritters
Prepare cod fish by soaking and boiling.
Combine all the vegetables in a large bowl.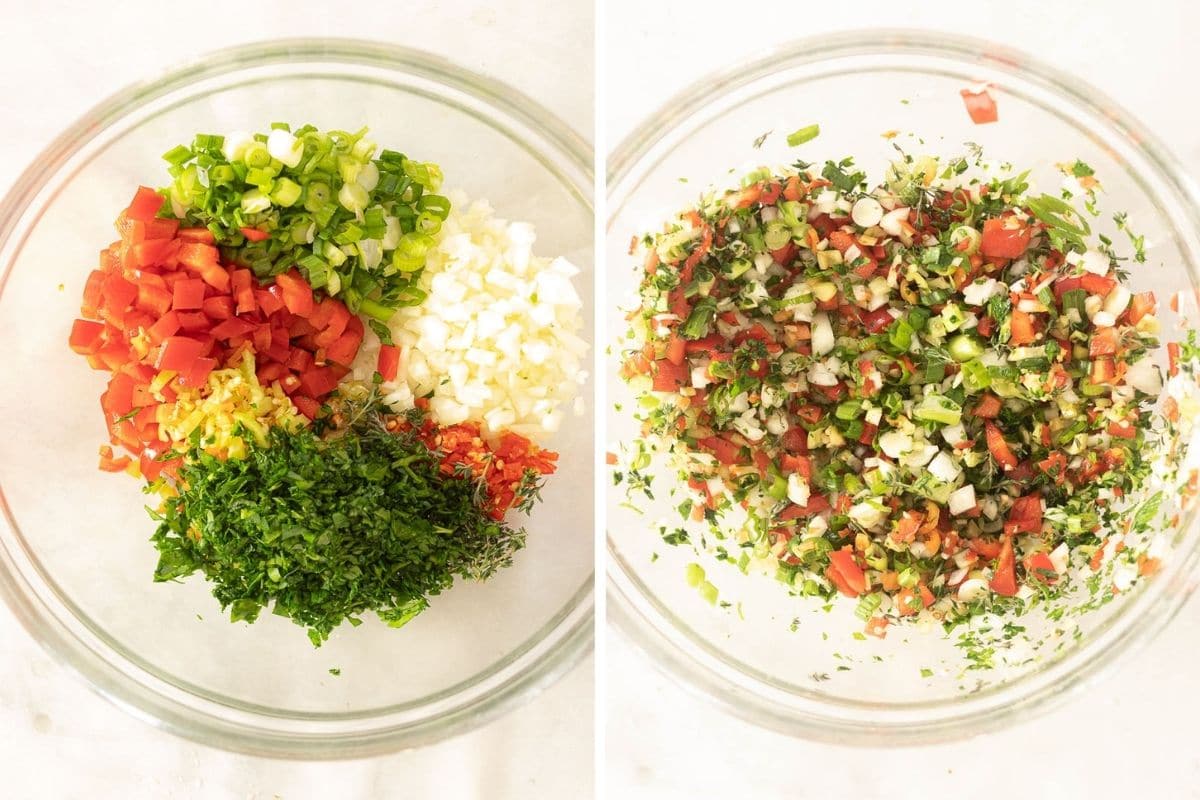 Whisk together the eggs, milk and seasoning.
Add the eggs to the vegetables.
Add lime juice and black pepper.
Add flour and baking powder and mix well.
Add the flaked fish and the water. Mix well to combine.
Leave the fish cake mixture to rest for 15 minutes.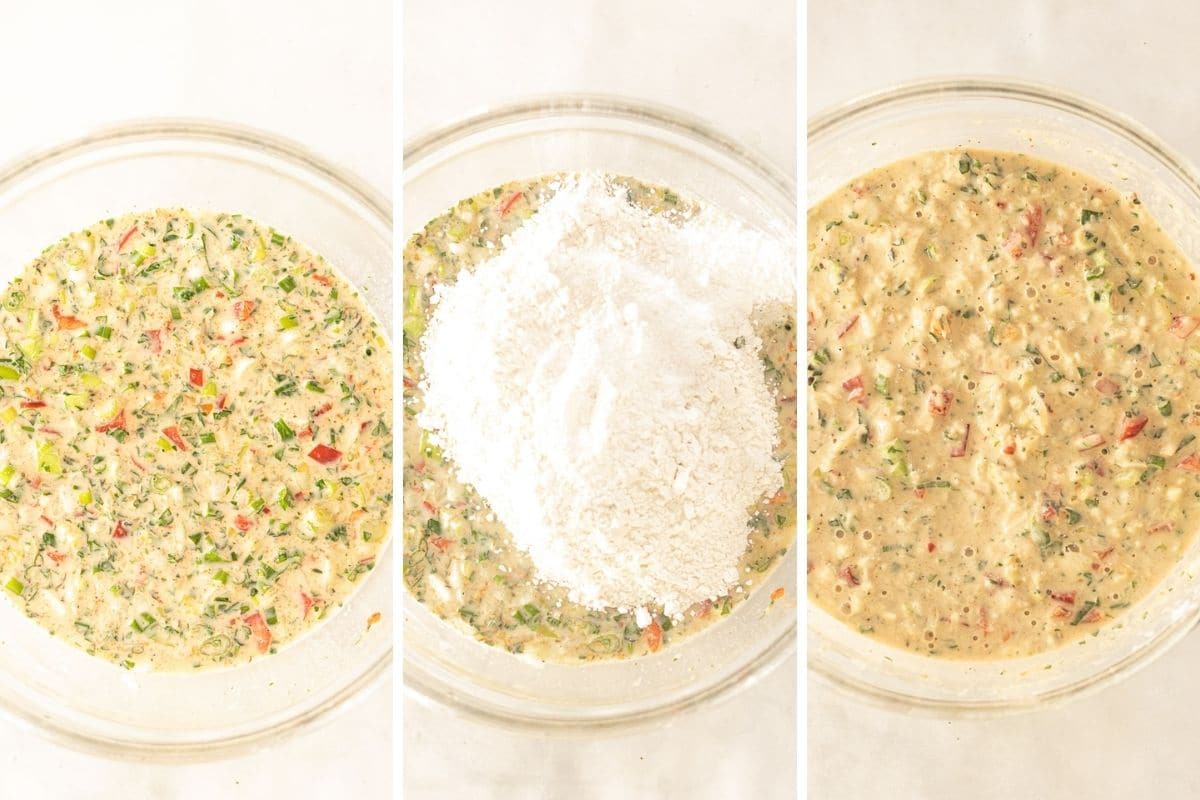 In a frying pan, drop a few tablespoons of batter for each fritter into hot oil.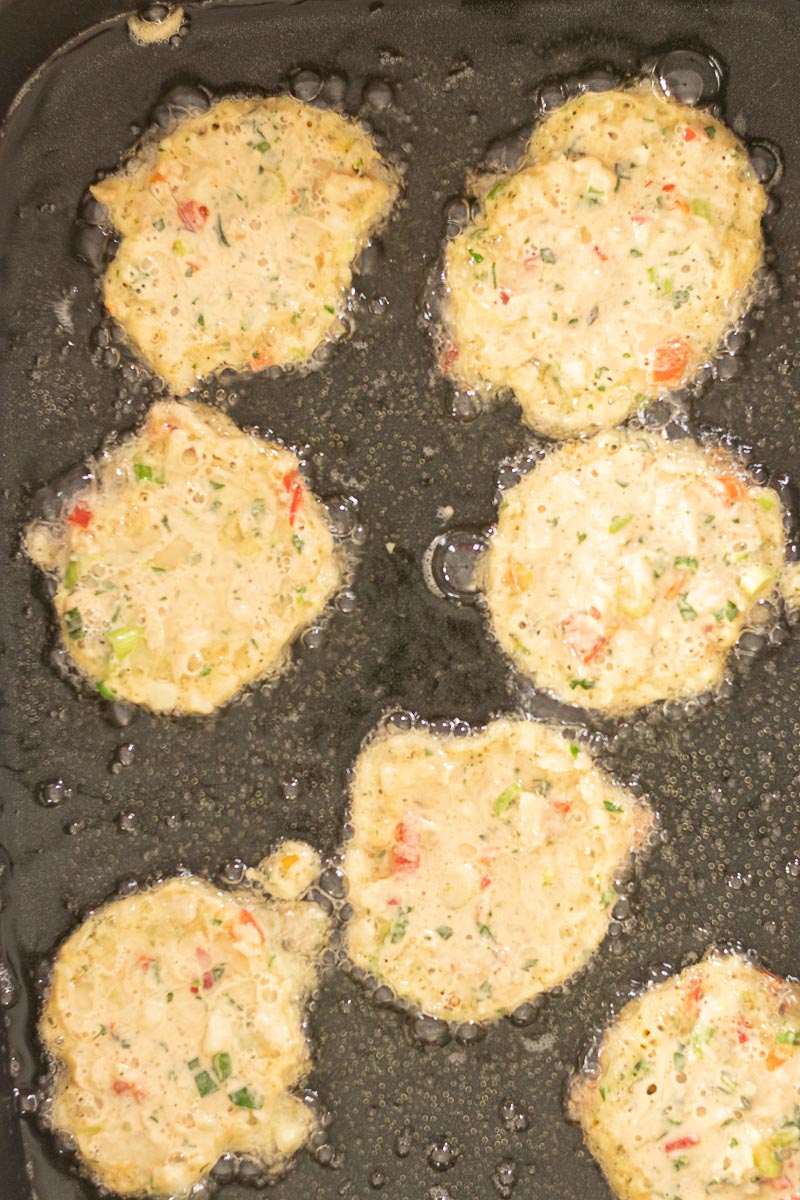 Fry individual cakes until golden brown on both sides.
Serve with Creole sauce. (You can use this Haitian style Creole Sauce or this New Orleans Style Creole sauce – both are similar to the versions we use in Dominica and St. Lucia)
This West Indian Cod Fish Cakes recipe is one of the most popular ways we enjoy salt cod, however, don't forget to check out this simple Salt Fish Saute we often have for breakfast with eggs and plantain or ground provision (root vegetables).
These delicious cod fish cakes is such a treat for kids and adults alike. As a child, this was the only way I would eat salt cod. I wouldn't eat it any other way but these I would devour!
This Fish Cake recipe can be enjoyed in many different ways.
The next time you have a craving for Crab Cakes, try these delicious Codfish Cakes for a great alternative.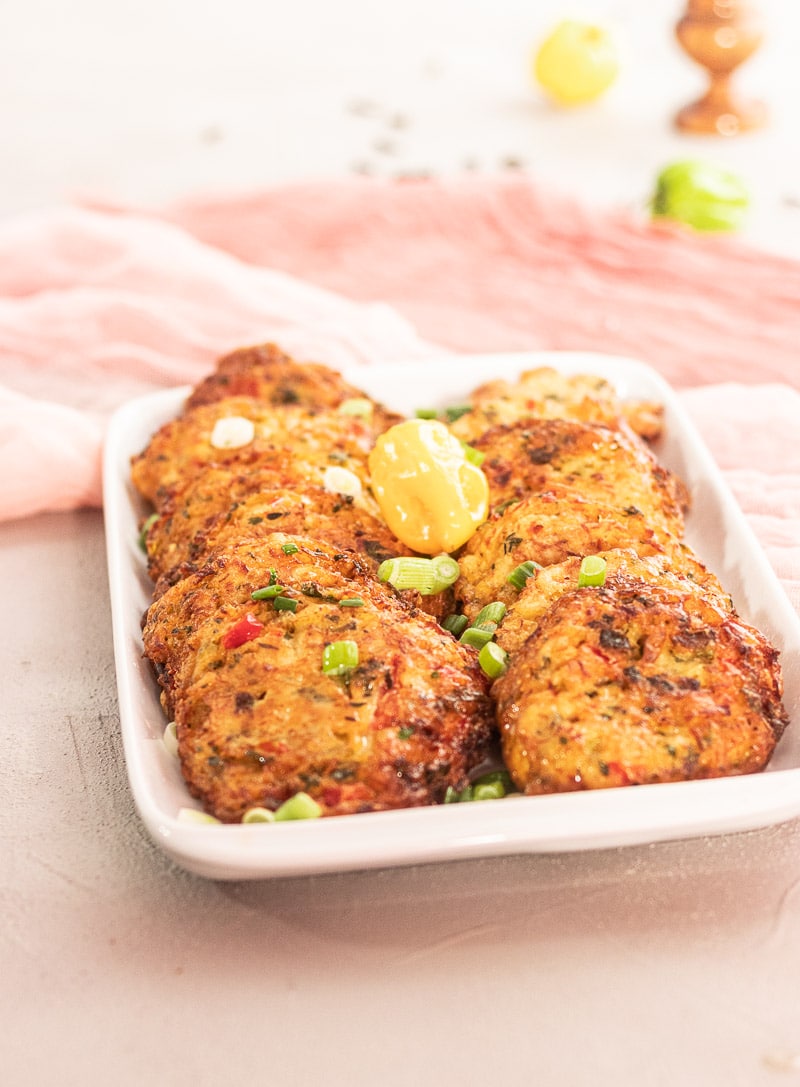 How to Serve West Indian Cod Fish Cakes
As a main course with a green salad
As an appetizer with Creole sauce or chutney
For a fusion version, some people in America will serve them with tartar sauce or ketchup (although that is definitely NOT my preference nor is it traditional).
For breakfast with fry bake (johnny cake)
How to Reheat Saltfish Accra
Using a toaster oven or regular oven, lay out the fish cakes on a cookie sheet.
Place in oven at 375 F for about 20 minutes.
These Traditional Fish Cakes is the perfect reason to always have some salt cod in the pantry. They are perfect to serve at any party or are great to carry along to summer picnics. They are just as delicious at room temperature.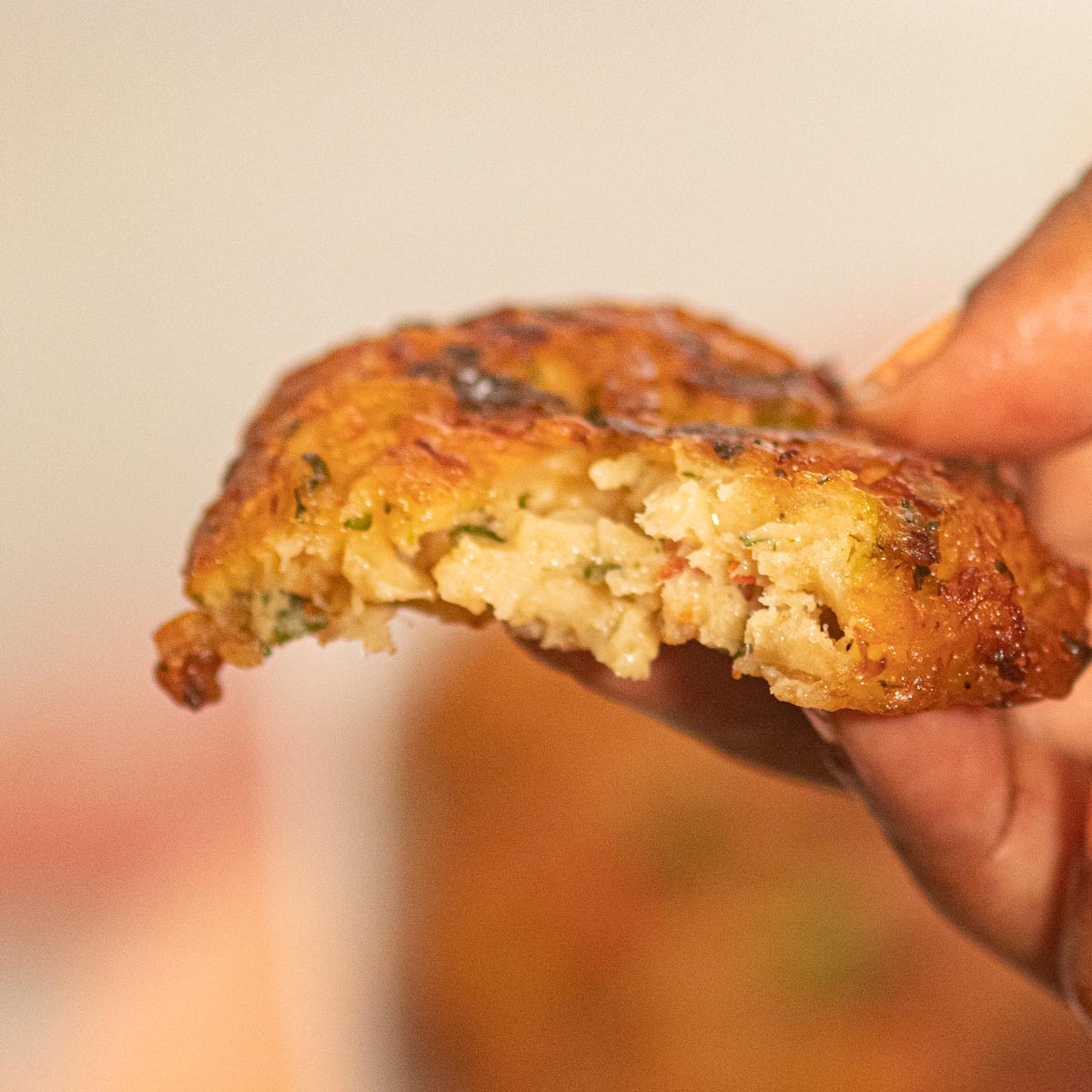 West Indian Cod Fish Cakes
Cod Fish Cakes or Accra is one of the most delicious recipes enjoyed on every Caribbean island. Loaded with flavorful aromatics and dried salted cod (bacalao), it's the perfect appetizer or snack for any time!
Ingredients
1 1/2

pounds

dried salted fish

bacalao

1

onion

finely chopped

1

Scotch Bonnet chile

finely chopped

3

scallions

finely chopped

5

pimento peppers

finely chopped

1

bell pepper

finely chopped

2

tablespoons

thyme leaves

1/4

cup

parsley

chopped

½

teaspoon

black pepper

2

tablespoons

fresh lime juice

3

eggs

1 ½

cups

milk

1

tablespoon

Creole seasoning

optional

2

cups

all purpose flour

1

tablespoon

baking powder

¼

cup

water

Oil

for frying
Instructions
In a large bowl, combine onion, Scotch Bonnet pepper, scallions, pimento peppers, bell pepper, theme and parsley in a large mixing bowl.

Add black pepper and lime juice. Stir to combine.

In a small bowl, whisk together the eggs, milk and Creole seasoning for about 2-3 minutes until well combined.

Add the egg mixture to the bowl with the vegetables.

Add flour and mix well.

Add prepared salt cod and mix to combine.

Add water and mix well.

For best results, let cod mixture rest for 15 minutes.

In the meantime, you can start to heat the oil.

In a large skillet, heat enough oil for shallow frying.

Using a tablespoon or ice cream scoop, drop approximately 2 large tablespoons or 1 ice cream scoop of batter for each accra into the hot oil.

Once you have added the batter into the hot oil, reduce to medium heat so that they do not burn too quickly.

Fry until golden brown on both sides and transfer cooked fish patties to a paper towel lined plate to absorb excess oil.

Serve with Creole Sauce.
Notes
If you are short on time, you can fry them right away, but the consistency will be better if you let the batter rest. This gives the baking powder the opportunity to activate so that the fish cakes are not too thin.
Nutrition
Calories:
124
kcal
|
Carbohydrates:
10
g
|
Protein:
17
g
|
Fat:
2
g
|
Saturated Fat:
1
g
|
Polyunsaturated Fat:
1
g
|
Monounsaturated Fat:
1
g
|
Trans Fat:
1
g
|
Cholesterol:
56
mg
|
Sodium:
1609
mg
|
Potassium:
453
mg
|
Fiber:
1
g
|
Sugar:
1
g
|
Vitamin A:
412
IU
|
Vitamin C:
10
mg
|
Calcium:
86
mg
|
Iron:
1
mg
Did you try this recipe? Leave a comment below.
Please follow me on Instagram @chefmireille or tag me #chefmireille with your pics! I'd love to share them!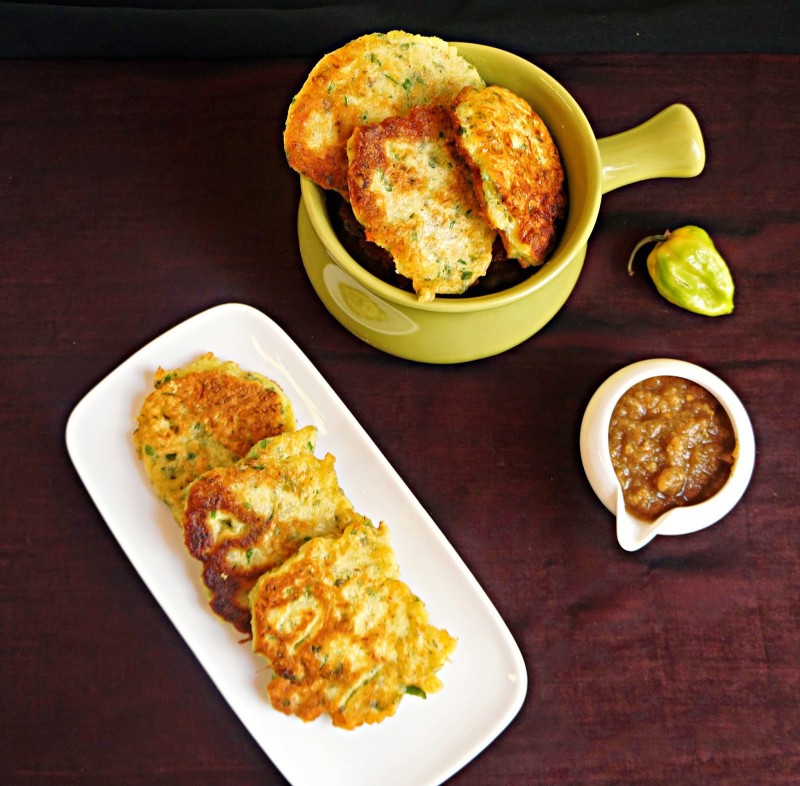 Now I know you want to try some more Caribbean food! Check out my collection with over 100 Caribbean Recipes from the Caribbean diaspora!