Last Updated on December 14, 2020 by Chef Mireille
Matira Curry
Rajasthan Watermelon Curry or Matira Curry is a savory curry that goes well with any North Indian flatbread like Naan, Gobi Paratha or Kulcha!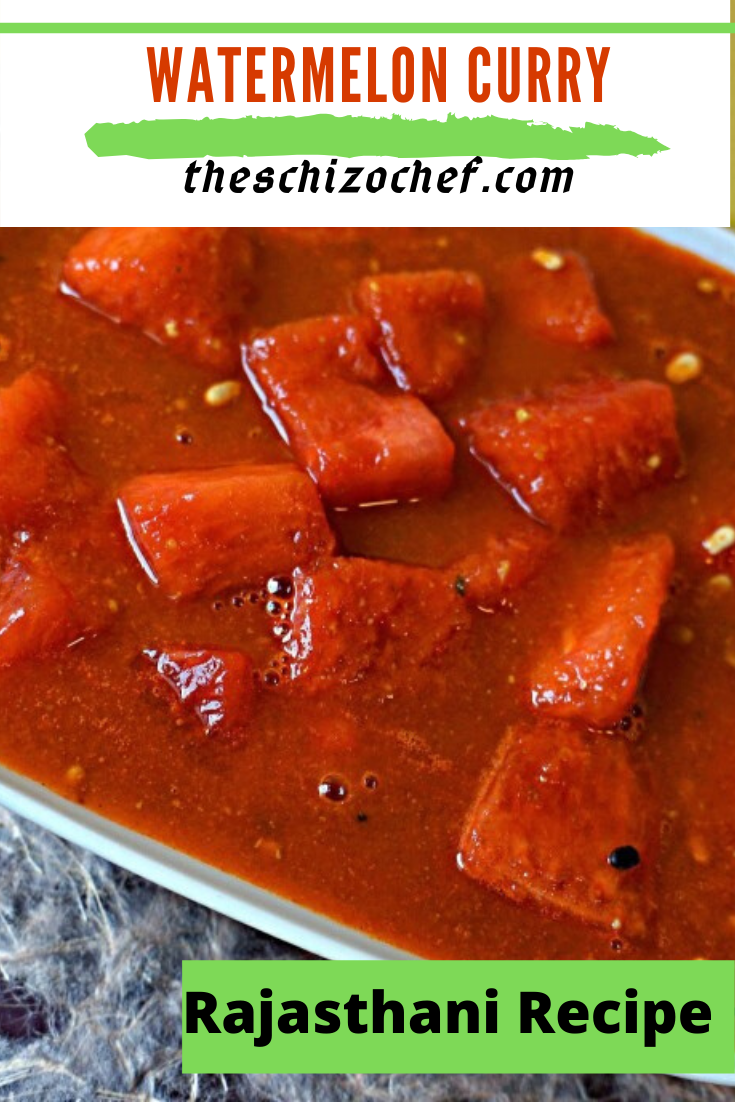 Watermelon as a curry – not a natural food combination right? I spent years glancing at this recipe in one of my cookbooks. The Great Curries of India is my go to cookbook when I am in the mood to try a new Indian recipe. It is much used with a torn cover and food stains in the pages that occurred while cooking from it.
It intrigued me, but I was hesitant as I wasn't sure I would like this unusual flavor combination. Watermelon I think of as a fruit to be enjoyed as is during hot summer days and the juice can be so refreshing. That's pretty much the extent of my watermelon usage, but this recipe changed my mind!
RELATED: WATERMELON SALSA
Finally, I had purchased an entire watermelon and decided to use some of it to try this curry and hope I would like this novel concept. This Matira (watermelon) Curry comes from the north Indian state of Rajasthan. This fiery curry from Rajasthan is very hot, so I reduced the chile pepper from the original recipe by 1/2 teaspoon, however if you can tolerate more heat, feel free to add it. Try out my adapted version of Rajasthan Watermelon Curry.
Although it is often eaten with rice in Rajasthan, for me it was a great breakfast with some Amritsari Aloo Kulcha.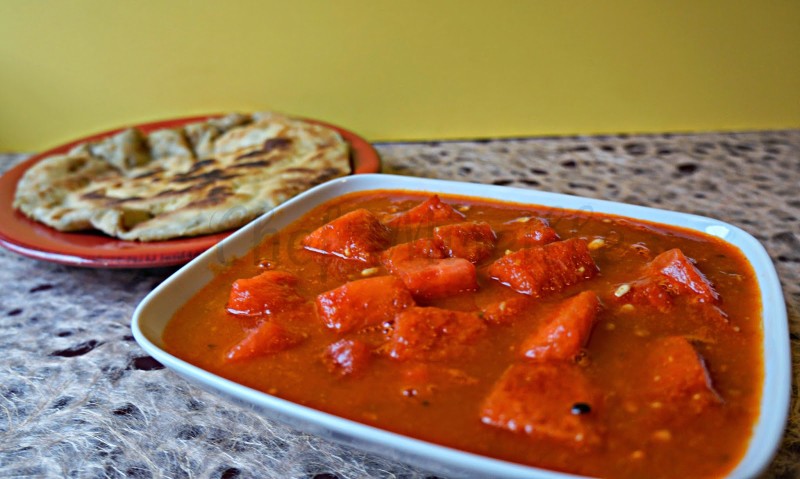 I was so surprised how much I liked it. I had decided to try this recipe more out of curiosity than anything else and I ended up loving it. It is such a complex flavored curry – hot, sweet, spicy and tangy all at the same time. This is definitely one recipe I would repeat time and time again.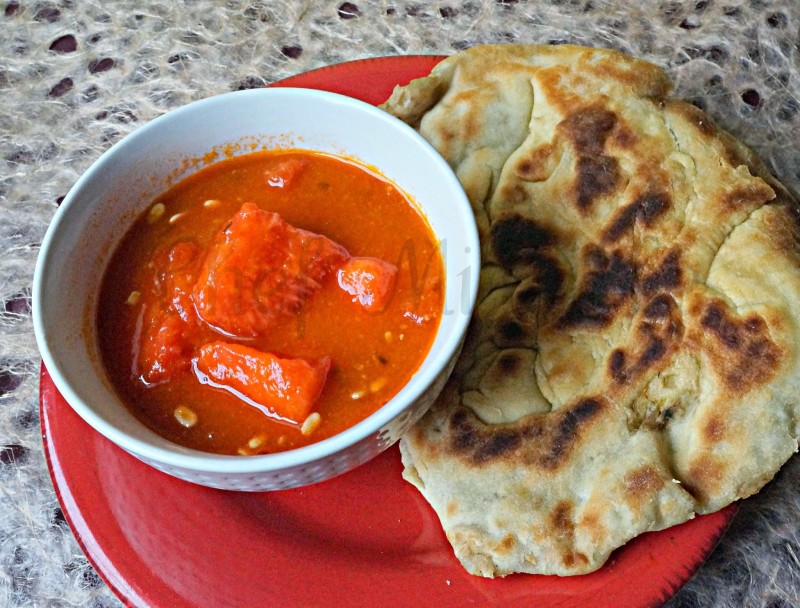 This post is for the CC Challenge of the month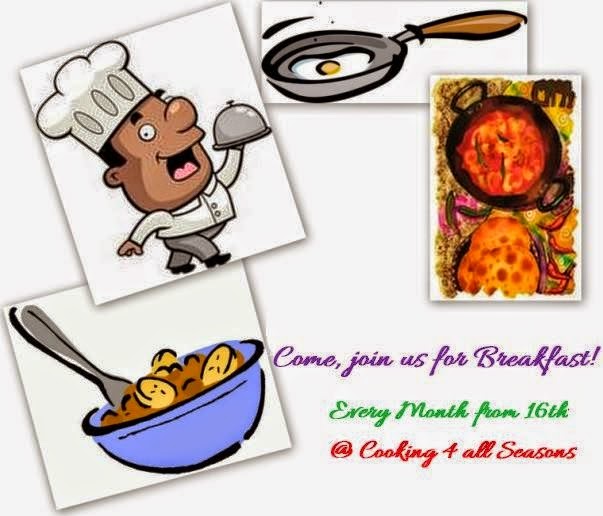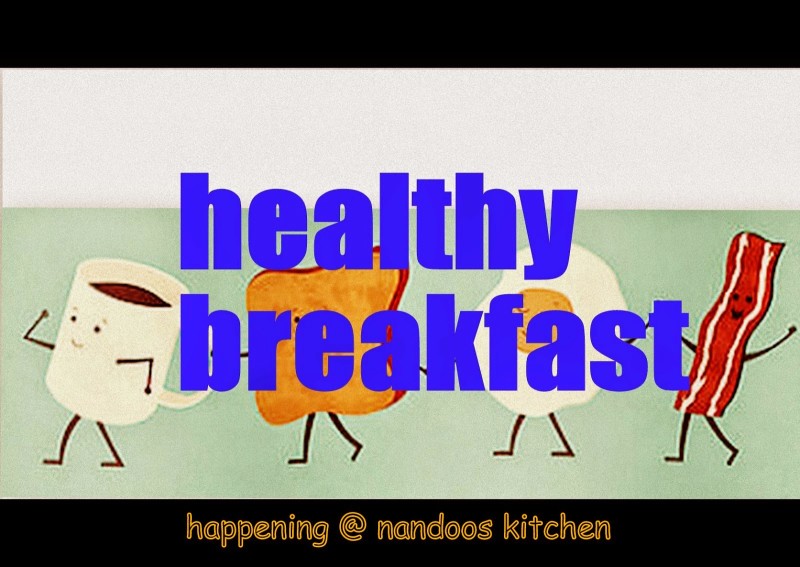 …linking to Healthy Breakfast & Come Join Us for Breakfast
Before we get to the recipe, here are some Indian flatbreads you might like to enjoy with this delicious Rajasthan Watermelon Curry.
Indian Flatbread Recipes
Rajasthan Watermelon Curry
Ingredients
1/4

large watermelon

seeded and peeled

1

teaspoon

red chile powder

cayenne pepper

1/8

teaspoon

ground turmeric

1/2

teaspoon

ground coriander

1/2

teaspoon

garlic paste

2

tablespoons

oil

1/4

teaspoon

cumin seeds

2

teaspoons

lemon juice

1/2

teaspoon

salt

1/2

teaspoon

sugar
Instructions
Heat oil in a large skillet or wok. Add cumin seed. After about 10 seconds, add watermelon juice. Add chile powder, turmeric, coriander, garlic paste and salt. Bring to a boil. Reduce to a simmer and cook for about 5 minutes.

Add cubed watermelon, sugar and lemon juice. Cook on low heat for 3 minutes, tossing well to coat the watermelon with the spices.
Did you try this recipe? Leave a comment below.
Please follow me on Instagram @chefmireille or tag me #chefmireille with your pics! I'd love to share them!
ARE YOU EXCITED TO TRY THIS RECIPE? PLEASE HELP ME CONTINUE TO PROVIDE YOU WITH DELICIOUS RECIPES BY SHARING IT AND SHOPPING FOR YOUR FAVORITE PRODUCTS WITH INCLUDED AFFILIATE LINKS!
Need more culinary inspiration? Check out the Recipe Index with over 1500 Recipes from Around the World with lots of Vegetarian 🥕🍆🍅and Gluten Free Recipes!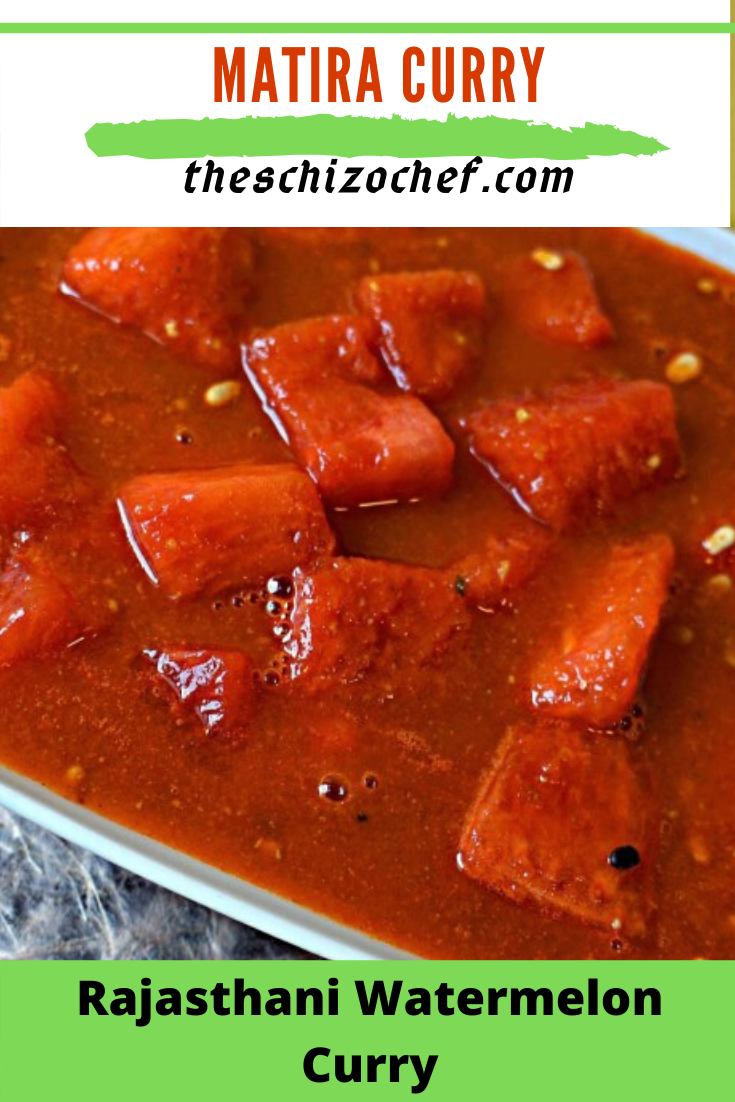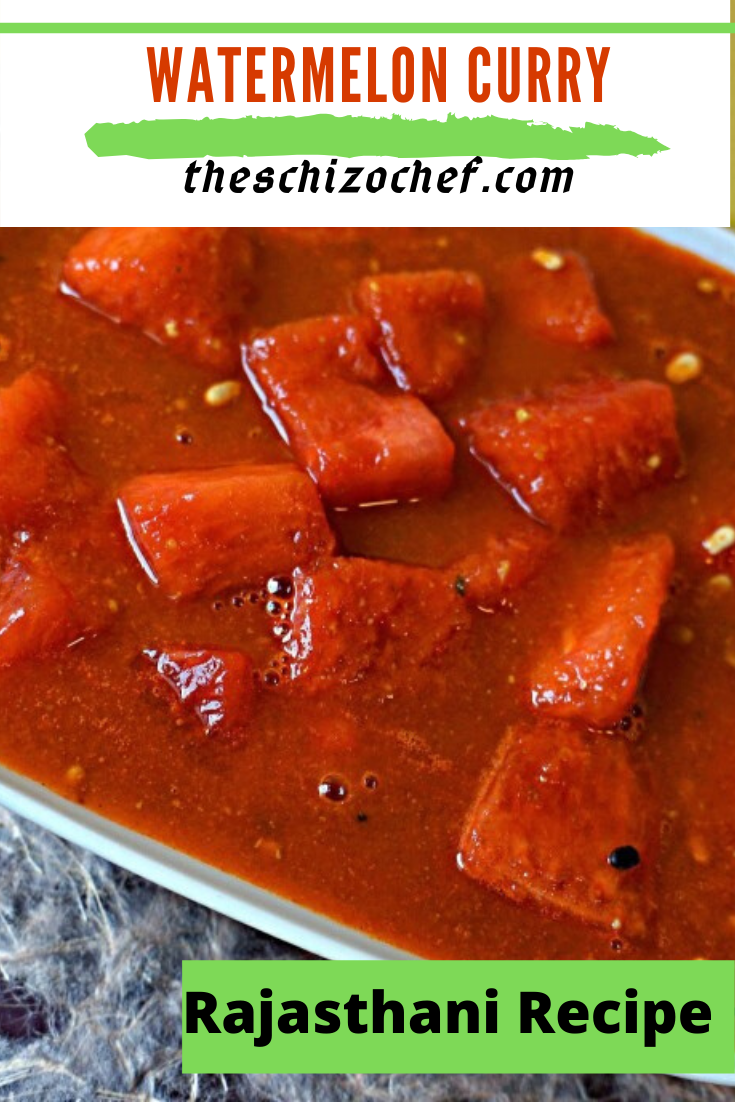 DO YOU YUM? SAVE IT BELOW!
Yum