Last Updated on May 10, 2022 by Chef Mireille
This post may include affiliate links.
This Watermelon Curry Recipe is a specialty of the Indian state of Rajasthan. It is a combination you most likely have never heard of before. Don't be wary. This Sweet and Spicy Watermelon Curry is so delicious and goes great with some steamed rice or flatbread like Naan or Kulcha.
Best of all, it's a super easy recipe that gets done in less than a half hour. It makes the perfect lunch recipe for any day.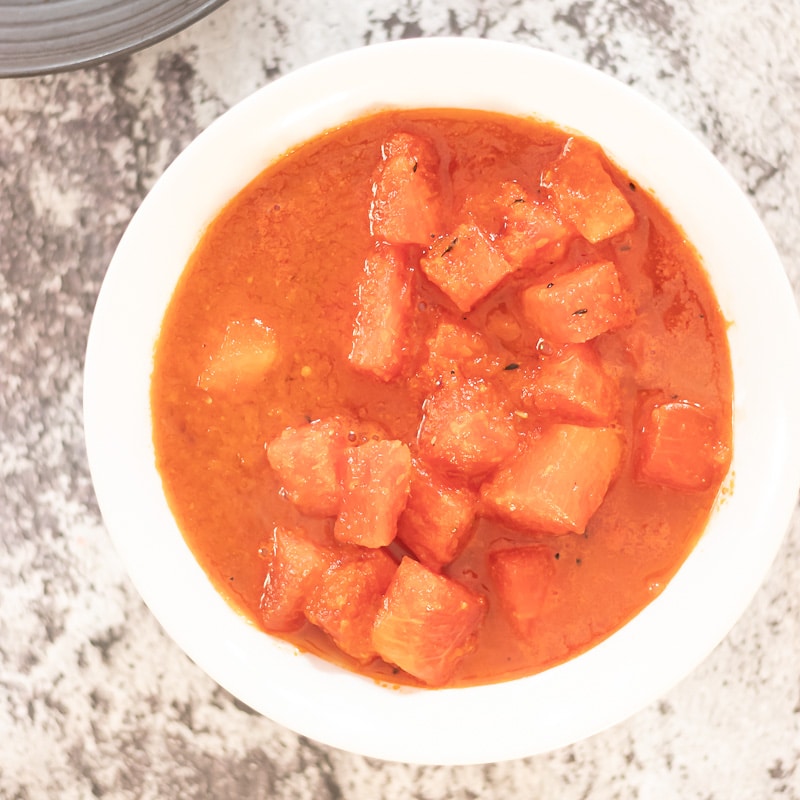 Are you ready to Travel your Tastebuds and come with me to visit the Indian state of Rajasthan?
I always feel a special connection to Rajasthan. As many of you know, I do have partial Indian heritage. Although our direct contact with India was lost, it is believed my great grandfather was from Rajasthan.
Also known as "Land of Kings" you can read more about Rajasthani People and Rajasthani Cuisine here.
Due to my connection, it is a cuisine I often explore. Don't forget to take a look at some of my other recipes from there.
Rajasthan Recipes
The expansive Thar Dessert occupies much of the state. In this hot dessert climate, refreshing watermelon is one way the Rajasthani people keep cool in the high temperatures.
Watermelon is one of the most popular fruits in Rajasthan and recipes utilizing all parts of the watermelon including the rind of watermelon and the watermelon seeds, can be found in Rajasthan.
The first time I heard about this Watermelon Curry it intrigued me, but I was hesitant as I wasn't sure I would like this unusual flavor combination. Watermelon I think of as a fruit to be enjoyed as is during hot summer days and the juice can be so refreshing. That's pretty much the extent of my watermelon usage, but this recipe changed my mind!
Because of this, I've now added a bunch of Watermelon Recipes to my repertoire like Watermelon Cupcakes and Watermelon Gazpacho.
I owe so much to my years working as a freelance chef in NYC. I would meet so many different cooks from all around the world and learn about their home recipes. That is how I have an arsenal of knowledge about so many cuisines, which I share with you.
---
This is such a simple recipe with just a few ingredients. Except for chopping the watermelon, there is virtually no prep to the recipe. You won't be crying over chopping onions to prep this recipe!
Watermelon is not a fruit that can stay in the refrigerator for several days. The water releases and as the fruit sits in the liquid, it will go rancid quickly. So the next time you have some leftover watermelon, immediately make this easy delicious Watermelon Curry or Mathira Curry as it is known in Rajasthan and avoid food waste.
Is Watermelon Healthy?
First of all, watermelon is a great source of hydration. This is why it is such a loved and refreshing fruit to eat in hot temperatures.
Watermelon is a nutrient dense fruit, loaded with vitamins and minerals like Vitamin B-6, Vitamin A, potassium and Vitamin C. Watermelon is an especially great source of Vitamin C, providing 14% of your daily intake.
Some of the other possible positive side effects include helping with:
heart health
digestion
muscle soreness
cancer
skin health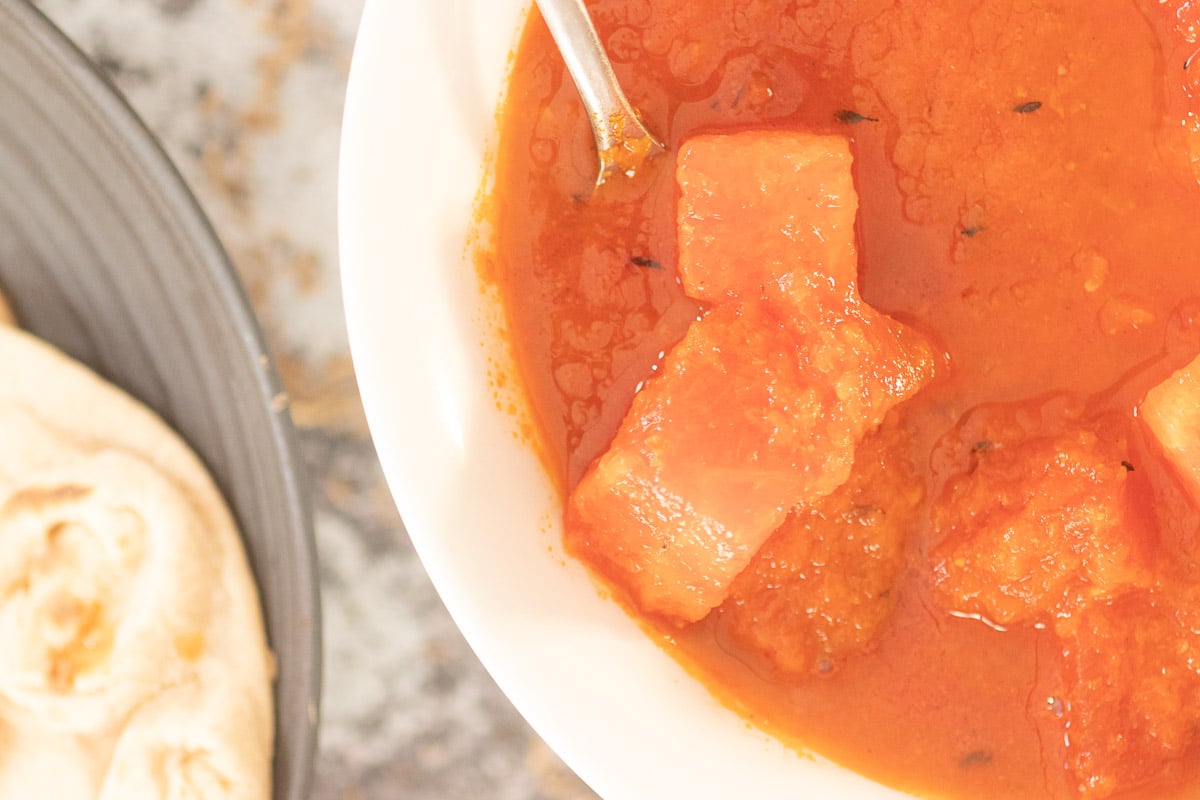 Recipe Notes
Like any recipe, there are variations from person to person. This is a simple homestyle version I learned, but other spices sometimes included are mustard seeds, green chilies, curry leaves and bay leaf.
It is very important to only let the curry simmer for a few minutes after you add the diced watermelon to the curry. You don't want the chopped watermelon to take on a pulpy consistency, which will occur if it is overcooked.
For a more gourmet appearance, you can use a melon ball scoop and make melon balls instead of just chopping the watermelon.
Watermelon Curry Ingredients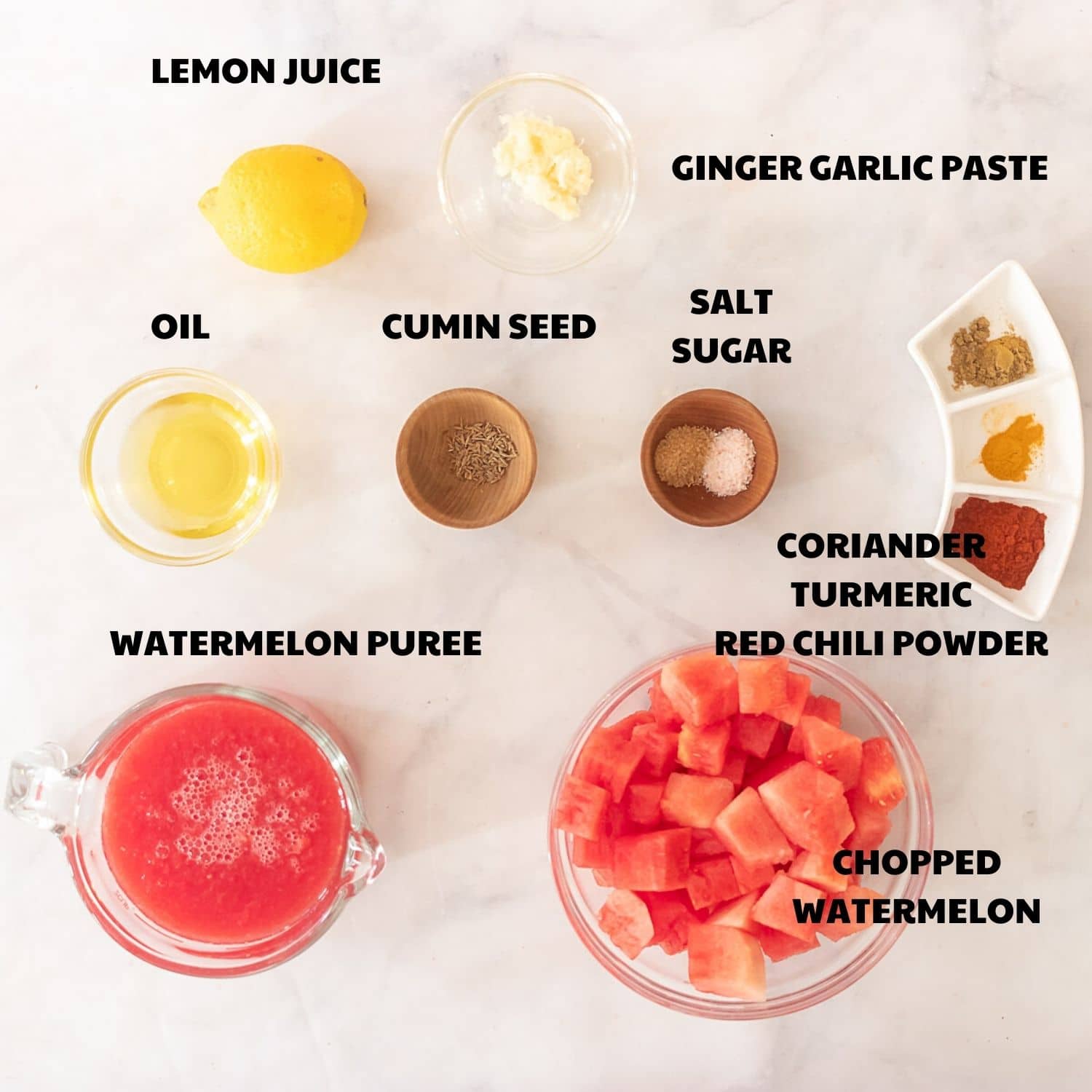 1/4 large watermelon or 1/2 a small watermelon
oil
cumin seed
ginger garlic paste
turmeric powder
red chilli powder
ground coriander
lemon juice or lime juice
salt
sugar
Tools Needed
Food Processor
Lemon Squeezer
Wok or large frying pan
Sharp Knife
How to Make Watermelon Curry
Peel the watermelon so that just the red flesh remains, although it is alright if a little of the white is also there.
Puree half of the watermelon in the blender until you have a juicy watermelon pulp.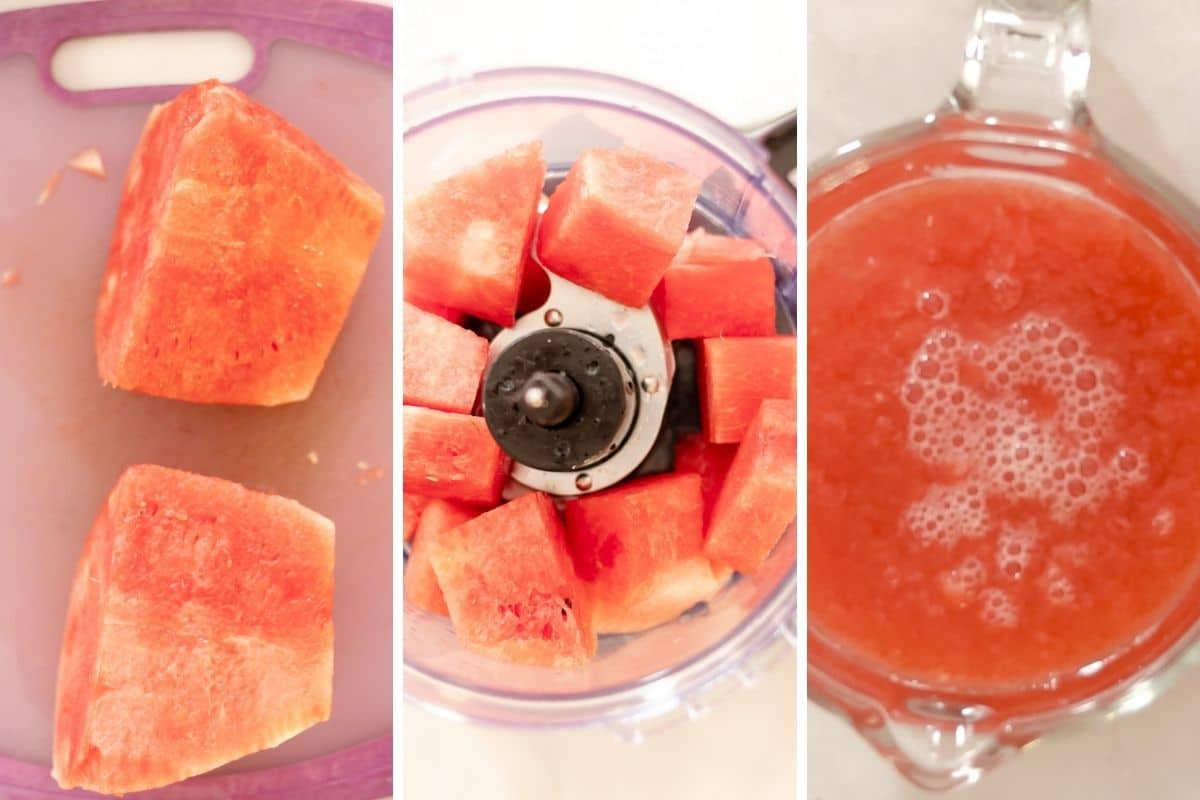 Chop the other half into watermelon cubes.
Fry the whole cumin seed in hot oil until it becomes aromatic.
Lower heat and add the watermelon puree and spices.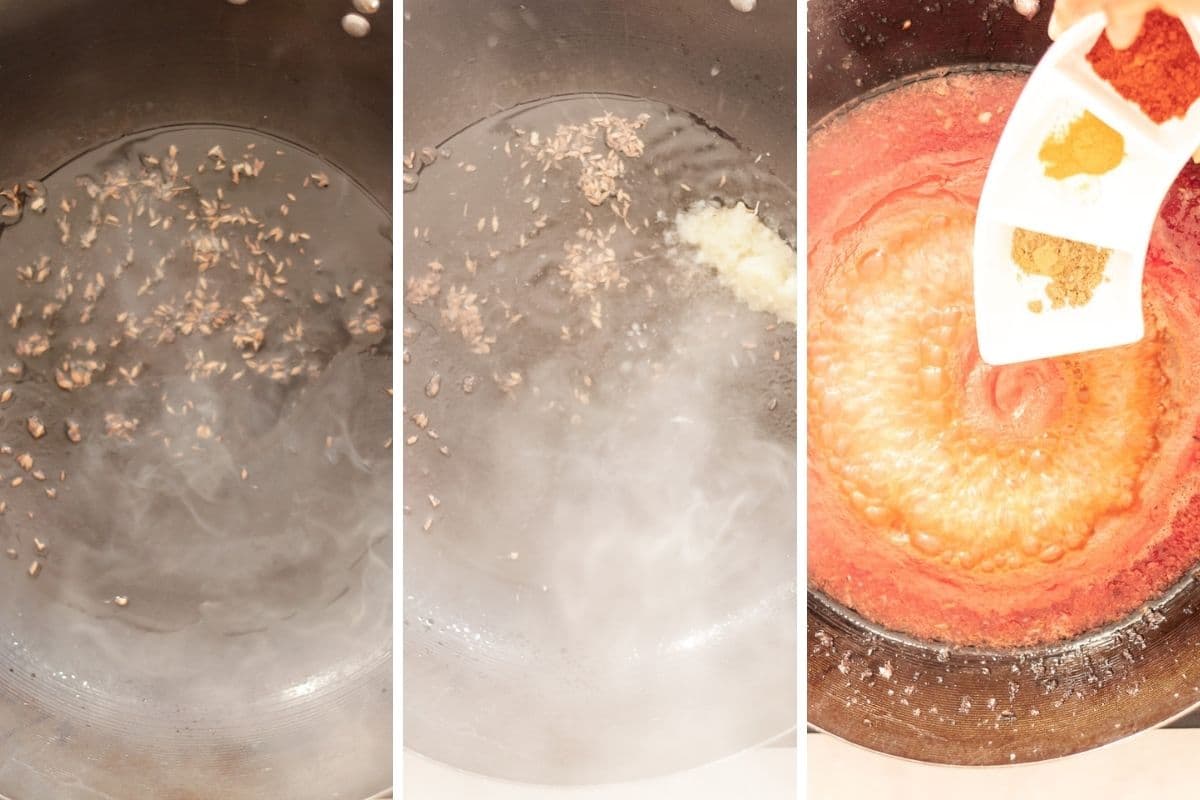 After you simmer it, add the diced watermelon and lemon juice.
Simmer for a few more minutes.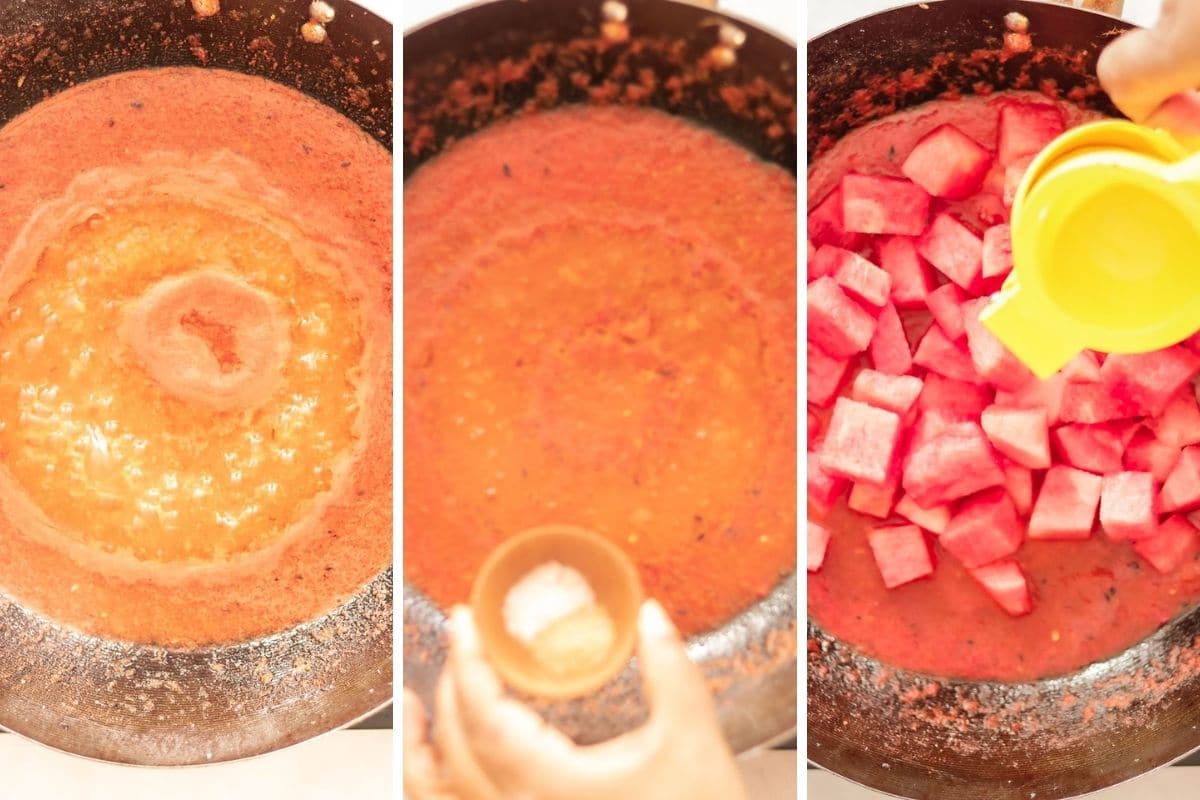 Serve hot with rice or paratha/ kulcha.
This authentic Indian curry is one of the best ways to enjoy fresh watermelon in a new and interesting way.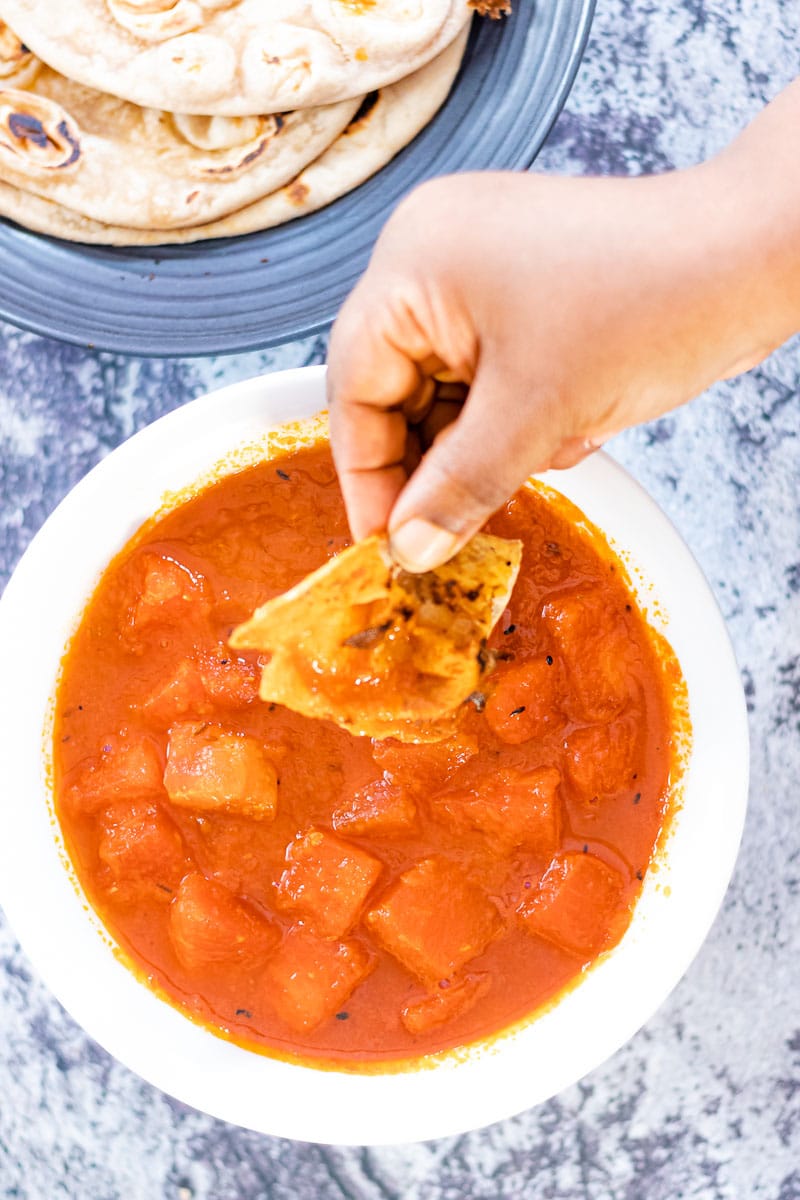 Make it a Meal
Although Watermelon Curry is a Rajasthan Curry, mixing it with foods from other Indian states is allowed…at least in my book! This is much more interesting than just serving this side dish with plain Basmati rice. Here are some great ideas on what to serve watermelon curry with!
What to Serve Watermelon Curry with: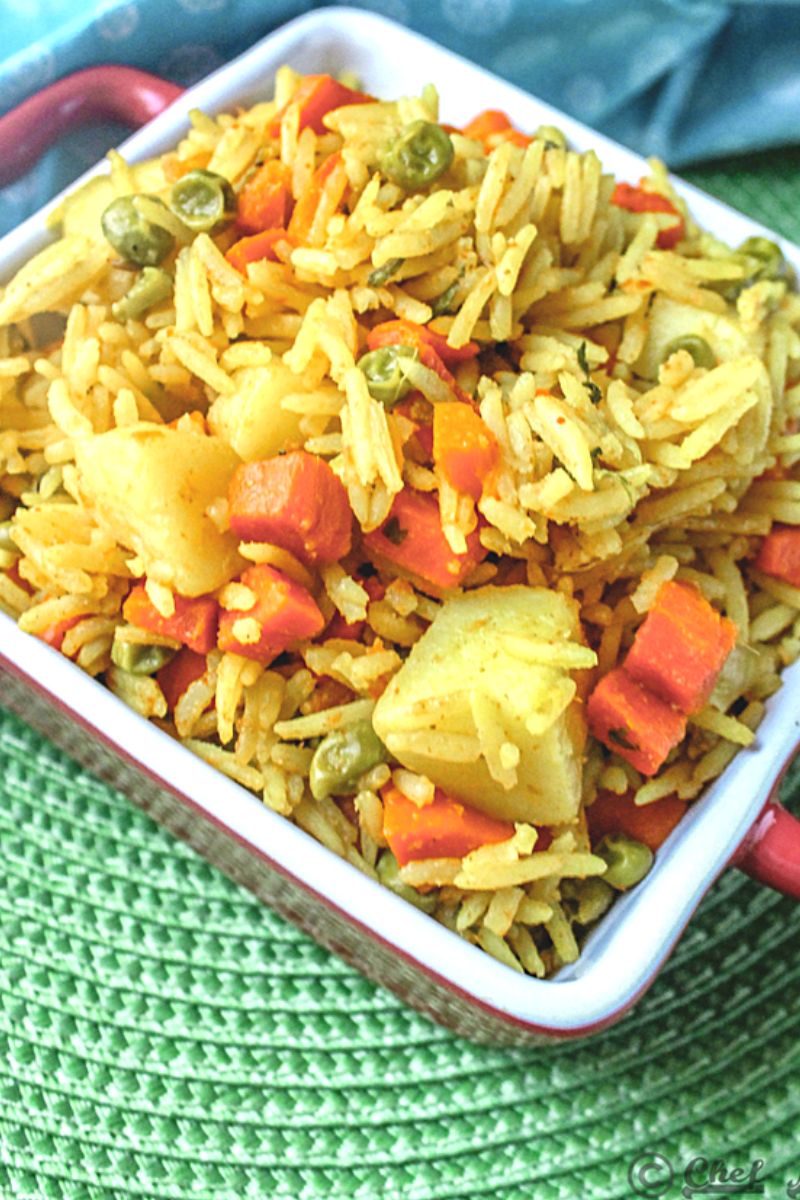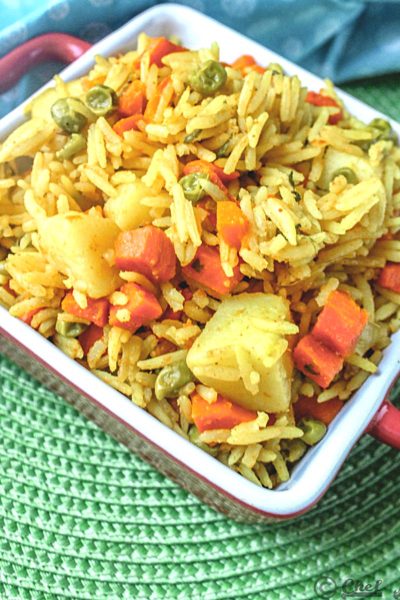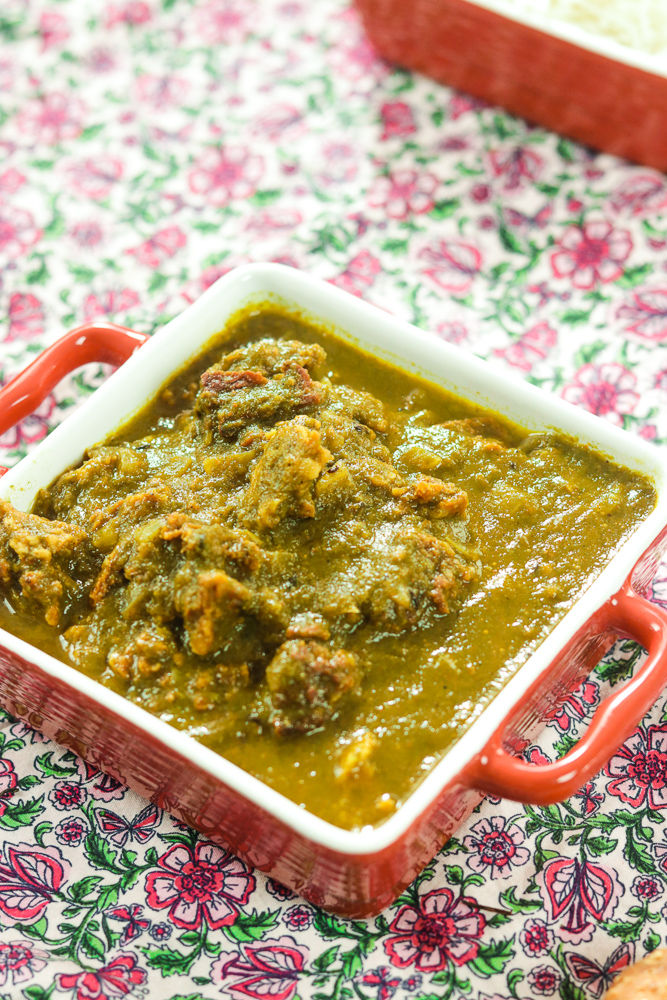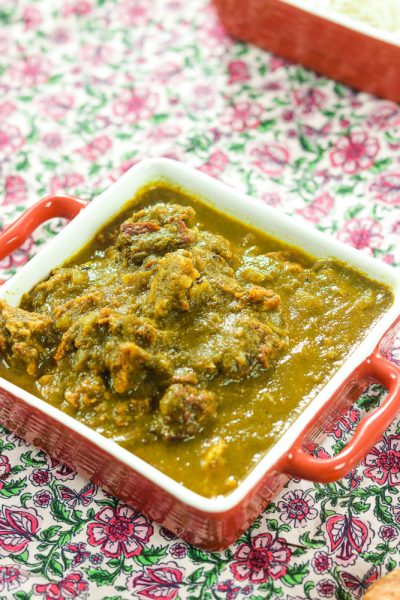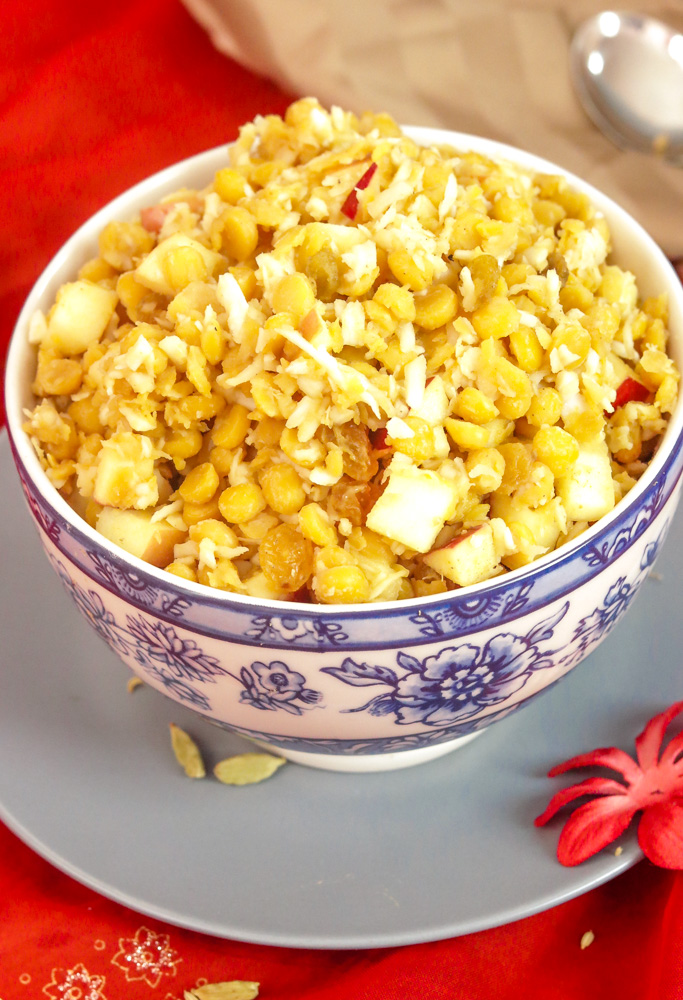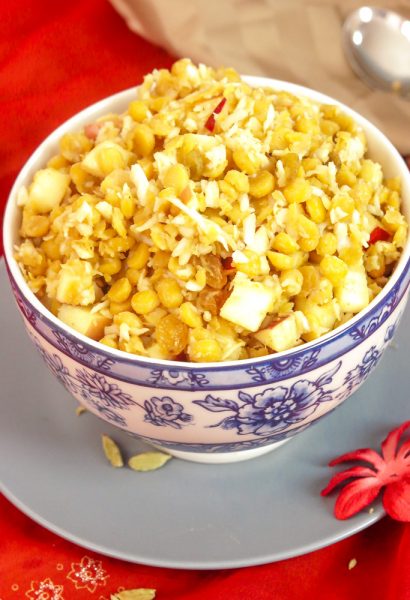 This delicious curry from the largest state of India is a great way to explore this regional cuisine. Yes it is one of the most unusual recipes ever, but I promise once you try it, you will become an instant fan.
Rajasthan Watermelon Curry
Watermelon Curry is one of the most delicious Rajasthani recipes – both sweet and spicy and a quick lunch breakfast recipe with Indian flatbread.
Ingredients
1/4

large watermelon seeded and peeled

2

tablespoons

oil

1

teaspoon

cumin seed

2

teaspoons

ginger garlic paste

1

teaspoon

red chile powder cayenne pepper

1/8

teaspoon

ground turmeric

1/2

teaspoon

ground coriander

1/2

teaspoon

sugar

3/4

teaspoon

salt

2

teaspoons

lemon juice
Instructions
Chop watermelon into large 1-inch cubes. Divide the watermelon in half and put one half in the blender. Puree.

Heat oil in a large skillet or wok.

Add cumin seed until they start to change color.

Add ginger garlic paste and stir fry for 30 seconds.

Add watermelon juice and start to cook on medium-high heat.

Add chili powder, turmeric, coriander. Stir to combine.

Bring to a boil. Reduce heat to a simmer and cook on medium low heat for 10 minutes.

Add chopped watermelon, sugar , salt and lemon juice.

Mix well.

Cook on low heat for 5 minutes, tossing well to coat the watermelon with the spices.
Notes
It is very important to only let the curry simmer for a few minutes after you add the diced watermelon to the curry. You don't want the chopped watermelon to take on a pulpy consistency, which will occur if it is overcooked.
For a more gourmet appearance, you can use a melon baller and make melon balls instead of just chopping the watermelon.
Nutrition
Calories:
153
kcal
|
Carbohydrates:
23
g
|
Protein:
2
g
|
Fat:
8
g
|
Saturated Fat:
1
g
|
Polyunsaturated Fat:
2
g
|
Monounsaturated Fat:
5
g
|
Trans Fat:
1
g
|
Sodium:
294
mg
|
Potassium:
337
mg
|
Fiber:
1
g
|
Sugar:
18
g
|
Vitamin A:
1810
IU
|
Vitamin C:
24
mg
|
Calcium:
25
mg
|
Iron:
1
mg
Did you try this recipe? Leave a comment below.
Please follow me on Instagram @chefmireille or tag me #chefmireille with your pics! I'd love to share them!
DO YOU YUM? SAVE IT BELOW!
Yum
Don't forget to visit the RECIPE INDEX with over 1000 recipes from around the world including lots of Vegetarian Recipes and Gluten Free Recipes!