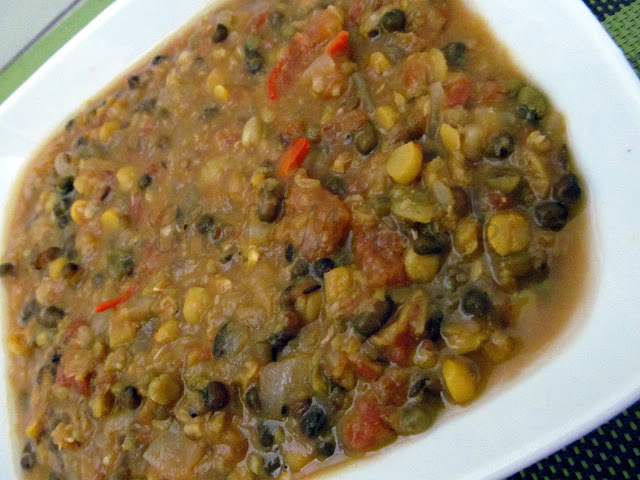 Blogging Marathon #20
Theme: Delicious Dals
For my last dal recipe this week, I am trying a traditional Mughlai cuisine dal. This is a protein rich dal that calls for 5 different legumes. This was a great dal to utilize my fully stocked pantry, with a few minor adjustments, due to personal preference & availability.
Panchratna Dal
(original recipe found
here
)
(click here for printable recipe)
Ingredients:
1/4 cup whole black lentils (urad dal)
1/4 cup yellow split peas (chana dal)
1/4 cup whole green lentils (green gram)
1/4 cup split red lentils (masoor dal)
1/4 cup split pigeon peas (toor dal)
1 onion, chopped
1 tablespoon ginger garlic paste
2 chiles, chopped
11 oz. can diced tomatoes (fresh tomatoes can be used, but I had run out so used the canned ones)
salt, to taste
1/2 teaspoon ground tumeric
1 teaspoon ground coriander
1 1/2 tablespoons oil or ghee
1 teaspoon cumin seed
1 pinch asoefetida
Combine all the lentils and peas and soak for 2 hours in cold water.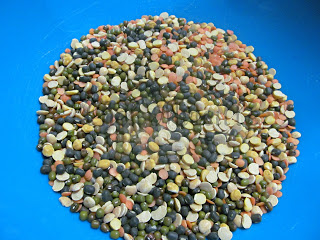 Drain and add 6 cups of fresh water and turmeric. Bring to a boil. Reduce to a simmer and cook for about 20 minutes.
In a large pot, heat oil. Add asoefetida and cumin seed. Fry for 1 minute, once cumin starts to toast a little.
Add ginger garlic paste and fry for 30 seconds. Add onion and saute until they soften.
Add tomatoes, coriander and chiles. Bring to a boil.
Add cooked lentils with all of the liquid. Using a potato masher, mash some of the dal until it is partially mashed. Bring to a boil again and add salt, to taste.
Reduce to a simmer and cook for 15 minutes.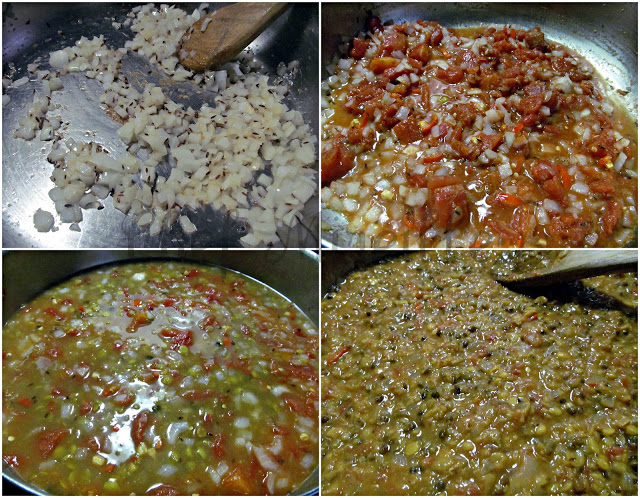 This is another delicious dal, that goes perfect with rice or paratha and does not need much else.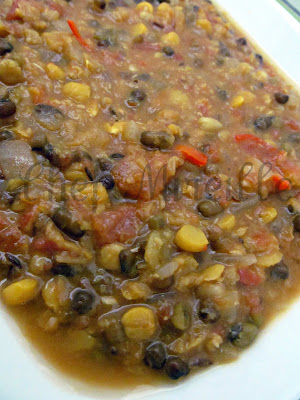 Check out the other Blogging Marathon participants
here
!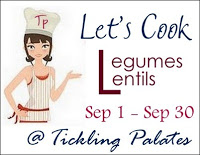 LIKE THIS RECIPE? LEAVE A COMMENT..I LIVE FOR THEM!
Chef Mireille
Like me on FACEBOOK!
Follow me on TWITTER!
Sign up for our updates!
Subscribe to get our latest content by email and get your FREE Pantry Cheat Sheet - Learn the basics to cook any International cuisine!