Last Updated on June 9, 2023 by Chef Mireille
Panchmel Dal, also known as Panchratna Dal is a traditional Rajasthani Dal made with 5 different lentils, however, there are many regional varieties throughout India.
By using a variety of lentils, you get a great complexity of flavor as some lentils have a more earthy taste like black lentils, while others have a sweeter taste like red lentils.
Panch is the Hindi word for 5, so the recipe name literally means 5 Lentil Mixed Dal.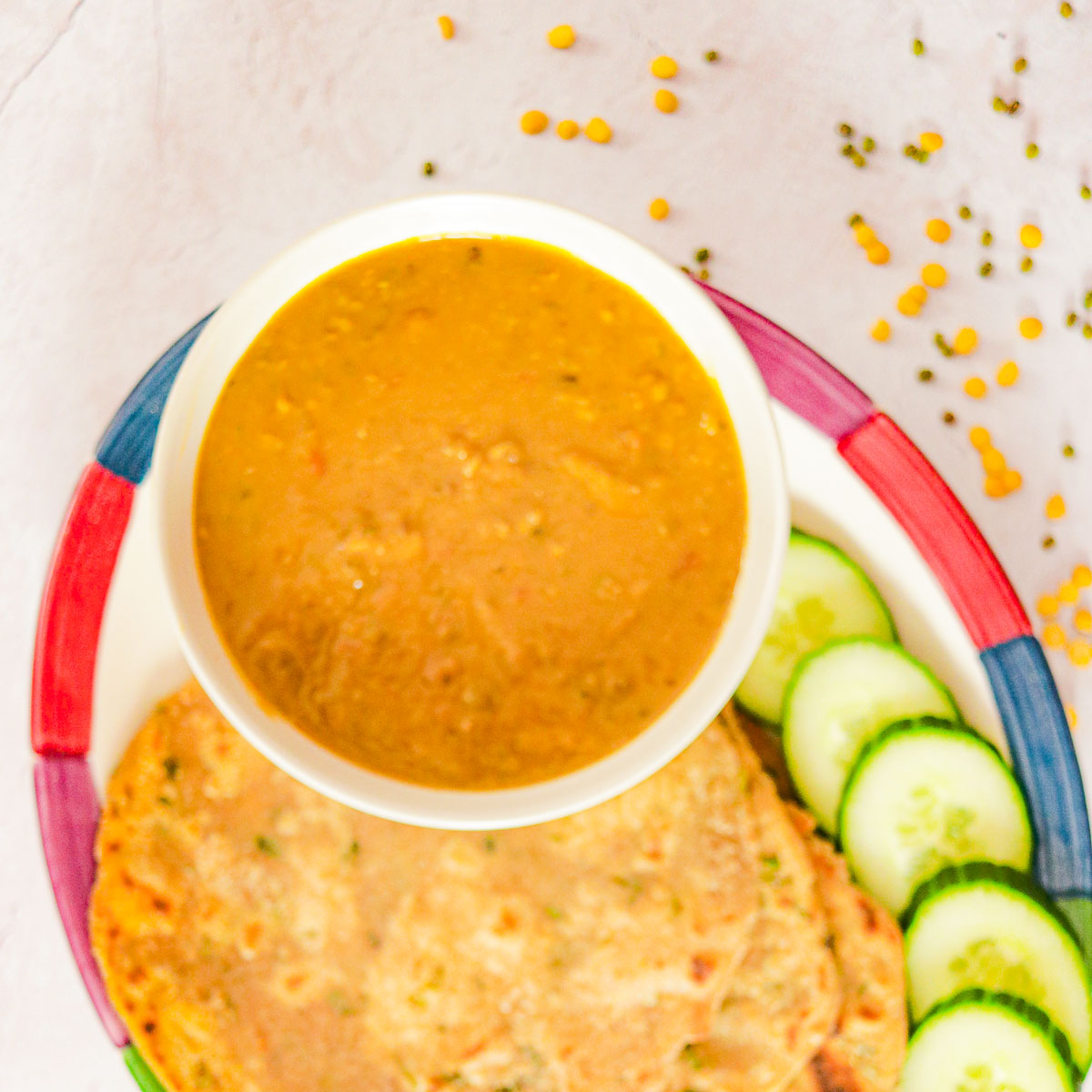 This post may include affiliate links.
What is dal?
If dal is new to you, it is basically a lentil stew that can be prepared in a variety of ways, utilizing a variety of lentils.
Since much of India's population are Vegetarians, dal is the main protein source for many people in India. Dal & Rice in the south or Dal & Roti (flatbread) in the north is a staple meal for much of India's population.
Some versions will use just one lentil and some will use a variety of lentils in one recipe, like this Panchratna Dal.
Are there variations to dal?
The variations to dal are endless. Each region of India has their own traditional dal recipes.
They will vary by the type of lentils used, the type of spices used and the type of flavorings used.
Some are thick and creamy with the addition of coconut milk or yogurt like Bengali Cholar Dal, or Jaisalmer Chana Dal while others can be very thin almost like a soup like this UP (Uttar Pradesh) Sookhi Tadka Dal (Garlic Dal).
Especially if you explore the 7 sisters region of northeast India, you will find some really unique dal flavorings like black sesame seeds.
In addition to Indian dal's, there are also variations in many countries that Indians emigrated to. These recipes are no longer considered Indian recipes, but are part of the national cuisine prepared by all.
This is especially prevalent in East African countries and some Caribbean islands and a few countries in South America (Guyana and Suriname).
Since I combine food, travel and culture on this website, let's learn a little about Rajasthan before we get to the recipe.
Basics of Rajasthani Cuisine
I am always intrigued by Rajasthani cuisine and culture as that is where it is believed my great grandfather originated from when he emigrated to Suriname.
The expansive Thar Desert is in the north Indian state of Rajasthan. Since Rajasthan is mostly desert, they have little access to potable water as well as fresh fruits and vegetables.
For this reason, Rajasthani cuisine is a largely grain based cuisine. They utilize corn, millet, sorghum, barley and buckwheat. In modern times, wheat has become more common.
Lots of dairy is used, especially ghee (clarified butter) and yogurt as natural coolants to the hot weather.
The use of tomatoes in their cuisine is a modern adaptation as traditionally, tomatoes would be hard to come by in the desert.
Even with these limited simple ingredients, Rajasthani cuisine is very flavorful with the adept use of spices, cooking methods, combining sweet, salty and sour flavors and utilizing dairy to create complex flavored dishes like Dal Baati Churma.
Rajasthan is also home to the Marwari people. Most Marwari's are also Jain, which practice an even more restrictive diet as they don't eat anything that may cause harm to animals or plants like root vegetables or honey.
Which lentils should I use to make Panchmel Dal (Panchratna Dal)?
The 5 dals generally used are:
toor dal/ toovar dal (split pigeon peas)
whole green gram/ green moong dal (green mung beans) – split green gram is sometimes used
masoor dal (red lentils)
chana dal (yellow split peas)
whole urad dal (black lentils) – split urad dal is sometimes used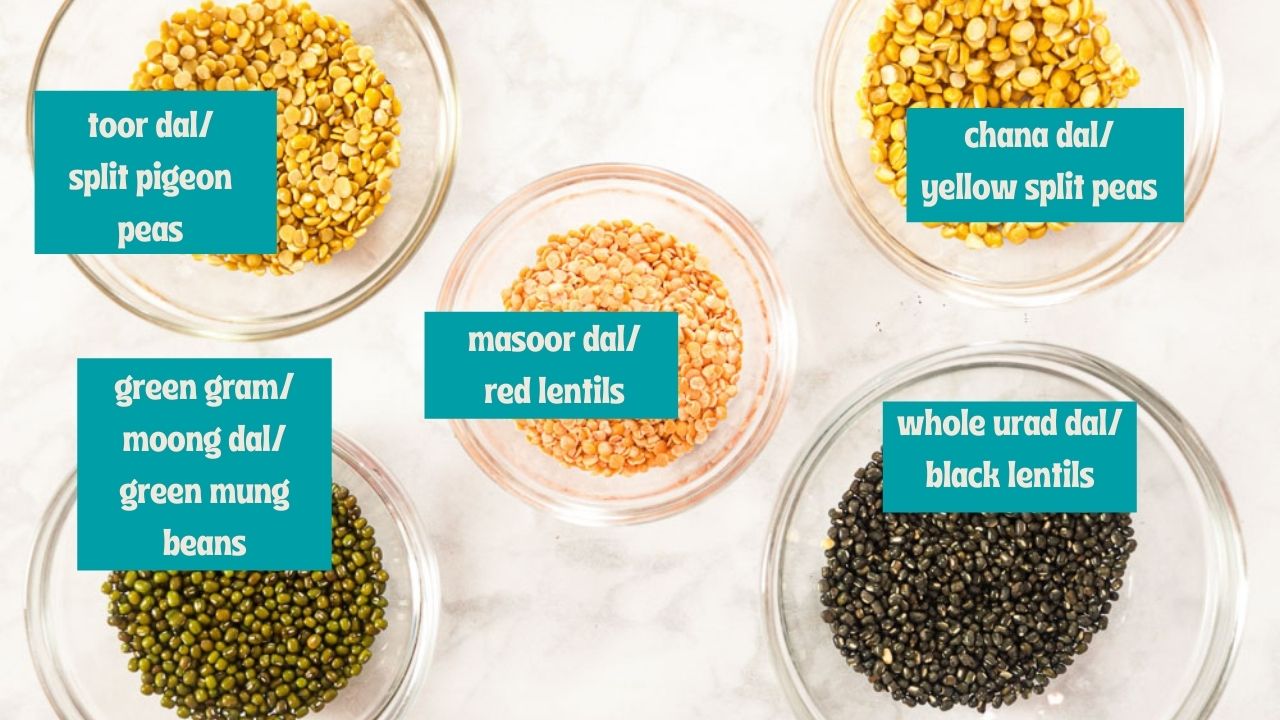 How to make Panchmel Dal
This dal is so easy!
Soak the lentils for 2 hours.
Boil the lentils.
Stir fry the flavorings.
Mash or puree half the dal (this is how you get the creamy consistency)
Mix the flavorings with the dal and simmer for a few more minutes.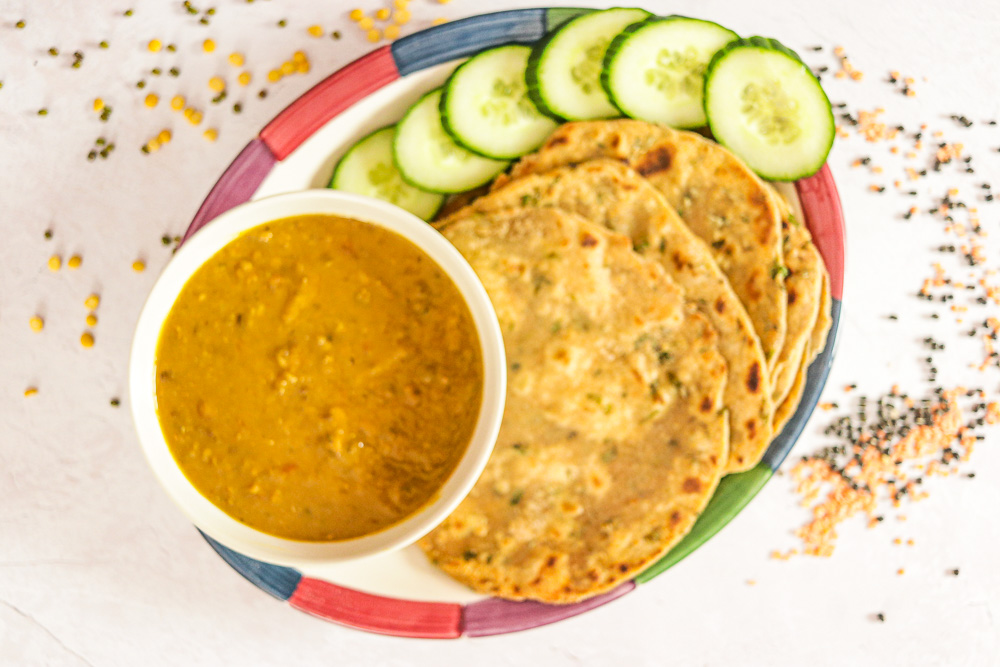 For a simple Vegetarian Indian Meal, pair your traditional Rajasthani Dal with Methi Roti (Fenugreek Flatbread) and sliced cucumbers.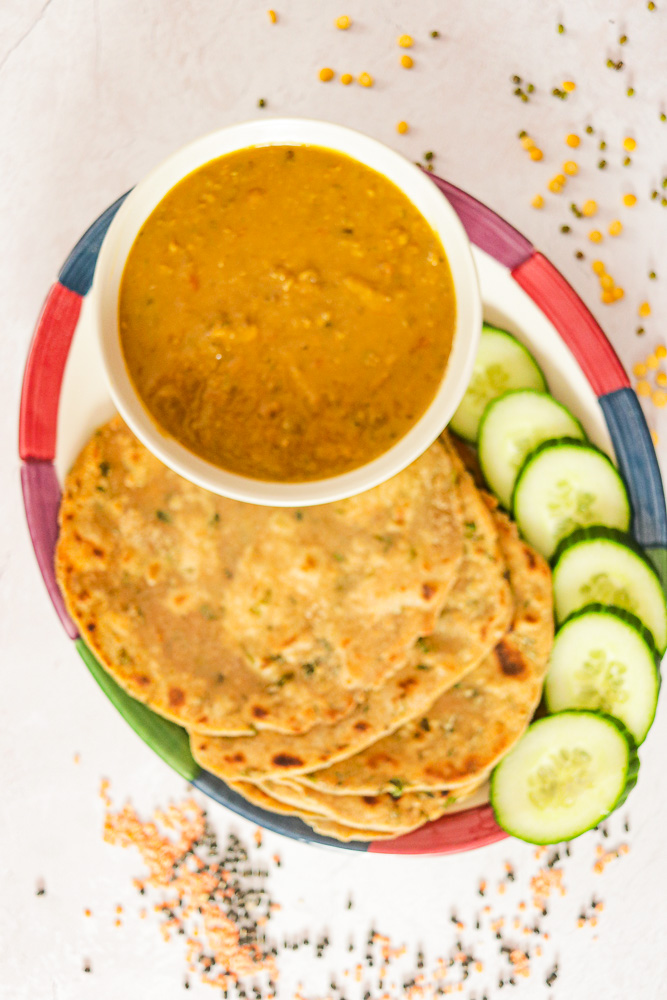 FAQ
Where can I get the lentils?
Any Indian supermarket like Patel Brothers will carry these lentils. You can order from their online store if you do not have a location near you. Middle Eastern markets and Asian markets may also carry varietal lentils.
Of course, you can always purchase them all from Amazon.
Do I have to presoak the lentils?
The outer shell of some beans have anti-nutrients which block digestion. Soaking the beans neutralizes these anti-nutrients, making all varieties of beans and lentils easily digestible.
What is asoefetida?
Asoefetida is a variety of sassafras or file powder, what is used here in America to thicken gumbo and soups.
As some Indian people do not eat onion or garlic if they practice a Satvic diet, asoefetida is meant to mimic the flavor of these. Asoefetida is used throughout Indian cuisine, whether or not onion and garlic is being used.
What is Panchmel Dal usually eaten with?
Most North Indian states eat more flatbread than rice, so any type of flatbread can be eaten with the dal like this Green Pea Paratha.
Rajasthani Panchmel Dal
Rajasthani Panchmel Dal is a 5 lentil dal preparation, also known as Panchratna Dal. It has a great complexity of flavor due to the variety of lentils used.
Ingredients
¼

cup

chana dal

¼

cup

toor dal

¼

cup

whole green lentils

¼

cup

whole black lentils

¼

cup

masoor dal

2

tablespoons

ghee

1

teaspoon

cumin seed

A pinch of asoefetida

1

tablespoon

ginger garlic paste

1

chopped onion

2

cups

chopped tomatoes

or canned diced tomatoes

2

chopped green chillies

1

teaspoon

ground coriander

½

teaspoon

ground turmeric

salt

to taste
Instructions
Soak lentils in enough water to cover for 2 hours.

Drain and combine in a saucepan with 6 cups water and turmeric.

Bring to a boil. Reduce to a simmer and cook for about 20 minutes, until lentils are cooked through.

In a large pot, heat ghee.

Add asoefetida and cumin seed.

Fry for 1 minute until cumin seed starts to tast a little.

Add ginger garlic paste and fry for 30 seconds.

Add onion and saute until softened.

Add tomatoes, coriander and chillies.

Cook for about 5 minutes, 1 minutes if using canned tomatoes.

Add cooked lentils with all of the cooking liquid.

Using a potato masher, mash the lentils until they are 50% mashed.

Add salt to taste and simmer for 10-15 minutes. The longer you cook, the thicker the dal will become. If you prefer thinner dal, simmer for less time.

Serve with rice or flatbread.
Notes
It is important to presoak the lentils to make them more easily digestible.
Split black lentils and split green gram can be used instead of the whole. if you prefer.
This recipe can be easily adapted and made in the Instant Pot.
Nutrition
Calories:
287
kcal
|
Carbohydrates:
40
g
|
Protein:
14
g
|
Fat:
9
g
|
Saturated Fat:
5
g
|
Cholesterol:
19
mg
|
Sodium:
185
mg
|
Potassium:
395
mg
|
Fiber:
15
g
|
Sugar:
5
g
|
Vitamin A:
153
IU
|
Vitamin C:
15
mg
|
Calcium:
98
mg
|
Iron:
5
mg
Did you try this recipe? Leave a comment below.
Please follow me on Instagram @chefmireille or tag me #chefmireille with your pics! I'd love to share them!
OTHER RAJASTHANI RECIPES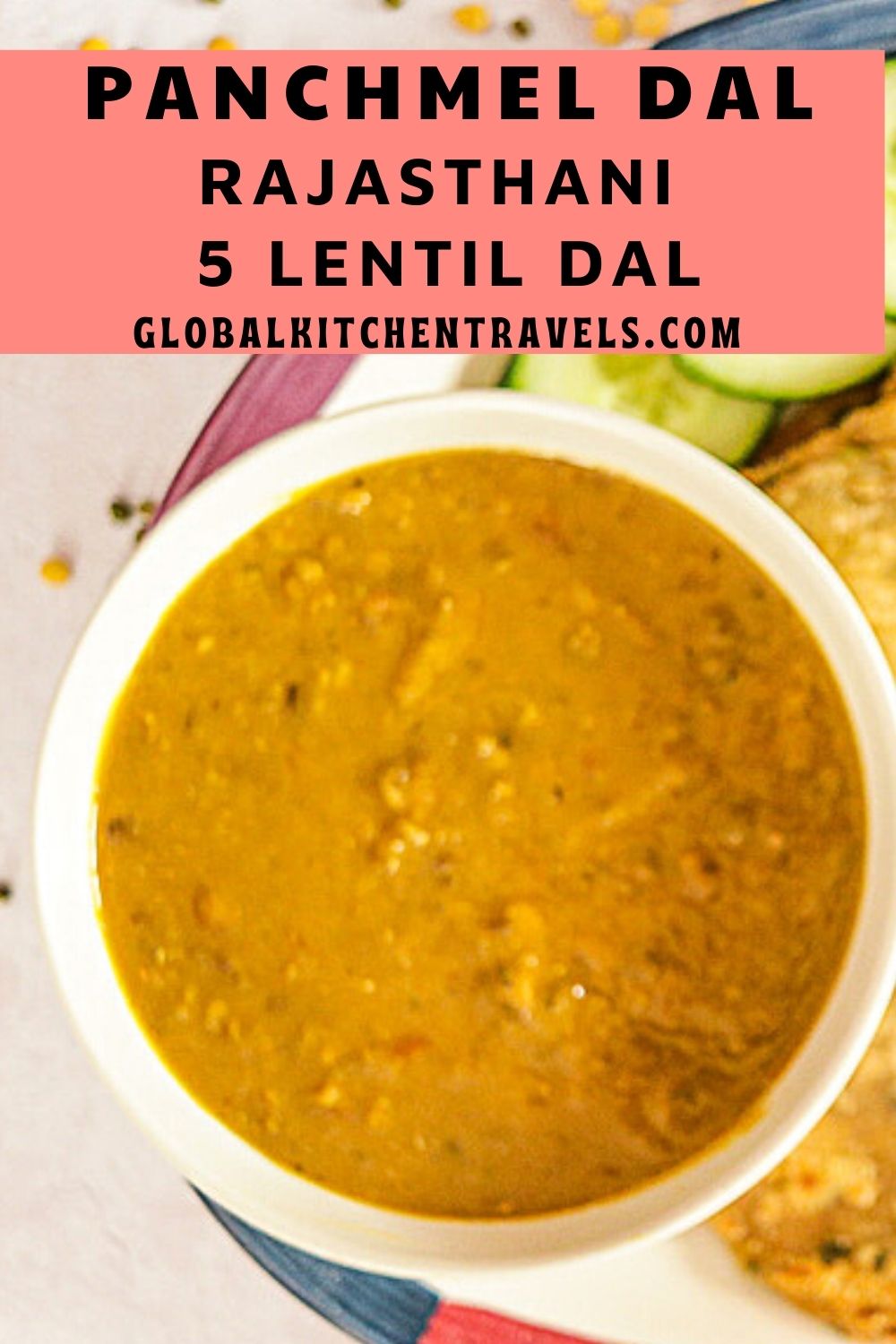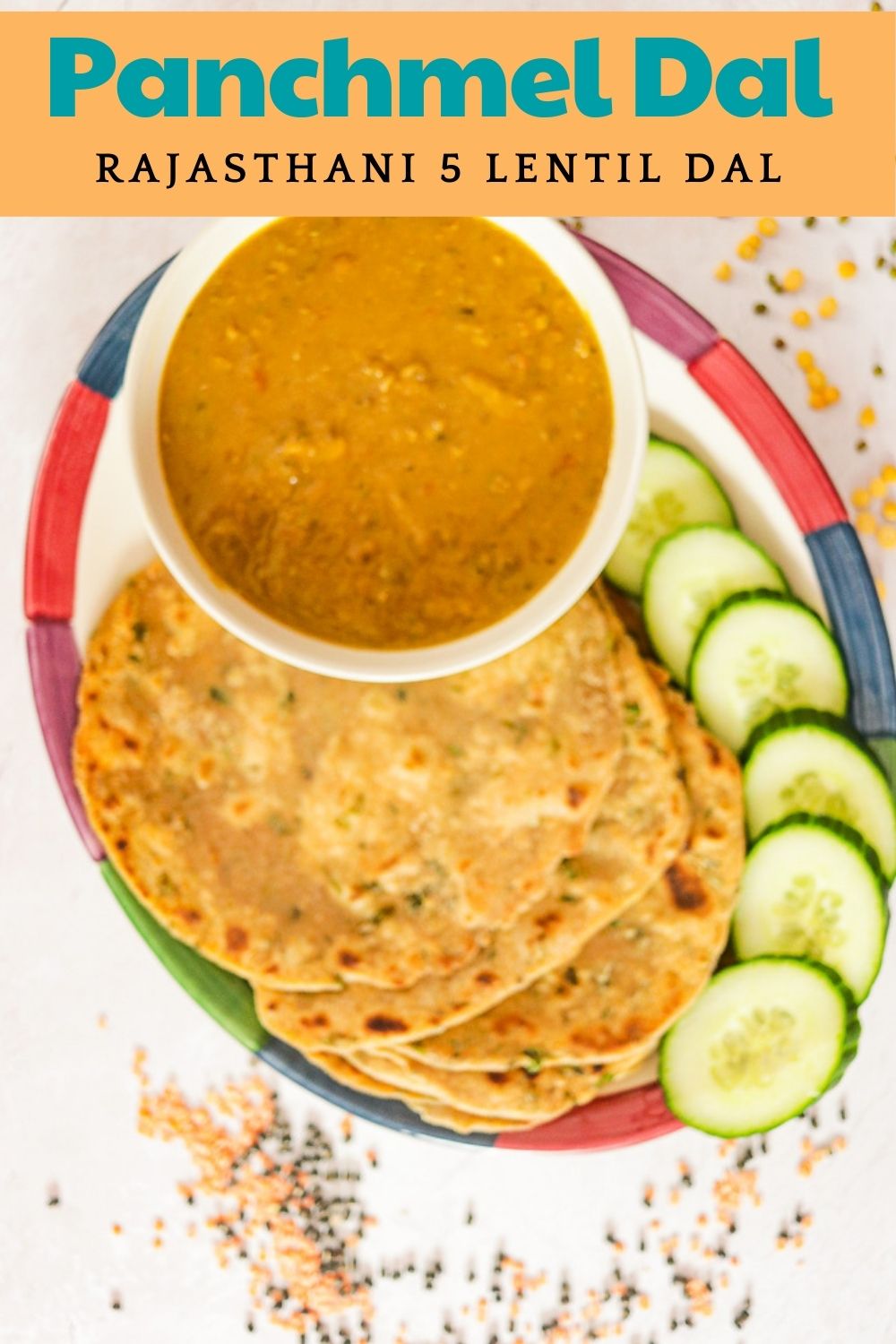 Don't forget to visit the RECIPE INDEX with over 1000 recipes from around the world including lots of Vegetarian Recipes and Gluten Free Recipes!