Last Updated on June 2, 2015 by Chef Mireille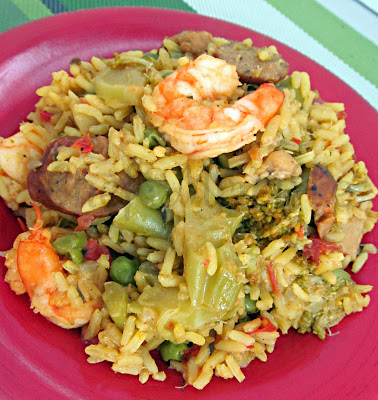 Almost every culture has some form of a one pot meal with rice, tomatoes and meats. In Ghana, it's called Joloff Rice. In Greece, it is called Manestra (although they substitute the rice with orzo). In New Orleans cuisine of the southern United States, we have Jambalaya and in Spain, we have Paella.
Paella is a traditional dish that was developed by the poor fisherman of Valencia, Spain and they would use whatever leftover seafood they had – snails, clams, mussels, etc. along with saffron which gives paella it's unique flavor. In modern times, paella can include any combination of chicken, meat and seafood. Here is my version using chicken, sausage and shrimp.
I made this for this month's Daring Cooks Challenge – Our Daring Cooks' September 2012 hostess was Inma of la Galletika. Inma brought us a taste of Spain and challenged us to make our very own delicious Paella!
Paella
(click here for printable recipe)
Ingredients:
1 tablespoon oil
1 onion, chopped
2 cloves garlic, finely chopped
1 red bell pepper, chopped
1 bunch broccoli, chopped
1 1/2 cups frozen green peas, defrosted
1 1/4 lb. boneless chicken thighs, cut into bite size pieces
3 sausage links, sliced, fully cooked
2 lbs, shrimp, shelled
3 tomatoes, chopped
3 cups rice
4 cups water
1 tablespoon paprika
2 teaspoons dried oregano
1/2 teaspoon saffron threads
salt, to taste
Heat oil. Add onion, garlic and bell pepper. Cook for a few minutes until vegetables are softened. Add chicken and cook for 5 minutes, stirring frequently. Add sausage and cook for another 5 minutes.
Add tomatoes, broccoli, green peas, water, saffron, bay leaf, oregano, paprika and salt. Bring to a boil.
Add rice. Reduce to a simmer and cook for 20 minutes.
Add shrimp and stir to combine.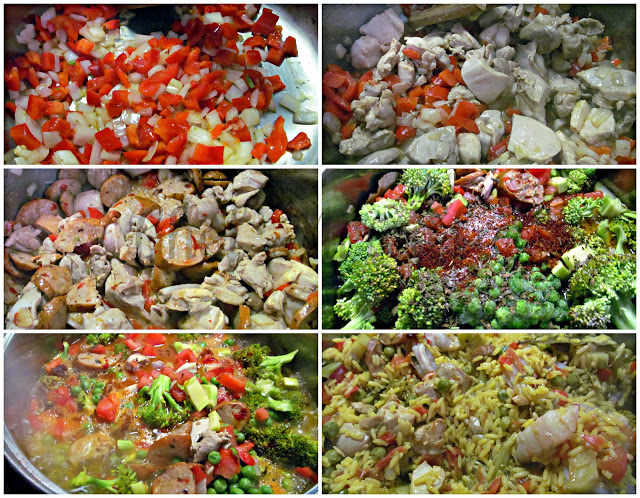 Cover and cook for 5 minutes.
This is such a delicious one pot meal!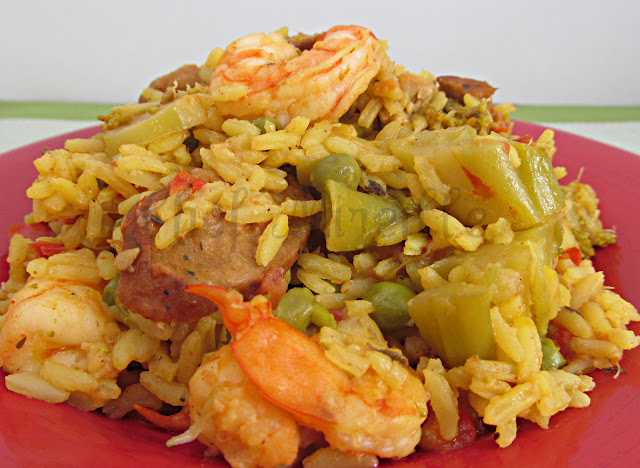 …linking to My Spicy Kitchen's Seafood Event & Carole's Food on Friday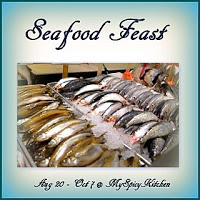 LIKE THIS RECIPE? LEAVE A COMMENT..I LIVE FOR THEM!
Chef Mireille
Like me on FACEBOOK!
Follow me on TWITTER!