Last Updated on December 14, 2020 by Chef Mireille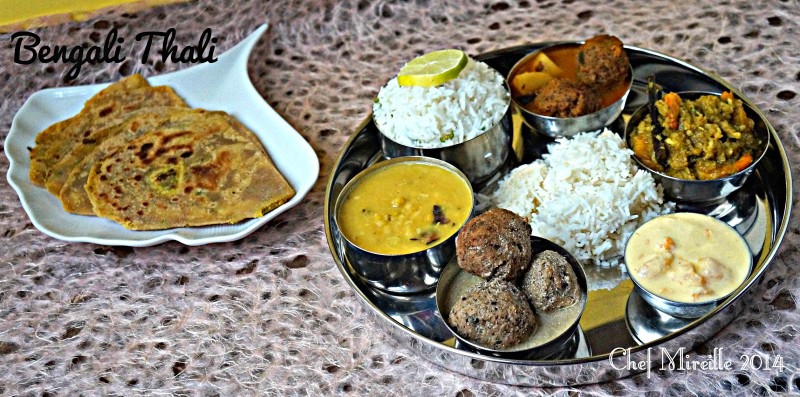 Well the 30 day Indian Food Odyssey is finally over. Although it was such a valuable experience, I am so glad it is over. It was a lot of research and a lot of work, but I learned so much on both the cuisine and the history of this diverse country. I am ending it with a bang with this full Bengali thali….
The state of West Bengal was originally the larger state of Bengal, of which part of it is present day Bangladesh. For this reason, West Bengali and Bangladeshi foods are very similar except for the beef dishes popular in Muslim majority Bangladesh.
Although not beef eaters, West Bengalis eat lamb and in recent times chicken has become popular, but they love nothing more than fish. Maache Bhate Bangali is a popular Bengali expression which translates to "fish and rice make a Bengali". Fish is generally included in their daily diet. In addition to the large variety of fish dishes, Bengalis are also especially known for their sweets, which are heavily dairy based like the famous rasgolla.
Kolkata, formerly Calcutta, is known for its street food. The world famous kathi rolls which I even get off of food trucks here in NY, originated in Kolkata. Veg Chow demonstrates the popularity of Indo-Chinese food. Some Maharashtrian foods like Pav Bhaji are also very popular in Kolkata.
Bengali is the most meat loving southern Indian state. With its coastal location in southeastern India, with dozens of fish varieties in their waters, its no wonder that this is their favorite protein. Even Bengali Brahmins eat meat, unlike the Brahmins of other Indian states. This does not mean Bengali Vegetarian cuisine is non existent. Traditionally, when women were widowed they were not allowed to eat meat, eggs or any foods that were believed to inspire feelings of passion like onion or garlic. They were also not allowed to leave the home, so the kitchen was one place where they could demonstrate their talents. This inspired them to create some delicious Vegetarian meals like the delicious Borar Jhol below (although this version does have onion).
Bengalis rarely use masala spice pastes, which is common in other Indian cuisines. Spices are most often left whole and fried in mustard oil. The unique flavor of Bengali cuisine is balanced with fiery chiles, bay leaves, nigella seed and smoky sweet spices like cinnamon, cloves and cardamom. Coconut milk and coconut products are also used abundantly, as in the Cholar Dal below.
I've already made a few Bengali dishes including Dhokar Dalna, Kalonji Dal, Sorso Bhatte Maach (Bengali Fish in Mustard Gravy) and Lau Bori (Lauki (Bottle Gourd) Curry). Here are some more dishes so you can make your own Bengali feast at home.
Bengali Thali includes:
Borar Jhol (lentil dumplings in tomato gravy)
Borar Jhal (lentil dumplings in mustard gravy)
Chingri Kalia (Bengali shrimp curry)
Basmati Rice
Cholar Dal (coconut milk dal)
Panta Bhat (Bengali rice salad)
Achari Paratha (stuffed mango pickle flatbread)
Orange Kheer (clementine milk pudding)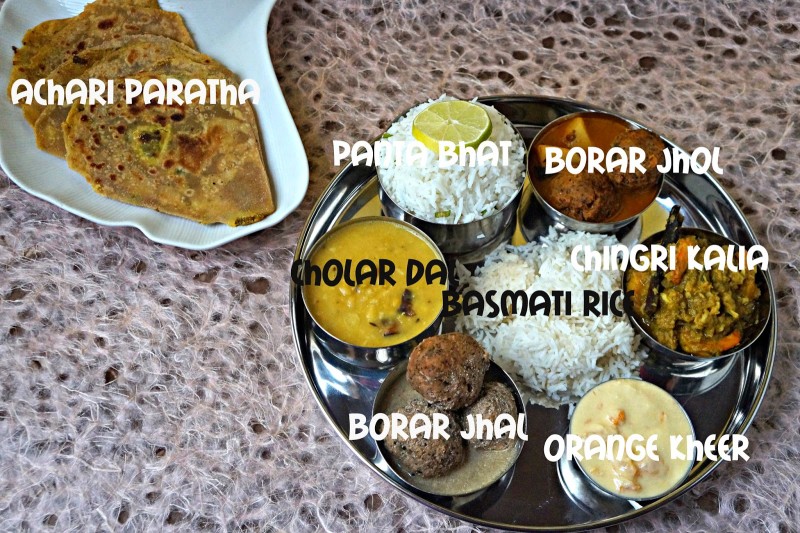 Borar Jhol and Borar Jhal are inseparable twins of Bengal. One of these invariably make their appearance at almost any Bengali meal. One is lentil dumplings in a light tomato based gravy and the other uses the same lentil dumplings in a mustard gravy. The same dumpling (borar) recipe below can be used for both recipes.
Borar Jhol
Yield: 45 dumplings
Borar Ingredients:
1 1/2 cups whole black lentils, soaked for 1/2 hour
1 1/2 cup yellow split peas, soaked for 1/2 hour
1″ piece of ginger, chopped
5 small green chiles
3/4 cup water
1 1/2 teaspoon roasted cumin powder
1 small onion, finely chopped
2 small green chile, finely chopped
1/4 cup cilantro leaves, finely chopped
mustard oil, for frying
Jhol Ingredients:
Serves 6
1 tablespoon oil
1 cinnamon stick
1 bay leaf
4 green cardamom pods
1/4 teaspoon cumin seed
1 potato, peeled and chopped
1/4 teaspoon ground turmeric
3 plum tomatoes
1 tablespoon ginger, grated
3 chiles, finely chopped
1 teaspoon salt
1/2 teaspoon sugar
1 teaspoon ground cumin powder
1/2 teaspoon red chile powder (cayenne pepper)
12 borars (from above)
In a blender or food processor, grind lentils, split peas, ginger, chiles and water to a fine paste.
Add cumin powder, onion, chile and cilantro and stir well to combine.
Heat enough oil for deep frying.
Drop the batter, one tablespoon at a time, into the hot oil and fry until golden brown on all sides.
Remove to paper towels to absorb excess oil.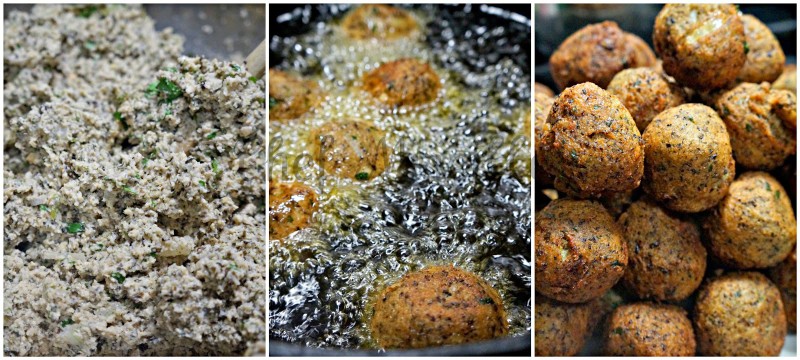 Using a blender or food processor, puree the tomatoes.
Heat oil in a large skillet or wok. Add cinnamon stick, bay leaf, cardamom and cumin seed. Fry for 1 minute until the cumin changes color.
Add potato and turmeric. Stir fry for 2 minutes.
Add the tomato puree, ginger, chiles and salt. Cook for about 5 minutes, until you see the oil separating.
Add chile and cumin powder with 1 tablespoon of water. Fry for another 2 minutes.
Add 1 cup of water, sugar and additional salt, to taste.
Cover and cook on low heat, until the potatoes are cooked through, about 5 minutes.
Add another 1 1/2 cups water and fried borar.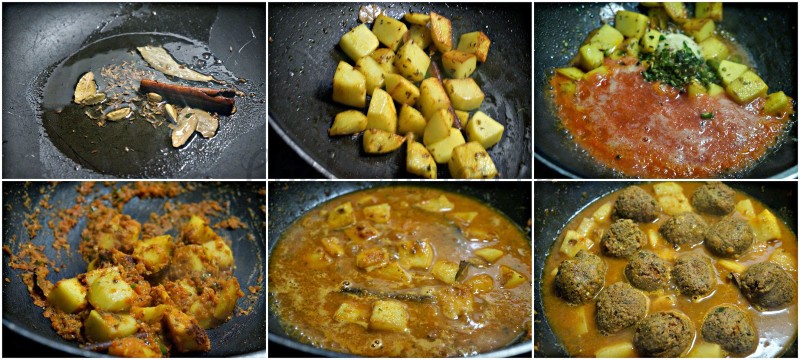 Cook until the borar are heated through, about 5 minutes.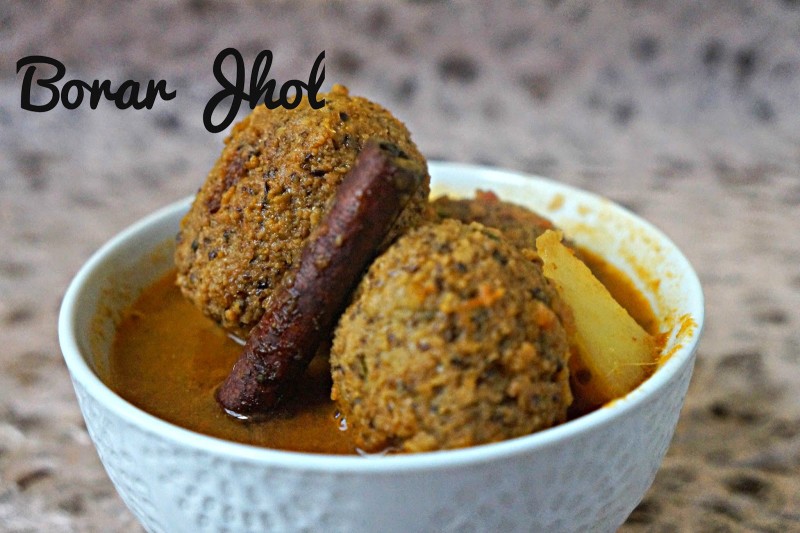 Borar Jhal
Serves 6
Ingredients:
20 dumplings (from borar recipe above)
2 tablespoons mustard oil
1 teaspoon black onion seed (nigella seed/kalonji)
1 tablespoon brown mustard seeds
1 tablespoon yellow mustard seeds
3 cups water
2 green chiles, finely chopped
1 teaspoon sugar
salt, to taste
Grind mustard seeds. Combine with chiles, sugar, salt and water to form a paste.
Heat oil. Add onion seed. Once they become fragrant, add mustard paste. Bring to a boil. Reduce to a simmer and cook for 10 minutes.
Add borar and stir to combine.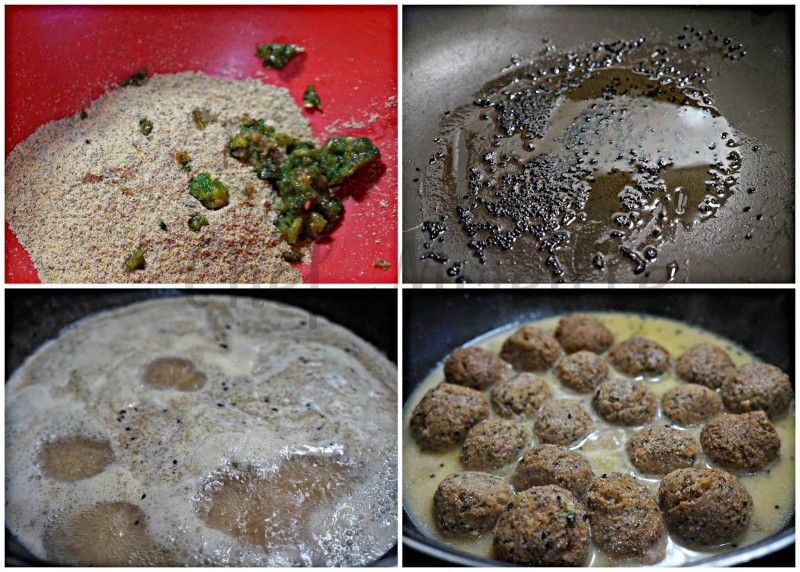 Cook for about 2-3 minutes until they are heated through and absorb the sauce.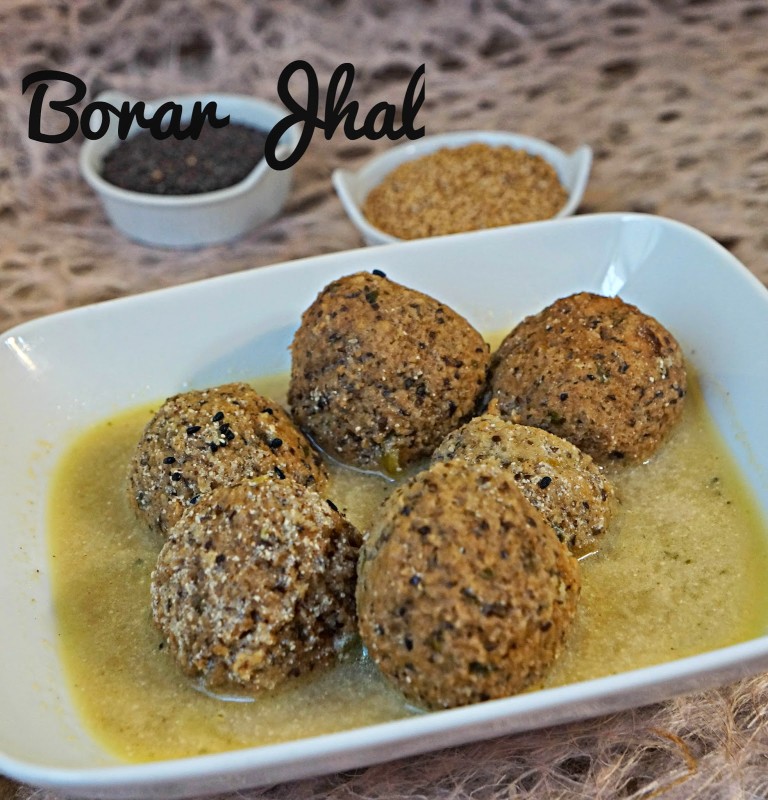 Notes:
After making both the jhol and the jhal, you will still have 13 extra borars. You can serve these with chutney as an appetizer.
This type of curry is known as a kalia. Kalia is a popular method of food preparation for seafood and vegetables in West Bengal where the items are cooked with an onion-ginger paste. When cooked with potatoes and without coconut milk, this shrimp curry is then called Chingri Macher Kalia.
Chingri Malai Kalia

(adapted from Jayanti Bhattacharyya via uktv)
Serves 4
Ingredients:
15 large shrimp (about 8 oz.)
1 teaspoon ground turmeric
1 teaspoon salt
3 tablespoons ghee
2 tablespoons mustard oil
2 green cardamom
4 bay leaves (2 if using Indian bay leaves)
2 cinnamon sticks
4 cloves
2 dried red chiles
2 small onions, grated
1″piece ginger, grated
2 teaspoons sugar
1 1/2 teaspoons red chile powder (cayenne pepper)
2 teaspoons ground cumin
1/3 cup coconut milk
1/4 cup frozen grated coconut, defrosted (or freshly grated coconut
1 tablespoon water
2 tablespoons cilantro, finely chopped
1/8 teaspoon garam masala
In a small bowl, toss the shrimp with 1/2 the turmeric and 1/2 the salt. Leave for 10 minutes.
In a large skillet or a wok, heat ghee until it starts to brown. Remove to a bowl.
In the same skillet/wok, heat the mustard oil. Add shrimp and cook until they start to change color, but not cooked through. Remove to a plate.
Add the browned ghee to the pan. When it is hot, add cardamom, bay leaves, cinnamon, cloves and dried chiles. Fry for 1 minute until they become fragrant.
Add onions, ginger and sugar. (you can also make a pulp by using a food processor)
Saute until the onions become translucent. Add cumin, chile powder, remaining turmeric and salt.
Add coconut milk, water and shrimp. Stir and simmer for 5 minutes.
Add cilantro and garam masala. Stir to combine.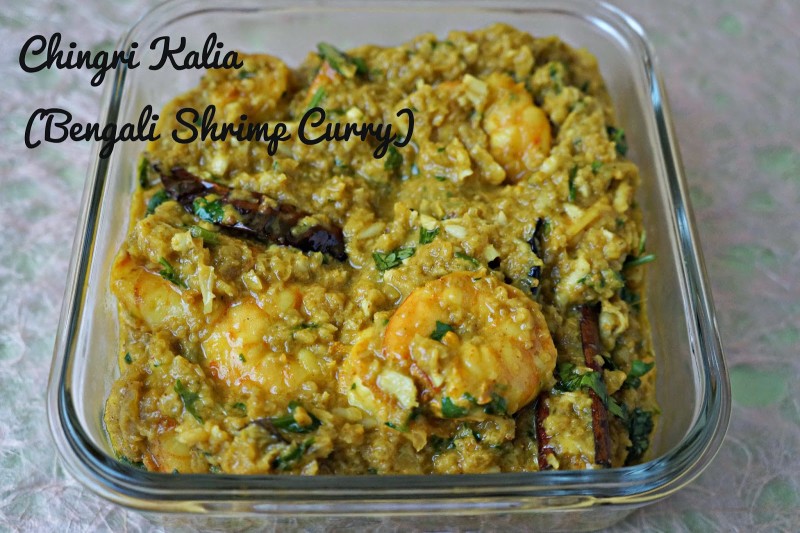 In West Bengal, this dal is traditionally served as a snack or breakfast with poori or kachori, Indian deep fried breads. However, I have presented it here as part of a complete Bengali thali.
Cholar Dal
Serves 6
Ingredients:
2 1/2 cups yellow split peas (channa dal), soaked for a 3-4 hours or overnight
1/2 teaspoon ground turmeric
3 tablespoons ghee
3 green cardamom, shelled
1 cinnamon stick
1/2 teaspoon cumin seed
1 large pinch asoefetida
3 dried red chile
2 bay leaves (1 if using Indian bay leaf)
1 tablespoon ginger paste
2 tablespoons frozen grated coconut, defrosted (or freshly grated coconut)
1 teaspoon oil
4 tablespoons sliced coconut
3 teaspoons sugar
salt, to taste
2 tablespoons raisins
Cook the split peas in a pot of boiling water with the turmeric and salt, until tender.
Heat oil in a small skillet. Add sliced coconut and fry until golden.
Heat ghee in a large pot or skillet large enough to fit the cooked lentils.
Add the seeds from the green cardamom and cinnamon. After 10 seconds, add the asoefetida, cumin seed, dried chiles and bay leaves. Fry for a minute, until the spices become fragrant.
Add ginger, cooked lentils, salt and sugar. Simmer for 10 minutes.
Add raisins and fried coconut. Cook for another 2 minutes.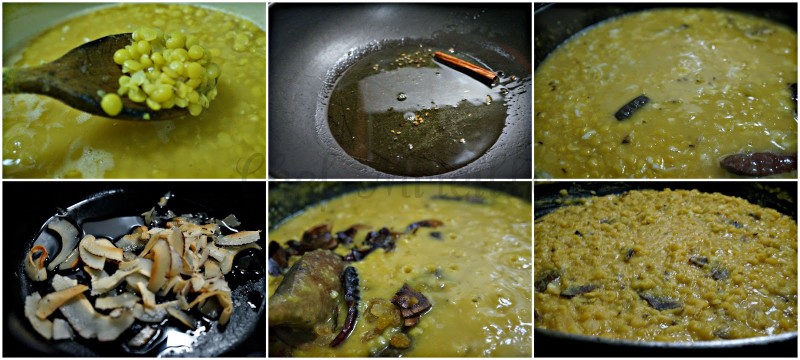 This is not meant to be a soupy dal, but you can add more water if you desire.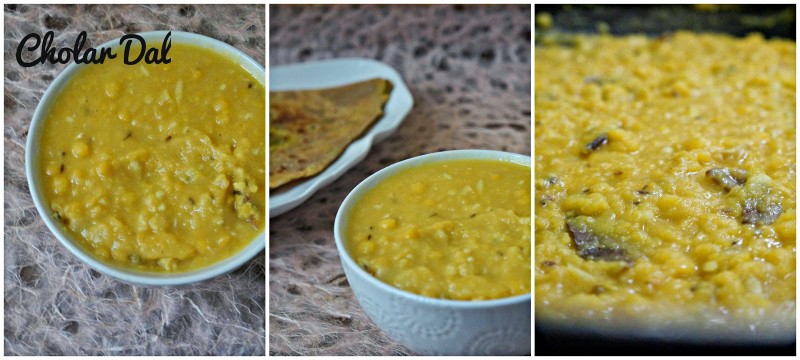 Bhat is the name for rice in South India. This rice preparation is usually made in summer to cool you off during hot Bengali summers. This is also usually made at the time of the Bengali New Year. There are also variations to this rice preparation in Orissa, Chhattisgarh and Assam.
Panta Bhat
Serves 4
Ingredients:
2 cups cooked cold rice
juice of 1/2 lime
3 green chiles, finely chopped
salt, to taste
Place rice in a bowl with enough water to cover. Cover and leave out overnight. Do not place in refrigerator.
Drain and squeeze out excess water. Add lime, chile and salt. Stir to combine.

Eaten at room temperature, this is really more of a simple rice salad to be enjoyed during hot summer days.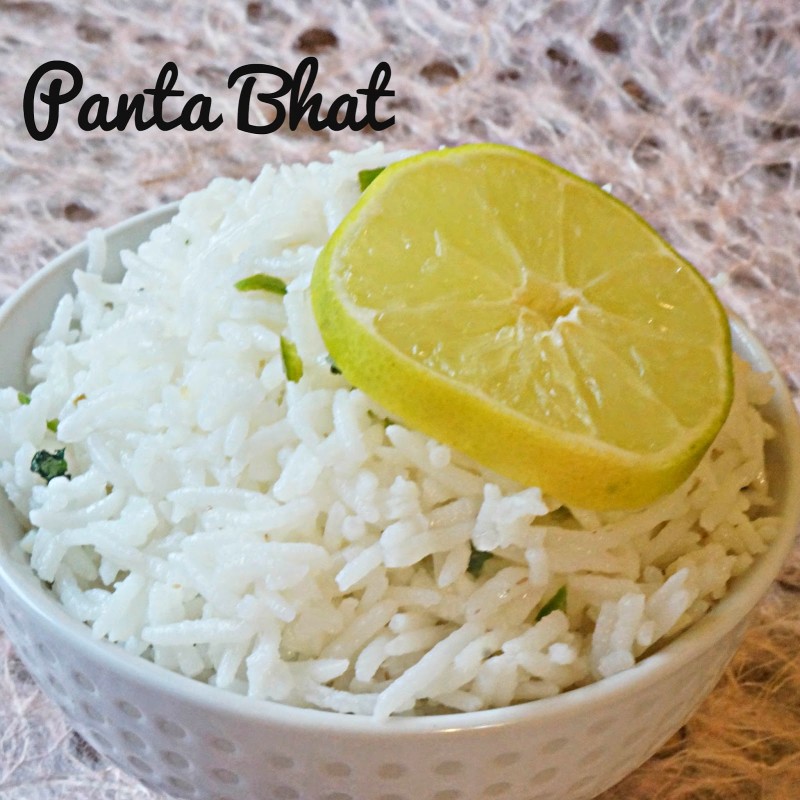 Achari Paratha
Yield: 10 parathas
Ingredients:
2 cups chappati flour
1/2 teaspoon salt
1/2 – 3/4 cup warm water
2 tablespoons ghee
1/2 cup mango pickle (I used store bought National brand)
extra ghee, for brushing
In a large bowl, combine flour, salt and ghee. Rub the ghee into the flours with your fingers.
Add the water a little at a time, until you have a soft dough. Cover and leave it to rest for 15 minutes.
Divide into 8 balls.
Heat a tawa/griddle/skillet.
On a lightly floured board, roll into a circle about 5″ in diameter. Spread a little mango pickle on half of the circle. Fold the circle over to form a half circle and then fold over again to form a triangle.
Roll out again to a triangle about 5″.
Place on the griddle. When air bubbles start to appear, brush the top with ghee and flip over. Brush the top side now with ghee and cook another 1-2 minutes until the bottom side is browned.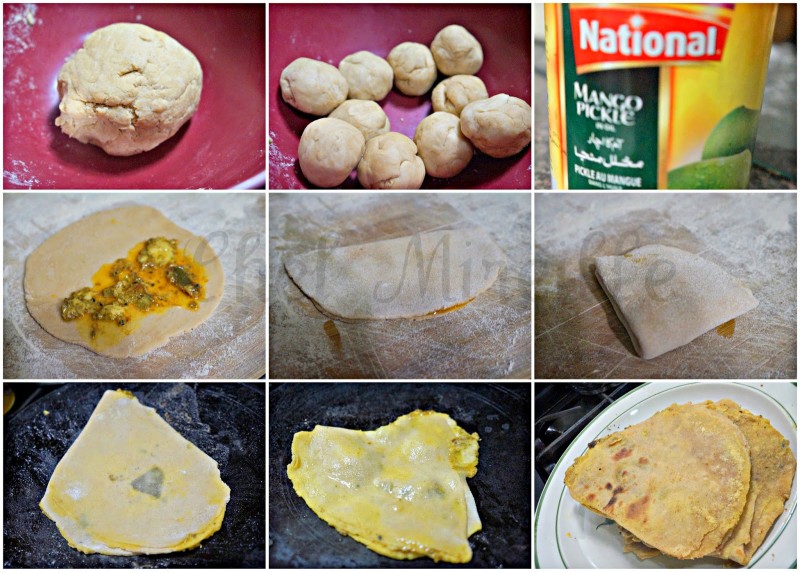 Repeat for all the parathas.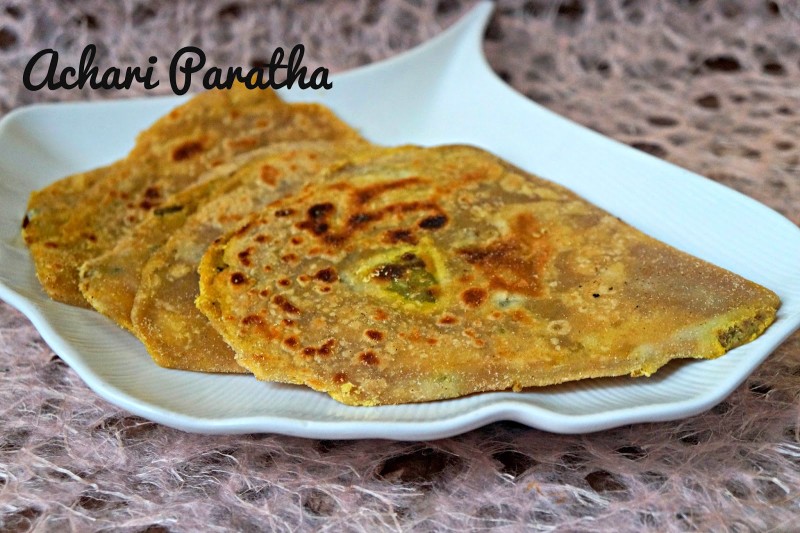 These were so delicious and great on their own for breakfast – no accompaniment needed!
Although kheer (milk based puddings) are popular all over India made using a variety of fruits, vegetables and grains, orange is not a popular flavor and is unique to West Bengal.
Serves 8
Ingredients:
8 clementines/mandarins, peeled
4 1/4 cups milk
1/2 cup sugar
1 can sweetened condensed milk.
1/8 teaspoon ground cardamom (optional)
a pinch of saffron (optional)
Remove the clementine segments from the membranes and remove all the white threads.
In a saucepan, bring milk to a boil on low heat. Add sugar and condensed milk. Add cardamom and saffron. Continue to cook, stirring frequently, until reduced by 1/4, about 1/2 hour.
Refrigerate for at least 2 hours, until it has chilled completely. Add clementine segments and stir to combine.
Refrigerate for another 4 hours.
Serve chilled.
Notes:
Since the small sweet oranges available in India aren't available here, clementines/mandarins are the best substitute, according to Bong Mom. However, removing the membranes are a tedious task. When I make again, I would use Navel oranges, which are very sweet but also easy to supreme.
I found it a little too sweet and when I make it again, I would reduce the sugar to 1/4 cup.
Enjoy your Bengali feast!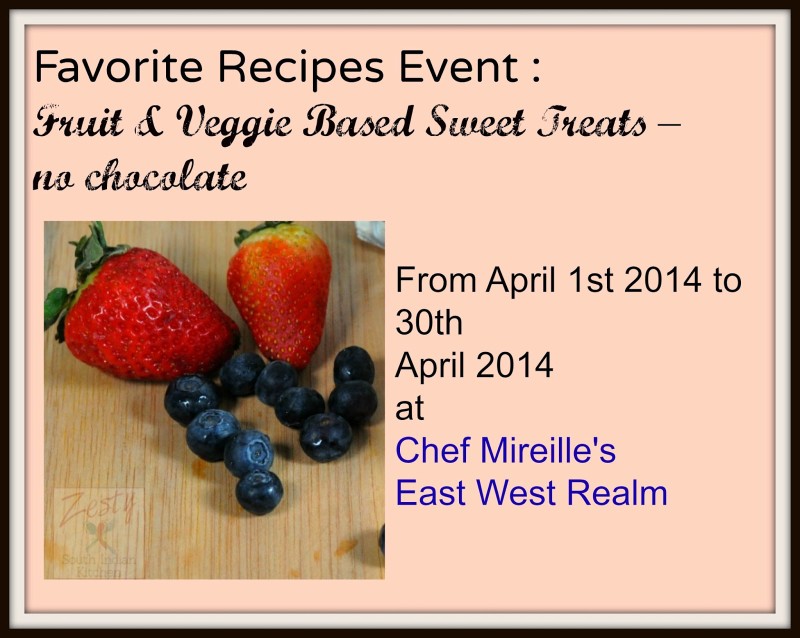 …linking to
Favorite Recipes
hosted by
me
Check out the Blogging Marathon page for the other Blogging Marathoners doing BM# 39