Last Updated on May 20, 2020 by Chef Mireille
Palak Mangodi – Sun Dried Lentils are a great way to add extra protein to Vegetarian meals. Mangodi, aka wadi, comes in different forms and are very versatile.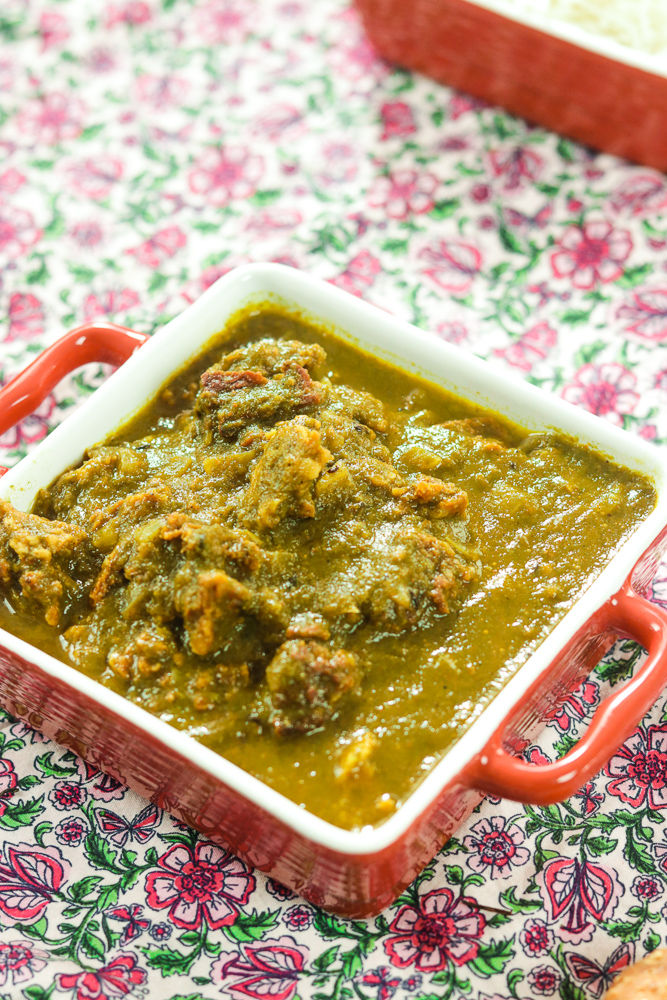 This post may include affiliate links.
Today we are going exploring into the cuisine of the princely North Indian state of Rajasthan.
Let's go over what you are going to learn about today!
Rajasthan
Rajasthan will always be special to me because this is the state we believe my great grandfather came from when he emigrated from India to Suriname where my grandfather and many of my mother's 25 siblings were born. One day, I would love to visit and research my family and meet some Indian relatives that I am sure I still have there. Until then, the only way I have of connecting to my Rajasthani roots are by experimenting with the cuisine.
RELATED: FIVE PLACES TO SEE IN JAISALMER
Rajasthan, located in Northwest India, bordered by Pakistan and other Indian states, is India's largest state with a rich history. Many of India's ancient princely states are located here, which gives Rajasthan its name "Land of the Kings".There are many ancient palaces located within this state.
Jaipur, its capital, is known as the pink city because many of the buildings are made from pink and red sandstone, including the Hawa Mahal Palace. Known as the Palace of Winds, it is part of the City Palace. It has a unique beehive design on the windows so that the royal women were able to see outside the palace, without being seen.
Hindu is the majority religion in Rajasthan, with small minorities representing Muslim, Sikh, Jain and Christians. Most Rajasthiani's speak Rajasthani, Punjabi, Hindi and/or Marwari.
Rajasthan is known for its folk dance, music and vibrant colors. Unlike the sari's and salwars worn throughout India, a long skirt and blouse combination known as a lahenga chori is most often work in Rajasthan and a large shawl used to cover their heads for both modesty as well as protecting them from the harsh desert sun.
There is so much more I can talk about the culture of Rajasthan, but none of you would have the patience to read it when you are really dying to get to the delicious recipe, so let's move on to the food…
Cuisine of Rajasthan
Rajasthan is home to the expansive Thar Dessert. Farming is a major occupation in Rajasthan and many grains are utilized like corn, millet, sorghum and buckwheat. One of the specialties of Rajashtan is the famous Dal Baati Churma, which is an explosion of flavors to the taste buds. Let's explore more into their delectable delicacies.
The first time I went on a search for mangodi – it was a mission. Going to several Indian markets in Jackson Heights, the largest Indian enclave in the NYC area, most of the staff looked at me with blank expressions when I asked. I think part of that was a language problem though.
Eventually, I found them. Now (2020) they are much easier to find. Most Indian supermarkets I walk into sell them, although they might not sell all of the varieties.
Mangodi Varieties
There are different varieties of Mangodi, aka wadi. The three varieties I find here in Indian markets are the following.
Types of Wadi
Dal Wadi (yellow mung beans)
Chana Wadi (chickpeas)
Amritsari/ Punjabi Wadi
When I made this Palak Mangodi – Sun Dried Lentils in Spinach Curry the first time, I used Dal Wadi. However, upon further research, I learned that Amritsari aka Punjabi Wadi is more popular in Punjab and Rajasthan.
These are heavily spiced and are much more flavorful than the plain chana dal or moong dal wadi. Once I was able to locate these, I knew the recipe had to be done again with this more flavorful option.
Before we get to today's delicious recipe, here are some other Rajasthani delicacies you might want to try for a complete Rajashtani meal!
Rajasthani Recipes
Palak Mangodi is a delicious way to add extra protein to Vegetarian meals.
This dish is perfect with some rice or paratha (Indian flatbread).
How to Make Palak Mangodi
First, prepare the mangodi and the spinach puree.


Then you saute onion, add spices and puree.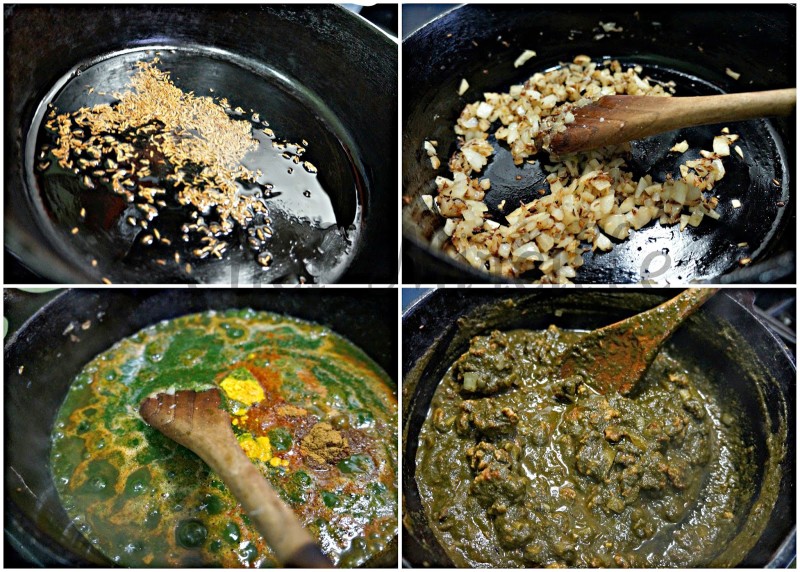 Palak Mangodi
Palak Mangodi – Sun Dried Lentils in Spinach Curry – Known as mangodi or wadi, sun dried lentils are a great way to add protein to Vegetarian meals.
Ingredients
2

tablespoons

oil

divided

1

tomato

chopped

2

cups

spinach leaves

1

cup

Armritasi/Punjabi wadi

about 8

1

onion

finely chopped

1

teaspoon

cumin seeds

1

teaspoon

garam masala

1

teaspoon

red chile powder

cayenne pepper

1

teaspoon

ginger garlic paste

1/4

teaspoon

ground turmeric

salt

to taste
Instructions
Heat 1 tablespoon of the oil. Add wadi and stir fry for 2 minutes. Add 2 cups water and bring to a boil. Boil for 5 minutes.

Drain and chop the mangodi into smaller pieces.

Set aside and reserve for later.

Bring a pot of water to a boil. Add spinach and boil for 1/2 minute, until the leaves wilt. Drain and transfer to food processor.

In a food processor, puree the spinach with the tomato. Add 1 cup water and puree until smooth.

In a large skillet or wok, heat remaining oil. Add cumin seed until they splutter and start to turn golden. Add ginger garlic paste and onion. Cook for a few minutes, until lightly browned.

Add spinach puree, garam masala, chile powder, turmeric and salt. Boil on high for 5 minutes

Add boiled mangodi/wadi and cook for 1 more minute.

Serve with roti or paratha.
Nutrition
Calories:
248
kcal
|
Carbohydrates:
32
g
|
Protein:
13
g
|
Fat:
8
g
|
Saturated Fat:
1
g
|
Sodium:
19
mg
|
Potassium:
645
mg
|
Fiber:
15
g
|
Sugar:
3
g
|
Vitamin A:
1888
IU
|
Vitamin C:
13
mg
|
Calcium:
54
mg
|
Iron:
4
mg
Did you try this recipe? Leave a comment below.
Please follow me on Instagram @chefmireille or tag me #chefmireille with your pics! I'd love to share them!
This luscious curry is the perfect compliment to any Indian meal!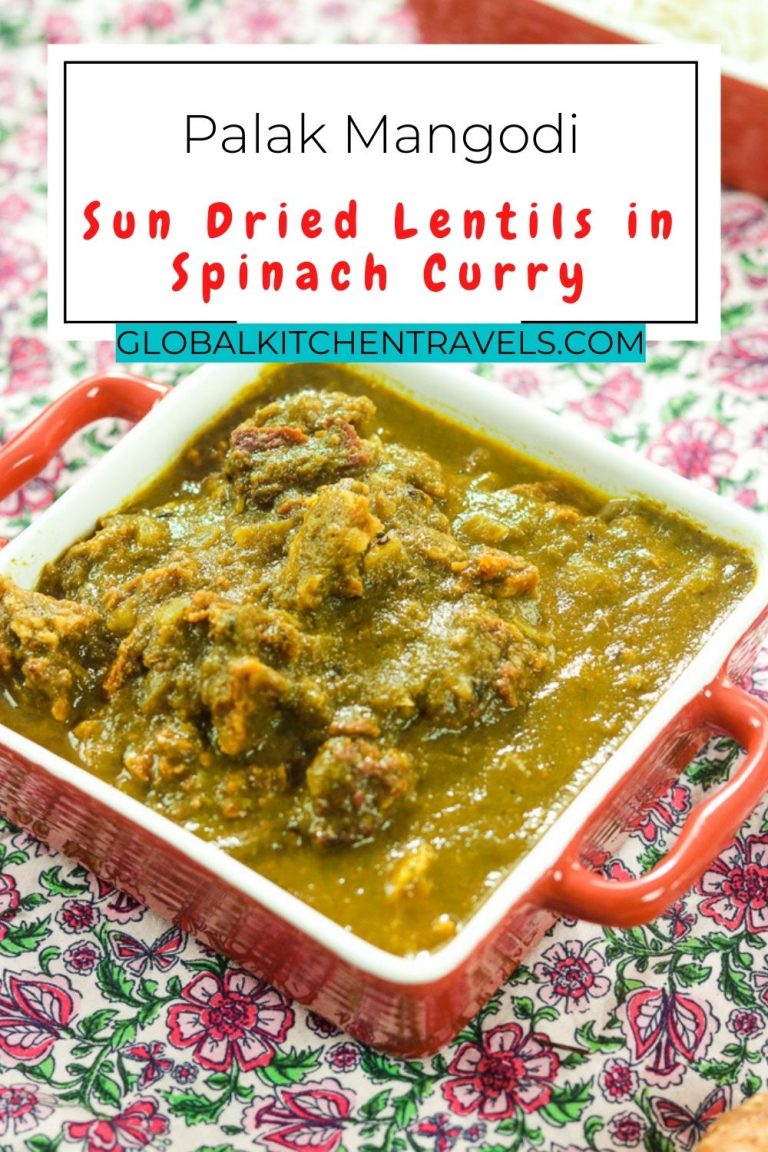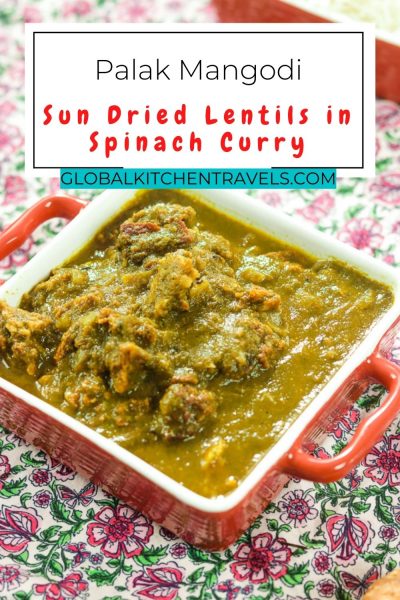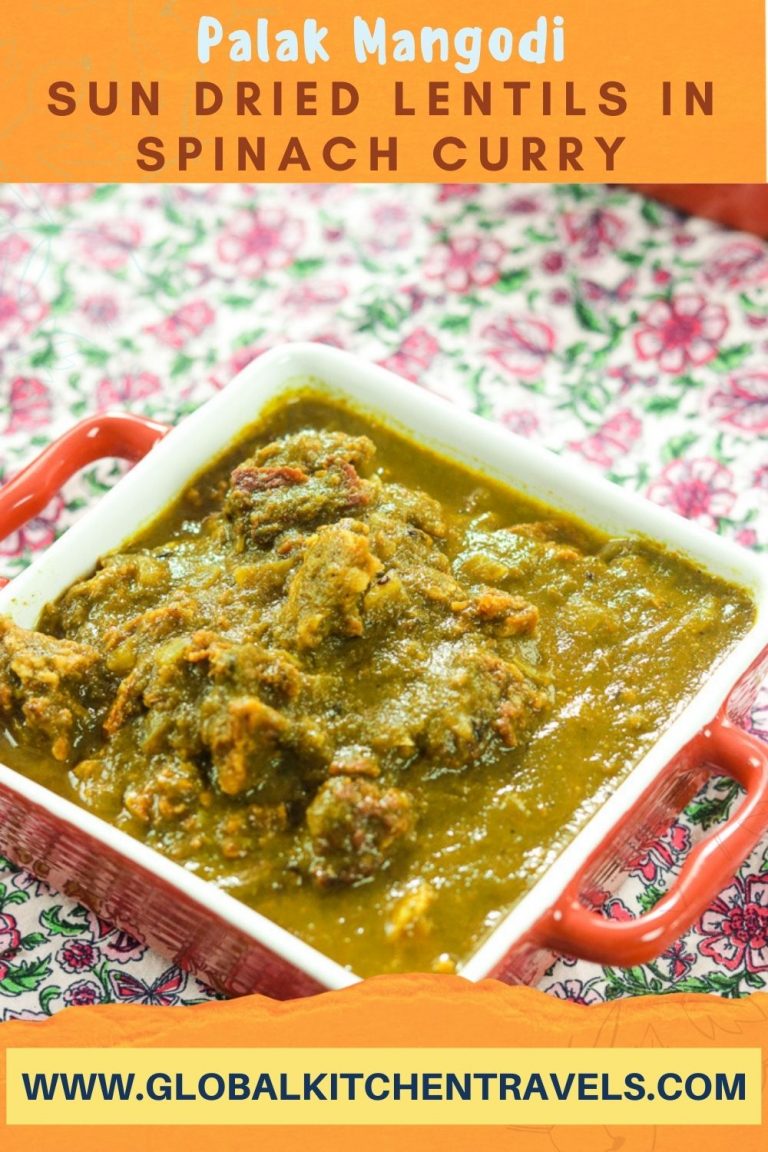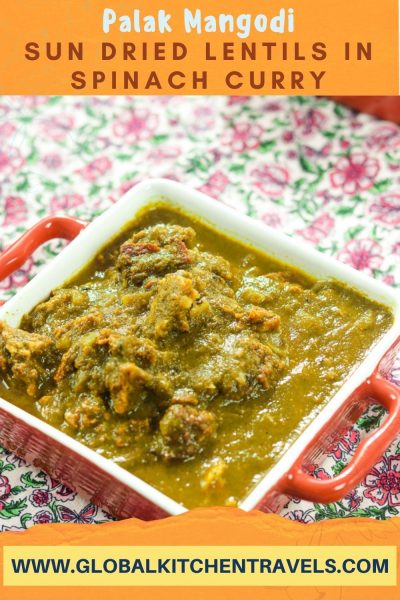 DO YOU YUM? SAVE IT BELOW!
Yum
Don't forget to visit the RECIPE INDEX with over 1000 recipes from around the world including lots of Vegetarian Recipes and Gluten Free Recipes!