Last Updated on June 9, 2023 by Chef Mireille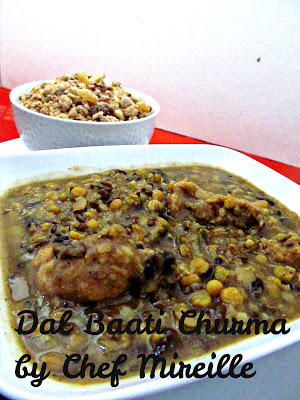 Last month, there was no Indian Cooking Challenge. I did wonder about it, but as my blogging has become quite active with events all over the blogosphere, I really did not give it too much thought as I had much stuff to do, to keep myself busy.
This month, Srivalli came back with an amazing challenge from Rajasthani cuisine. The email came a few weeks ago, but I must admit, I did not really look at it in detail, until the day it was supposed to be posted. So I am a few days late in posting, but I think I'll be forgiven 🙂 It was fun to again attempt an authentic Indian meal.
Dal Baati Churma is actually a combination of 3 dishes eaten together. It's a little time consuming, but your taste buds will appreciate the effort. Let's first make the dal.
(adapted from Tarla Dalal)
Ingredients:
1/3 cup yellow split peas
1/3 cup split green gram
1/3 cup toovar dal (split pigeon peas)
1 tablespoon whole green gram
1 tablespoon urad dal (split black lentils)
2 teaspoons red chile pepper (cayenne)
1/4 teaspoon ground turmeric
1 teaspoon ground coriander
1/2 teaspoon garam masala
3 cloves
2 bay leaves
1 teaspoon cumin seed
2 green chiles, split
1 pinch asoefetida
2 teaspoons aamchur powder (dried mango powder)
2 teaspoons tamarind pulp
3 tablespoons ghee
salt, to taste
In a saucepan, combine the split peas, toovar dal, urad dal, split and whole green grams. Add 4 cups of water. Bring to a boil. Reduce to a simmer and cook until tender.

In a small bowl, combine the cayenne, turmeric, coriander, garam masala and 3 tablespoons water. Mix well.
In a large pot, heat the ghee and add the cloves, bay leaves, cumin seed, asoefetida and chiles. After the cumin seeds start to crackle, add the spice paste and cook for 1-2 minutes.
Add the cooked dal, aamchur, tamarind and salt. Simmer for 5 minutes. Add more water, if necessary.

This dal is so delicious – spicy and tangy!
Now, let's make the churma. Churma is one of the foods that got transplanted to the Caribbean when the Indian immigrants came over in the 1800's. It is a popular street food in places like Trinidad and Guyana. Even here in NY, you can buy packages of churma at Caribbean bakeries and markets. Although ours usually is just strips of the fried dough with sugar and does not include the nuts and raisins. It was great to learn how to make it myself.
Before we get to the churma recipe, I want to talk a little bit about whole wheat flour. What I get as chappati flour in Indian markets and what they often refer to as whole wheat flour is different from American whole wheat flour. It has a grainier texture and when I have tried to utilize it when making Indian flatbreads, I have had problems with the pliability of the dough. American whole wheat flour has a lighter texture, but I wanted to try and create this recipe as authentic as possible. I decided to do 1/2 and 1/2 – so I used both American whole wheat flour and chappati flour and I was able to knead the dough perfectly.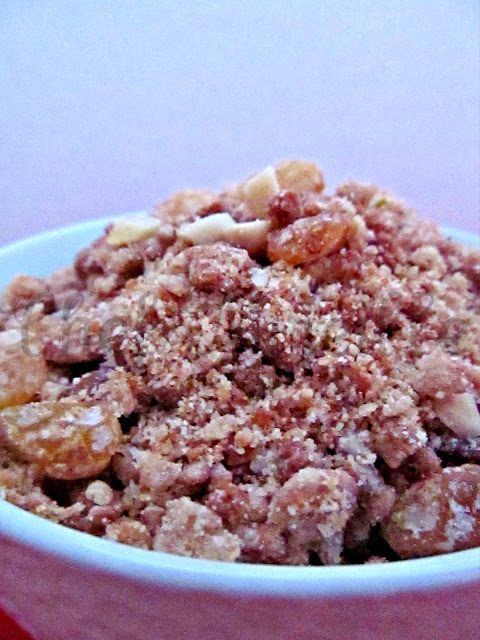 Ingredients:
1 cup chappati flour
1 cup whole wheat flour
4 tablespoons semolina
1/2 cup ghee
3/4 cup milk
3/4 cup powdered sugar
1/4 teaspoon ground cardamom
1 tablespoon pistacchios, coarsely chopped
1/4 cup slivered almonds, coarsely chopped
1/4 cup golden raisins
ghee or oil, for frying
In
a large bowl, combine the flours, semolina and 1/2 cup of the ghee.
Mix well with your fingers. Add milk a little at a time, to form a
stiff dough.
Divide the dough into 10 lemon sized balls and shape into flat ovals.
Heat
enough ghee or oil, for deep frying. Fry on medium heat until golden
brown and cooked well; about 15 minutes. Drain on paper towels.
Break each one in half and using a food processor, pulse about 6 times to coarsely grind the churma. Transfer to a bowl and mix with the sugar, raisins and nuts.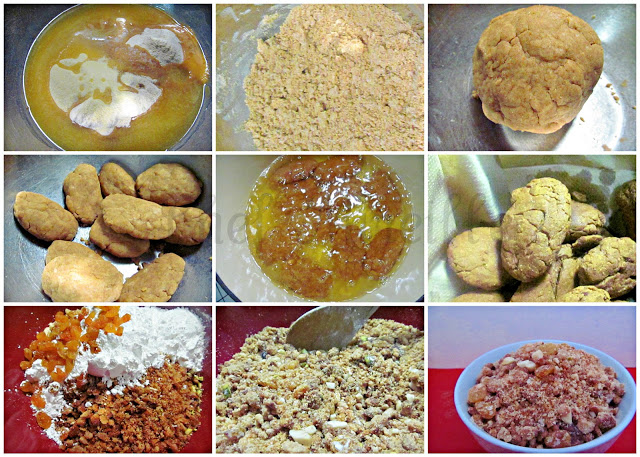 This tastes so much better than the store-bought ones I have had. A delicious snack, to have at any time!
Baati (also adapted from Tarla Dalal)
Ingredients:
1/2 cup chappati flour
1/2 cup whole wheat flour
1/2 cup semolina
2 tablespoons besan (chickpea flour)
8 tablespoons milk
4 tablespoons ghee
salt, to taste
oil, for frying
Mix all of the ingredients and knead for 5-7 minutes into a firm dough.
Divide the dough into 10 equal portions and shape each into a round disc, making an indentation in the center with your thumb.
Bring a pot of water to a boil. Place the shaped baati's inside and boil for 20 minutes. Drain and set aside.
Heat enough oil in a pan for deep frying. Fry the baati's on medium-high heat until golden brown and crusty; about 5 minutes. Drain and set aside.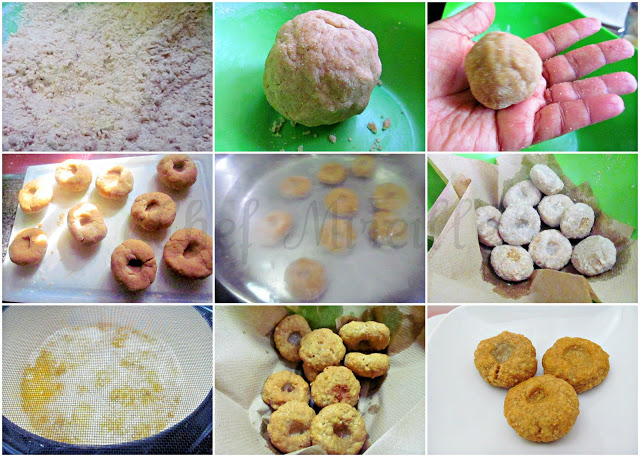 To serve, place a few baati's in a bowl and break in half. Pour the dal on top and serve the churma on the side. Traditionally, you can add some ghee to both the dal and the churma when serving, however I chose to omit this and it was just as delicious without it and the added calories!
When Srivalli announced this challenge, I was a bit overwhelmed because of all the recipes in this one. However, when I finally buckled down and decided to do them, they really weren't all that complicated. I was so happy I went through the effort. I so enjoyed this meal. The spicy, tangy dal coupled with the sweet churma created a magical marriage of flavors in my mouth.