Last Updated on June 3, 2015 by Chef Mireille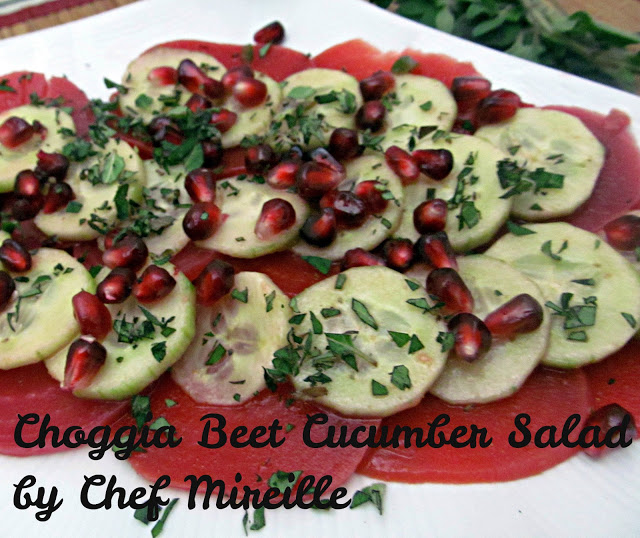 I am so lucky that I live near the oldest and largest food coop in the country. Every time I go there, I find some unique produce I haven't tried before. I've mentioned the Park Slope Food Coop before, but for those who didn't catch those posts, it is a member owned cooperative where members work a 2 1/2 hour work shift once every 4 weeks. By the members working, it operates with a very limited paid staff. This allows us to get organic and natural foods at a fraction of the cost at health markets or standard supermarkets. Additionally, by buying local products, transportation costs are less, also adding to more affordable grocery prices. If you do have a food coop where you live, I encourage you to join.
It's important to have variety in your diet so that you receive a complete intake of vitamins and minerals. If you only eat the same foods all the time, you are missing out on a lot of other nutrients, even if the food is healthy in and of itself. So go exploring to a new market and see what new food items you can find. Think of it as a culinary adventure!
I have been eating golden beets for many years, ever since I discovered them at Whole Foods. There are several recipes on this blog using golden beets:
Golden Beet-Asparagus Salad
Golden Beet-Mozzarella Salad
Golden Beet Raita
Last week when I was shopping, I noticed a new beet called Choggia. From the outside, it does not look much different from a red beet. However, it has a gorgeous red and white zebra pattern. Unfortunately, the contrasting pattern is not maintained after cooking.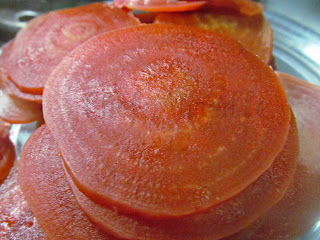 Choggia Beet Slices after cooking
Choggia Beet Salad
Serves 2
Ingredients:
10 oz. choggia beets (or any beets)
juice of 1/2 lemon
1 tablespoon olive oil
3 tablespoons red wine vinegar
1/4 teaspoon rose water
1/2 teaspoon ground coriander
1 teaspoon jalapeno, finely chopped
1 tablespoon firmly packed fresh oregano, finely chopped
1/4 teaspoon salt
2 tablespoons pomegranate seeds
2 Persian cucumbers, thinly sliced (or 1/2 a regular cucumber)
Trim off the tail side of the beets. Place in a large pot and add enough water to cover. Add the lemon juice.
Cook for 30-45 minutes, depending on the size of the beets, until fork tender.
While the beets are cooking, make the dressing.
In a small bowl, combine vinegar, salt, jalapeno, coriander, rose water and oregano and mix well. Slowly drizzle in the olive oil, while whisking constantly. Set aside.
Drain immediately and run cold water over the beets.
Rub the skin off of the beets and slice thinly.

In a large bowl, combine the beets and the cucumbers. Pour in all of the dressing and toss. Let sit for 10 minutes.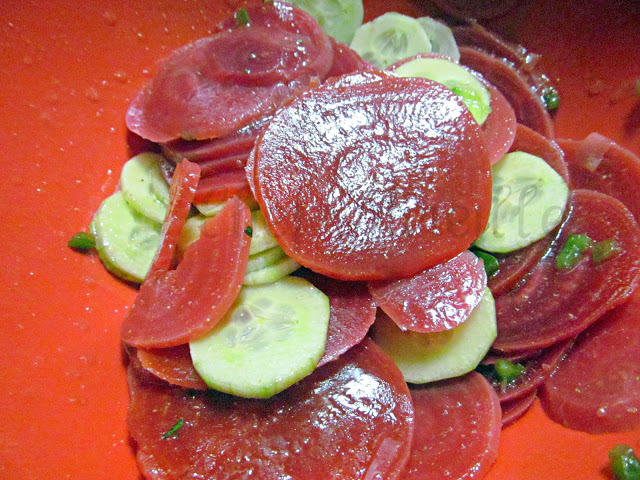 Arrange beet and cucumber slices on the top. Sprinkle pomegranate seeds and oregano on top.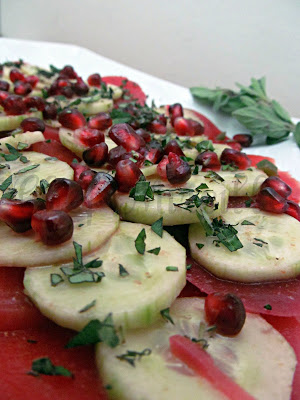 Serve as a a first course.
I used Middle Eastern flavors in this salad that complement my Persian Chicken & Persian Spinach Rice.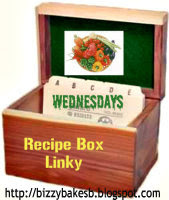 …sending to the LinkUp Parties at Bizzy Bakes & Cook Like a Celebrity Chef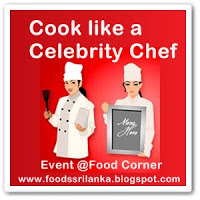 LIKE THIS RECIPE? LEAVE A COMMENT..I LIVE FOR THEM!
Chef Mireille
Like me on FACEBOOK!
Follow me on TWITTER!