Last Updated on January 27, 2021 by Chef Mireille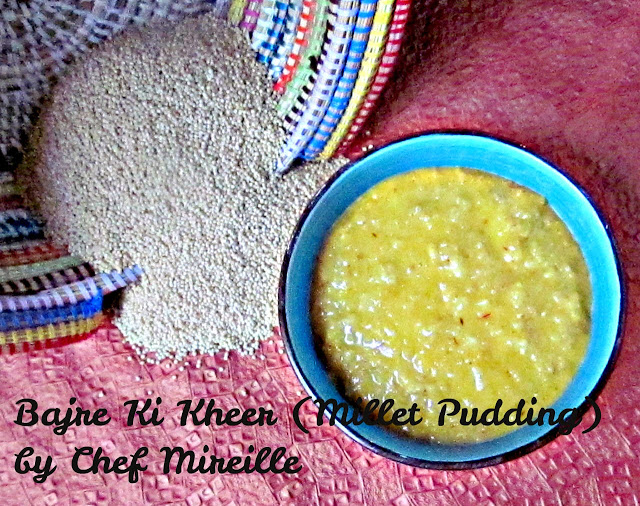 Blogging Marathon #35
Theme: Indian State – Rajasthan
I am ending my exploration into Rajasthani cuisine with dessert, as any meal should end.
Millet is very underused in American cuisine, but used widely in both Indian and African cuisine. It should be considered as another heart healthy alternative to rice. It is very high in mangesium, which studies have shown to aid in the severity and frequency of migraines and asthma attacks. It is also high in Vitamin B3, which helps in lowering high blood pressure and heart disease. It can be steamed so it is fluffy like rice or cooked like breakfast porridge, as a change from oatmeal.
In India, kheer (sweet milk based pudding) can be made with anything from bottle gourd squash to moong beans and mango. In this Rajasthani recipe, it is made with pearl millet.
Recently I came home from the library with Pushpesh Pant's India Cookbook. This award winning 773 page encyclopedia cookbook includes recipes from almost every state of India, including little known corners virtually unknown outside of India like Uttarakhand. This recipe is from his book.
Bajre Ki Kheer
Serves 6
Ingredients:
1/4 teaspoon saffron
1 tablespoon ghee
4 tablespoons pearl millet
4 1/4 cups milk
1/2 cup sugar
Mix saffron with 1 tablespoon of water. Stir to mix and set aside.
Heat ghee in a skillet. Add millet and fry for 1-2 minutes, until the millet starts to change color.
Add milk and bring to a boil. Reduce heat to a low simmer. Cook, stirring frequently for 40-50 minutes, until thickened.
Remove from the heat and add sugar. Stir until it dissolves. Add saffron water and stir to mix.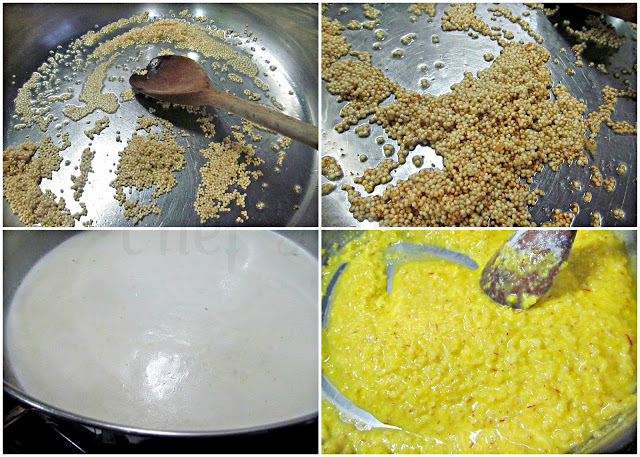 Although kheer is often serve chilled, I preferred this type of kheer warm.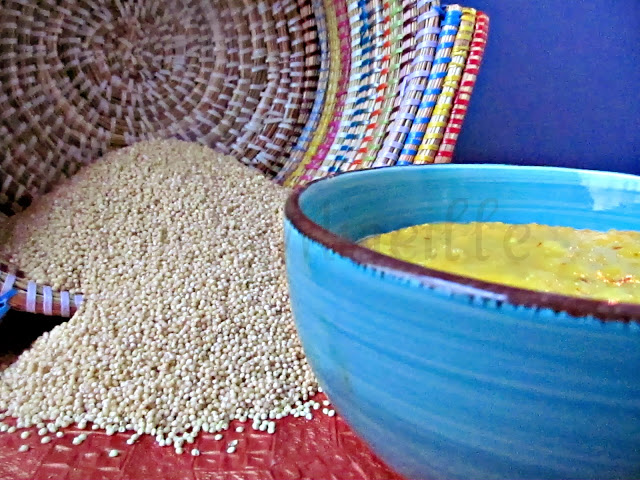 This was so delicious and very similar to lapsi, another sweet dish popular in Rajasthan which I previously made here.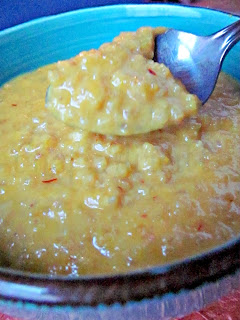 However, I found it a little too sweet. Next time, I would probably reduce the sugar to 1/3 cup.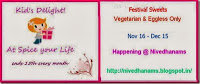 Check out the Blogging Marathon page for the other Blogging Marathoners doing BM#34
…linking to Kid's Delight hosted by Sowmya
LIKE THIS RECIPE? LEAVE A COMMENT..I LIVE FOR THEM!
Chef Mireille