Last Updated on June 9, 2023 by Chef Mireille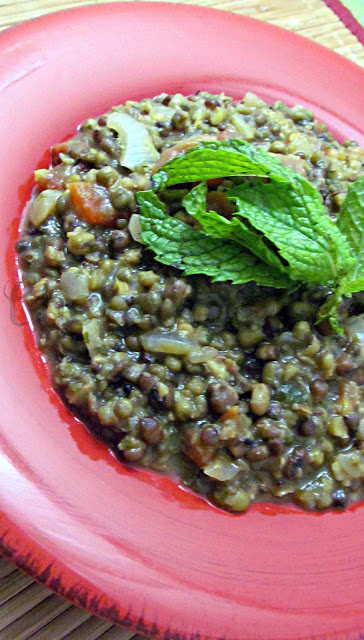 Blogging Marathon #20
Theme: Delicious Dals
Whole green lentils is something I hardly ever eat. I used them for a recipe quite a while ago and ever since they have been occupying space in my pantry. Every time I open the door of the cabinet, they stare back at me screaming, "USE ME, USE ME" but I am just not sure what to do with them. I am not a pressure cooker person and they take a long time to cook and not sure what flavors go well with them, so I usually just pass them by and use the red lentils, yellow split peas or even toor dal (split pigeon peas) when I am cooking dal.
When I came across this recipe, I decided I would give it a whirl. The author does use a pressure cooker in her recipe, which will reduce the cooking time, but I adapted the procedure without the use of a cooker.
(click here for printable recipe)
Ingredients:
1 cup whole green lentils
4 1/2 cups water + 2/3 cup
1/4 teaspoon ground turmeric
1 tablespoon oil
1/2 teaspoon cumin seed
1/2 teaspoon black mustard seeds
pinch of asoefetida
3 chiles, finely chopped
1 small onion, chopped
2 cloves garlic, peeled and finely chopped
2 plum tomatoes, chopped
1 teaspoon ground coriander
1/2 cup cilantro, finely chopped
1/2 cup mint, finely chopped
3/4 teaspoon salt
In a saucepan, combine lentils, 3 cups of the water and turmeric. Bring to a boil. Reduce to a simmer and cook for 40 minutes, stirring occasionally. At this point, most of the water will have been absorbed. Add the remaining 1 1/2 cups water and simmer for another 10 minutes.
In a pot, heat oil, cumin seed and mustard seed. Once the mustard seeds start to pop, add the asoefetida and the chiles. Stir once. Add onion, garlic and tomato. Cook for about 2 minutes, until the onions are translucent.
Add the cooked lentils, 2/3 cups water (or more if you prefer soupier dal), coriander, cilantro and mint. Stir to combine and cook for another 5 minutes on high heat, stirring occasionally.
Add salt and stir to combine.
Serve with Basmati rice or paratha.
This dal has such a great balance of flavors – I could not stop eating it and I did not even need another side dish to go along with it.
Check out the other Blogging Marathon participants here!
sending to Let's Cook Lentils/Legumes
LIKE THIS RECIPE? LEAVE A COMMENT..I LIVE FOR THEM!
Chef Mireille
Like me on FACEBOOK!
Follow me on TWITTER!