Last Updated on December 14, 2020 by Chef Mireille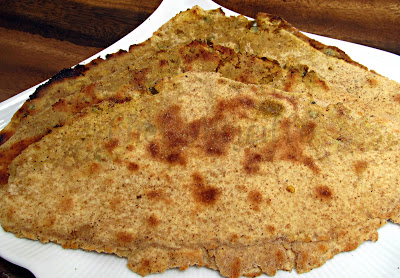 Indian Cooking Challenge is a monthly event showcasing traditional Indian specialties. I am so exciting to join this journey of learning the intricacies of Indian cuisine. The leader is Srivalli, the Blogging Marathon leader and I am so happy she allowed me to join this group of elusive cooks.
This month's cooking challenge was Indian stuffed flatbreads. I decided to do the Besan ki Masala Roti. This is a very healthy flatbread using only chickpea and whole wheat flour. Sanjeev Kapoor's recipe here was used.
Besan Ki Roti
(click here for printable recipe)
Ingredients:
1 cup chickpea flour (besan)
1/2 cup whole wheat flour
salt, to taste
2 tablespoons ghee
1 1/2 teaspoons ground cumin
1/2 teaspoon ground coriander
1/4 teaspoon ground turmeric
1 chile, chopped
1/2 teaspoon aamchur (ground mango) powder
1/2 teaspoon red chile powder (cayenne pepper)
1 1/2 tablespoons ghee
Combine flours with salt and 2 tablespoons ghee. Mix with enough water, to make a soft dough. I added about 1/4 cup of water. Let rest for 10 minutes.
Meanwhile, make the masala filling. Combine all the spices, with chile, salt and the 1 1/2 tablespoons of ghee and mix well.
Divide dough into 8 equal portions.

Roll 1 each into a 4 inch circle. Apply a little masala on top and fold over twice into a triangle and roll again.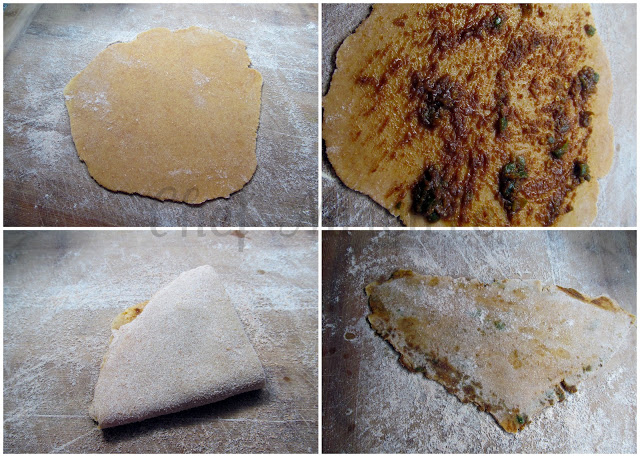 Heat a tawa/roti iron/skillet and place roti on top. Cook for about 2 minutes, until air bubbles start to form. Flip over and brush the borders with ghee and cook for another 1-2 minutes.

This is a thin roti, not the thick Paratha or Naan you are used to getting in restaurants.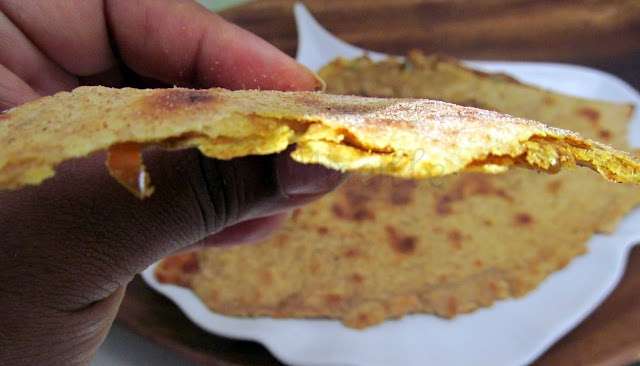 However, these thin rotis with the delicious masala filling can be eaten on its own, but also are delicious with any Indian food, including this green lentil dal, which I will be posting in a few days.

Roti & Dhal
LIKE THIS RECIPE? LEAVE A COMMENT..I LIVE FOR THEM!
Chef Mireille
Like me on FACEBOOK!
Follow me on TWITTER!