Last Updated on June 2, 2015 by Chef Mireille





Blogging Marathon #20
Theme: Recipes with a Spread
This flavorful focaccia is not just bread, but can be eaten on its own.
Vegetable Focaccia
Ingredients:
2 teaspoons yeast
2 teaspoons salt
2 cups water
4 1/2 cups bread flour (or all purpose flour)
olive oil
1 red bell pepper, cut into strips
1 zucchini, quartered and sliced
11 oz. jar roasted red bell peppers (or you can roast them yourself), drained
2 cloves garlic
1/4 cup milk
2/3 cup Pecorino Romano or Parmesan cheese, freshly grated
salt and pepper, to taste
Heat water to 110-120 F. Pour into a bowl. Sprinkle yeast on top and let stand for 10 minutes, until foamy.
Add 2 cups flour and mix with a wooden spoon. Add the rest of the flour and knead by hand for 5 minutes, until dough is smooth and elastic.
Grease a large bowl with olive oil. Place dough in bowl and turn over so that all sides of dough is coated with the olive oil. Cover loosely with plastic wrap and a kitchen towel and let rise for 1 hour, until doubled in size.
In a skillet, heat 1 tablespoon of olive oil. Add bell peppers and saute for 5 minutes until peppers start to brown. Add zucchini, salt and pepper and cook for another 2 minutes, until zucchini softens a little. Let cool.

After dough as rise, punch down air and knead back into a ball again. Cover loosely with plastic wrap and a kitchen towel again. Let rise for 45 minutes, until doubled in size again.
In a blender, puree the roasted bell peppers and garlic. Transfer to a saucepan and add milk. Bring to a boil.
Once it is boiling, turn off the heat and add the cheese, stirring for about 3 minutes. Let sit for at least 5 minutes.
Grease a cookie sheet with 1 tablespoon of olive oil.
After dough completes second rising, transfer to the cookie sheet and using your fingertips, press the dough out so that it covers the entire cookie sheet.
Sprinkle sauteed vegetables on top and then roasted red pepper sauce. Let sit for 30 minutes.

Preheat oven to 475 F. Bake for 20 minutes.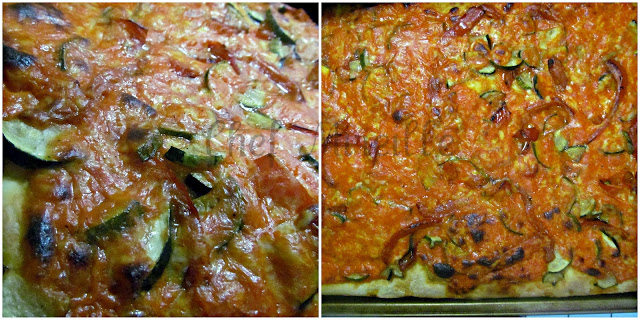 Let cool for 10 minutes, before cutting.
The topping gets baked into the bread, so the bread is not soggy, but soft and fluffy inside while crusty on the bottom and sides. This goes perfect with a glass of wine.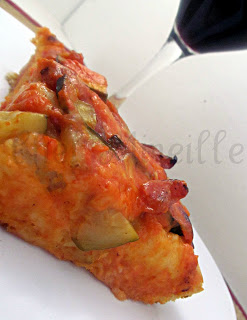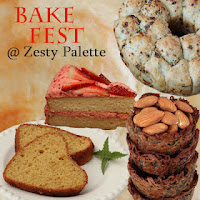 Check out the other Blogging Marathon participants here!
…sending to Bake Fest hosted by Archana
LIKE THIS RECIPE? LEAVE A COMMENT..I LIVE FOR THEM!
Chef Mireille
Like me on FACEBOOK!
Follow me on TWITTER!